Win 100,000 Avios points with Head for Points and hotel booking site Kaligo.com!
Links on Head for Points may pay us an affiliate commission. A list of partners is here.
Yes, you read that correctly. We did it in January and it was hugely popular, so we decided to do it again! This week on Head for Points we are giving away 100,000 Avios points in association with British Airways Executive Club hotel booking partner Kaligo.com.
There is only one prize.
There will only be one winner.
It could be you!
About Kaligo.com
The competition is being sponsored by hotel booking website Kaligo.com (www.kaligo.com).
Via their website, you can book over 365,000 hotels worldwide predominantly in the 3-star to 5-star range.
Whichever hotel you book, irrespective of whether it is part of a chain or not, you will earn up to 20 Avios points per £1 spent.
Since it launched as an Avios partner in January, many Head for Points readers have used it successfully and gained a large number of Avios from their booking.
The company has excellent customer service, responding quickly both to emails and to comments posted online on sites such as this. Avios points always post promptly within a few days of check-out. I have met the management team in London and when I was in Singapore (the senior team is mainly ex-Amex and is based in Singapore) and have been impressed with their enthusiasm and commitment.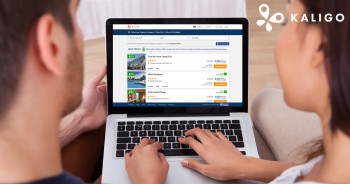 An exclusive Head for Points promotion
To run alongside this competition – although there is no obligation to make a booking in order to enter – Kaligo.com is offering a special offer to HFP readers. The promotional booking page is here.
When you make a hotel booking worldwide before midnight on 30th November for any point in the next year, you will receive:
a guaranteed minimum of 5,000 Avios when you spend £300 or more, or
a guaranteed minimum of 10,000 Avios when you spend £500 or more
Note that this is a guaranteed minimum and not an additional bonus. If your booking would usually earn 1,000 Avios for a £350 spend, for example, you will now receive 5,000 Avios.
You must book via this special link in order to receive the guaranteed minimum of 5,000 or 10,000 Avios.
You can make as many bookings as you like under this promotion. You will receive 5,000 or 10,000 Avios for each of them as long as you reach the £300 or £500 spend target. If you are making a large booking of £1,000 or more, you may want to break it down into separate bookings of £500 to maximise your points.
As usual with Kaligo.com, prices can vary compared to other hotel sites so do shop around before booking – although don't forget to factor in the value of the 10,000 Avios! Small businesses booking hotels in Europe should note that VAT receipts are not provided (this is normal for rooms booked via hotel wholesalers).
How can you win 100,000 Avios?
It's easy!
First, if you have never registered with Kaligo.com before, you need to visit this page and register your email address. There is no obligation to make a booking. If you have already registered with Kaligo, you do not need to register again.
Second, you need to complete the automated form at the bottom of this article using the same email address. You gain one entry for filling in your email address and you can earn a second entry if you tweet about the competition.
The deadline for entries is midnight on Friday 20th November. The winner will be announced on Head for Points next week.
You can only enter if you are a UK resident – I apologise to Head for Points readers in other countries. If you are UK-based but travelling this week, you will need to email a friend back home with a link to this page to enter for you. You are limited to one submission per person and the points will only be deposited in a British Airways Executive Club account which matches the name of the winner.
100,000 Avios can get you a long way. It gets two people in Economy to California, Cape Town, Barbados etc – or to Dubai or New York with 20,000 to spare! It would fly one person in Club World to New York, Dubai or Cape Town on an off-peak date – or two people if you have a British Airways American Express 2-4-1 voucher to use. Even if you stay closer to home, it would get you 11 return flights to France, Germany, the Netherlands etc or 6 return flights to Italy or Spain. Taxes, fees and charges, as we all know, will be applicable *.
Please read this before you enter:
Entrants must be aged 18 years or over.
The competition will launch at 5.45am on Monday 16th November and close at midnight UK time on Friday 20th November.
Please ensure that you put a valid email address on the entry form. This email address MUST be identical to the one you use to register with Kaligo.com. If you have registered with Kaligo,com before, you do not need to register again.
The winner will be picked at random by the software which collates the entries.
The winner will be contacted by email once Kaligo.com has verified that the same email address has been registered with them. If the winner did not register with Kaligo.com, or does not respond to the email within 48 hours with valid British Airways Executive Club membership details, the prize will be redrawn.
The prize will be deposited into a British Airways Executive Club account. If you do not already have a British Airways Executive Club account you will need to open one in order to participate in the contest.
The name of the winner must match the name on the British Airways Executive Club account.
Entries are limited to one per person.
Your email details will not be used by Head for Points for any other purpose.
You can opt out of receiving email from Kaligo.com via your account at www.kaligo.com or by unsubscribing to any email you receive or by simply replying to any email from Kaligo.com with a request to be unsubscribed.
You must be a UK resident to enter. You must also be physically based within the UK in order to be able to enter – if you are travelling this week, you will need to ask a friend or relative in the UK to enter for you.
Under UK law I am obliged to make the name of the winner available upon request.
The promoters of the competition are Head for Points and Loyalty Advantage Travel Pte. Ltd, contact details available on request. Avios Group (AGL) Ltd is not a promoter of the competition. Loyalty Advantage Travel Pte. Ltd is solely responsible for ensuring the fulfilment of the prize to the winner.
The decision of the promoters on all of the points above will be final and no correspondence will be considered
Good luck to everyone. Remember that you MUST register with Kaligo.com via this link before you enter, unless you registered with them previously, and you MUST use the same email address when you submit the entry widget below.
* Reward flights cannot be waitlisted and are subject to availability. Executive Club Terms and Conditions apply.
If you cannot see the entry widget below, please click here and you will be taken to a separate page where you can enter.