Review: the new Finnair Airbus A350 XWB – Part 2
Links on Head for Points may pay us an affiliate commission. A list of partners is here.
Two weeks ago, I flew to Helsinki and back in Finnair business class. This was an opportunity to be one of the first people to fly the new Airbus A350 XWB and also to try out Finnair.
Finnair, remember, is a British Airways partner via the oneworld alliance. You earn Avios and BA tier points when you fly with them. With Finnair soon to fly from London, Manchester, Edinburgh and Dublin to Helsinki, and with regular business class fare sales to Asia at around £1,000, you may soon find yourself on their new A350 fleet.
Yesterday in Part 1 I wrote about the Airbus A350 development programme and the special features of the aircraft. Today, I want to review my business class Finnair flight on the A350.
Finnair has a special A350 website which tells you more about their new aircraft and seating. There are no further A350 test flights from Heathrow listed at the moment but, as more aircraft arrive, they may well reoccur.
Because I was on a short-haul flight, I will not focus too heavily on the food or service as it is not the same as you would receive on a Finnair long-haul flight.
This is the PR picture released by Finnair of the new business class seat on the A350: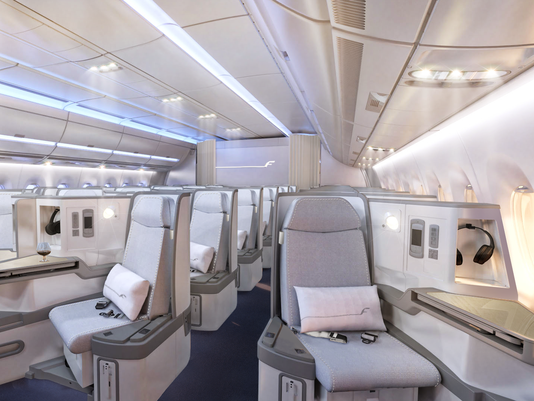 And here is the blurb that came with it:
It is equipped with Wi-Fi and wireless in-flight entertainment services. It also comes with dynamic LED lighting that changes to suit the time of day, destination and season, creating a calming and fresh atmosphere. The Airbus A350 features an advanced pure-air filtration system that recycles the air in the cabin every two to three minutes. Draft-free air management, adjustable multiple temperature zones and lower cabin pressure all enhance the well-being of everyone on board.
Here are some of my shots: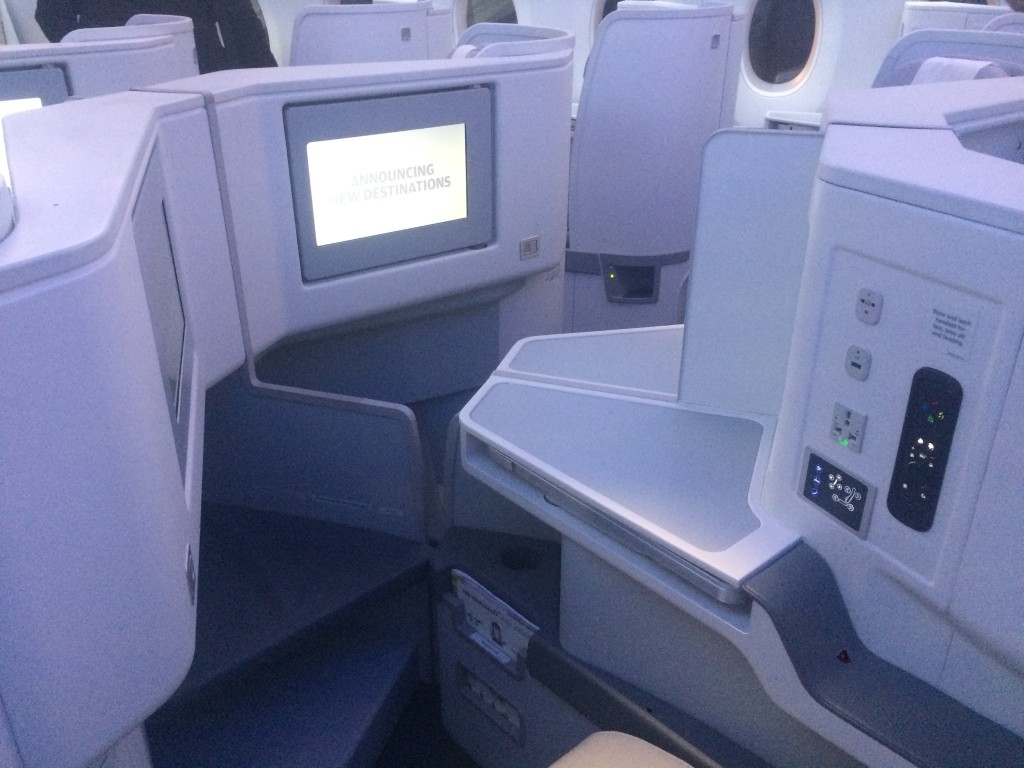 and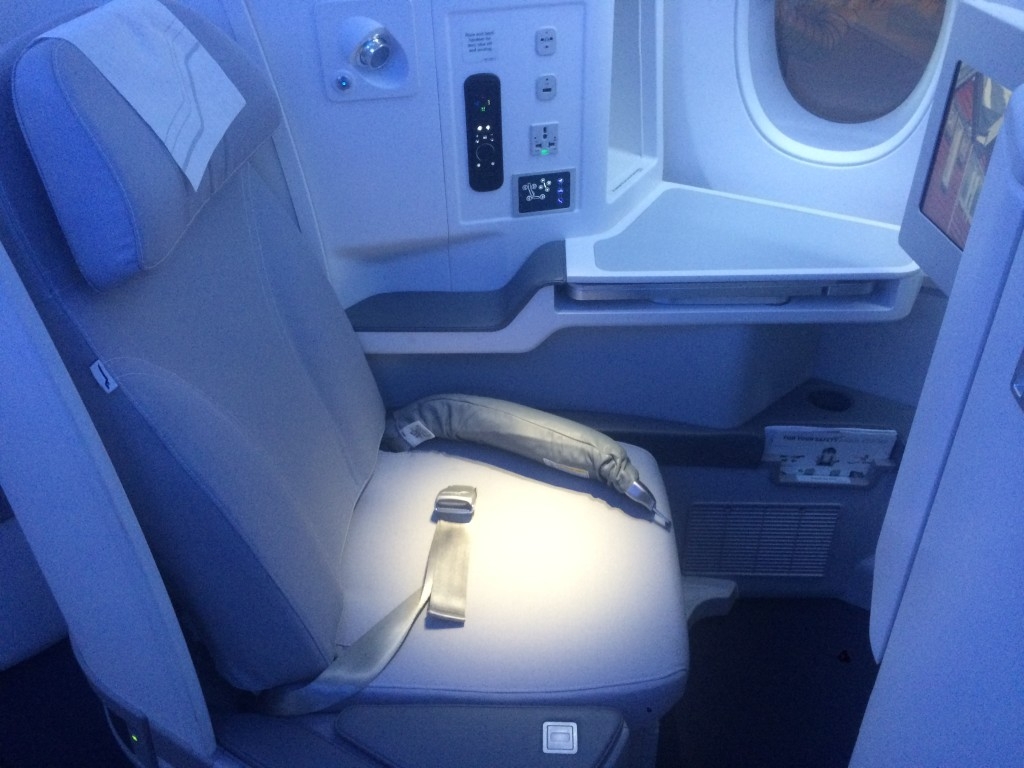 and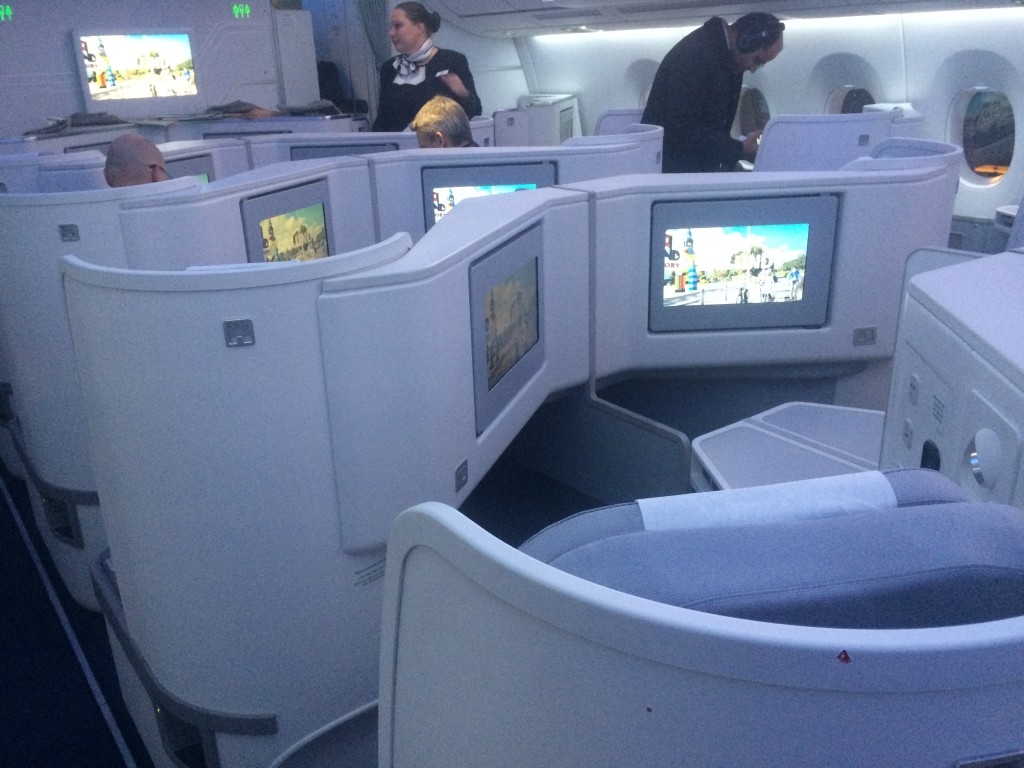 The 1-2-1 layout, as you can see from the photograph, is excellent. I was in 4A on both flights. The seats do not line up with the windows. Each row has the window in a different position. You will have a window but it might not be aligned with your head!
You are not facing forward but facing the window at an angle of probably 30 degrees. Your feet disappear into a cubby hole under the seat in front: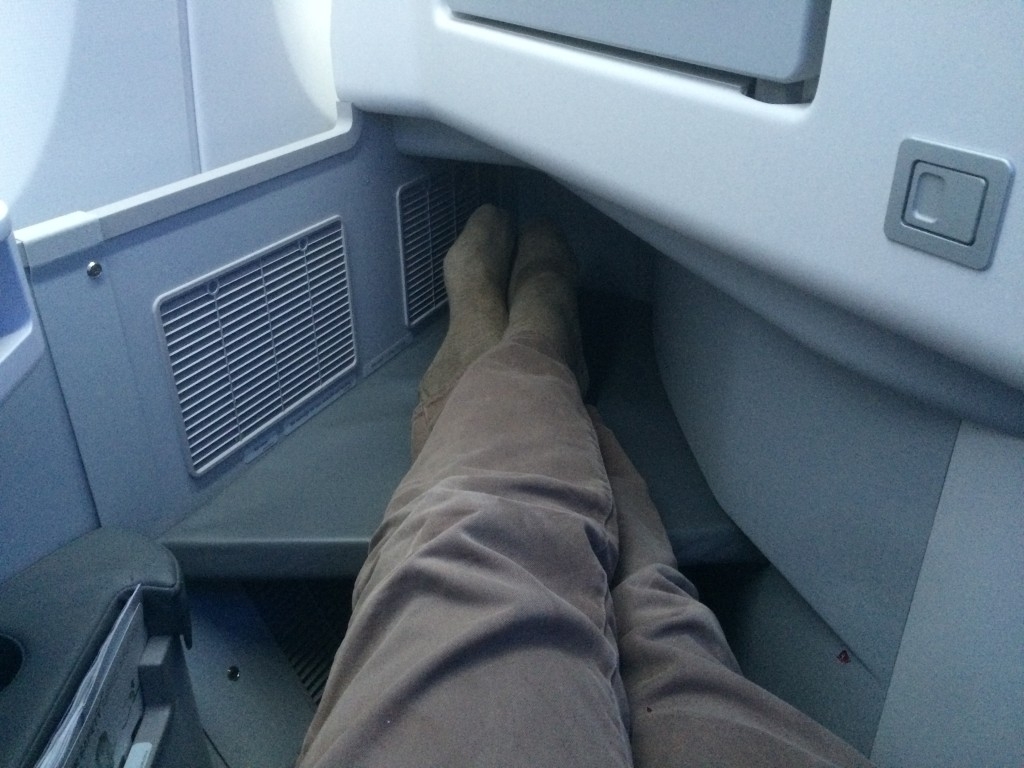 This an effective way of achieving a 1-2-1 layout with a fairly dense seating layout. The one problem I have with it, and it also occurred on the Qatar Airways Boeing 787 which has the same design in business class, is that it is difficult to cross your legs whilst seated. I tend to do this whilst reading to support whatever newspaper I have!
Whilst the seat is angled towards the window, the armrest is not. This is a little odd as it is basically pointing away from you!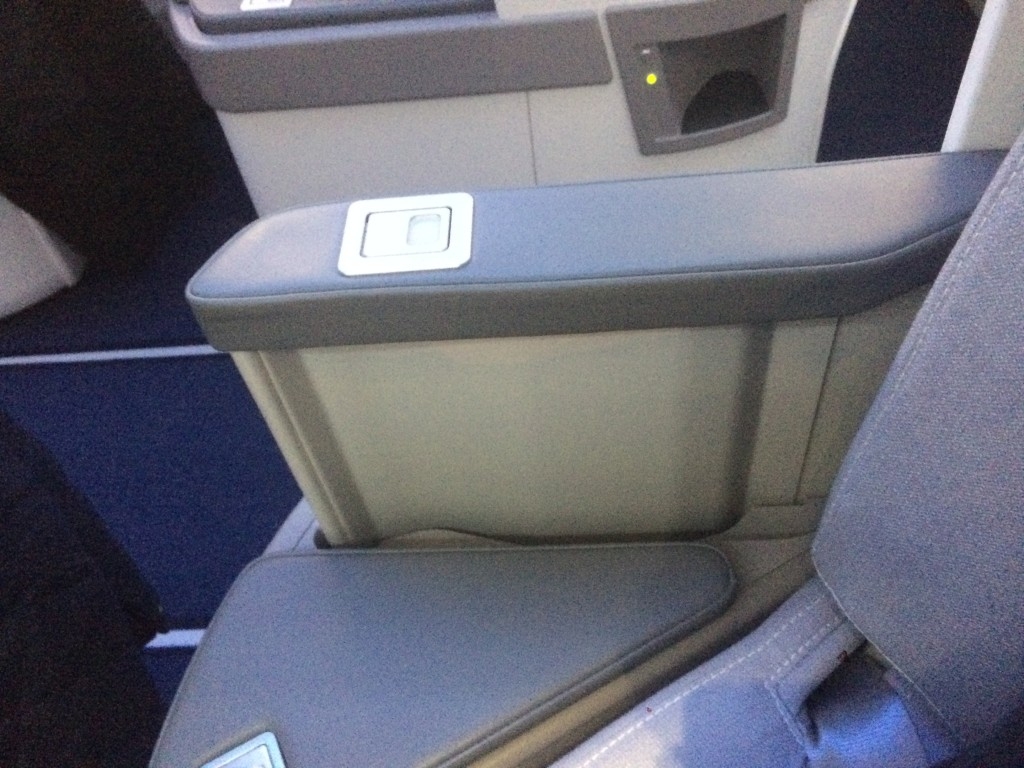 There is a decent sized TV. The entertainment selection, whilst no worse than British Airways Club World, was unfortunately light years behind what you find on the Middle East carriers.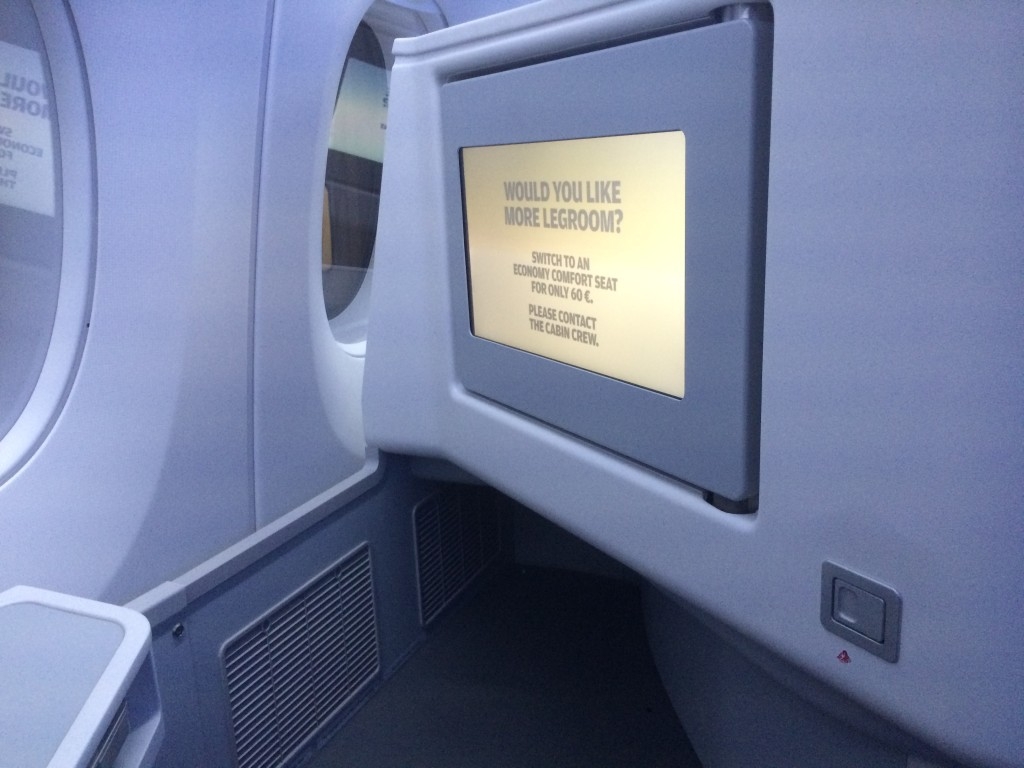 I should put in a word of praise for the in-flight internet which was the quickest I have ever used. It is free for business class passengers using a code which is shown on your TV screen. Economy passengers must pay.
Here is an odd one – the cabins have digital clocks built into the 'no smoking' signs. These remained on 'departure city time' for the whole journey which will get a little confusing on a long haul flight: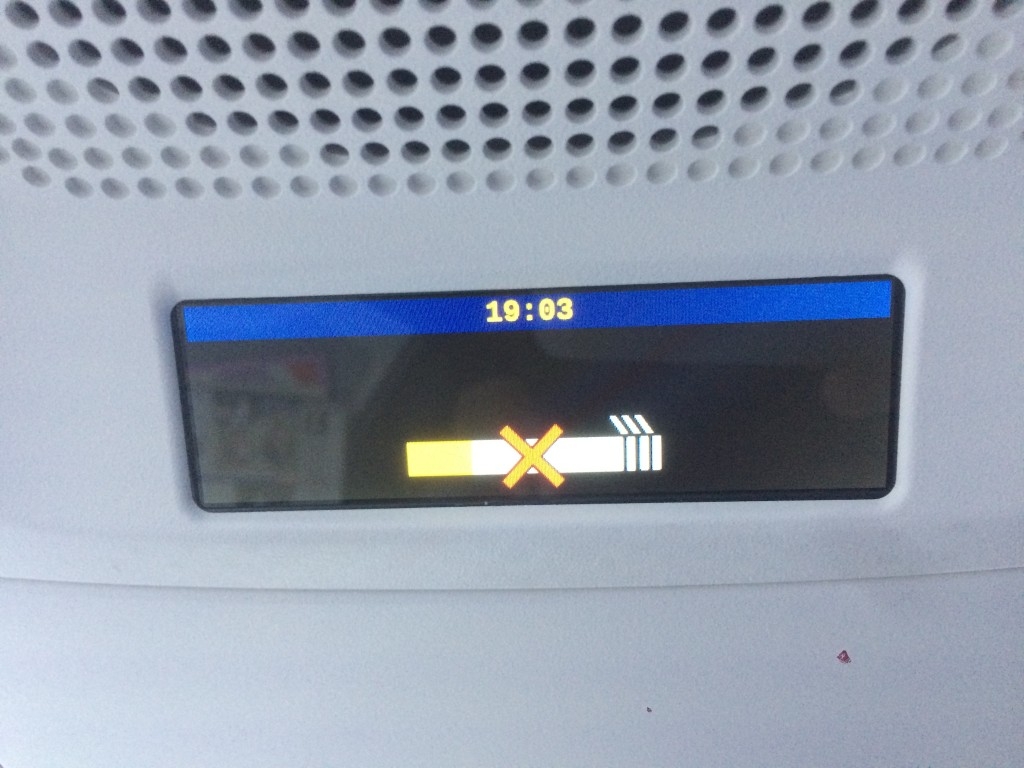 Finally, a word about the tray table. There were two things about the tray table that I really liked:
You can release it without lifting a flap – it slides out sideways. The means that you don't have to move around your drinks and personal belongings in order to get your table out.
Whilst the tray table position is fixed, the seat itself slides forwards and backwards! If you need to nip out of your seat whilst eating, you are not 'trapped' – simply push the button, slide back your seat and you can step out. Another of my common irritations banished!
All in all, I was very impressed by the Finnair A350 business class cabin. In terms of space and privacy it is a huge step above British Airways Club World, and you get the additional benefits of the A350 – bigger windows, improved cabin pressure, more humidity etc.
It is well worth considering for your next trip to Asia. The Finnair A350 site has a list of roll-out dates by route.
In Part 3 (click here) I take a quick look at the food and the light shows that have been programmed in to the cabin!