HfP had 1 million page views in January …. which is a bit spooky, actually
Links on Head for Points may pay us an affiliate commission. A list of partners is here.
If someone had told me three and a half years ago when I started HfP that I would eventually reach the giddy heights of 1 million page views per month, I'm not sure I would have believed them.
However, last month, we did it.
1,022,000 page views to be precise, of which 80% came from UK readers.
This represents 199,000 unique visitors – although a single person accessing the site from multiple devices counts as multiple unique visitors, so the actual number is lower than that.
Alexa now ranks HfP as the 1,500th biggest website in the UK.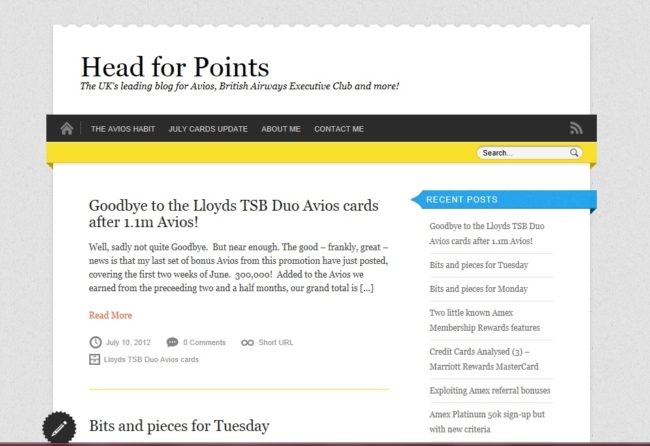 This is a very abstract number, of course.  When I write, it is just me and a laptop.
There are now almost 3,800 articles on the site, of which I have written 99.5%.  My plan for 2016 is bring my contribution down to 97% (nothing like setting a big goal for yourself …..), primarily through letting Anika spread out from Shopper Points to pick up some of the hotel and lounge reviews and general travel pieces.  Don't worry, she knows what she's talking about.
There may be a few other organisational changes as well, although I am not yet fully clear how it will go.  The current situation is probably not sustainable – I get 700 emails per week, for example, which continues 24/7 whatever I am doing and wherever I am.  I even got 29 HfP emails on Christmas Day last year.
I also need to spend more time out and about meeting the airline and hotel marketing and programme heads.  That would drive bigger competitions, exclusive news stories and higher value advertising, but it is not possible with the current workload.  Let's see how it goes.
Thank you to everyone who reads Head for Points for your support – even if you read it via the daily emails and so didn't contribute to the 1 million page views 🙂
Of course, as January is always busy due to the post-Christmas booking frenzy, February is only 29 days, March contains Easter which is always quiet and April is only 30 days, I may not be hitting 1 million page views again for some time.