Review: Turkish Airlines Boeing 777 Business Class (part 2)
Links on Head for Points may pay us an affiliate commission. A list of partners is here.
This is the second part of my review of Turkish Airlines Boeing 777-300ER business class service.
In part 1 of my Turkish Airlines Boeing 777 business class review (click here), I looked at the rather underwhelming Turkish Airlines seat and cabin layout.  In this article I want to look at the food.
You should remember that I only flew from London to Istanbul and the service may be different on a longer flight.
The bizarre in-flight Turkish Airlines chef
If you read my Etihad First Class reviews you will know that the airline has a First Class chef.   There is a menu, but if you don't like it he will make you something to order.  There are a lot of different ingredients carried on board and he will pretty much knock up whatever you want based on those.
It's great.
Turkish Airlines also advertises an on board chef.  This is nothing like that.  Here is a picture of a Turkish chef in action, although this is not the guy I had: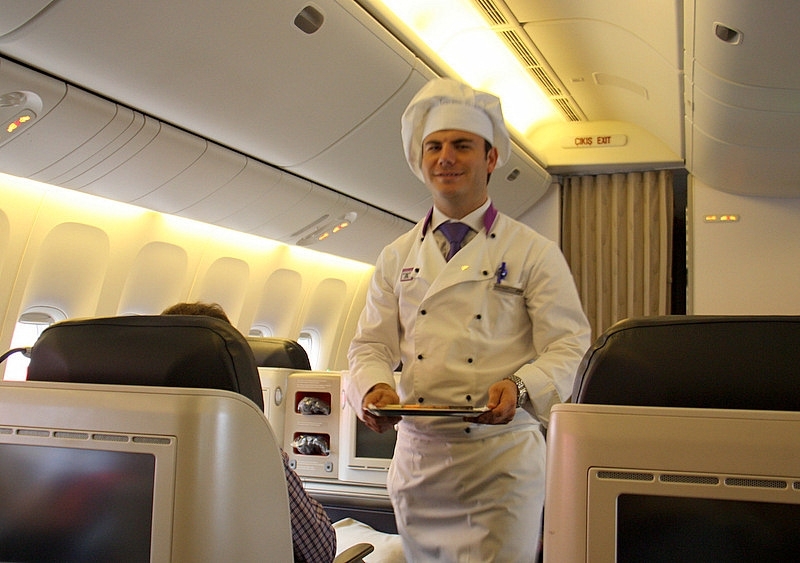 Turkish Airlines food is prepared and served in the same way as British Airways.  In some ways it is worse, because they plate it in front of you.
What I mean is that the food is still in the silver foil and they tip the food out of the container onto the plate in front of you.  Not great.  I think even BA has stopped this now.  Since last year, BA crew even unwrap and plate the sandwiches in Club World rather than drop a plastic packet in your lap as they used to …..
What does the chef actually do?
You have absolutely no flexibility in what you eat.  You get what is on the menu.
The chef isn't 'cooking' anything – Turkish is just reheating silver boxes of food like most other airlines
He isn't even 'arranging' the food – it gets dumped out of the container onto a plate in front of you
I found it bizarre.  I don't have problems with any of the above points, just to be clear, but if you are going to serve your food like that then there is zero need to dress up a member of cabin crew in chefs whites.
The Turkish Airlines business class menu
The physical menu, it is worth mentioning, was a folded sheet of paper.  Forget any idea of a nicely bound document such as you get on Etihad, Qatar, Emirates or British Airways.
Looking at an article in the in-flight magazine, Turkish Airlines aims to share a vision of Turkish cooking with the world.  What this means, based on my two flights, is that you will struggle (at least for appetiser and dessert) if you are not happy with Turkish-inspired food.
This is what I had on the way to Istanbul:
Appetiser (you get all of these items on one plate):
Popourri of meze (smoked salmon in daikon and claudio sauce, stuffed sun dried red pepper, white cheese tabbouleh) with roasted eggplant salad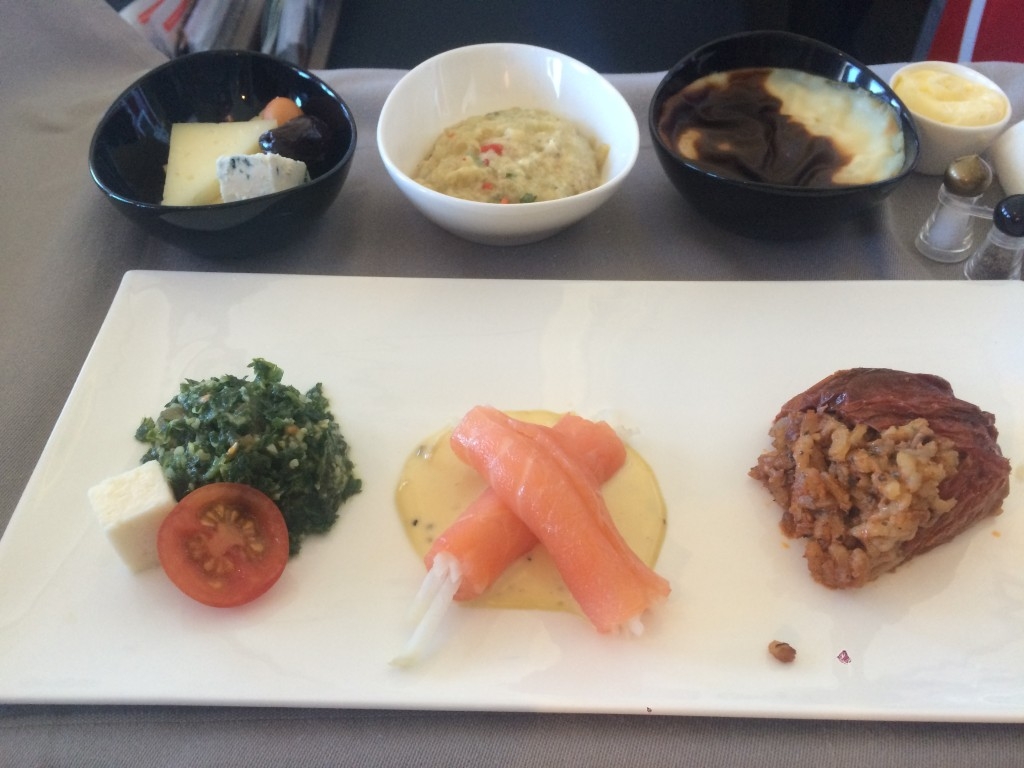 Selection of main courses:
Lamb shank with cannellini beans, tomato sauce, buttered rice
Chicken en papillotte, spring vegetables, wild thyme
Macaroni and cheese, cheddar sauce, tomato
Dessert:
Turkish style oven baked (served cold) rice pudding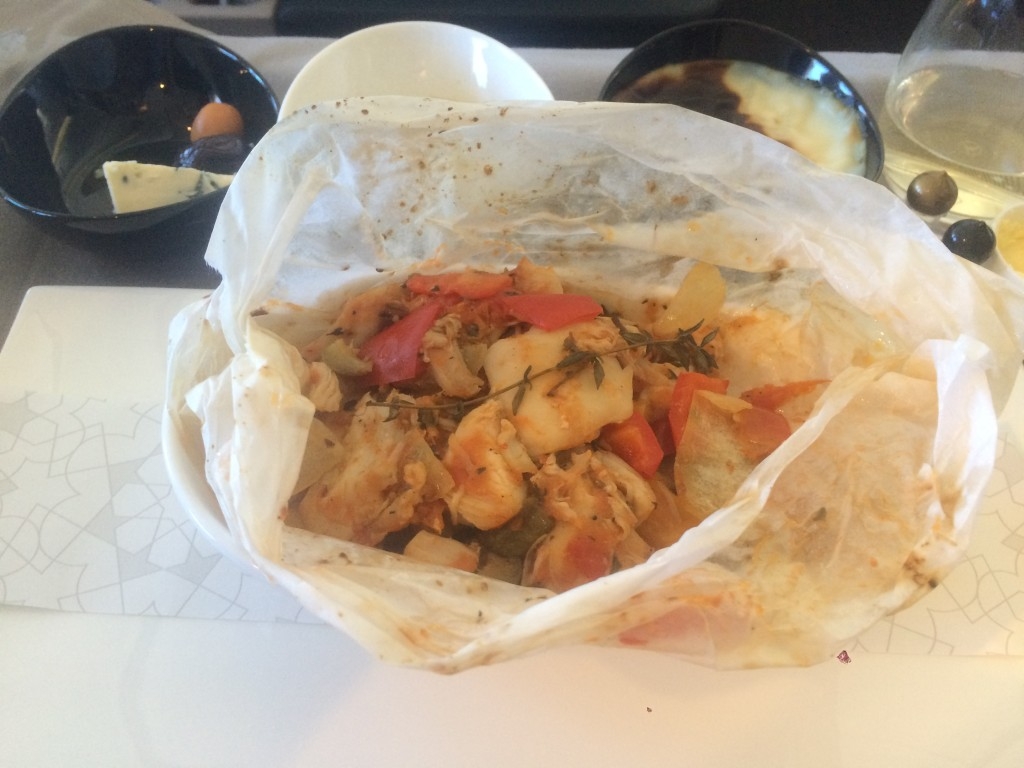 What I had was OK.  I took the chicken for the main course (see above) which tasted fine although, as it was wrapped in paper, it was a bit messy.
The cold rice pudding was quite good but – as I have a German wife – cold rice pudding is part of my life anyway.
The drinks list was on a par with BA.  There was no separate wine list so I can't compare the quality of what was available.  The selection is certainly not premium, however.
As I said in Part 1 of my Turkish Airlines business class review, Turkish – on a long-haul aircraft – is a great choice if you need to fly from London to Istanbul in business class.  I believe they have a long way to go to compete with the Middle East 'big three'.
In the next part of this series, I will look at the Turkish Airlines lounge in Istanbul (click here to read).  It has a reputation for being one of the largest business class lounges in the world, but does that mean it is any good?