Turkish Airlines launches new menus …. and teases a 600 aircraft order
Links on Head for Points may pay us an affiliate commission. A list of partners is here.
Yesterday I was in Istanbul, ostensibly to try Turkish Airlines' new menu concept which rolled out on Wednesday.
It is part of a renewal for the Star Alliance carrier, which has rapidly risen through the ranks in the past 20 years to become the largest long haul airline in Europe. It now flies to more destinations than any other airline in the world, with 340 routes. More are coming.
This year Turkish will celebrate its 90th birthday, and as it looks towards 100 it has announced a ten year plan that will take it to more than 800 aircraft and 170 million annual passengers. By 2033 it hopes to have doubled in size.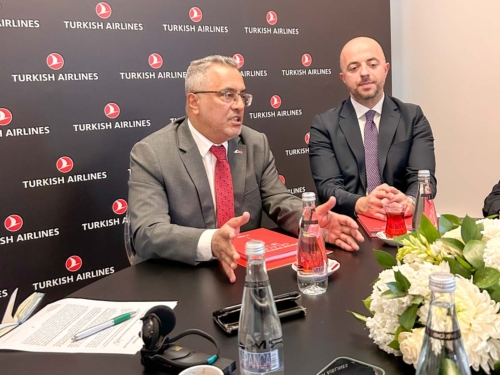 I spoke to Dr. Ahmet Bolat, Chairman of Turkish Airlines:
"We used to be called a boutique airline by the European carriers. In 2003, Turkish Airlines was ranking 11th in Europe. Lufthansa, AF, KLM, BA, we were feeding them all through their capitals …. At that time we had around 65 aircraft carrying just 10 million passengers per year. In 20 years, Turkish has become number one as a network carrier airline in Europe, just behind Ryanair, and carried more than 72 million passengers.
The next decade will see growth slow at the airline – from an average of 12% to a target of 7.6% annually, to 170 million passengers. To achieve that, Turkish Airlines needs new aircraft – and fast.
"At the next IATA Annual General Meeting we are going to announce an order with one of the big manufacturers; we have almost finished our discussions with them. In total we are going to order around 600 aircraft. Around 200 will be widebody and 400 will be narrowbody. So that's the big news."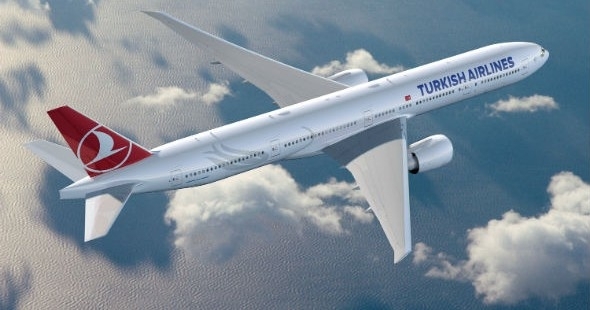 600 new aircraft are needed
By all accounts the order will be split between Boeing and Airbus, with a follow-up order to come at the Paris Air Show this summer:
"We are very close with one company, we don't want to delay that, and there is also the Paris Air Show coming, so for the other company we can announce it then."
One aircraft that Dr Ahmet said isn't on the cards, at least for now, is the 777X – the upcoming and much delayed update to the largest twin-engine aircraft available. Originally due to launch in 2020 with Lufthansa and Emirates, first deliveries are now not expected until 2025 at the earliest.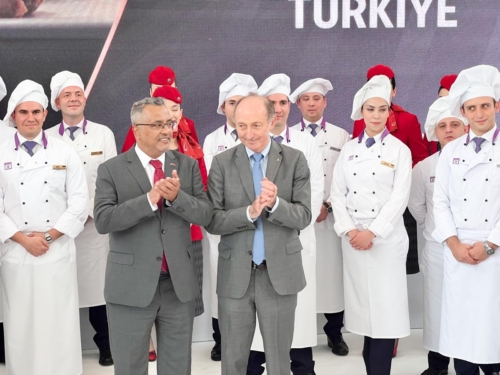 Turkish Airlines is planning non-stop Australia services
Later this year, Turkish Airlines will launch flights to Australia – Sydney or Melbourne, it hasn't been decided yet, although:
"Melbourne is more likely – because there is a big Turkish community in Melbourne, and there's no curfew in Melbourne Airport".
To begin with, these will be one-stop flights operating via a hub such as Singapore, but the intention is to offer non-stop services.
Turkish Airlines will need an aircraft with legs – the legs only a Boeing 777X or Airbus A350 has. As the crow flies, the route is over 9,000 miles long – longer than Qantas' direct flights from London to Perth. Qantas currently operates this route with a payload-restricted Boeing 787.
At the moment it seems that the 777X is not on the cards: "we are not going to rush to order 777X" said Dr Ahmet, citing the plane's unproven performance and recent teething problems on other new aircraft programs. "We avoid aircraft which are not mature …. we don't want to have the risk [of teething problems]."
Turkish Airlines was notably late to ordering both the Boeing 787 and A350, which it has been flying since 2019. "The 787 was mature when we ordered it, the A350 was mature."
This leaves Turkish with the A350-1000ULR – the variant that Airbus is developing for Qantas under its plans to offer direct flights from Sydney to Europe and North Eastern America. Qantas is expecting its first to arrive in late 2025.
Still, Dr Ahmet is leaving the door open to Boeing, at least for now:
"We are going to order one of the variants, not both. We don't need many in that category – we need around 20, maximum 30, so we don't want to split the order."
Free internet for all
More changes are coming. Whilst Turkish already offers free messaging for passengers in all classes, and free wifi in business class, it hopes to be able to extend this to all passengers.
"I think free wifi will be available in less than two years. We have already had good discussions with SpaceX's Starlink, which has a good product …. We are talking with Viasat, Panasonic, Gogo, all the big ones in the market. So it will take around 1.5 to 2 years."
New menus in all classes
Finally, of course, there's the reason I'm even here – for the launch of Turkish Airlines' new menus.
Launched on Wednesday, I got to experience it before it was even officially announced – and was impressed.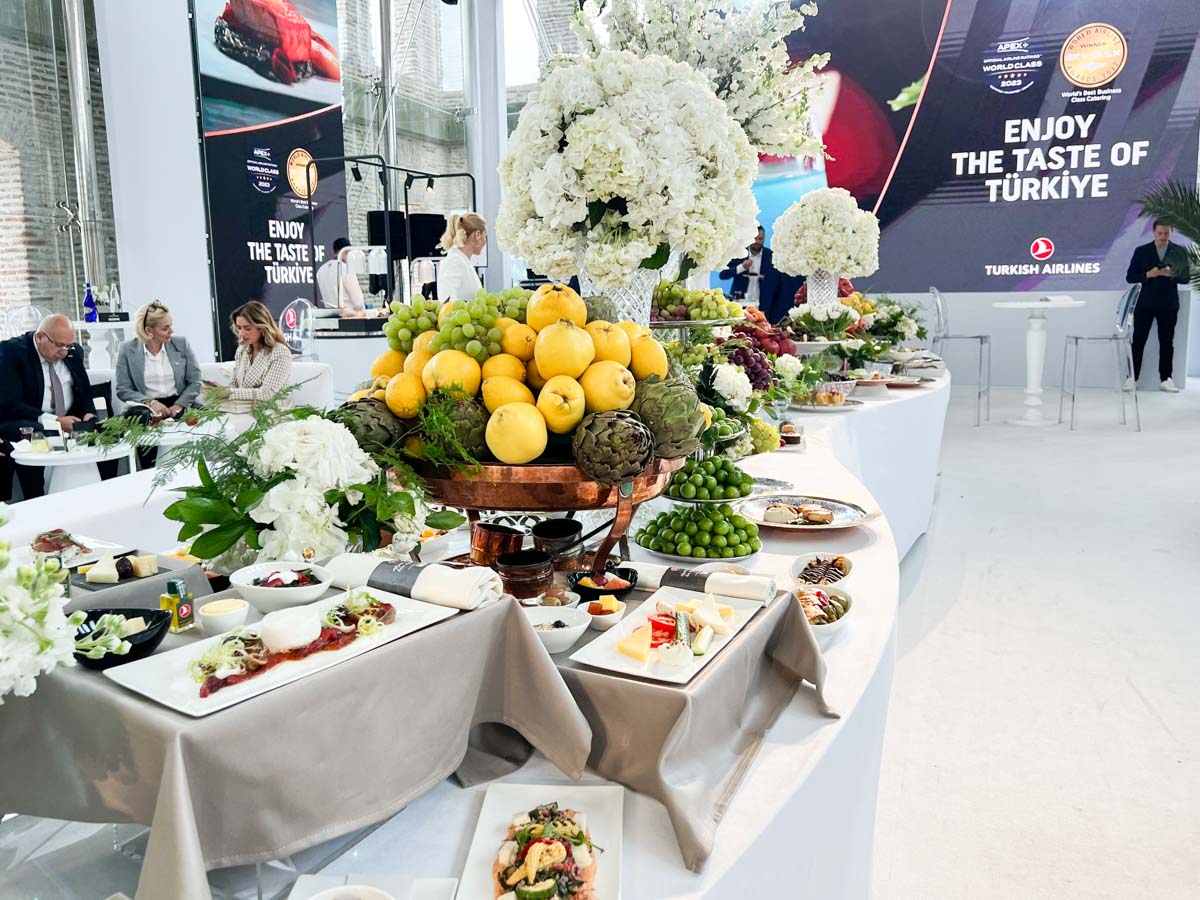 In my review, which will be published in the next few days, I note that:
"Overall, the quality and quantity of the food was impressive, given this was a three hour flight. It was better than many long haul business class meals I've had."
It was equally impressive on my return trip.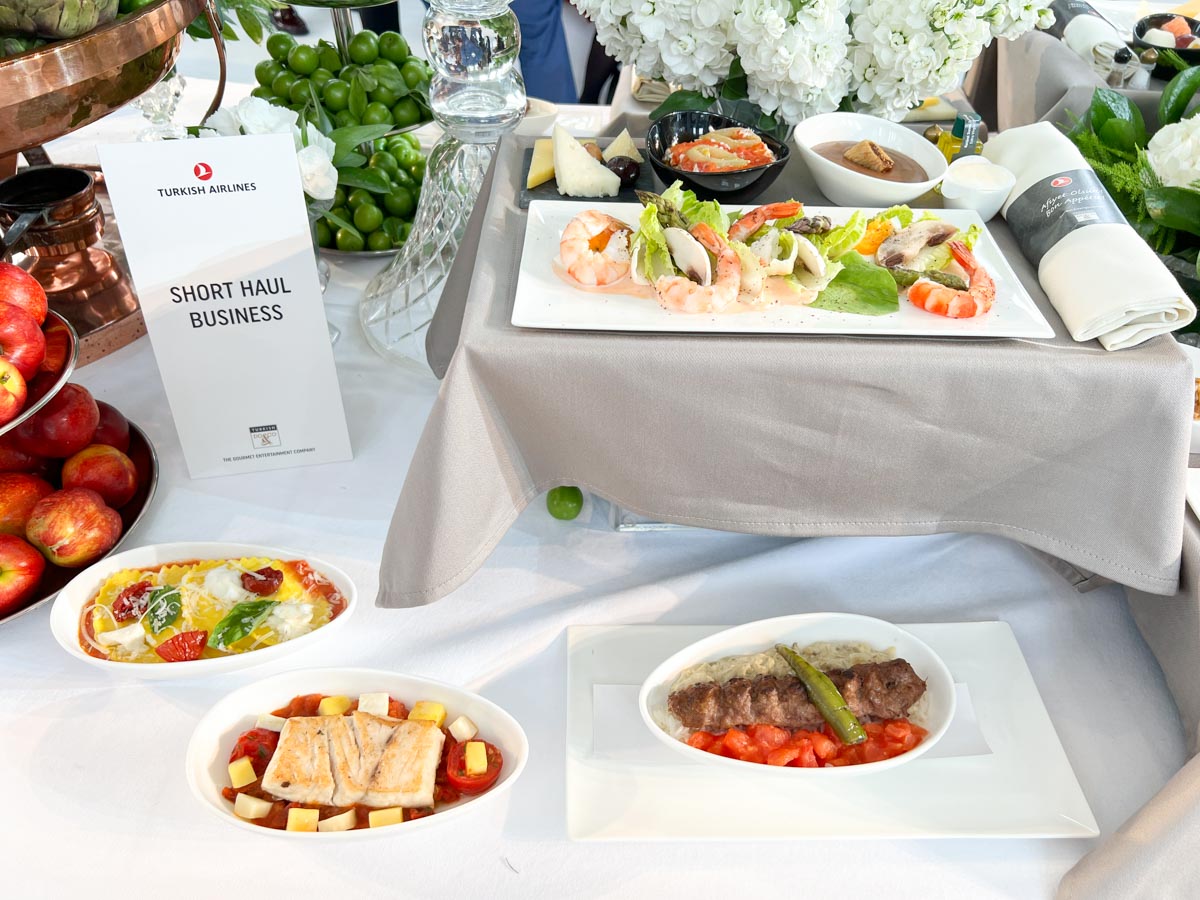 Like many brands, Turkish is aiming to source as many ingredients locally and seasonally, saying it is currently at 80%.
Turkish has the benefit of having control of its catering operations under Turkish DO&CO, a joint venture with DO&CO, the Austrian airline catering company. This is the same company that British Airways now uses, although it's clear that Turkish has a far bigger budget to spend than BA. Even on short haul routes the quality and quantity of food is impressive.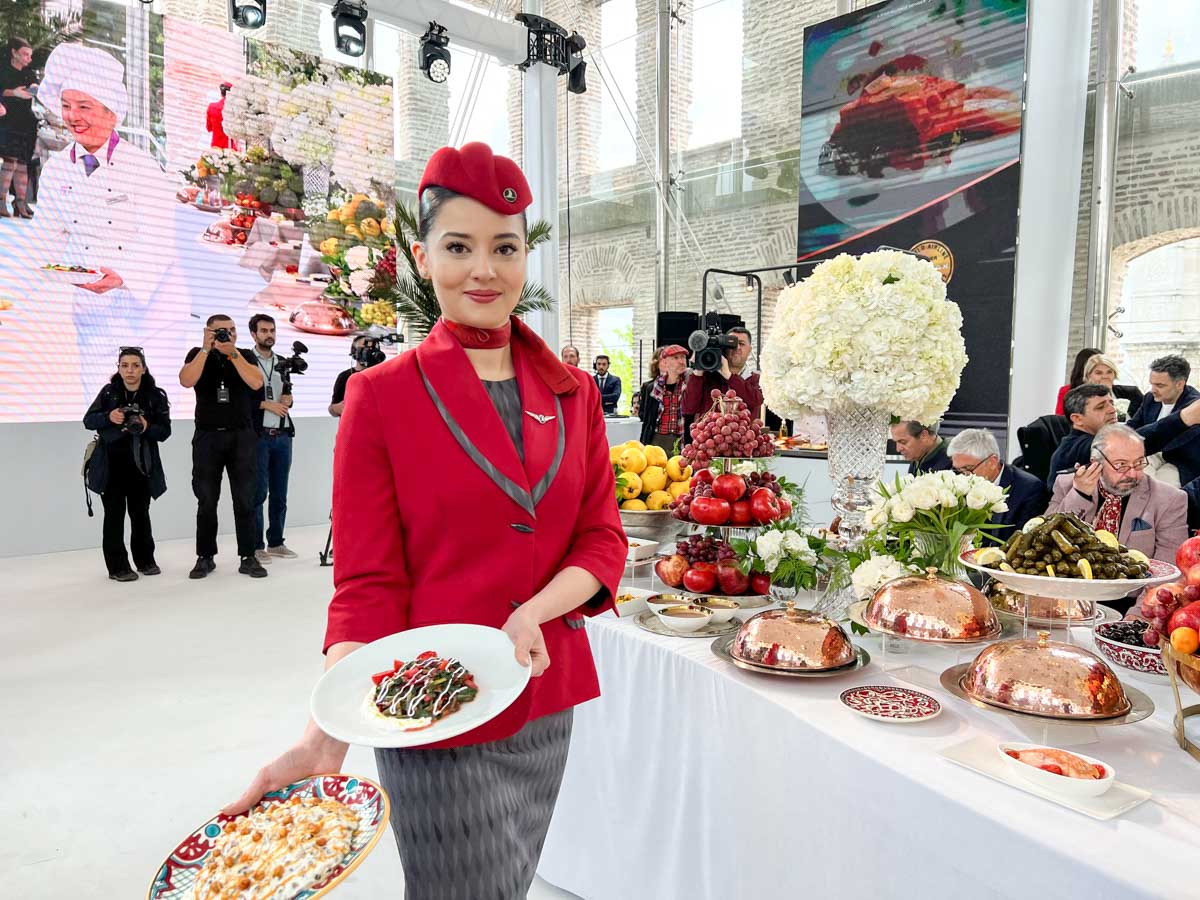 "We want to make sure we are offering passengers real Turkish food, not sanitised aircraft food. That's important for us."
To celebrate the launch of the new menus, Turkish put on a celebratory runway, with its cabin crew and Flying Chefs walking every single dish now available, from domestic economy to long haul business class, past two rows of journalists and guests.
In total, there there are over 300 dishes and yes – we saw them all!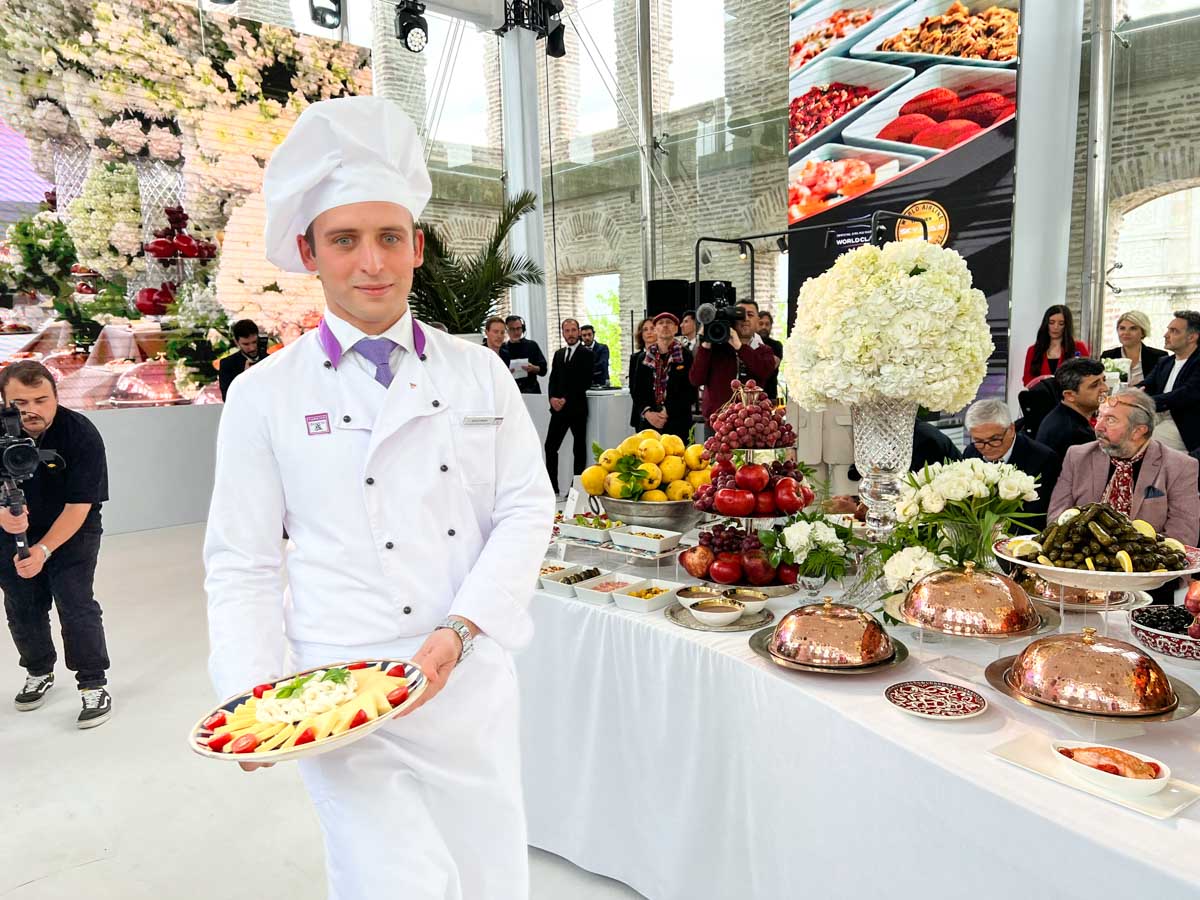 The food is seriously impressive. Clearly Turkish was putting its best foot forward at this event, but even on my two flights the food was fantastic – well presented, tasty and generous. And that's just on a short haul flight.
I'd love to try it on a longer route, with Turkish's famous Flying Chefs. It's certainly some of the best plane food I've ever tried.
Conclusion
Now a nonagenarian, Turkish Airlines has no intention of slowing down. With its centenary just a decade away, the airline is hoping to double in size.
To do so it will need to execute an impressive fleet growth strategy at a time when aircraft manufacturing has slowed whilst orders are up. Air India and upcoming Riyadh Air are just the latest to sign blockbuster deals with Airbus and Boeing. It's hard to see how this can be achieved without both manufacturers seriously ramping up output – something they're both currently struggling with.
It's good to see Turkish Airlines continue to invest in the customer experience as it grows. I've said it before and I'll say it again: the new menus are impressive, with inspired local choices and international choices. The increase from two to three choices of main course – in all classes – is a genuine improvement. Upcoming flight reviews will show you exactly what you will get on short haul.