I don't get it. Why do people like the Turkish Airlines lounge in Istanbul?
Links on Head for Points may pay us an affiliate commission. A list of partners is here.
Some people felt I was a bit unfair to Turkish Airlines when I reviewed their Boeing 777 business class service last week.
If you thought I was too critical, you are unlikely to be keen on my review of the Turkish Airlines CIP business class lounge in Istanbul. I'd move on now.
The Turkish Airlines lounge has a buzz, a reputation, to it – it became part of the reason I wanted to go down to Istanbul. It won the Skytrax 'Best Business Class Lounge' in 2015, for example.
The tagline is 'bigger than some airports'. This is actually true – the lounge is bigger than the departure area of Salzburg Airport, where I was 24 hours later, and bigger than Ras Al Khaimah's entire departure terminal (where I type this) – but bigger does not mean better ….
I take some comfort in my views from my US equivalent Gary Leff who in this article on the top 10 airport lounges in February said:
"But any best list ….. [which] includes lounges like the Turkish CIP lounge in Istanbul, anything in the U.S., South America, or Africa, or any British Airways lounge among the top 10 is clearly missing the boat."
The Turkish Airways lounge in Istanbul starts very nicely, with this English-style library complete with billiard table: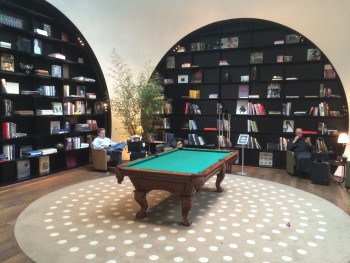 There is also a bank of lockers so you can leave your hand baggage, which is helpful. Then it just 'goes wrong'!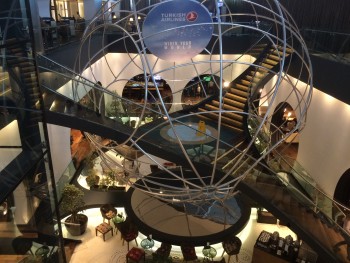 This photo below sums it up. We have lots of people crowded together, sitting on dull furniture, in a dull looking area.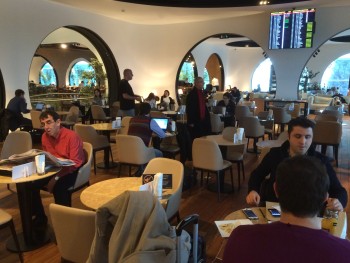 No flair, no style. Once you get past the billiard table it runs out of ideas. I am actually one of the biggest supporters of the BA lounges at Heathrow (Concorde Room aside) because they do have style, they have ideas. Even if those ideas do involve 6-foot high horses with lampshades on their heads.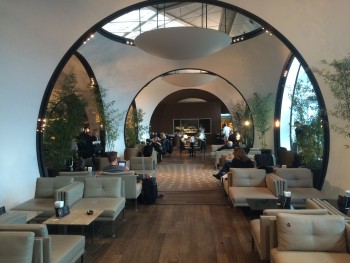 There are some things to do in the lounge which you rarely see, which I think is why some people like it. There is a golf simulator, but I don't play:
There are a couple of football video games, but that's not really my thing: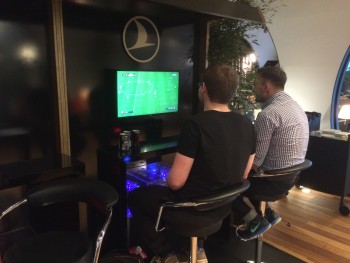 There is a car racing track, but I am a bit old for that: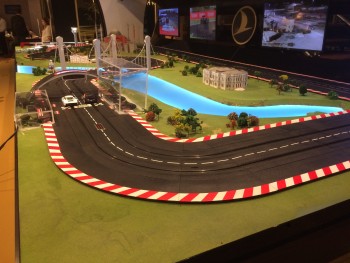 There is a good kids room, but my kids were back in London: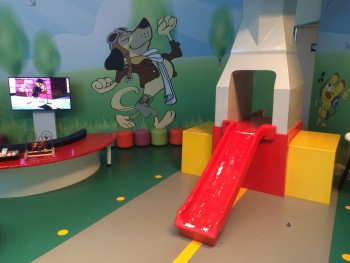 What you DON'T get is somewhere where you can sit, quietly, in a nicely designed area and have some decent quality food.
What Turkish has done is effectively recreate the same lounge multiple times! As you walk around the two levels, you realise that the same food and drink items are available from identical outlets in different corners. There is no attempt to break the space down into a series of different areas.
I keep coming back to the picture I ran at the top: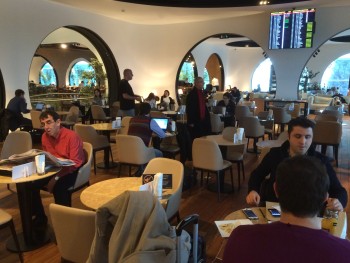 The lounge, to me, was about as exciting as that picture implies. The rest of the airport, however, is not exactly an improvement. If you're in Ataturk, do go into the lounge. You don't need to spend two hours there as I did.
Whatever you do, don't book yourself onto Turkish Airlines via Istanbul purely because you wanted to visit. There are a few lounges where you can justify that but this is not one of them.