Why I still love the Qatar Airways lounge at Heathrow (and why I was there)
Links on Head for Points may pay us an affiliate commission. A list of partners is here.
This is my review of the Qatar Airways Premium Lounge at Heathrow Terminal 4.
This is part of our series of reviews of airport lounges across the UK.  You see all of the reviews here.
Last time I wrote about this I declared that it was "the classiest lounge at Heathrow" and I wanted to see if that was still the case.  I wasn't disappointed.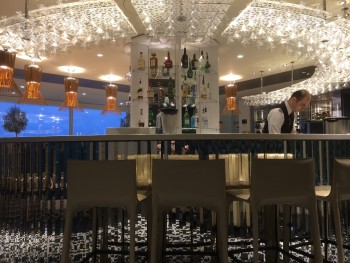 First, some background.
Starting tomorrow, there will be some coverage of Qatar Airways A380 business class and the Waldorf-Astoria hotel in Ras al-Khaimah (photo below) on Head for Points.
As the obvious question (apart from 'Where is Ras al-Khaimah?') is 'Why were you in Ras al-Khaimah?', I thought I would explain.
The United Arab Emirates consists of seven Emirates –  Abu Dhabi, Ajman, Fujairah, Sharjah, Dubai, Ras al-Khaimah and Umm al-Qaiwain.  Taking Dubai as the central point, Abu Dhabi is to the south.  If you drive north from Dubai, you will pass through Sharjah, Ajman and Umm al-Qaiwain before ending up in Ras al-Khaimah.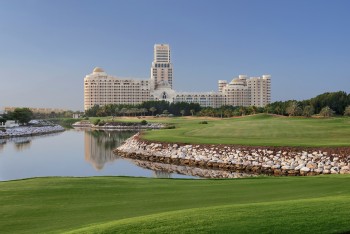 Back in December, I was invited to a formal dinner to meet the tourism minister for Ras al-Khaimah.  This was just after Qatar Airways announced that they were starting flights to the Emirate.
By coincidence, my main contact at Qatar Airways was also at the dinner.  The upshot of our discussions that evening was that I found myself invited on a Qatar Airways press trip down to Ras al-Khaimah.  I turn down more free flights and stays than I accept but the chance to escape the UK weather, review Qatar's A380 in business class and try out the Waldorf-Astoria was too tempting.
The flight reviews I will run this week are therefore from comped flights, although I paid all of my other expenses including the Waldorf-Astoria.
Anyway, back to the Qatar Airways lounge ….
Qatar Airways makes a big play of its Premium Lounge in Terminal 4.  It is only open to Qatar Airways or other oneworld airline passengers holding a First or Business Class ticket.  If you are travelling in economy but have oneworld status, you must use the SkyTeam lounge.
(Alternatively, for a slightly smarter experience and a shorter walk to the plane, Priority Pass or Lounge Club cardholders can use the Plaza Premium lounge – above the Qatar lounge – which I reviewed here.)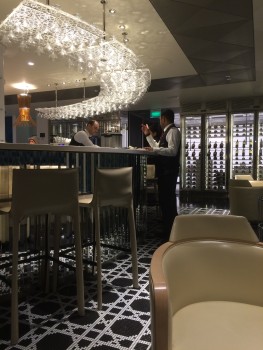 In my experience, when an airline has a combined First and Business Class lounge, it usually operates at the level of a Business Class lounge.  The Emirates lounge in Terminal 3 is a good example of this, as indeed is the SkyTeam lounge.  The First Class area of the old Star Alliance lounge in Terminal 1 was a bit of a joke and, apart from more chance of finding a seat, had very little to offer.
Qatar appears to have decided against this and is effectively running it like an exclusive First Class lounge but one which business class passengers can also enter.  As Qatar only has six flights out of Heathrow each day, it is unlikely that more than 250 people pass through the lounge.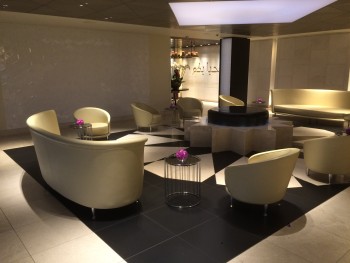 It is effectively like the British Airways Concorde Room but with more daylight.  Instead of a reception desk, you are greeting by the equivalent of a restaurant maître d' who checks your boarding pass and will store your bag and coat if required.
It is a very civilised environment.  Should you plan to turn up with a group of friends and get wasted, it is not the lounge for you!
As I was on the 9am A380 departure, I wasn't in the mood for overdoing the drink or the food.
All I had was some Billecart-Salmon rose champagne, a pain au chocolat and Eggs Royale.  As it happens, I often visit one of our local cafes for a pain au chocolat or Eggs Royale after I've dropped the kids at school, so I know how easy they are to do badly.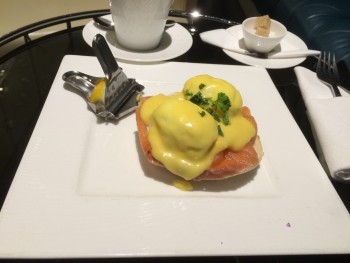 The Qatar lounge managed both perfectly.  Given how hard it is to produce a perfect pain au chocolat or Eggs Royale, I was very impressed.  I wasn't very surprised, however, because my past experience showed that this lounge has the best food at Heathrow – and I include all the paid restaurants.
Note the lemon squeezer that came with the Eggs Royale.  When was the last time that you got a piece of lemon with some food and it actually came with a squeezer?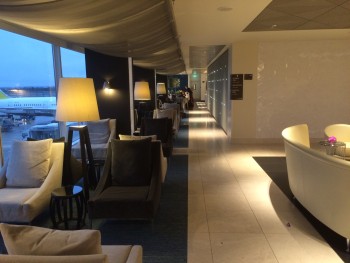 The lounge just 'works', or at least it works for me.  No shortage of newspapers and magazines.  Good staff.  Certainly no risk of overcrowding.  There is a shower room if you want one.
And, when it is time to go, it is a 30 second walk across to the Qatar gates.
The Qatar Premium Lounge is the complete opposite to, say, the Virgin Atlantic Clubhouse in Terminal 3 which is general regarded as the best 'fun palace' lounge in the world.  It is a high quality, restrained, adult environment where you can pass your time eating very fine food and drinking high quality beverages.  If that sounds like your sort of place, you should give Qatar a try.