My day out at London Southend Airport
Links on Head for Points may pay us an affiliate commission. A list of partners is here.
Back in the 1960s, apparently, Southend was London's official 'third airport'.  The growth of Stansted sidelined it until 2008 when it was purchased by the Stobart Group.  They have added a new terminal, a new control building, extended the runway and – most importantly – added a railway station.  Services have now been running for four years.
I had been keen to take a look for some time and finally decided to give it a go.
There were two ways of doing this.  One was to start a lengthy dialogue about arranging access with the PR team at the airport which would have gone on for weeks, including the issues involved in getting me an airside pass.  The second option was to pay £37 for a one-way easyJet flight to Paris, returning on a BA Avios redemption to Heathrow.  I went for Plan B.
Trains to Southend Airport run from London Liverpool Street, stopping also at Stratford.  It takes roughly 50 minutes which is only marginally longer than Stansted Express.  There are 4+ trains per hour, which means the service is also more frequent that Stansted Express.  A one way ticket was £16.80 and I got an entire Standard Class carriage to myself.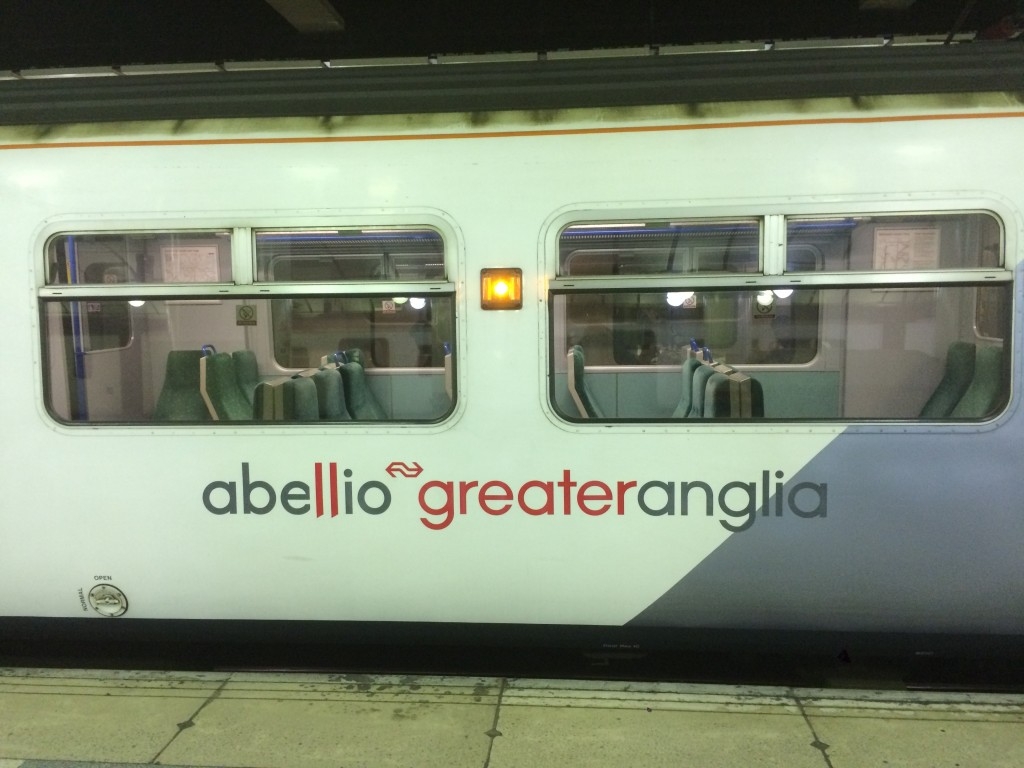 Note the horse in the photo below.  You don't get that at Heathrow.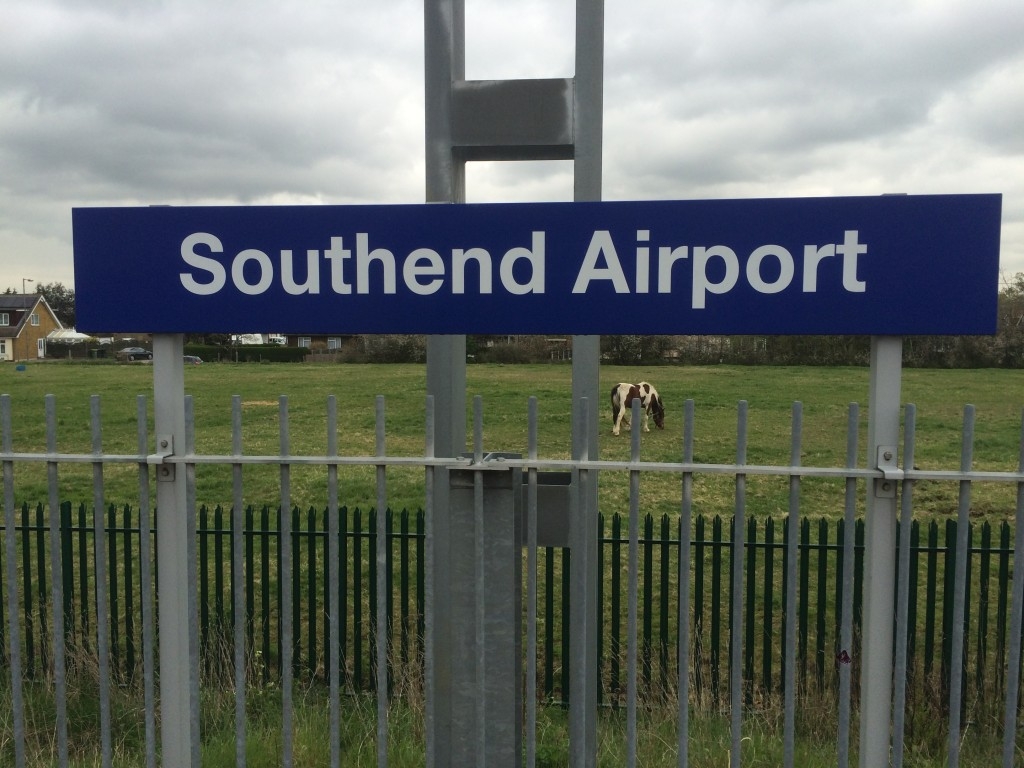 It takes literally 60 seconds to get from the platform to the terminal building.  It is even quicker than Southampton Airport.  In terms of easy access you really can't get better.  As a new station, it is also equipped with decent lifts.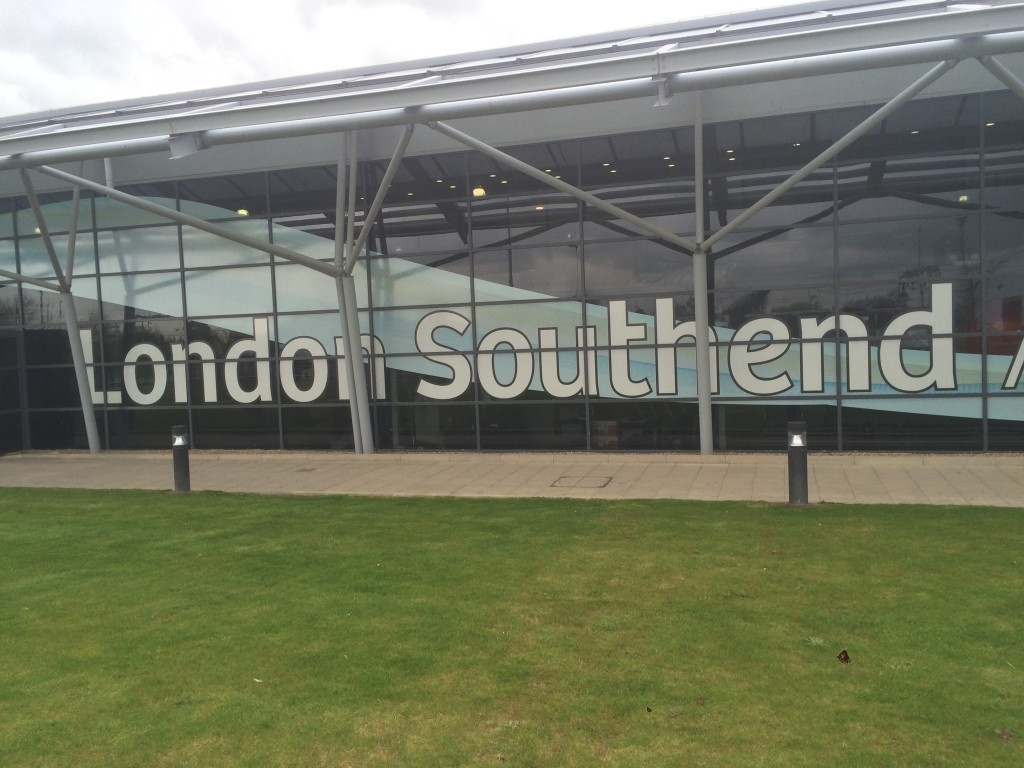 At one end of the terminal are a modest number of check-in desks: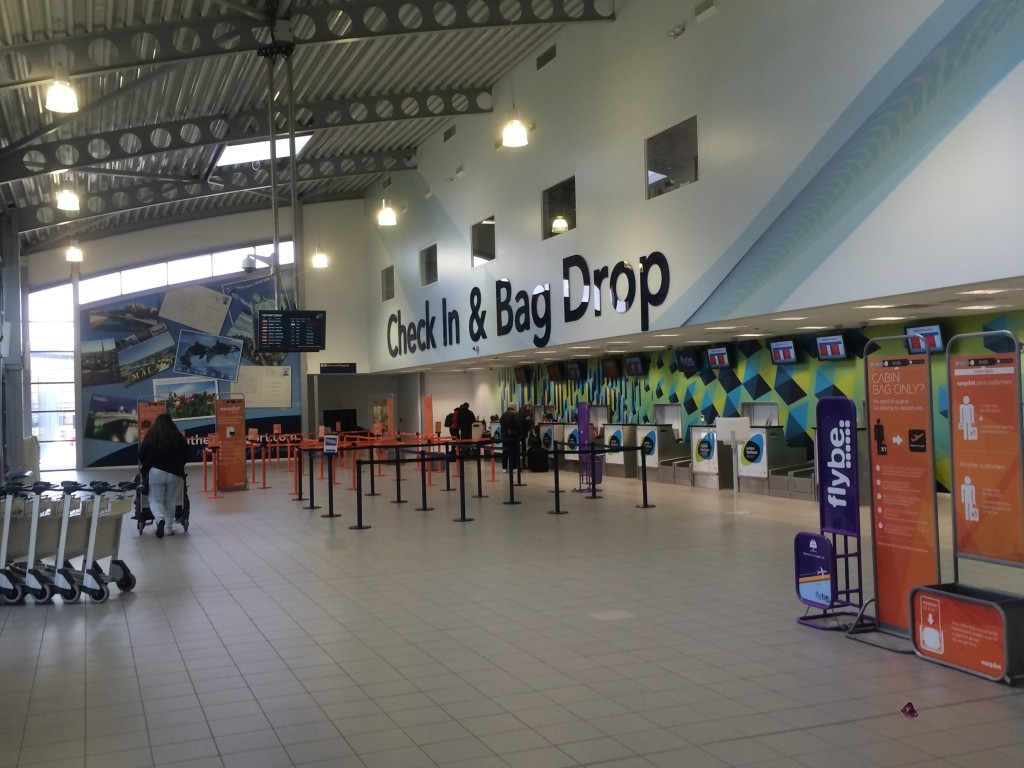 If you walk to the other end of the building, which takes under a minute, you get to the Arrivals area which has a landside cafe: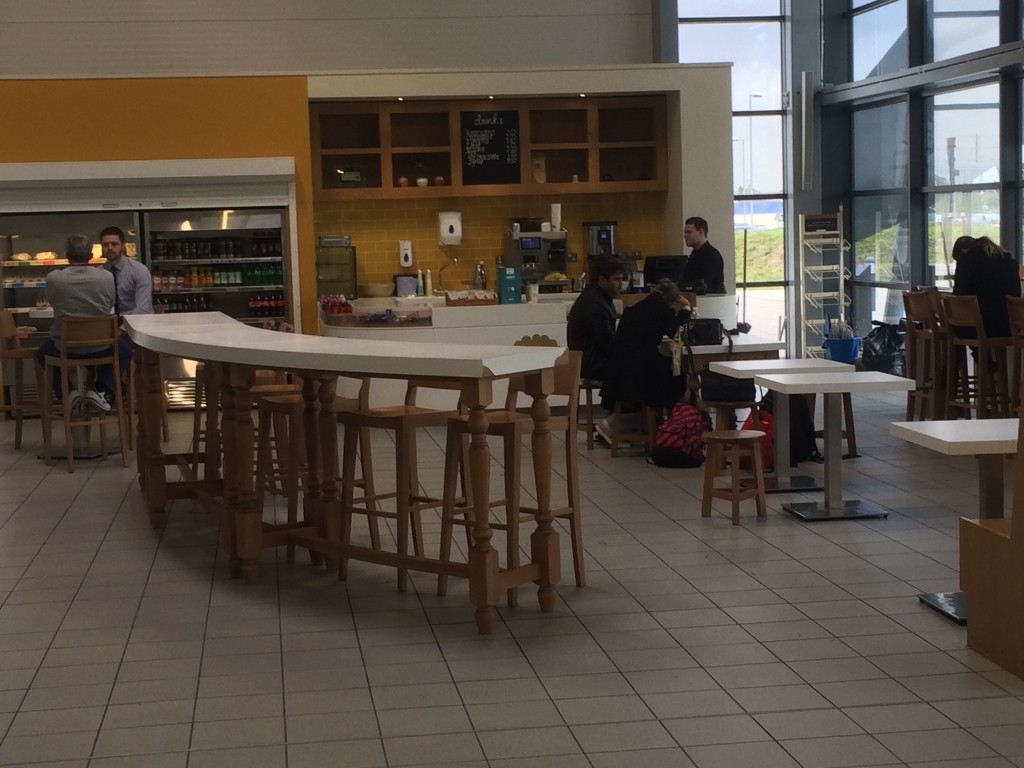 Security was empty with just four people ahead of me.  However, it still took around 10 minutes to get through due to a couple of numpty passengers ahead of me.  The security staff were being a little aggressive given the modest number of passengers and the fact that no flights were departing for over an hour.  Slightly worryingly, I walked through the metal detector with a pocket full of coins and it didn't go off.
I strongly recommend that you do not change money at the airport: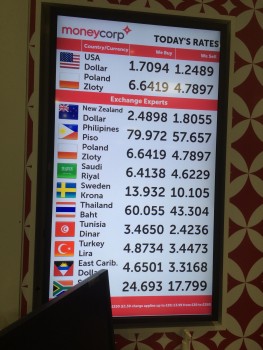 The airside facilities are more than adequate.  There is a restaurant and bar: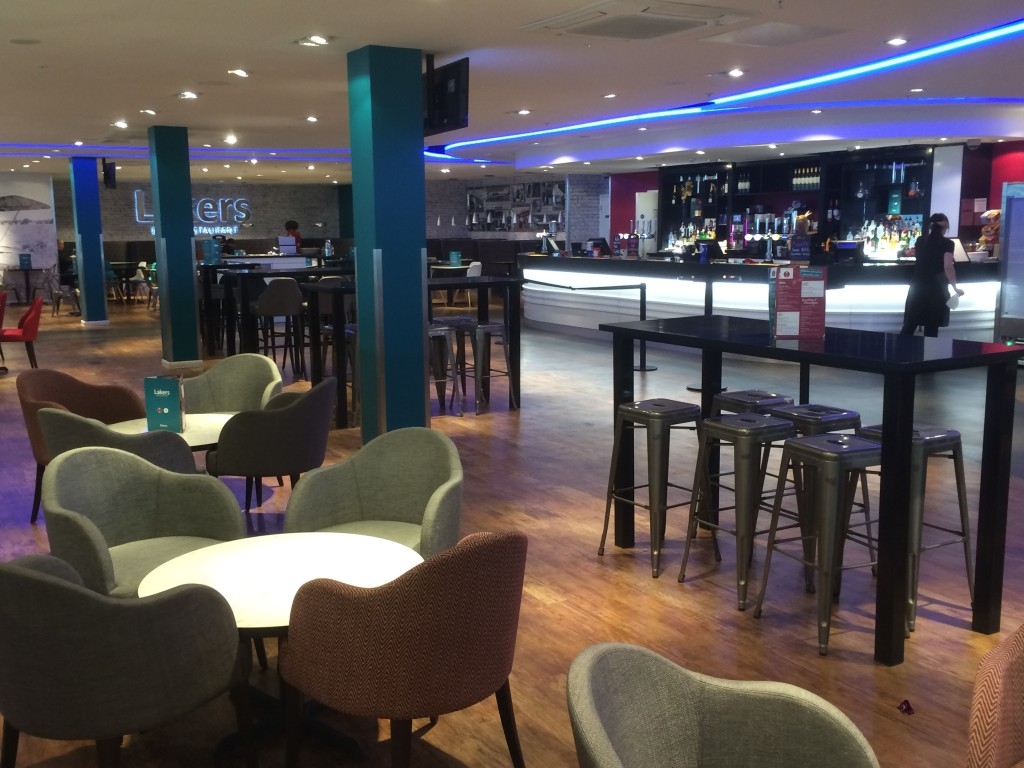 and two shops – duty free and a WH Smith – plus a smaller cafe:
I headed back up the stairs to the SkyLife Lounge where I used my Priority Pass to gain access.  It is not a Lounge Club member unfortunately.
(This article will become part of our series of reviews of airport lounges across the UK.  You see all of the reviews here.)
EDIT: A more recent review of the SkyLife lounge at Southend, which has been extended since this review, is here.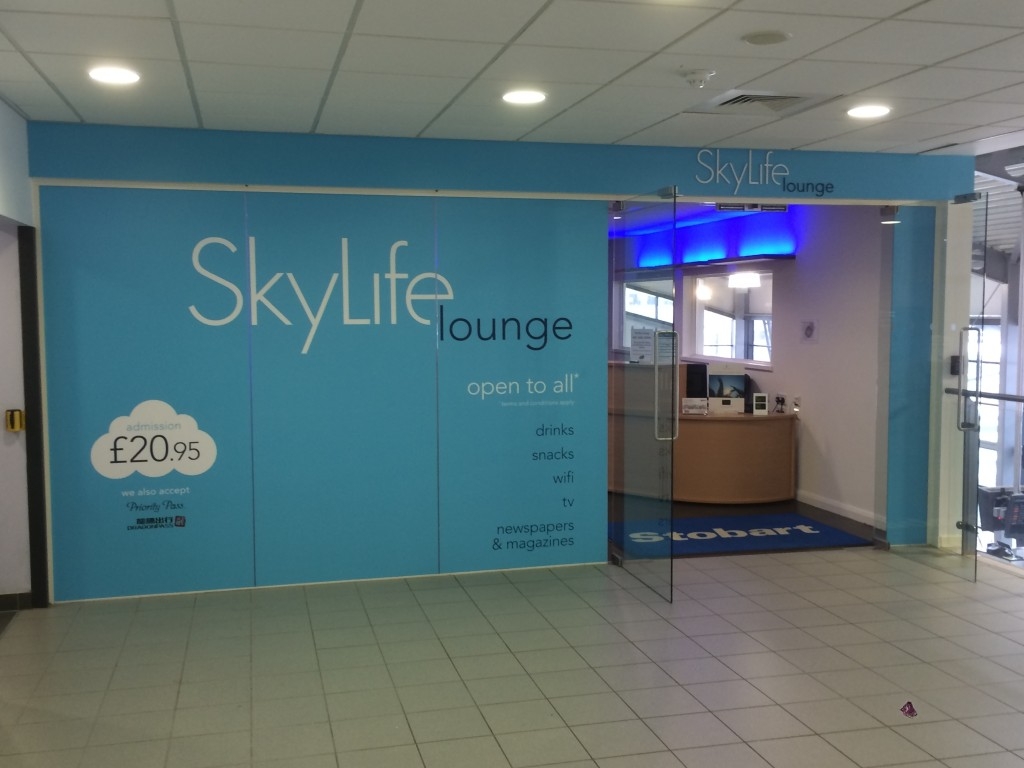 Given that I was the only guest, it was perfectly big enough!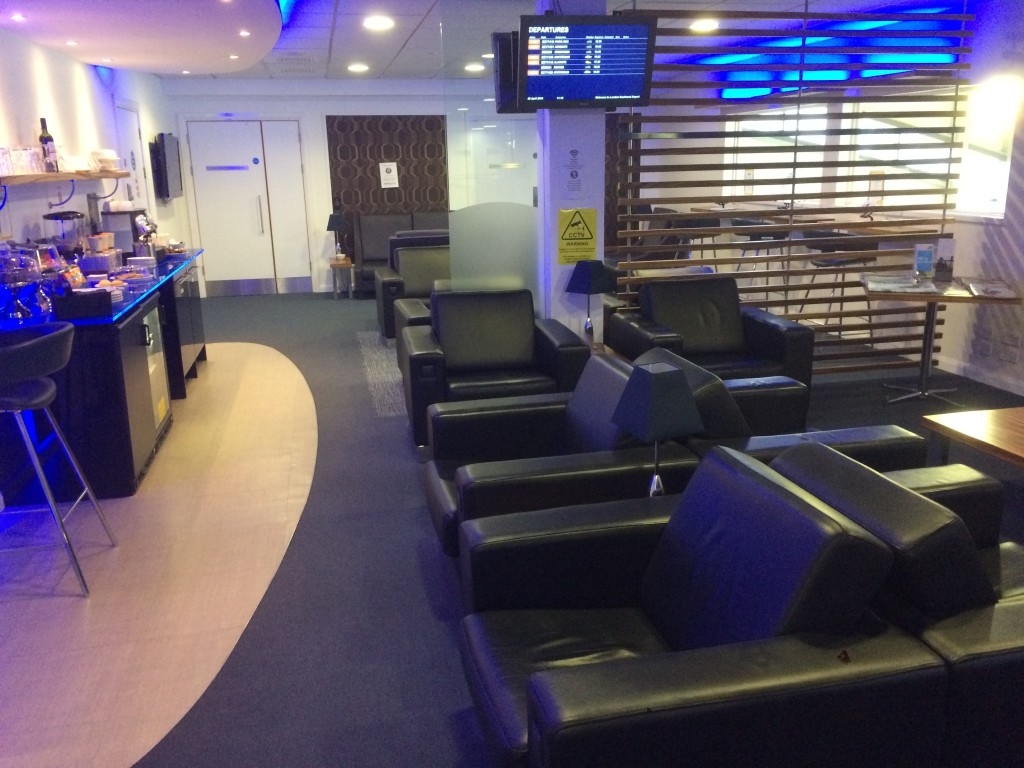 I was there for the end of breakfast, which meant a box of cereal, yoghurt, porridge, pastries and mini-muffins.  The cereal was replaced by bags of crisps whilst I was there.  No fresh food appeared but the receptionist came round and offered me a sandwich – unfortunately I was about to leave at that point.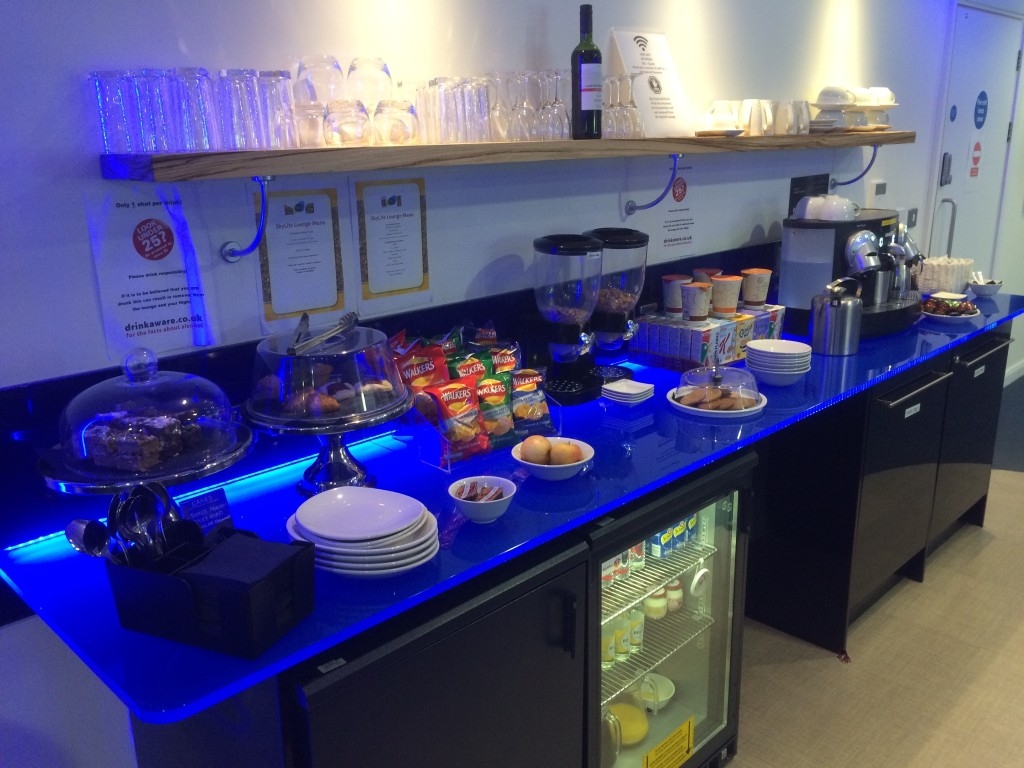 There is plenty to drink, especially spirits.  You don't see them in the picture as they only appeared when breakfast was cleared.  There was a bottle of red wine open but no white to be seen.
And that was that. The only thing that ruined the experience was the boarding process for my easyJet flight.  Monday was a cold and rainy day but, after our boarding passes were checked at the gate, we were sent outside and made to queue up on the tarmac.  We were technically under cover but the wind was blowing the rain at me for around 10 minutes.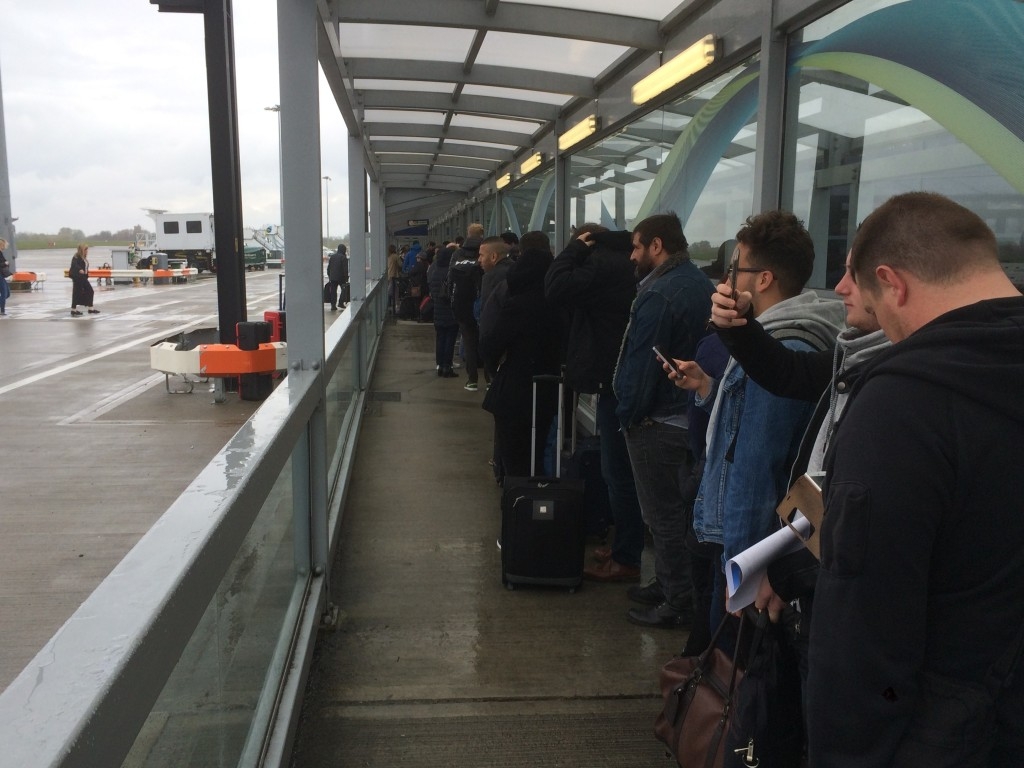 I can't complain about easyJet, who do what they do very well.  I had seat 1C, prebooked at an extra charge, and the rest of the row was empty.  There is no bulkhead as there was no wardrobe so I had all the legroom in the world.  £6.50 got me a hot bacon baguette – albeit a little soggy – plus a coffee and free KitKat as I appeared to have triggered a 'meal deal' with the first two items.  As far as I'm concerned, the quicker BA launches 'buy on board' in short haul Economy the better.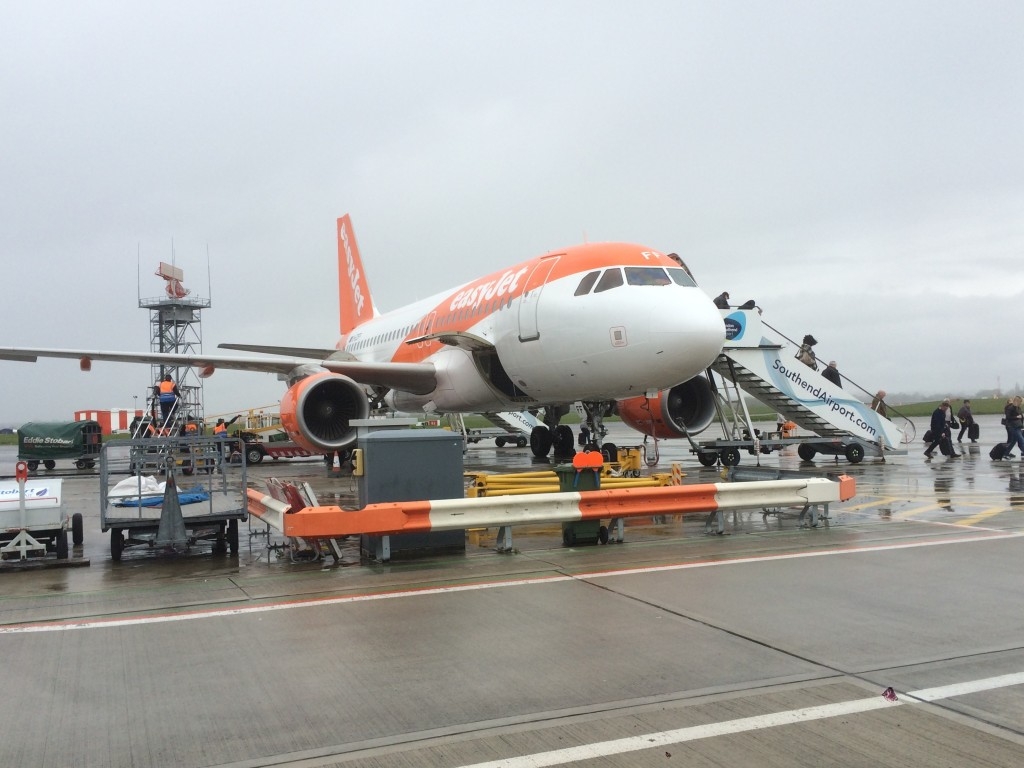 Conclusion
Southend Airport is a great little facility.  If you have easy access to Stratford or Liverpool Street then it is incredibly easy to access.  With just one departure per hour on average, it is never going to be overcrowded.
The fact that it has a perfectly acceptable Priority Pass lounge as well is an added bonus.  I am surprised that it is not with Lounge Club too as it is not exactly overcrowded.  If you have the chance to choose it for a short-break at some point I am happy to recommend it.