What Anika discovered when she gave Airbnb a try
Links on Head for Points may pay us an affiliate commission. A list of partners is here.
We have all heard about it, may know someone who has done it and possibly even have thought about doing it ourselves but were wary about what to expect: Airbnb.
Head for Points tends to focus on the major hotel chains – because those are the ones which hand out the loyalty points – but there is a quiet revolution going on.  Based on its last funding round, Airbnb is valued at the same level as Hilton.
The Airbnb idea is great in theory. Someone with a spare room rents it out to travellers who would like to experience a bit more of a place than just hotel rooms and hotel bars.  The best case scenario is that you end up staying with hosts that show you around, give you insider tips and become your Facebook friends.  At least that's how I pictured it.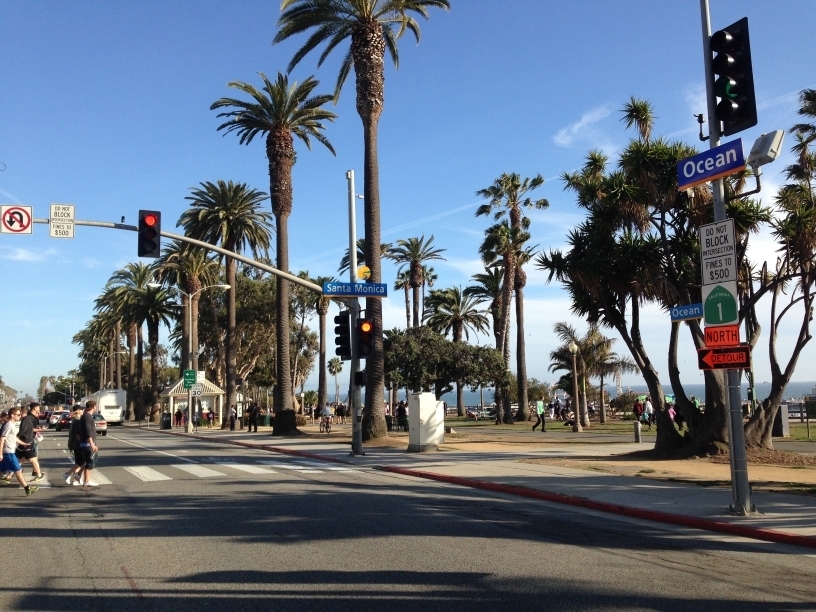 When I went to Los Angeles my original accommodation fell through and I decided it was time to give Airbnb a try.
I found myself sitting in Starwood's SLS Beverly Hills, which I reviewed here, not knowing where to spend the following night.  I set up an Airbnb account and worked my way through a long process of giving personal information and verifying my identity – after all I was going to stay in a private home and there needs to be some sort of safety and security.
Signing up to Airbnb
The first thing I did was search for a place in Santa Monica. I typed it into the search bar and looked at all the places in that area.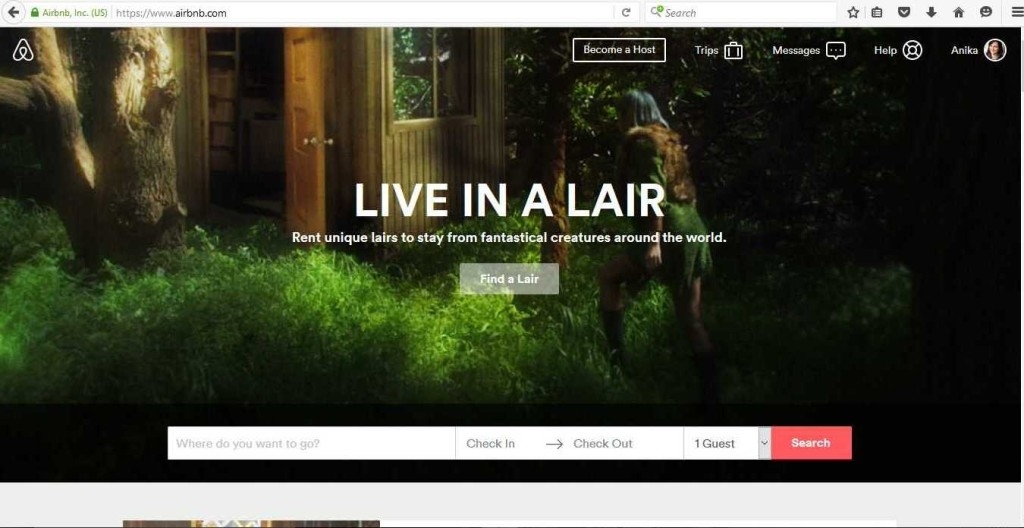 I chose a room about 20 minutes from Santa Monica pier, wrote a message and waited for confirmation.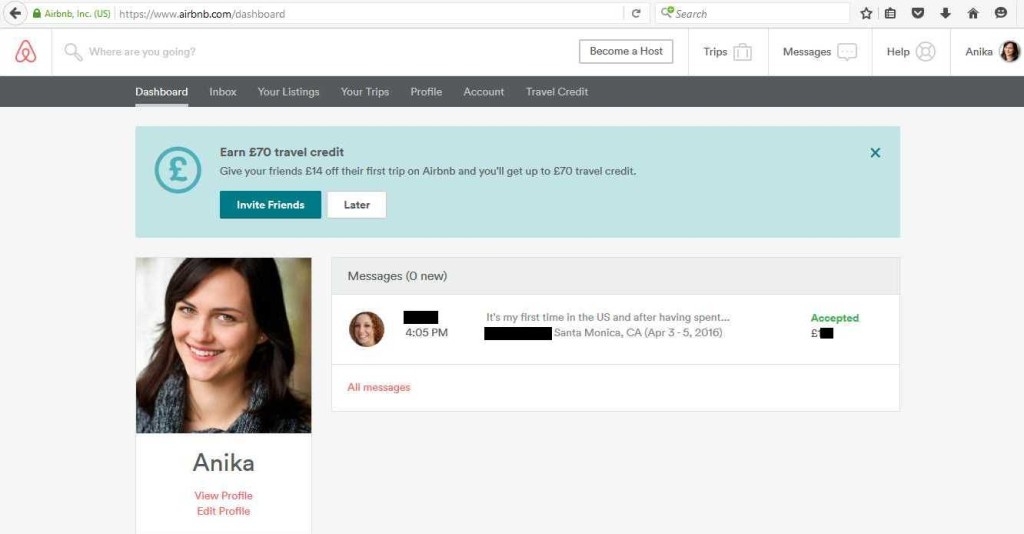 Verification
But before I could get a confirmation, I had to verify my identity and prove that I was a real living person.  I chose to connect Airbnb with my Facebook account but apparently there was not enough going on on my profile (which could have been due to my privacy settings) and I had to use another form of identification.  I took a picture of my drivers licence and uploaded it.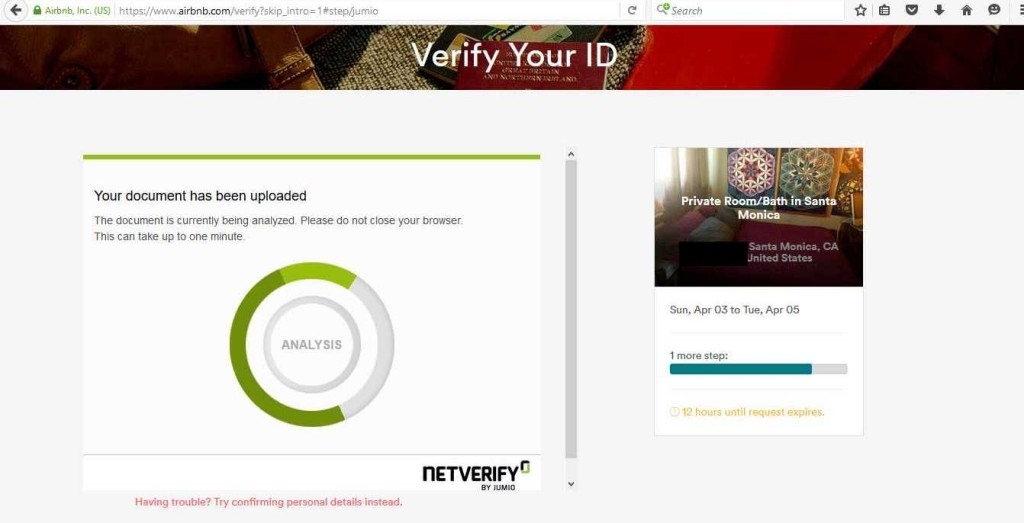 When I had finally been verified, a message was sent to the host.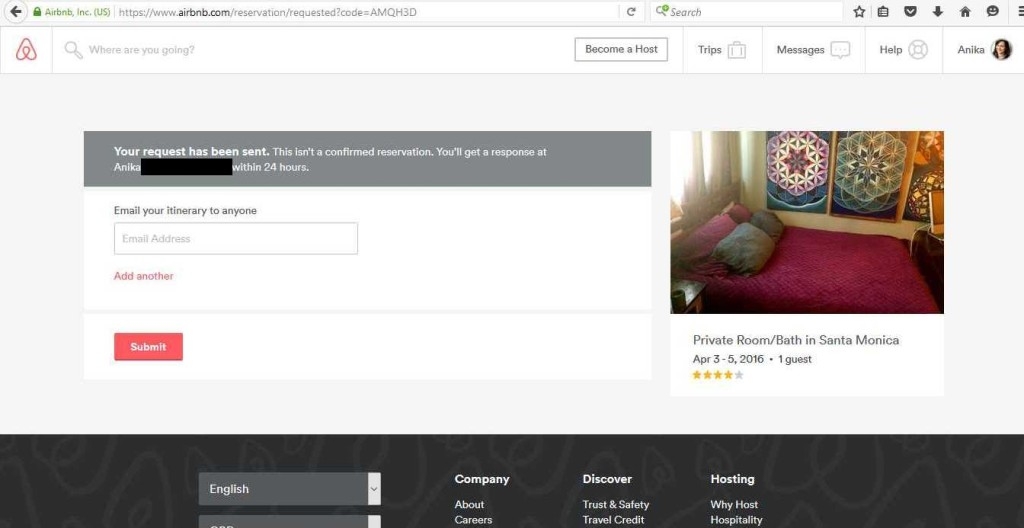 Confirmation
I received the confirmation via text message and e-mail with a phone number and address. Thanks to iMessage it was easy getting in touch with my host and arranging my arrival the following day.
From the pictures and comments I knew what to expect – a decent size room with en suite and a dog as a flatmate.
The room was exactly as shown on the site but could have done with a bit of hoovering prior to my arrival.  The bathroom was ok – but definitely not hotel standard.  I was warned about this from the comments on the host's Airbnb page, but as this place was the only one in Santa Monica available I decided I could live with it for a night or two.  (I haven't put the pictures here because I want to focus more on the Airbnb process than the specific places I stayed.)
I didn't get to meet the host until I checked out but that was mainly due to me not spending much time indoors and her not being around when I was checking in.
The Airbnb app
My second room was booked via the Airbnb app whilst I was sitting in a Starbucks in Venice Beach.  I found the app very easy to use and highly recommend it if you want to be a bit spontaneous with your travel.
You can enter your preferred destination and have a look on the map to find the exact location. It also shows the prices of every room and apartment. As your credit card details are saved on your account, you don't need to put in any card details when booking.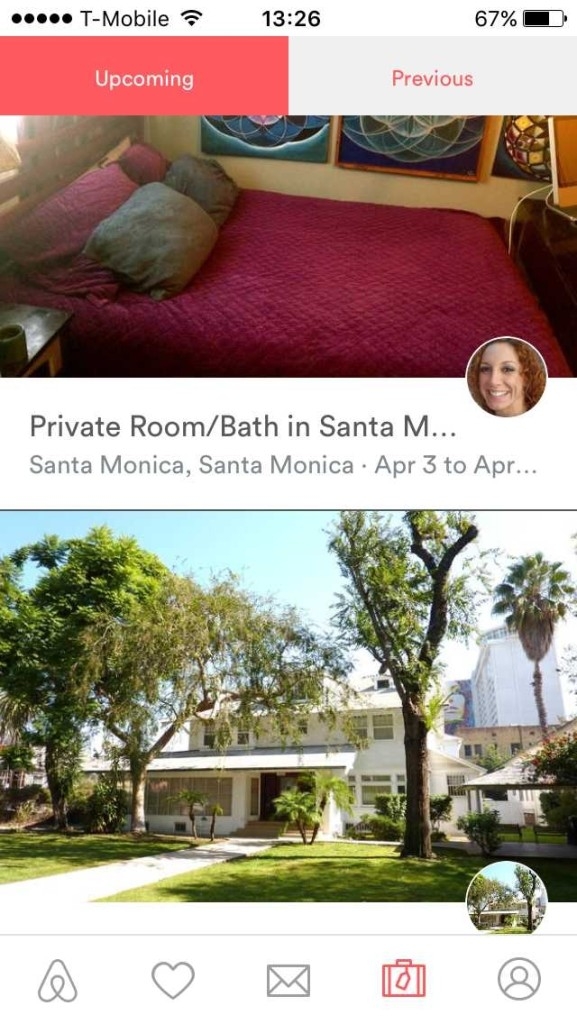 I loved the second place I stayed at. It was a lovely hostel just off Hollywood Boulevard (Orange Drive Hostel – if you ever need to recommend a hostel in Hollywood to anyone) which I found useful as I could walk down the Walk of Fame on my way to the Metro station,  snapping a few pictures without outing myself too much as a tourist.
One reason I booked it were the 100+ positive reviews. I wasn't disappointed when I arrived. Everything looked as in the pictures, there were two lovely outdoor spaces, a kitchen with free breakfast, fast free wifi and everything was incredibly clean.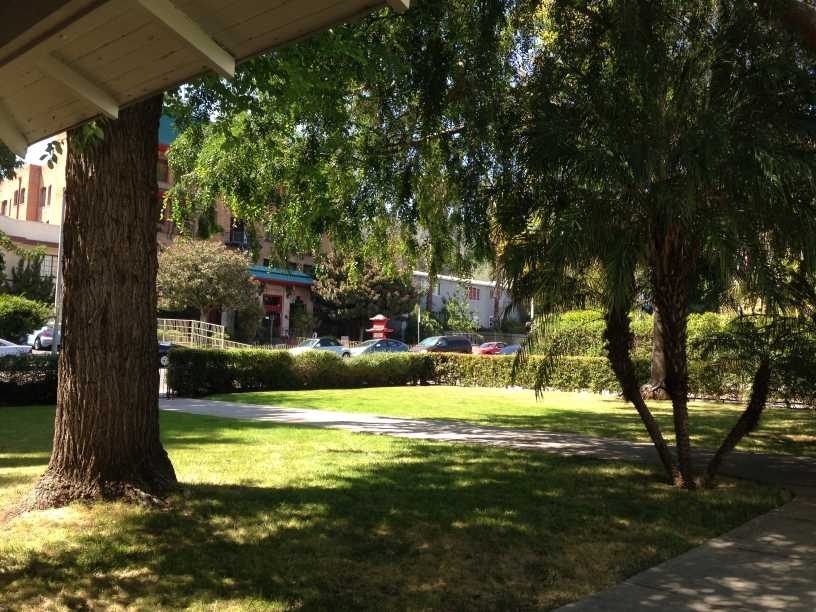 Afterwards
After your stay you are being asked to write a review about your stay which will appear on the hosts page and also to give feedback to Airbnb for internal use. The hosts are also asked to write a review and as soon as both parties have written their reviews they are published (if one decides not to write a review the other one will be published after two weeks). The review from the host can affect whether or not you will be accepted by a host when booking in the future.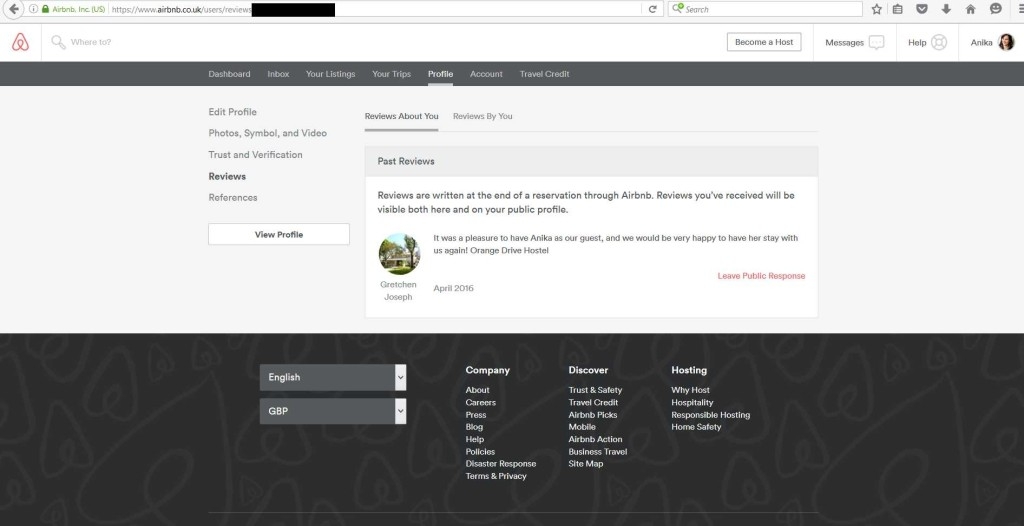 Is Airbnb for you?
I loved using Airbnb. It is not really comparable with a hotel as it is a whole different way of travelling.  If you are travelling alone as I did it's good to search for a room in a shared apartment where the comments are very positive about the host.
Usually you can also find out through comments if the host will be around to show you around the area. In my case the flatmate (the human flatmate not the dog flatmate) didn't know much about Airbnb but was happy to tell me about a great bar around the corner and how to get around by public transport.
When travelling in a group or as a family a whole house or apartment is also an option. You are independent, can cook your own meals and won't be disturbed by anyone. The search option lets you narrow the results down to the price you want to pay and goes up to £500.
You can find whole houses with swimming pools in the higher price category or a sofa in someone's living room for just a few quid. I paid £44 a night in Santa Monica and £33 a night in Hollywood.  My focus was not to have the biggest and best room with en suite and breakfast, but simply a bed for the night in the area I wanted to explore.
When my parents came to visit me in London last week we spent a night at a friend's place just outside Windsor which is also listed on Airbnb. Unlike the places I stayed at in Los Angeles, this is a large house which can sleep up to eight people. It just shows how different the options are on Airbnb.  You can book a room, a whole apartment or a whole house almost everywhere in the world.