Yesterday, IHG Rewards Club (the Holiday Inn, HI Express, Crowne Plaza, InterContinental etc group) released a "preview" of the new list of PointBreaks redemptions.
These rooms are a fantastic deal.
All of the 125 hotels below will be available for just 5,000 IHG Rewards Club points per night from Monday, saving up to 25,000 points per night in some cases.
PointBreaks availability is very limited so book ASAP if you are interested, as soon as bookings open up on Monday. Bookings are refundable as with a standard reward reservation so there is nothing to lose.  IHG works on US time so I would not expect the offer to be available until mid-afternoon in the UK.
You can book via the IHG PointBreaks page here or via the standard booking page here.  If the PointBreaks page has not yet been updated, it does not necessarily mean that the special deals below will not already be bookable – do a search on the hotel you want to check.
You will be able to book these hotels for dates up to January 31st.
Please note that, whilst this list was released to some US websites, it was not given directly to Head for Points and I cannot be 100% certain that the final list will exactly match what is listed below.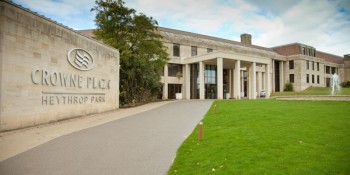 You allowed a maximum of two bookings per individual hotel. Each booking can be for as many nights as you want.
Remember that if you attempt to amend your booking later by dropping a night or two the whole booking will reprice at the full rate.
To be honest, this is a pretty weak list of hotels.  The one that looks most interesting in Europe is a Holiday Inn Express in Hamburg!
However, as I always say, the world doesn't work like that.  We all have our individual travel schedules for the next three months and – if any of these hotels prove suitable for your itinerary – you've got a great deal.
The list: (remember that you cannot book until early afternoon on Monday):
United Kingdom
Holiday Inn Express Birmingham – Castle Bromwich
Holiday Inn Express Cambridge-Duxford M11, Jct.10
Holiday Inn Express Rotherham – North
Holiday Inn Luton-South M1, Jct.9
Holiday Inn Express St. Albans – M25, Jct.22
Holiday Inn Express Kettering
Holiday Inn Basildon
Europe
France
Holiday Inn Lille – Ouest Englos
Germany
Holiday Inn Express Neunkirchen
Holiday Inn Dresden – Am Zwinger
Holiday Inn Express Hamburg City Centre
Italy
Holiday Inn Salerno – Cava de' Tirreni
Kazakhstan
Russia
Serbia
Spain
Holiday Inn Express Madrid – Alcorcon
Holiday Inn Express Campo de Gibraltar – Barrios
Turkey
Crowne Plaza Istanbul – Florya
Asia & Australia
China
Holiday Inn Express Changzhou Lanling
Holiday Inn Express Hefei North
India
Crowne Plaza Kochi
Crowne Plaza Chennai Adyar Park
Holiday Inn Express Chennai Mahindra World City
Crowne Plaza Pune City Centre
Indonesia
Holiday Inn Cikarang Jababeka
Holiday Inn Express Jakarta International Expo
Japan
ANA Crowne Plaza Wakkanai
ANA Hotels & Resorts Yonago
Kuwait
Crowne Plaza Kuwait Al Thuraya City
Malaysia
Holiday Inn Kuala Lumpur Glenmarie
Nepal
Crowne Plaza Kathmandu-Soaltee
Africa & Middle East
South Africa
Holiday Inn Sandton – Rivonia Road
Latin America & Mexico
Chile
Holiday Inn Express Antofagasta
Holiday Inn Express Concepcion
Colombia
Honduras
Holiday Inn Express San Pedro Sula
Mexico
Holiday Inn Suites Leon Plaza Mayor
Holiday Inn Cd. del Carmen
Holiday Inn Express Mexico Aeropuerto
Crowne Plaza Mexico Norte Tlalnepantla
Holiday Inn Express & Suites Mexicali
Staybridge Suites Puebla
Panama
Holiday Inn Express Panama Distrito Financiero
Uruguay
North America
Canada
Alberta
Holiday Inn Express & Suites Spruce Grove – Stony Plain
Candlewood Suites Calgary Airport North
Ontario
Holiday Inn Express & Suites Oshawa Downtown – Toronto Area
Holiday Inn Express & Suites North Bay
United States
Alabama
Holiday Inn Express & Suites Enterprise
Candlewood Suites Huntsville – Research Park
Holiday Inn Express & Suites Birmingham NE – Trussville
Arkansas
Staybridge Suites Rogers – Bentonville
Holiday Inn Express & Suites Morrilton
Holiday Inn Express & Suites Bryant – Benton Area
Arizona
Holiday Inn Express Nogales
Holiday Inn Express Sedona – Oak Creek
California
Holiday Inn Express & Suites Tehachapi Hwy 58/Mill St.
Holiday Inn Express Oakdale
Holiday Inn Express & Suites Bakersfield Airport
Connecticut
Holiday Inn Express & Suites Meriden
Florida
Holiday Inn Express Clermont
Candlewood Suites Ft Myers I-75
Georgia
Holiday Inn Express Atlanta SW – Newnan
Holiday Inn Express Carrollton
Iowa
Holiday Inn Express & Suites Omaha Airport
Holiday Inn Express Pella
Illinois
Holiday Inn Express & Suites Aurora – Naperville
Holiday Inn Express & Suites Bloomington – Normal
Holiday Inn Chicago North-Evanston
Indiana
Holiday Inn Express & Suites Evansville North
Holiday Inn Express Howe (Sturgis, Mi)
Candlewood Suites Merrillville
Kansas
Holiday Inn Express & Suites Great Bend
Holiday Inn Express & Suites Shawnee-Kansas City West
Louisiana
Holiday Inn Alexandria – Downtown
Candlewood Suites Gonzales – Baton Rouge Area
Holiday Inn Express & Suites Morgan City – Tiger Island
Maryland
Holiday Inn Express Waldorf
Michigan
Candlewood Suites Kalamazoo
Holiday Inn Express & Suites Coldwater
Staybridge Suites Dearborn MI
Minnesota
Holiday Inn Express & Suites Eagan – Minneapolis Area
Missouri
Holiday Inn Express & Suites Kingdom City
Staybridge Suites Columbia-Hwy 63 & I-70
Candlewood Suites St. Robert
Mississippi
Candlewood Suites Tupelo North
Holiday Inn Express & Suites Winona North
Montana
Holiday Inn Express & Suites Sidney
North Carolina
Candlewood Suites Greenville NC
Holiday Inn Express & Suites Greensboro-East
Holiday Inn Express Plymouth
North Dakota
Nebraska
Holiday Inn Express Omaha West – 90th Street
New Jersey
Crowne Plaza Princeton – Conference Center
Crowne Plaza Saddle Brook
Crowne Plaza Monroe South Brunswick
New Mexico
Candlewood Suites Carlsbad South
New York
Holiday Inn Rochester Downtown
Holiday Inn Express & Suites Batavia – Darien Lake
Ohio
Holiday Inn Express & Suites Ashtabula-Geneva
Hotel Indigo Cleveland-Beachwood
Staybridge Suites Columbus-Dublin
Holiday Inn Express Lordstown-Newton Falls/Warren
Oklahoma
Holiday Inn Express & Suites Chickasha
Holiday Inn Hotel & Suites Oklahoma City North
Oregon
Crowne Plaza Portland-Lake Oswego
Pennsylvania
Crowne Plaza Suites Pittsburgh South
Candlewood Suites Grove City – Outlet Center
South Carolina
Holiday Inn Express & Suites Blythewood
Holiday Inn Express & Suites Greenville Airport
Tennessee
Holiday Inn Express & Suites Chattanooga-Hixson
Candlewood Suites Smyrna – Nashville
Texas
Holiday Inn Express & Suites Alice
Staybridge Suites Laredo International Airport
Holiday Inn Express & Suites Bonham
Utah
Holiday Inn Express & Suites Vernal – Dinosaurland
Virginia
Staybridge Suites Chantilly Dulles Airport
Candlewood Suites Ft Lee – Petersburg – Hopewell
Candlewood Suites Richmond – West Broad
Washington
Holiday Inn Express Bothell
Candlewood Suites Vancouver-Camas
West Virginia
Holiday Inn Express & Suites Bridgeport
Holiday Inn Express Newell-Chester WV
Wisconsin
Staybridge Suites Eau Claire – Altoona
Candlewood Suites Kenosha
Wyoming
(Want to earn more hotel points?  Click here to see our complete list of promotions from the major hotel chains or use the 'Hotel Promos' link in the menu bar at the top of the page.)