Review: CityJet from London City Airport – where do they fly, how is the service?
Links on Head for Points may pay us an affiliate commission. A list of partners is here.
This is my review of CityJet's flight from London City Airport to Amsterdam.
With British Airways starting to charge for sandwiches and G&T next year, you may be thinking about looking at the other travel options out there.
The European regional airline CityJet certainly thinks you should be looking at alternatives. They invited me to look at their product and I decided to try out their route to Amsterdam. For clarity, the airline provided us with a free return flight but HfP paid all of its own incidental costs.
CityJet was established in 1993. It is currently operating seven routes in Europe of which two are to the Netherlands. The seven routes are:
London City – Dublin
London City – Nantes
London City – Paris Orly
London City – Florence
London City – Antwerp
London City – Rotterdam
London City – Amsterdam
Flights to Amsterdam start from as low as £38 one way. There are three different booking options: City Value, City Flex and City Premium.
Even the cheapest option, City Value, allows one checked bag free of charge (unlike a BA 'hand baggage only' fare) and a drink and snack. City Flex lets you change your flight free of charge and City Premium allows an additional checked bag, is fully refundable with priority boarding and seating.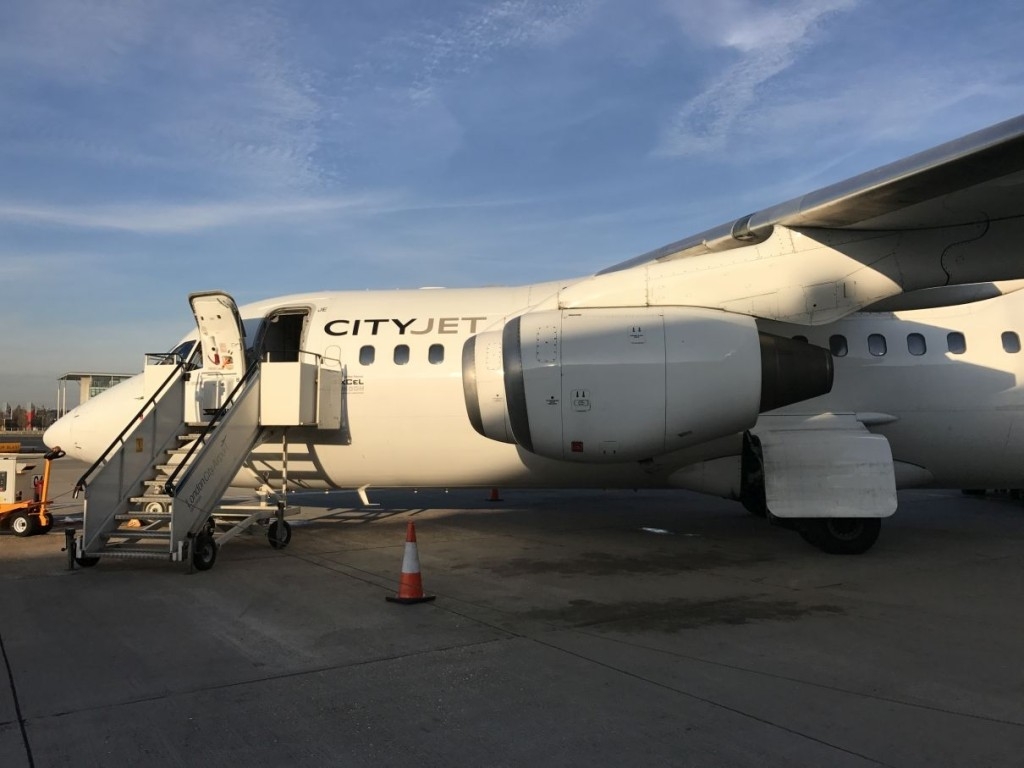 Outbound: London City Airport to Amsterdam Schiphol
CityJet is a small airline with small planes! My flight from London City Airport to Amsterdam Schiphol was operated by an Avro RJ85 – a new experience for me.
The RJ85 has 17 rows with 95 seats. I'm not sure what the curtain behind row 2 was for as in theory all seats are the same and every passenger receives the same service.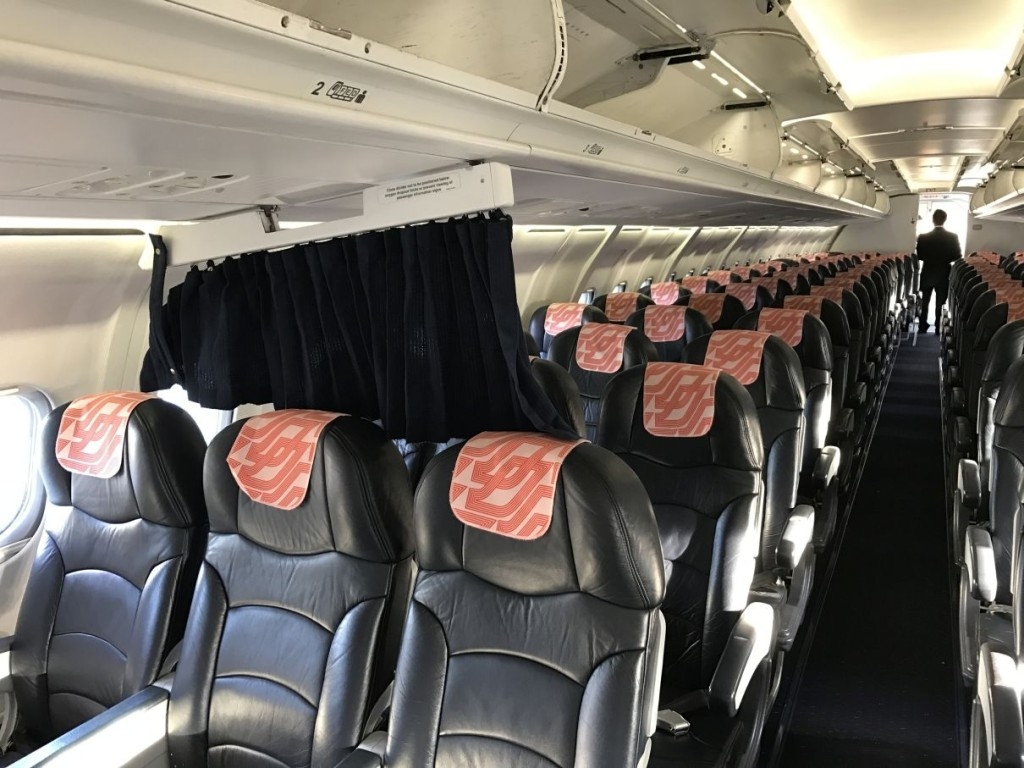 Before the plane took off I was offered water: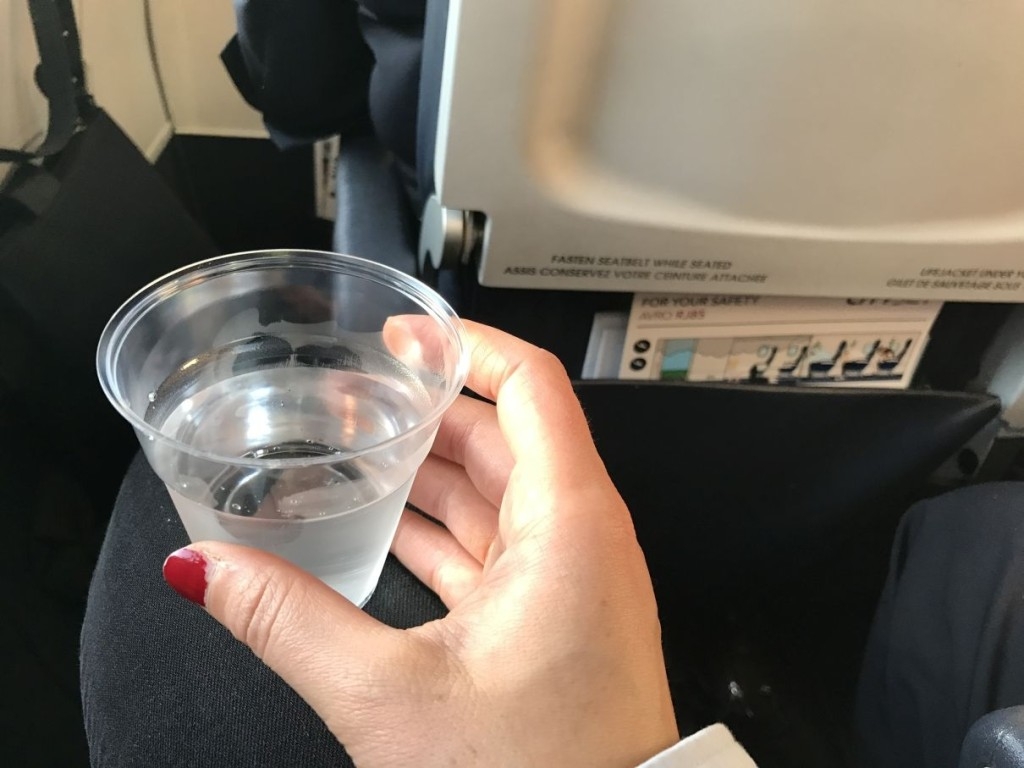 and a hand wipe.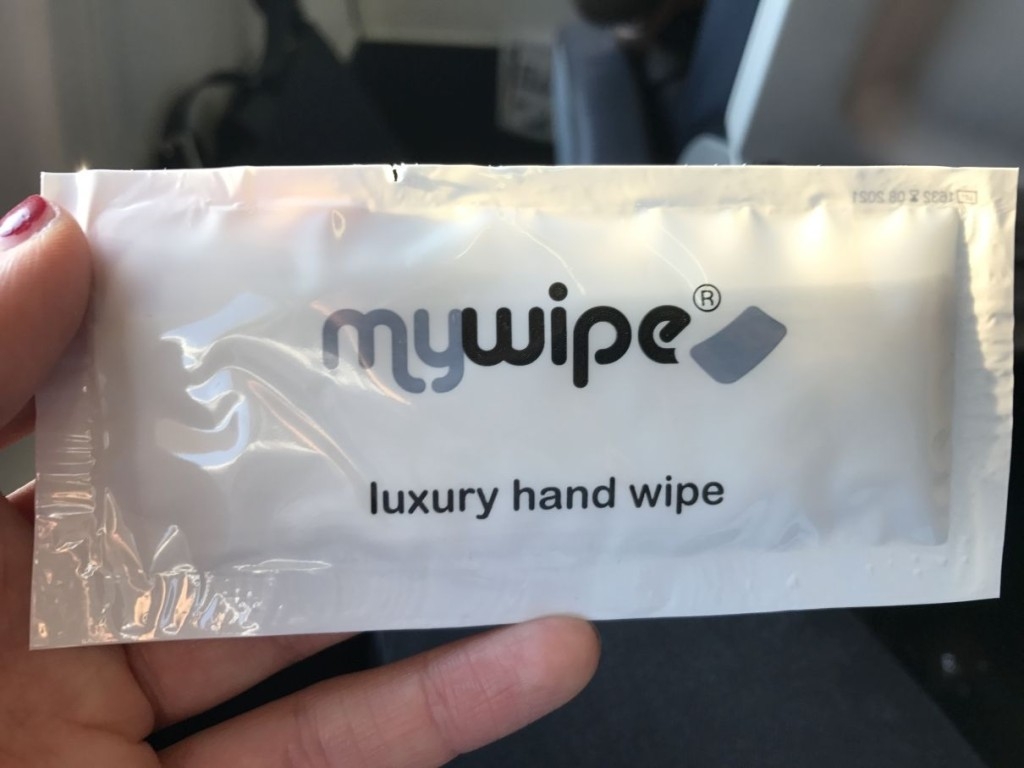 Considering the fact that my CityJet flight was only 40 minutes, I was surprised to get a chicken salad in addition to the cashew snack and red wine. The other alcoholic options were white wine and beer. Coffee, tea and various soft drinks were also available free of charge.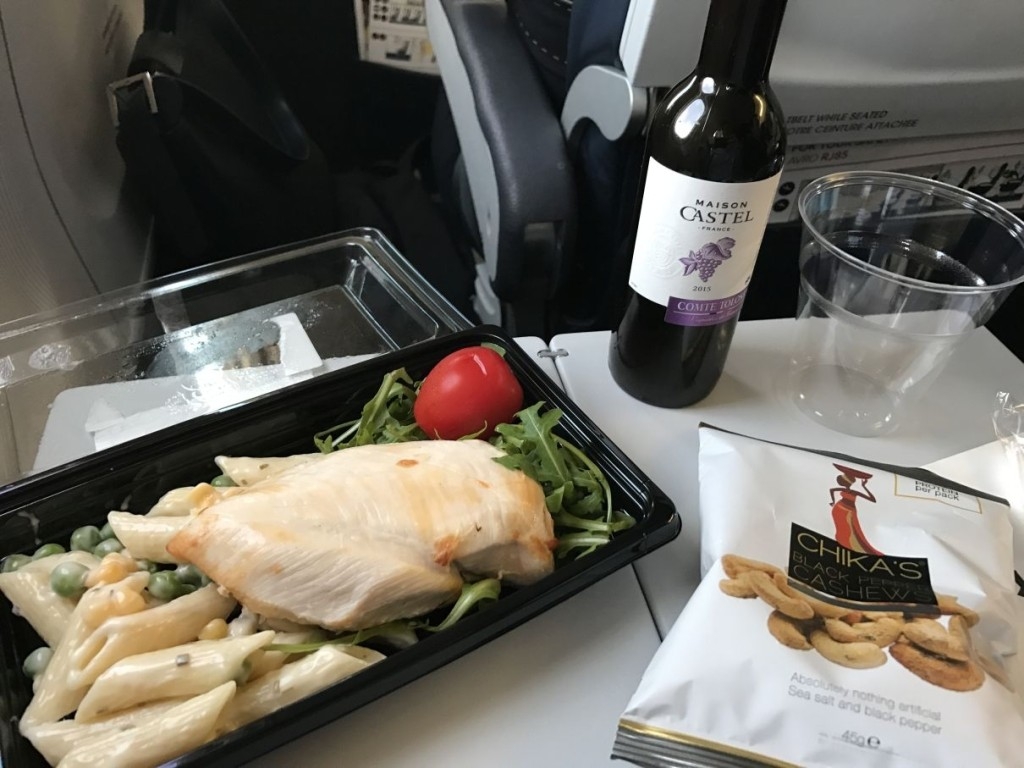 The cabin crew was friendly and attentive and gave me a second bottle of wine just before landing. I'm not sure whether this was due to the fact that I arrived at the plane in a car straight out of the First Class Lounge or because I was sitting next to an off duty flight attendant ……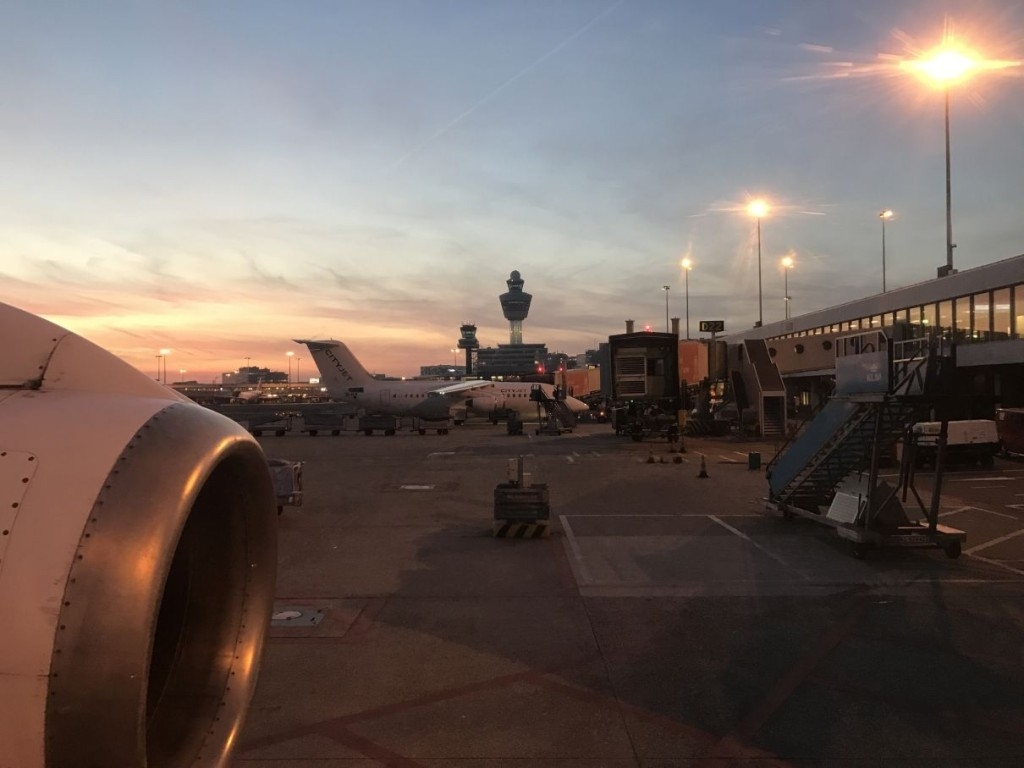 Inbound: Amsterdam to London City Airport
The gate CityJet uses at Amsterdam Schiphol airport is about a 15 minute walk from the security check. If you've got enough time and no access to an airport lounge, there is an Irish Pub about a 7 minute walk from the gate. I didn't go inside but it looked pleasant from the outside and appeared to have an outdoor area.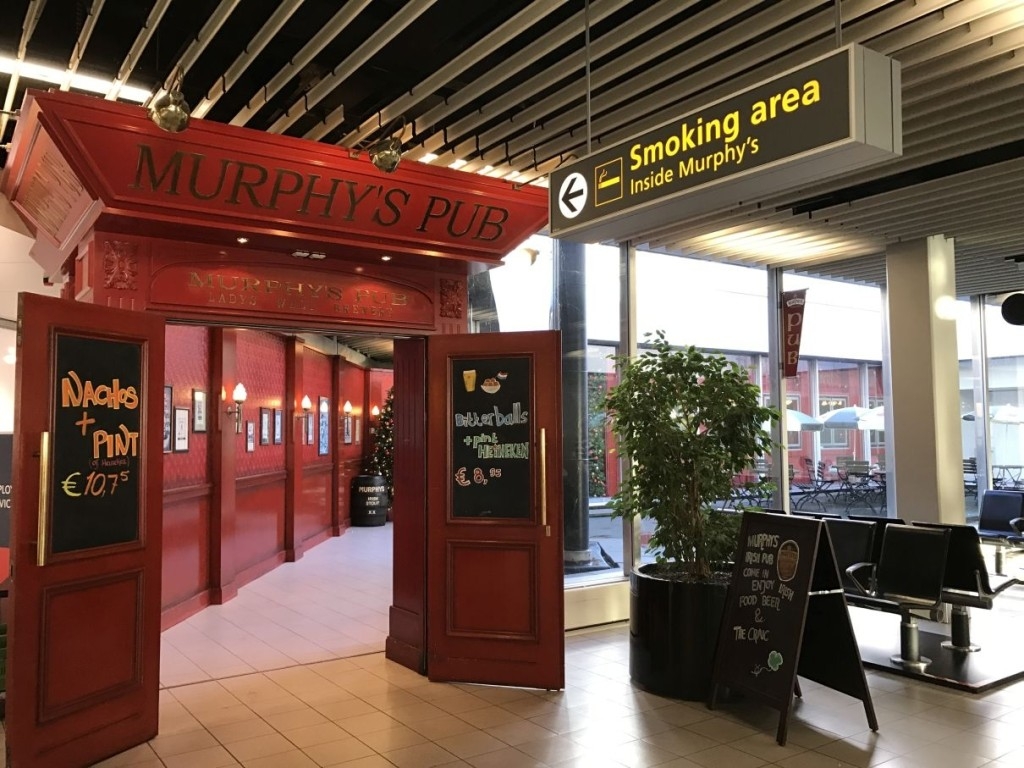 My CityJet flight back to London wasn't that great, to be honest.
The flight was at capacity and people were asked to hand over their carry-on to be placed in the hold. This can be a bit annoying when the carry-on is your only bag and you need to hold onto your laptop, wallet and passport.
What was even more annoying is that I wasn't told that my bag had to go in the hold. I ended up waiting around on the plane for someone to tell me where to put my luggage as there was literally no space left in the overhead lockers.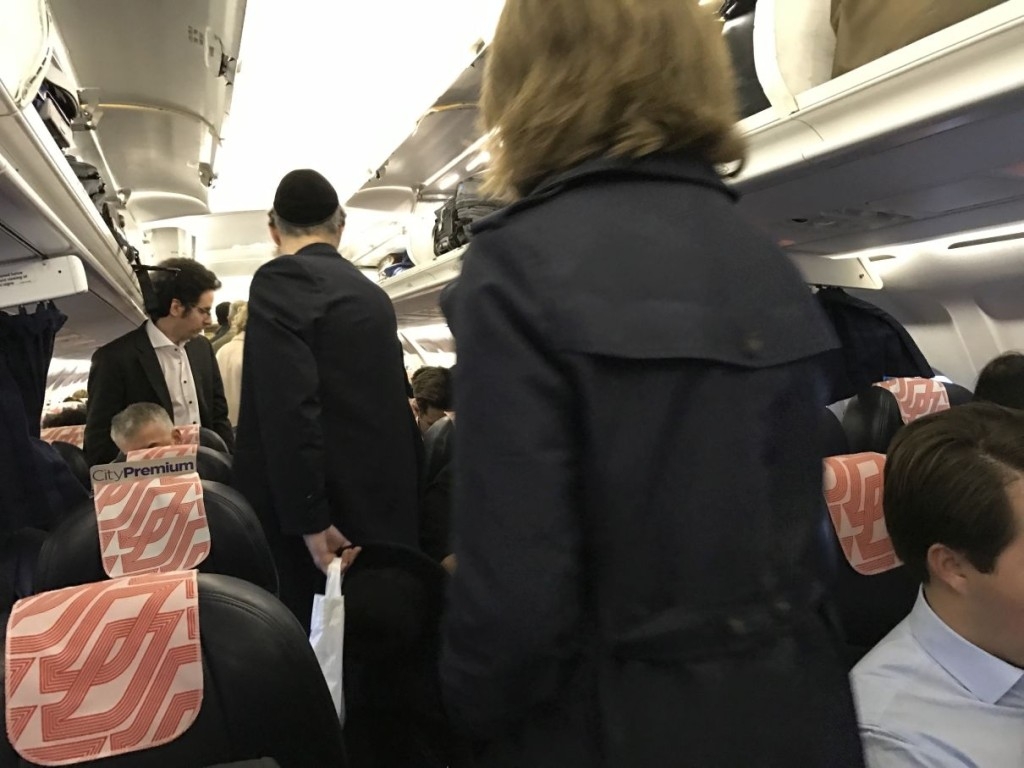 In the end I had the choice of storing my carry on at the back of the plane – which would have meant waiting until everyone got off the plane in London in order to get it back – or to have it put in the hold. I went for the latter option as luggage usually comes out very quickly at London City.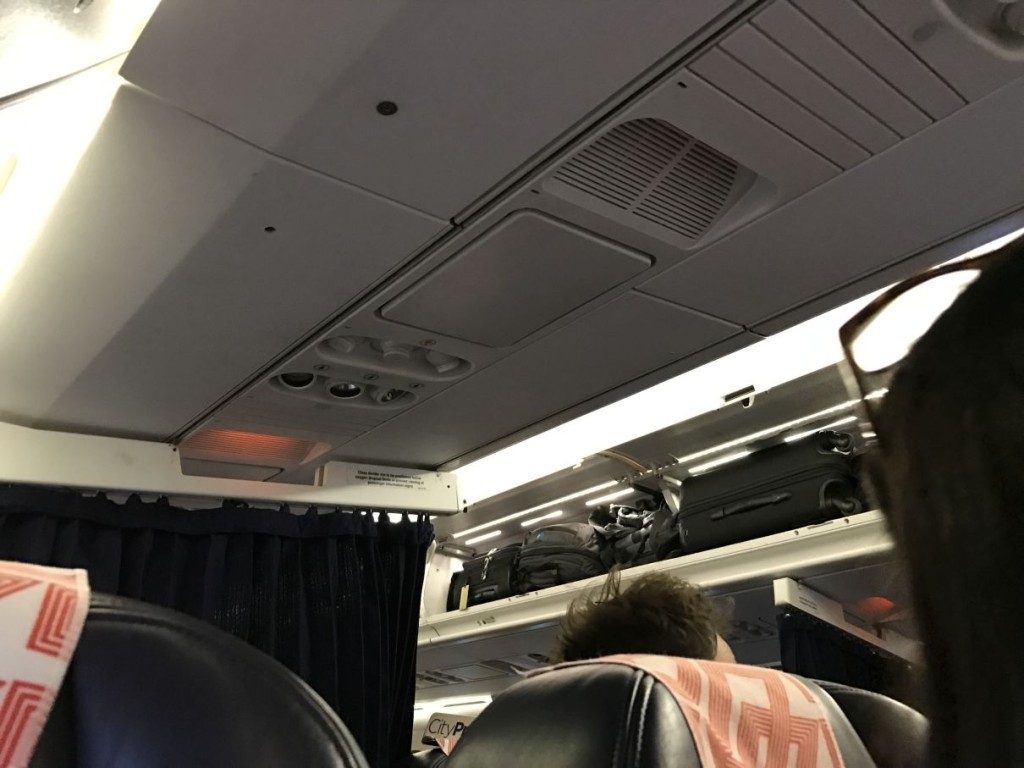 At least I had a lot of leg room as I was in a bulkhead seat: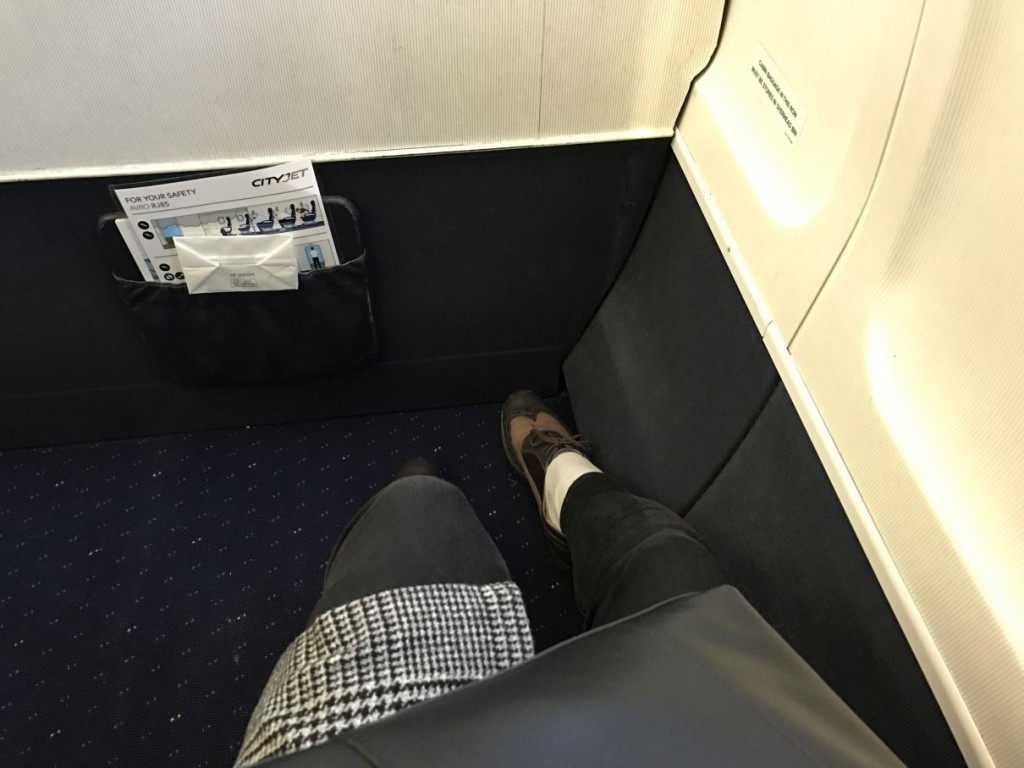 This time there was neither welcome water nor a hand wipe. Once we took off, there were only some sweet and savoury snacks instead of another chicken salad. This seemed a little odd given that I was on a peak evening service, whilst my chicken salad had been served on an off-peak 3pm departure. But, as I learnt in Germany, beer equals food so all was OK. You may not agree.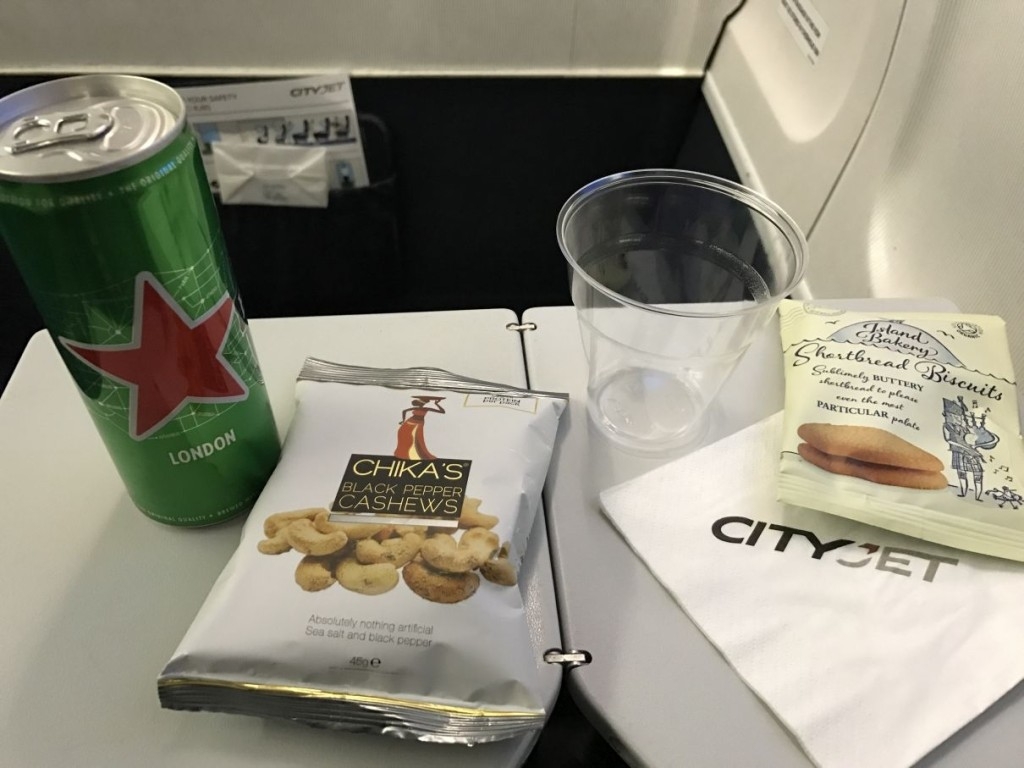 Here is a short video of my CityJet flight to Amsterdam. If you can't see the video, click here to visit the Head for Points YouTube page where you can watch it, and where you can subscribe so you are notified of future videos.

Conclusion
With British Airways starting to charge passengers in Economy for snacks and drinks from January 2017 (from 'Summer' 2017 at London City Airport), CityJet offers a potentially decent alternative – especially as you will also receive a checked bag irrespective of the fare you pay. I would be keen to know which flights do and do not receive a proper meal, because the chicken salad I received on the outbound was a pleasant surprise.
CityJet is a Flying Blue partner so you will also earn a handful of miles and a status credit in the KLM / Air France SkyTeam programme on French and Dutch routes – but only if you book under an Air France or KLM flight code.
You can find out more on the CityJet home page here.