My review of London City Airport's new First Class Lounge – get driven to your plane!
Links on Head for Points may pay us an affiliate commission. A list of partners is here.
This is our review of London City Airport's new First Class Lounge in the Private Jet Centre.
This is part of our series of reviews of airport lounges across the UK. You see all of the reviews here.
Last week I flew to Amsterdam with CityJet and got to check out the First Class Lounge at London City Airport.
Yes, London City Airport DOES have a lounge but not many people are aware of it as it only opened this year and isn't in the main terminal.
Instead it is located in the Private Jet Centre and comes with true VIP treatment, as you will see.
I should mention that as I was writing a review for Head for Points, I didn't have to pay the £95 fee for this experience. Whilst you digest that number, I should say that – in the right circumstances – it is good value for the overall package you get.
I should also mention up front that British Airways passengers cannot use the full service. I will explain why later. (EDIT 2018: BA passengers can now use this service)

How to get to London City Airport's First Class Lounge
My trip didn't start too glamorously with a trip on the Jubilee Line and the DLR.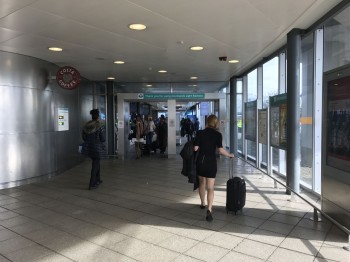 As soon as I got out of the station the First Class Lounge service began.
I was greeted with a name sign and escorted to a car. If you have luggage to check in, you can either do this when meeting your First Class Lounge host who will take you to the front of the bag drop queue, or you can take your luggage with you and have it checked in at the lounge.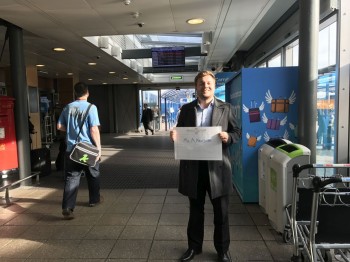 The car was a mini van – so travelling with family or in a group is possible.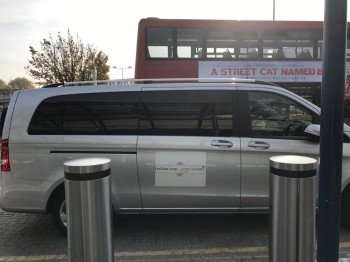 It took only a few minutes from City Airport main terminal to the Private Jet Centre.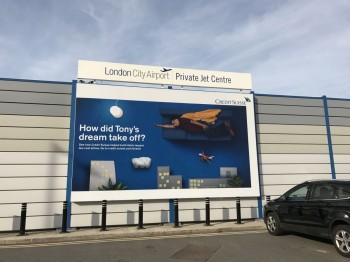 Inside London City's First Class Lounge
This is the reception area: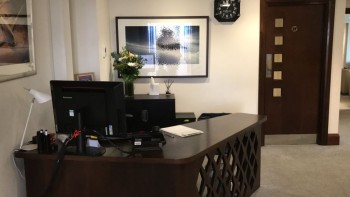 The First Class Lounge is very bright and classy. It was very quiet when I was there, as in I was the only guest, which was great as I was able to take photos without disturbing people's privacy (it actually says in the T&Cs that taking pictures is not allowed).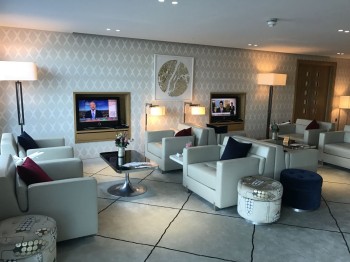 There was a table with snacks and newspapers.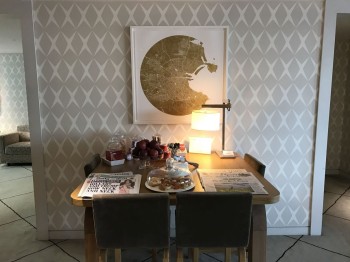 At the far back is a shelf wall with magazines.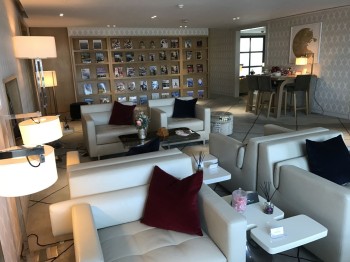 The bar had a good selection of alcoholic and non-alcoholic drinks, as well as a Nespresso machine.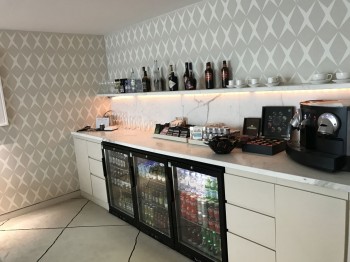 In the bar area were another four armchairs.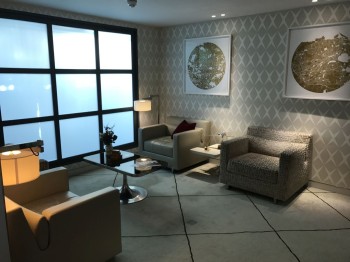 The First Class Lounge doesn't currently serve hot food, however this is planned for the future. There is breakfast in the morning and sandwiches during the day.
I was too late for breakfast and had the sandwiches. These were nicely presented with flowers that probably were edible although I didn't dare to try them!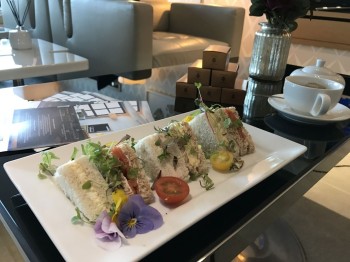 Now to the coolest part – your own security lane! For security reasons I wasn't allowed to take a picture of this area but it's like the security lanes at any airport – just smaller. There is only one body scanner and one luggage scanner and the whole process took literally 2 minutes.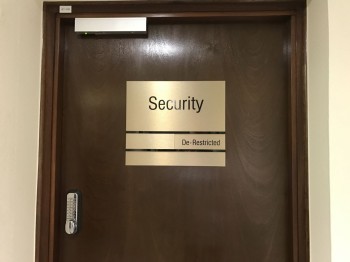 Outside security was a car waiting to drive me to the plane. Yes, to the plane!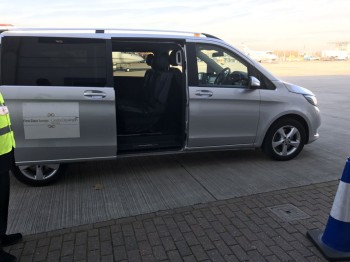 The best and last part of the First Class Lounge service is to be driven all the way to the plane and being the first to board. Rob has done this a few times in Frankfurt when flying First Class with Lufthansa but it was a new experience for me.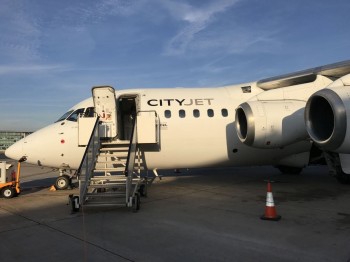 To give an even better idea of what the First Class Lounge is about, I made a short video. This is a new experimental Head for Points service (with music by my little brother!)
If you want to subscribe to our YouTube channel and be notified about future videos, click here to visit our YouTube channel page.
You can also watch the video via that page if it does not appear below.
Using the First Class Lounge as an arriving passenger
It is also possible to use the lounge when flying into London City. Arriving passengers are immediately collected at the aircraft with their luggage and driven to the lounge for customs and immigration. You can then use the lounge until you are ready to head into London.
How to book
You can book the London City First Class Lounge for £95 per person.
Though it says in the T&Cs that you must pre-book by 4pm on the day before your flight, last minute bookings are possible depending on third party resource.
You can book the lounge in advance via the airport website.
Unfortunately British Airways doesn't allow for passengers to be driven to their aircraft. (EDIT 2018: This is no longer true. BA passengers are now welcome!)
Conclusion – is London City's First Class Lounge worth the money?
Using the First Class Lounge is definitely a great experience. Especially as City Airport can get very busy and there is nowhere to relax before a flight, I believe there are ways to justify the fee of £95.
For a business traveller, you will be able to do some work at the airport which is virtually impossible at the main terminal in peak times – business travellers would also be able to reclaim the VAT.
The First Class Lounge is also a great way of starting a special birthday trip or honeymoon. If your flight ticket isn't too expensive (CityJet, for example, has good prices and a decent service as I will discuss in my upcoming flight review), it might be a justifiable splurge.
In the end the service is amazing and it's really just down to the price and the airline you are using as to whether or not to use the lounge.
I can also announce that a Business Lounge is currently being built right next to the First Class Lounge which will be more affordable at around £35. We will keep you posted about the opening date and what to expect from the Business Lounge.
Thanks to the team at London City Airport for arranging my visit.
(Want to earn more Avios? Click here to visit our home page for the latest articles on earning and spending your Avios points and click here to see how to earn more Avios from current offers and promotions.)