Review: Lufthansa First Class Terminal, Frankfurt with photos
Links on Head for Points may pay us an affiliate commission. A list of partners is here.
This is my review of the Lufthansa First Class Terminal in Frankfurt.  It is part 3 of a trip report covering my trip to New York this week.  Part 1 is here and Part 2 is here.
When we left the story, I had just disembarked from my Hamburg to Frankfurt flight and decided to head to the First Class Terminal rather than using the First Class Lounge.
Lufthansa are reportedly not too keen on transfer passengers using the First Class Terminal at Frankfurt. It is meant for people starting their trip in Frankfurt, who can be dropped off literally at the door.
Given that – on foot – it involves a very un-first class walk through the taxi drivers car park and past their cafe – you can see the point. There is, after all, a First Class Lounge in the terminal that is very similar.
However, I hadn't been in here for about 5 years to I wanted to re-visit.
The First Class Terminal does what it says. It is a fully self contained building just for First Class passengers. You enter and are greeted by a host, who takes your ticket and passport. You then pass through the usual security scans and enter the lounge. The host has responsibility for getting you onto the plane, so you can take it easy!
What you have inside a very classy, very calm, very German luxury experience. You have baths and showers, you have private rooms if you want a nap, you have a few offices (where I wrote the first draft of this post!), you have a bar as good as any 5-star hotel and you have a restaurant as good as any high class establishment in London.
This first picture is a stock photo, as the ipad isn't good enough to take such a shot.  The rest are mine.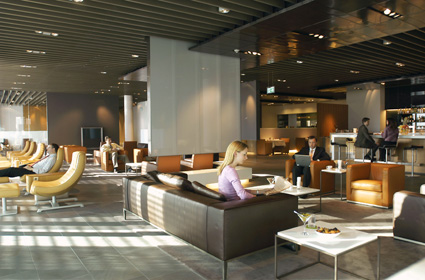 and
I should stress that this really is a discreet environment. It is the sort of place where you feel obliged to talk in whispers. If I turned up here with my 2 sub 5-year olds I think they would go into panic!
What you don't see in the photos is the slickness of how well it works. I had gone to the bar to order a glass of Veuve Rose. After that, though, someone would occasionally wander over to my chair and refill my glass without asking.
Here are a few more photos. It is very quiet as you can see, but it was Sunday morning.
(No, I'm not sure why Tattinger is served either, before you ask! I stuck to the Veuve Rose. It is not the most premium champagne bucket ever, but this is Germany.)
and
You also cannot tell the quality of the food from the photos. However, LH F lounge food remains the best I have ever eaten in an airport. Everything I tasted was perfectly done.
45 minutes before my flight was due to depart, my host came to find me. We took the lift down and I showed my passport to an immigration official. Then comes the cool bit (which I couldn't photograph) – I jumped into my Mercedes S350 and was driven across the tarmac to my 747!
We parked next to the plane, the driver and I hopped out and we went up a lift to the airbridge. He then accompanied me onto the plane and walked me upstairs. You can't ask for better than that.
PS. One downside of the First Class Terminal is that you can't see the runway from it, or any planes at all for that matter! Stick to the First Class Lounge if you want to see planes gliding past.