Review: Lufthansa First Class from Frankfurt to New York (Part 1)
Links on Head for Points may pay us an affiliate commission. A list of partners is here.
This is my review of Lufthansa's First Class service from Frankfurt to New York, flying a Boeing 747-8i.
I reviewed the Lufthansa First Class Terminal in Frankfurt and my car ride to the steps of the aircraft in part 1 of this review yesterday. Click here to read it if you missed it.
I've reviewed Etihad's A380 First Class Apartment, Emirates A380 First Class Suite and British Airways First Class so far this year, so I thought it would be good to add Lufthansa to the mix. It can be the best of both worlds – a European sense of style and elegance (which British Airways does have) with a decent budget for food and service.
Last time I flew Lufthansa First Class was on the upper deck of a 747-400. This was a unique seating arrangement. The airline had decided that 16 seats, arranged 2 x 2, simply didn't cut it. Instead, they slashed the number of seats to 8. The seat by the window was replaced by a dedicated bed (not a converted seat, a proper permanent bed) with a separate seat next to it. When you wanted to sleep, you simply climbed into bed as you would at home!
Lufthansa has now removed First Class from its remaining 747-400 fleet so you won't get a chance to try this out. How does the 747-8i compare?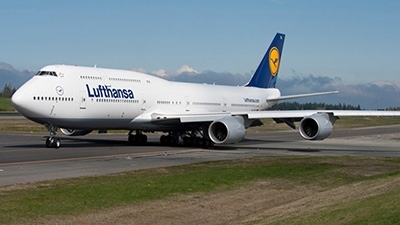 Inside the Lufthansa First Class cabin
Disappointingly, First Class is not upstairs on the 747-8i. It is in the nose downstairs which, to be honest, makes more sense if you want individual, private seats. If you are sitting in Row 1, you also get the benefit of being able to see pretty much straightforward from the windows as they curve in!
There are only eight seats. These are arranged with one centre pair, at the back, and three seats down each side. Here is a stock photo which shows it better than I can describe:
The pitch is listed as 83 inches with a 31 inch wide seat. All you need to know is that it is plenty big enough.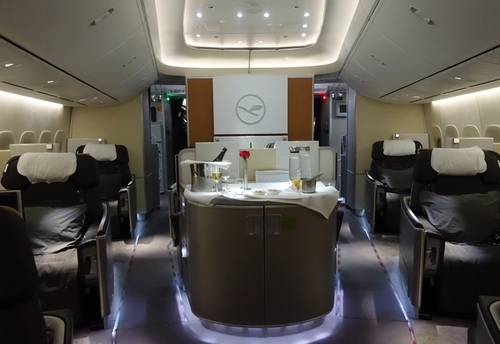 Your first thought is that the seats look very open. They are. That said, from where I was sitting (2A, so the front right seat in the picture) you couldn't really see anyone. The centre console blocked me from 2K. One downside is that the back of the seat in front of you is very wide (see the picture below) and you can't see out of the windows further down.
In any event, the seats have a nifty privacy shield if you want to use it. Here is Mr 1K having a nap: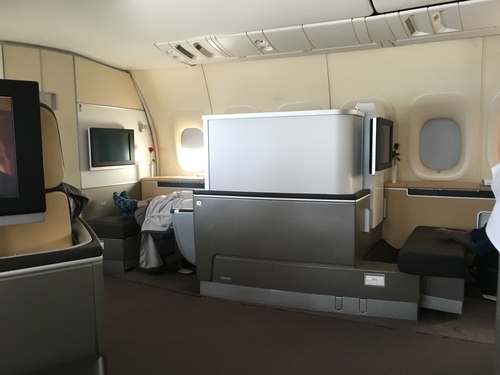 One upside of the open cabin layout is that your seat gets huge amounts of light. If, like me, you are constantly frustrated by not having enough light at your seat to read with, you will be delighted with this cabin.
The colour is very neutral, and not dissimilar to what Etihad has done with its A380 First Apartment. The light colours, combined with the open seats, make the cabin feel very spacious. There is a noticeable difference in atmosphere compared to how you feel in the substantially darker British Airways First cabin.
Here are a few shots of my seat: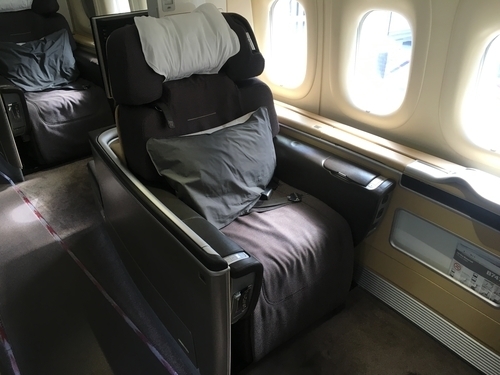 …. and (the footrest under the TV is actually a handy storage unit which easily takes your shoes):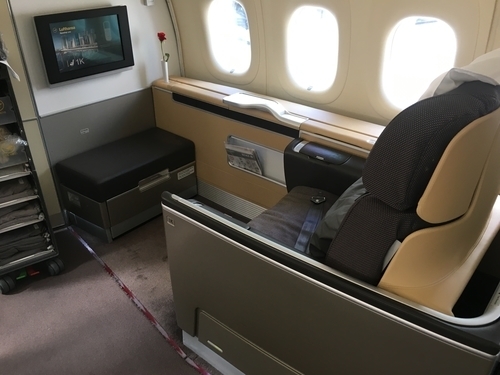 Whilst the footrest was a great place to store my stuff, it was a useless place to put my feet. It was simply too far away, and I had to recline the seat a fair way in order to use it. Given that I am 6'2′ I assume that the plan was never that you would do this anyway.
Here's the impressively sized TV: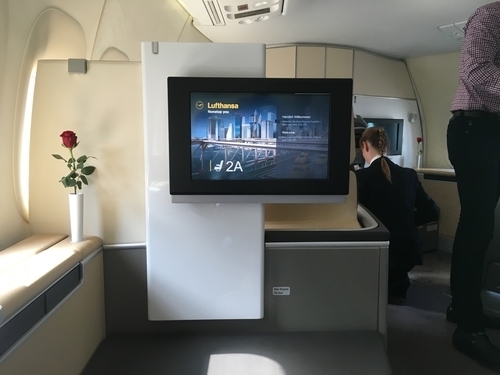 I was given a pair of pyjamas and some slippers. The crew member couldn't decide if I was Medium or Large (due to my height, obviously …..) so I was given two pairs of trousers. As usual, I didn't use them and saved them for the hotel.
The toiletry bag was branded Jil Sander. The contents were underwhelming. A tiny box of very small La Prairie creams, some Zendium toothpaste and brush, a comb and some earplugs. The days when you'd get a decent sized bottle of luxury branded EDT in First Class seem to be gone – even Qatar Airways has dropped the free bottle of Armani cologne. Does Singapore still offer it?
Turning around, here is the sole pair of centre seats, which are fine for a couple. That said, historically my wife and I always preferred two window seats, one behind the other.
And here is the console in the middle of the cabin, prepared for pre-flight drinks: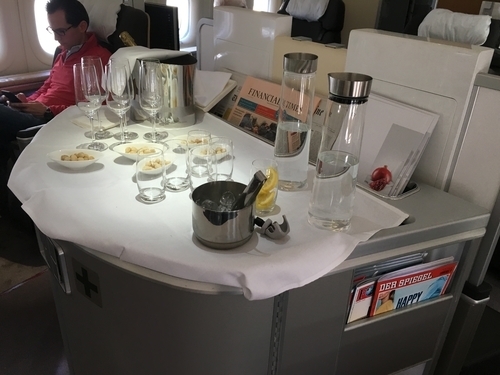 One thing you don't get with Lufthansa First Class is a little wardrobe compartment built into your seat where you can hang a coat or jacket. There is an odd hook on the back of the seat in front but you don't really want your jacket swinging there throughout the flight. Luckily, each seat has its own small locker at the back of the cabin where the crew will store your coat.
Pre-flight
I was offered a pre-departure drink and it would have a been a shame not to try the 2003 Cuvee Louise from Pommery. This is tricky to buy today but would be £80+ if you could find it. This beats the dire Etihad First Class offering although Emirates still has Dom Perignon at £100+ and BA – perhaps surprisingly – has Laurent Perrier Grand Siecle of similar value.
Louise is more of a niche product, however, and arguably better suited to Lufthansa's approach.
After take off – which was surprisingly smooth, although nothing can beat the surreal feeling of an A380 take-off when seated upstairs where the aircraft appears virtually silent and stable – an amuse bouche and another glass of Cuvee Louise ….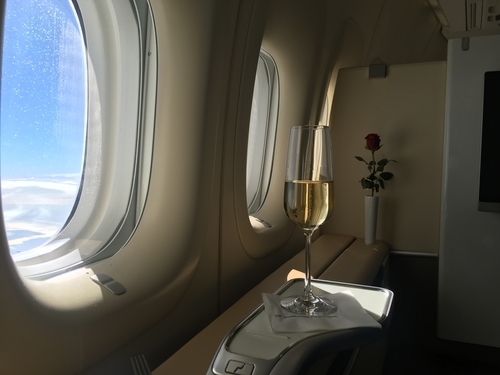 In Part 2, also published today, I will take a look at the food offering on Lufthansa's 747-8i First Class service, which is where the airline really scores. I also discuss how many miles were required for the flight and how I obtained them.
I made a short video on the flight which you can see below. If it is not visible, click here to visit our YouTube page. You can also subscribe to our channel via that link.

Click here to be taken to Part 2 of my Lufthansa 747-8i First Class review
.