Review: Lufthansa's First Class Terminal at Frankfurt Airport – is it still the world's best lounge?
Links on Head for Points may pay us an affiliate commission. A list of partners is here.
This is my review of the Lufthansa First Class Terminal in Frankfurt.
There are some perks to being the boss.  Whilst Anika got the review trip to New York covering Norwegian Premium (which she liked, let's be clear!), I had been out there the week before in Lufthansa First Class.
And Lufthansa First Class is very, very good.  Forget all the claims from the Middle Eastern 'big three'.  If you want real First Class quality, you should look to Lufthansa, SWISS and apparently – although I've not tried it – Air France.
Any trip in Lufthansa First Class should, if you're doing it properly, begin in Frankfurt at their dedicated First Class Terminal.
For many people, the First Class Terminal is the pinnacle of airport lounges – mainly because of the exceptionally high level of service and the fact that they will drive you to your plane.  I can't deny that I have been hugely impressed on previous visits.
However …. is time catching up with it?  The lounge opened in 2005.  I probably first used it a decade ago and I think this was my fifth trip.  That said, the last time I was there was 2013.  It hasn't had a major refurbishment over those 12 years.
(For those of you who don't remember the BMI Diamond Club loyalty scheme, it had exceptionally low redemption rates for Lufthansa First Class.  Coupled with 2.5 miles per £1 on the Diamond Club MasterCard, it was a dream period!)
For clarity, my trip was self-funded using Miles & More miles.  A one way ticket from Frankfurt to New York, or anywhere in North America, is 85,000 miles plus £261.
I specifically chose the daily 747-8i service to JFK.  I thought it might be my one and only chance to ever fly a 747-8i (the new stretched version of the 747-4) as a passenger.  Only Lufthansa, Air China and Korean Air have bought it, after all.  I wrote about the history of the failing 747-8i programme here.
Getting to the Lufthansa First Class Terminal
Lufthansa is reportedly not too keen on transfer passengers using the First Class Terminal at Frankfurt. It is meant for people starting their trip in Frankfurt, who can be dropped off literally at the door.  And, given that – on foot – it involves a very un-first class walk through the taxi drivers car park and past their cafe – you can see the point.
There is, after all, a First Class Lounge in the terminal that is very similar.  You don't get driven to your plane from there though, and where is the fun in that?!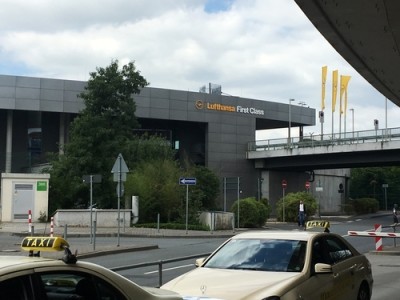 The First Class Terminal does what it says. It is a fully self contained building just for First Class passengers.
If you fly from London on Lufthansa and your entire trip is on one ticket, you will be picked up  by a car at the steps of your arriving plane if it is on a remote stand.  You will then be driven to the main building, where you can use the First Class Lounge or go airside and walk to the First Class Terminal.
If you fly BA, as I did, you need to make your own way airside and either use the lounge there or walk down to the terminal through the taxi park.
You enter and are greeted by a host, who takes your ticket and passport. You then pass through the usual security scans and enter the lounge. The host has responsibility for getting you onto the plane, so you can take it easy.  They will come and find you when it is time to go.
Inside the Lufthansa First Class Terminal
What you have inside a very classy, very calm, very German luxury experience. You have baths and showers, you have private rooms if you want a nap, you have a few offices, you have a bar as good as any 5-star hotel and you have a restaurant.
I should stress that this really is a discreet environment.  It is the sort of place where you feel obliged to talk in whispers.  If I turned up here with my kids I think they would go into panic!
This first picture is a stock photo, as the lighting in the lounge is poor.  You get a lot of glare through the huge glass windows with little overhead lighting to offset it.  The rest are mine, and they are not the best because of the lighting issues.
It's also worth noting that, despite the huge windows, one downside of the First Class Terminal is that you can't see the runway from it, or any planes at all for that matter!  Stick to the First Class Lounge in the main terminal if you want to see planes gliding past.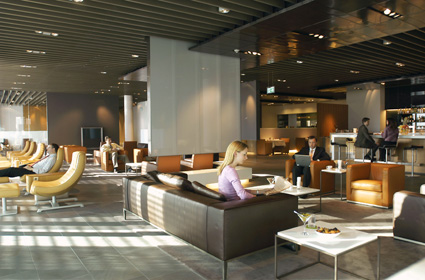 Let's start with the dining area, which would be top right in the photo above.  The good news is that presentation, as you can see, is excellent.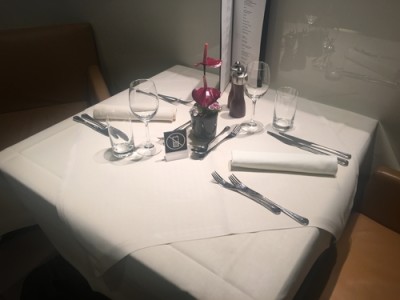 However, overall, I wasn't as impressed as I have been in the past.  The selection is huge – ludicrously huge, when you think that no more than a couple of hundred people a day pass through the lounge, and even fewer will eat lunch.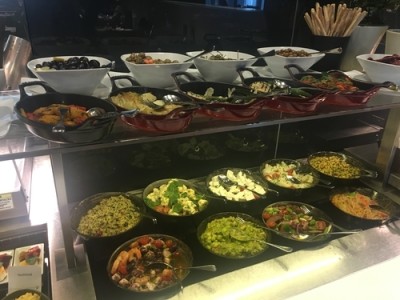 Here are just a few of the deserts: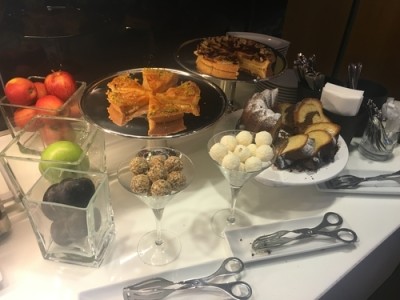 And you won't be seeing one of these in the British Airways Concorde Room anytime soon: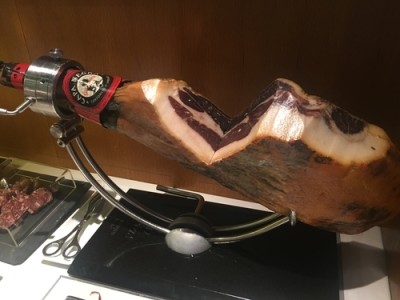 And yet …. it didn't work for me this time.  I ate around 1pm and the hot items I took from the buffet were not very warm by that point.
I had also failed to understand the menu.  You get a very large menu given to you.  It is large because every item on the buffet is listed – and there are a lot of those.  What is not obviously clear is that, in among all the listed items, are certain 'cooked to order' dishes.
They are not broken out separately.  You get a section on 'local specials', for instance, and two items will be sitting on the buffet whilst another will be 'cooked to order'.
When you know what you're looking for, it is clear (the 'cooked to order' dishes will say 'beef, cherry tomatoes' whilst beef on the buffet would just be listed as 'beef').  However, no-one explained this to me and it was only after I had eaten that another guest was served a plate from the kitchen.
It is a shame, because I used to rate Lufthansa First Class lounge food as the best anywhere, full stop.  I can't say that any longer.  I hand the title to the Qatar Airways lounge in Heathrow Terminal 4 (review here) which has never failed to impress me.
Off to the bar ….
I decided to get myself a drink and do a bit of work in one of the little offices provided.
You won't go thirsty here: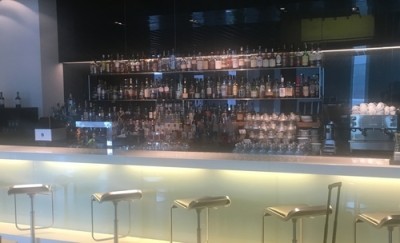 What you can't see from the picture, although you can guess from the number of bottles, is that they do have a very wide quality selection of items.  I took a random photo of some of the whisky and there was a 12-year old Tomintoul, a Kilbeggan, Tullamore Dew, a Japanese one called King Car ….. the list goes on.  If you know your drinks then you could pass a very pleasant afternoon here.
Cigar Lounge
I am genuinely surprised that, four years since my last visit, the huge Cigar Lounge is still there.  It takes up a disproportionately large percentage of what is not a very large lounge.
(Germany has a more laid back attitude to smoking than we do – tobacco advertising is not restricted, for example, and it is always quite surprising to see the huge billboard ads wherever you go.)
The only reason to go in is that the cigar lounge has its own bar which is self pour.
The Lufthansa First Class Terminal showers
If you don't know what this is: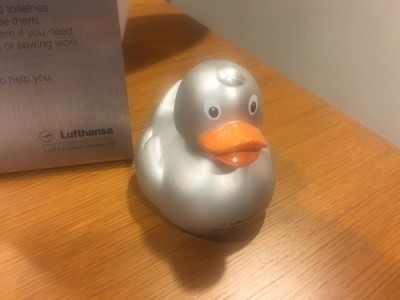 ….. you don't read enough frequent flyer websites.  (This is not necessarily a bad thing!)
A bizarre cult has built up around the Lufthansa First Class Terminal rubber ducks.  Every month, Lufthansa brings out a new one.  They are not available anywhere else except the First Class lounges in Frankfurt and Munich.
I decided to leave them behind ….
I did have a shower, because I'd got up at 4am and needed one.  The facilities are hugely impressive.  There are also baths available if you want one.
The shower rooms are huge.  This is just the 'circulation' area, the shower itself is on the other side.  Toiletries are by Etro.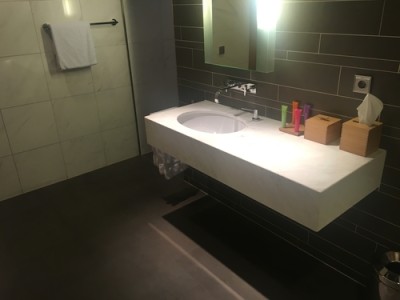 And that's about it.
There isn't much to do here, apart from eat a good meal, do a bit of work in the office cubicles, have a cigar (if you smoke) and take a shower.  There is no spa, no Virgin-style games, no music room, no Virgin-style jacuzzi (no great loss, sharing a mixed jacuzzi in an airport lounge never really worked for me) ….
It is just a quiet and classy way to pass a few hours.  You'll know by now if this is the sort of place that you'd like to visit or not.
Off I go ….
45 minutes before my flight was due to depart, my host came to find me. We took the lift down and I showed my passport to an immigration official.  I jumped into my Mercedes van and was driven across the tarmac to my 747-8.
To be honest, this was a bit of a letdown for two reasons.  They have Porsche transfers but, because I only ever fly busy routes like New York, I've never got one in five visits – I always get a shared van.  The 747-8 had also been parked very, very close to the First Class Terminal so we didn't drive far at all!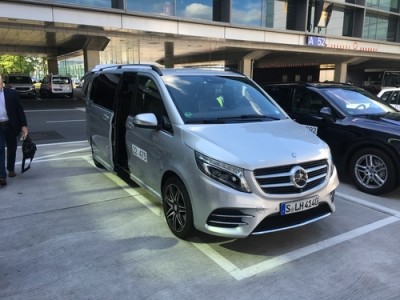 You can never get bored of walking around the tarmac staring up at something as huge as this though: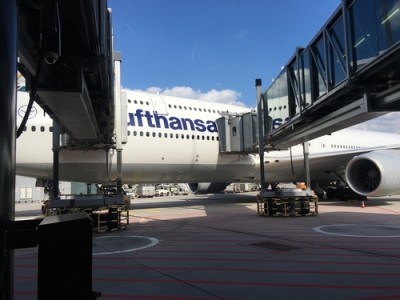 We parked next to the plane, we all hopped out and went up a lift to the airbridge.   The driver then accompanied us onto the plane.  You can't ask for better than that.
747-8 First Class flight review to follow …..
(Want to earn more Avios?  Click here to visit our home page for the latest articles on earning and spending your Avios points and click here to see how to earn more Avios from current offers and promotions.)