Review of Norwegian Premium – better than BA World Traveller Plus? (Part 1)
Links on Head for Points may pay us an affiliate commission. A list of partners is here.
This is our review of Norwegian's Premium cabin seat and service between London Gatwick and New York JFK.
Whilst Rob got to enjoy First Class service on his recent Lufthansa flight to New York (review to follow), I tried the low cost version a week later.
Norwegian asked us to review their Premium class product and I was keen to find out how it compares to BA's World Traveller Plus (Premium Economy).  The products are aimed at a similar market and are roughly similar in pricing, targeting the premium leisure market or companies unwilling to pay for a 'full' flat-bed business class product.
Norwegian provided my ticket free of charge.  As usual, HFP covered all of its other expenses.  They were flexible on destination and it was my choice to go to New York.
Here is my review of Norwegian Premium.  Click on any of the pictures to enlarge.
(EDIT: We have an updated 2019 review of Norwegian Premium, on the Gatwick to Rio route, which you can read here.)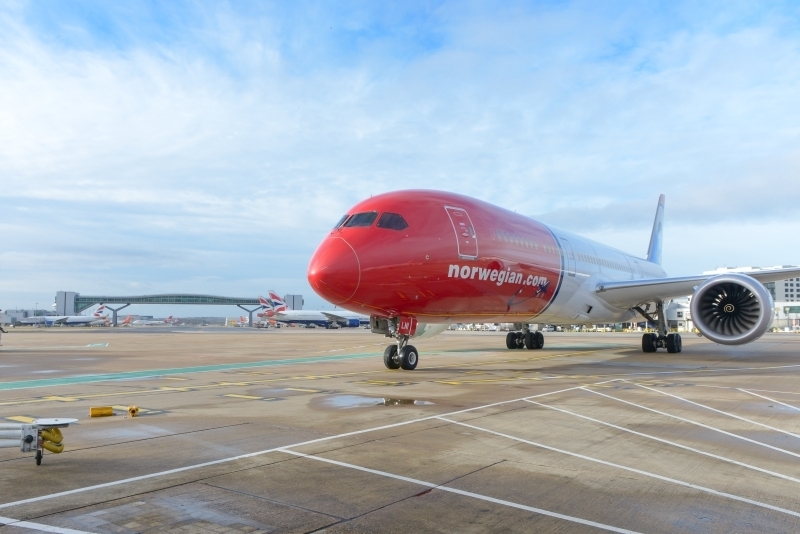 Check in for Norwegian Premium
All of Norwegian's long-haul services from London depart from the South Terminal at Gatwick.   It is the same terminal as British Airways uses.
This was an instant improvement on my previous low-cost trip to New York on La Compagnie (reviewed here, but service now discontinued) which departed from Luton.
The Norwegian check-in area at Gatwick South had self check in machines, a Premium line and an Economy line.  It did take surprisingly long to get my ticket due to what felt like a million questions I had to answer regarding my trip (where do I live, where am I staying, what's my nationality and so on).  To be fair, this could have been because Norwegian arranged my ticket for me – had I booked direct I could presumably have input all of this data from home at my convenience.
Flying Norwegian Premium I could have checked in two suitcases of up to 20kg each but as it was only a four day trip I already felt silly checking in one suitcase. In comparison, the allowance in BA's World Traveller Plus is two bags of up to 23kg each.
If you have a carry-on suitcase it needs to be weighed, as your cabin bag can only weigh up to 15kg (10kg in Economy). You're allowed an additional purse or laptop bag.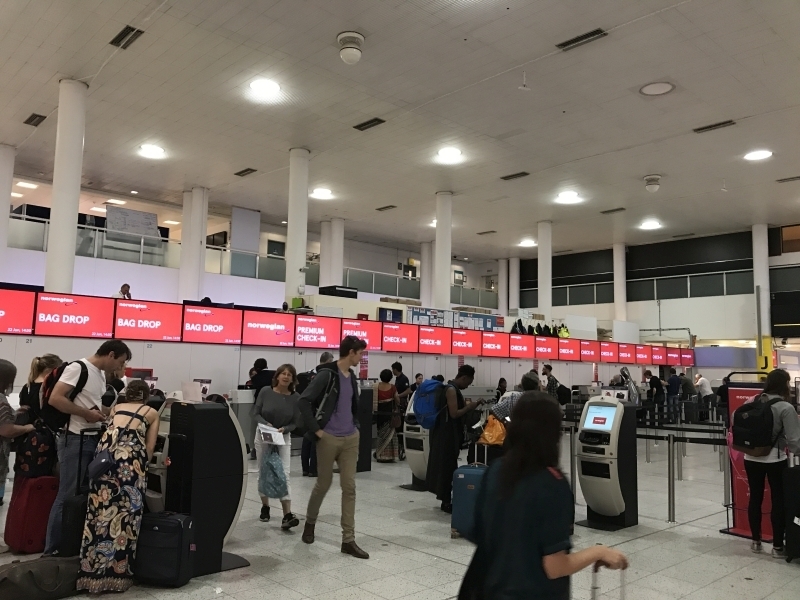 I got a paper invitation for the No 1 Lounge as well as a Premium sticker on my boarding pass so I could use Fast Track.
This is a clear benefit to choosing Norwegian Premium over BA's World Traveller Plus or Virgin's Premium Economy.  Neither of those services include lounge access.  Virgin Atlantic does give you Fast Track security although British Airways does not.
I've reviewed the No 1 Lounge before.  Rob also used the Gatwick South No 1 Lounge for the first time recently and his review, published over the weekend, is here.
Click here for the list of airports where Norwegian offers lounge access.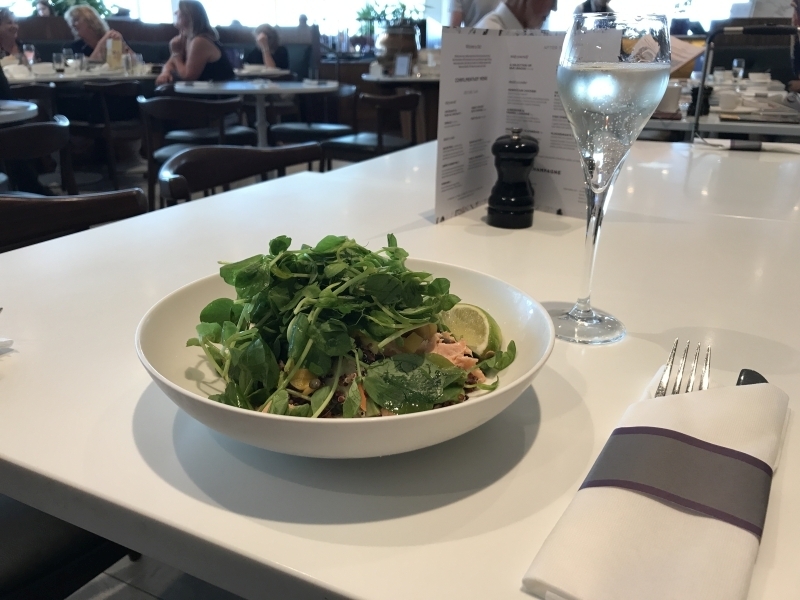 The flight was at 17:05 and the gate was shown at 15:45 which is when I left the lounge, over-enthusiastically as it turned out.  It was a 12 minute walk from the lounge to Gate 35, but as boarding didn't start until 16:30 I could have spent an extra 30 minutes drinking prosecco.
You receive Priority Boarding as a Norwegian Premium customer.  This is not a BA World Traveller Plus benefit.  Virgin lets Premium Economy passengers board after Upper Class passengers.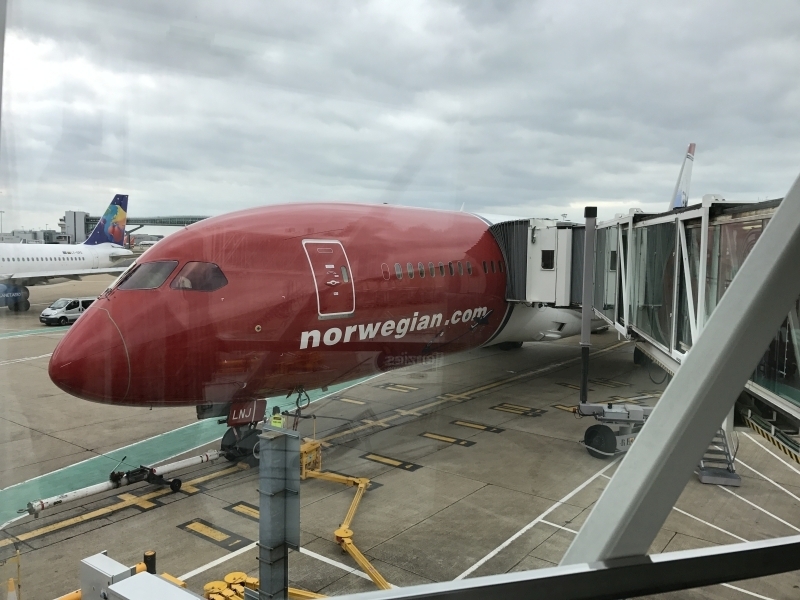 The best seat in Norwegian Premium
To get a better idea of how Norwegian Premium compares to British Airways, I've copied the seatmaps from SeatGuru. The one on the left is the Norwegian 787 Dreamliner (almost all of their long-haul aircraft are new 787s), the one on the right the BA Dreamliner.   Whilst these are not fully to scale, as you can see Norwegian's Premium product has a lot more legroom than BA's World Traveller Plus.
(The last time I flew World Traveller Plus was on a 12 hour flight to Cape Town, with a 2-year old child – not mine – sat next to me.  That was fun.)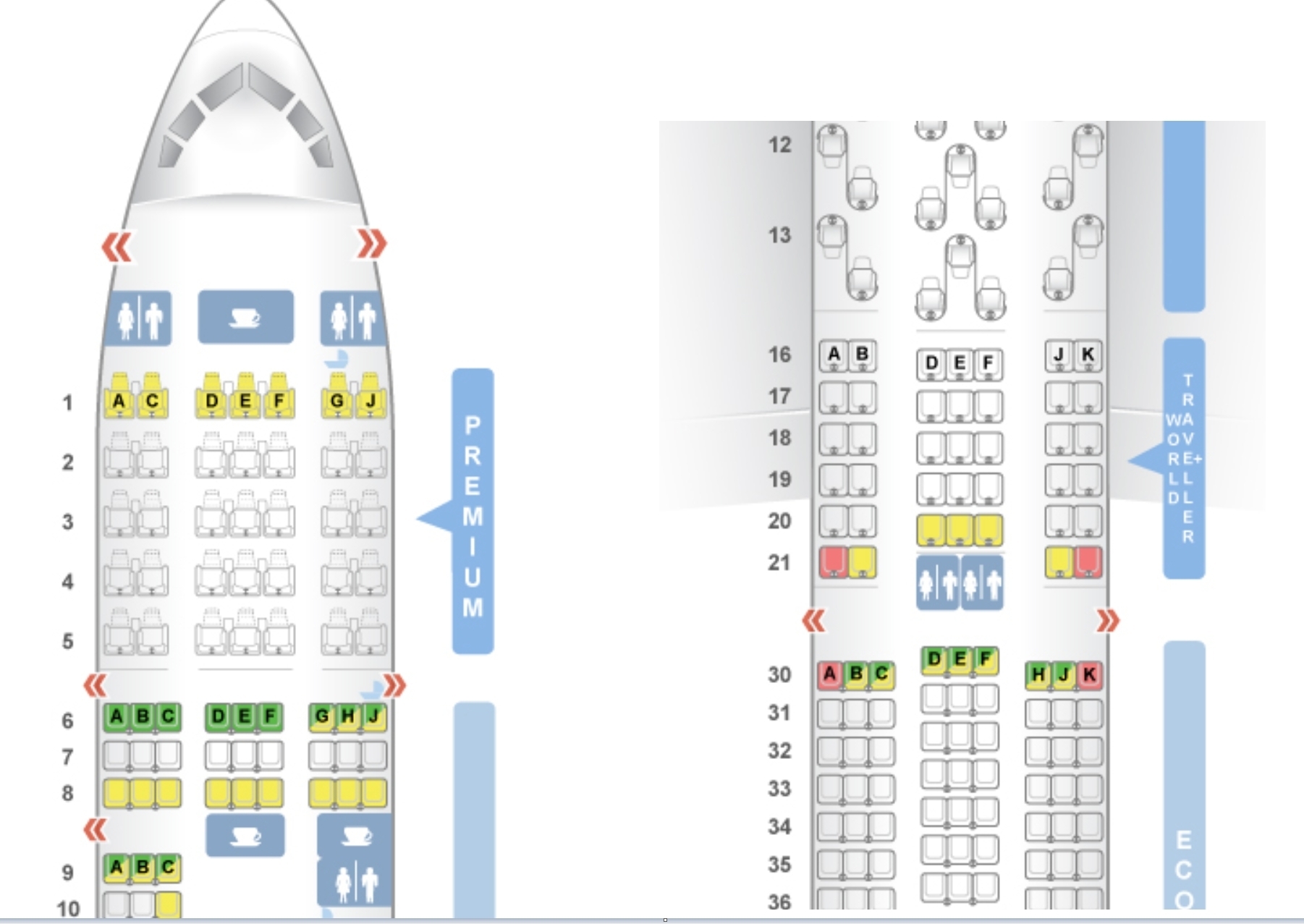 There was a blanket and earphones on the seat. Norwegian does not provide an amenity kit so you need to bring your own toothbrush.
I also recommend bringing your own earphones as the ones provided didn't have the best sound quality.
Let's get to the Premium seat which, at the end of the day, is what you are really paying for: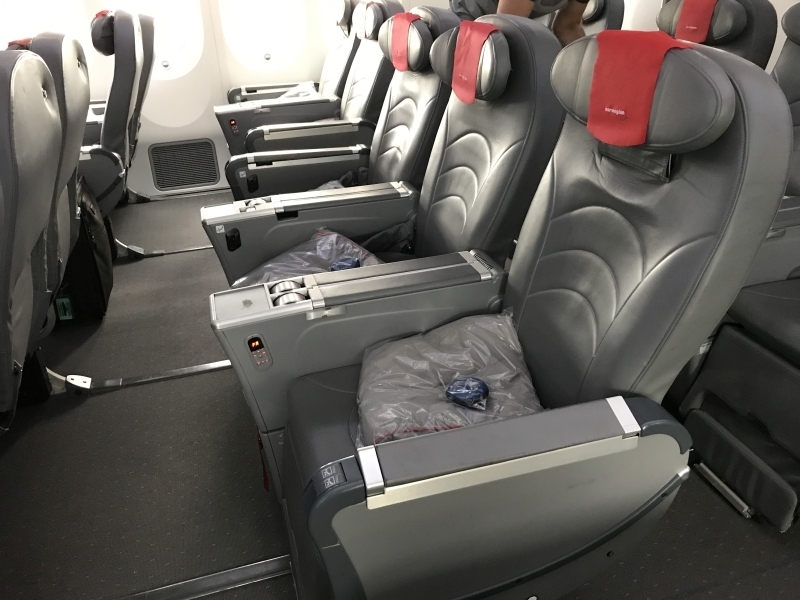 The legroom was more than impressive as the pictures above and below show.
Norwegian's Premium seats are 48cm wide with a pitch of 1.16m. In comparison BA's World Traveller Plus seats are 47cm wide with a pitch of 96cm.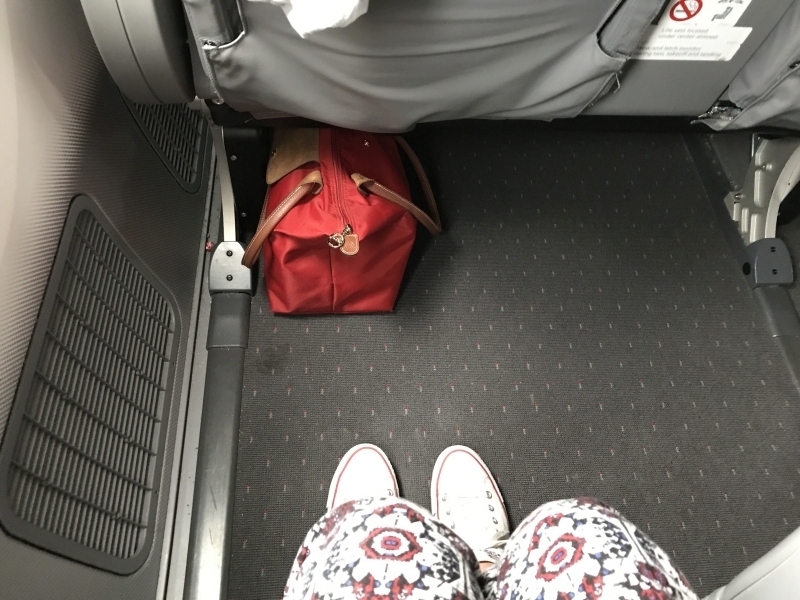 Drinks were served out of big bottles in plastic cups.  This was probably the first noticeable service gap compared to World Traveller Plus as British Airways gives you real glasses.
The sparkling wine was Anna de Codorniu Blanc de Blancs which you can find online for £10.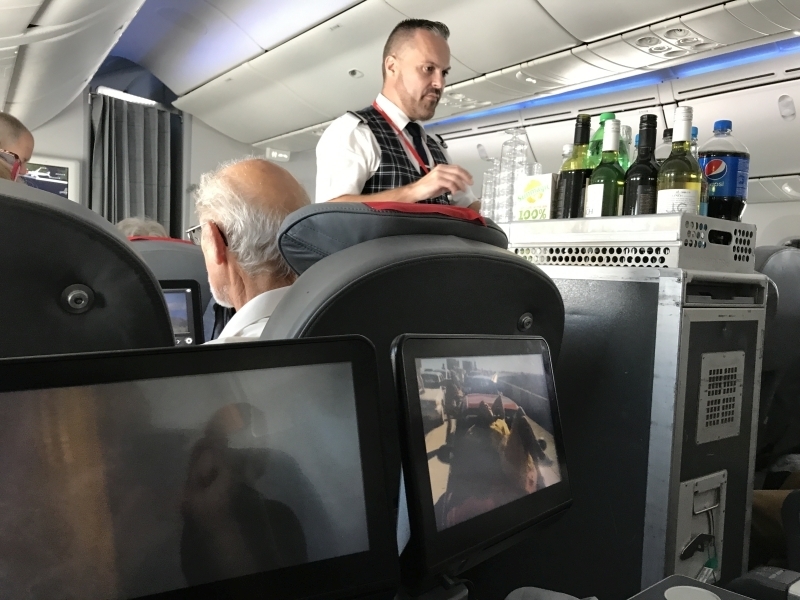 The 11″ Panasonic entertainment screen was stored inside the armrest in between the seats. At the bottom was a USB plug to charge your phone. World Traveller Plus has their entertainment system (10.4″) embeded in the back of the seat in front which gives you no flexibility to select a viewing angle which suits you.
There was a good film selection consisting of new releases and classics. I chose to watch Arrival.  You can find the list of TV and movie options on this website.  Overall it felt smaller than the British Airways selection.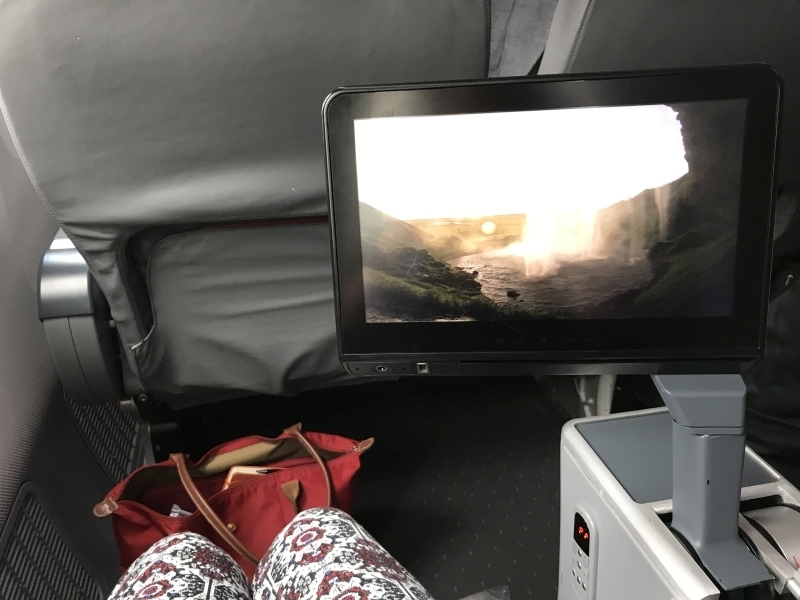 The food, though presented in one big box with all three courses inside smaller boxes, was pretty good. There was a choice of salmon or beef as a main of which I chose the former.
Presentation wise, British Airways will offer you a longer menu (IIRC) and the food is plated.  The main courses in World Traveller Plus are taken from the Club World menu although the starter and desert are not.
Overall I was perfectly happy with it.  For clarity, Norwegian does not charge for food in Premium, unlike in Economy.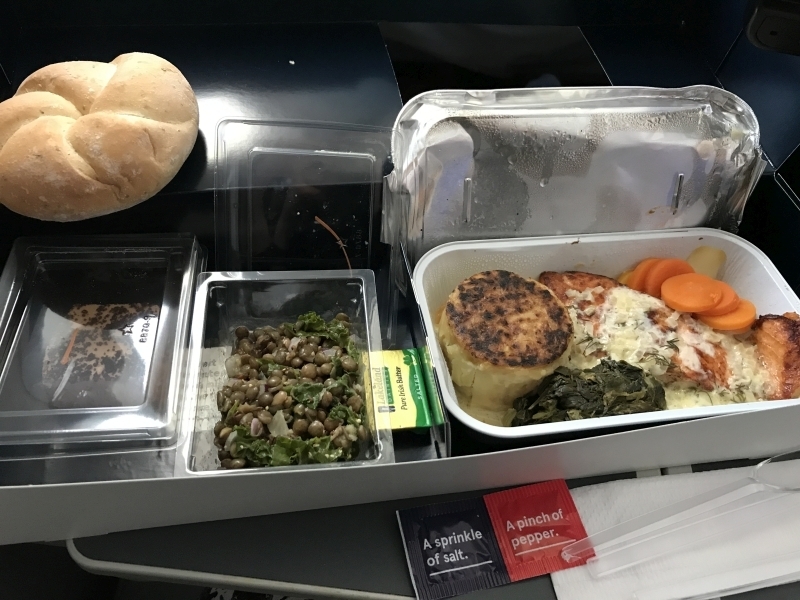 After dinner the cabin crew came around offering Baileys – how could you say no to that?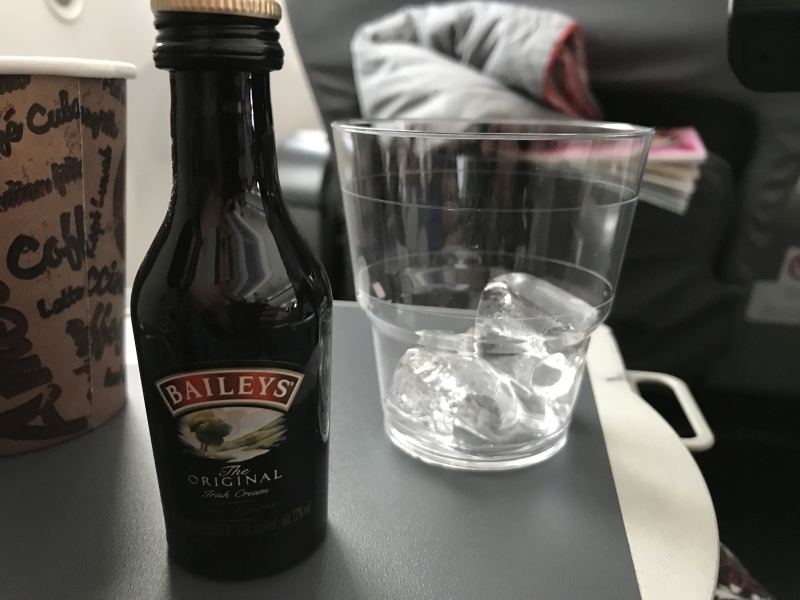 I wasn't able to take a photo of my reclined seat, so here is an official press picture. The seat was surprisingly comfortable and I managed to sleep a couple of hours – which is really good for me as I'm usually pretty bad at sleeping on planes even when fully flat.
The only annoying part was that once the seat in front of you is reclined it's difficult to move out of the seat especially if you don't have aisle access.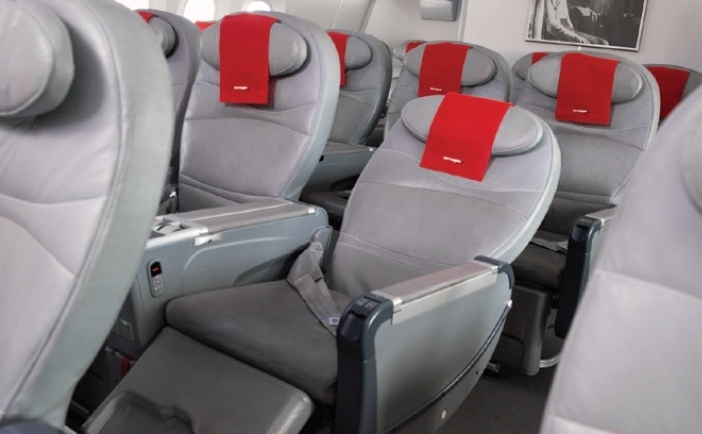 The lights were dimmed for about 3 hours in between dinner and what looked like breakfast. I always get a bit confused with meals on long-haul flights with a time difference. Looking at London time this could have been a super early breakfast, looking at New York time it would have been a late evening snack. Either way I liked the salad with salmon and pumpkin seeds.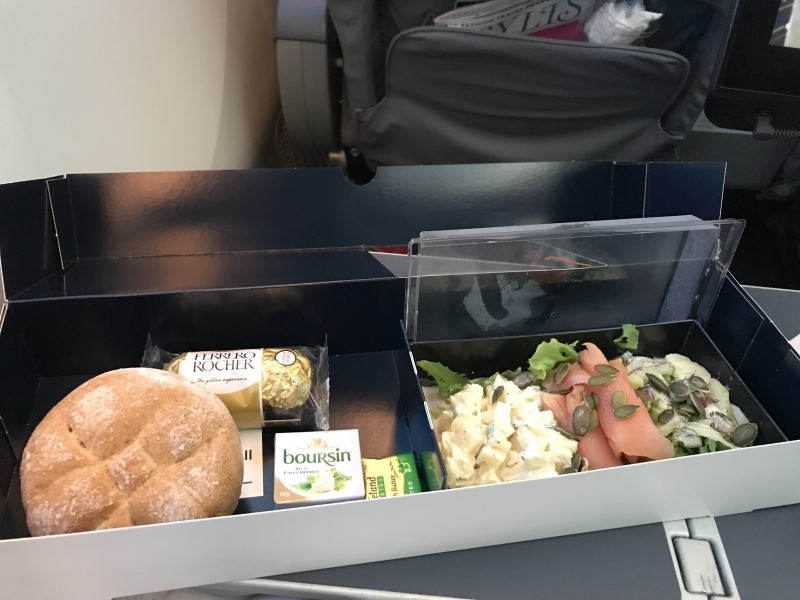 And that was it.  Before I knew it I was descending into New York JFK.  All in all I was more than happy with my experience in Norwegian's Premium cabin.  I will summarise the pros and cons in Part Two.
Unfortunately the return flight wasn't as smooth as Part Two of my Norwegian Premium review (click here) shows ……
The Norwegian website is here if you want to learn more about the product and route network.