Review: Norwegian Premium – better than British Airways World Traveller Plus? (Part 1)
Links on Head for Points may pay us an affiliate commission. A list of partners is here.
This is our review of Norwegian Premium on the Boeing 787-9, between London Gatwick and Rio de Janeiro.
It is part of my series on my trip to Rio. Norwegian offered us complimentary flights but HfP paid for all of my incidental expenses.
Norwegian flies to both Rio de Janeiro and Buenos Aires, and invited us to review their premium economy flights on one of these routes. I had a quick look at the forecast for both destinations in August – remember they are in the southern hemisphere – and realised that Rio would be warmer.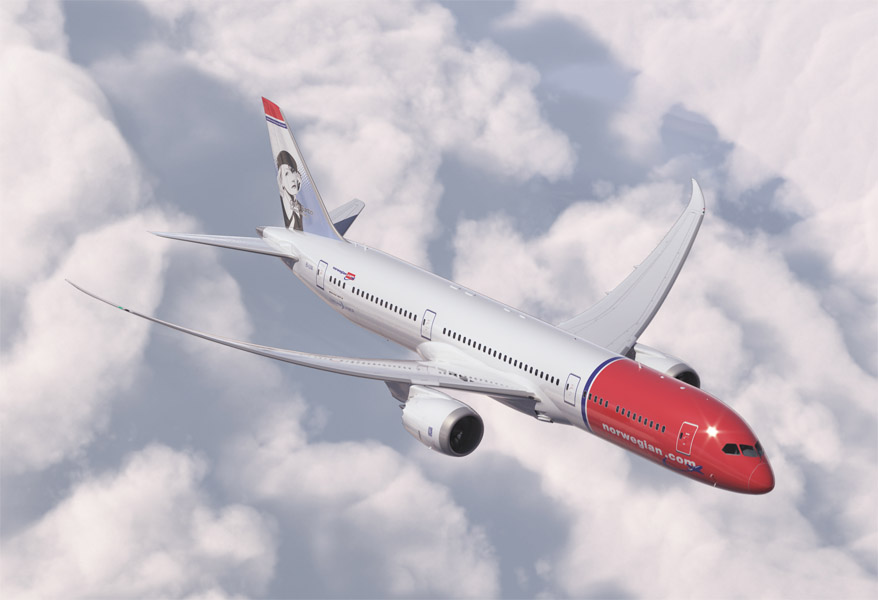 How does Norwegian pricing compare to British Airways?
British Airways also flies to Rio de Janeiro although, looking at the BA Low Fare Finder tool, you can expect to pay several hundred pounds more for World Traveller Plus.
This is an important consideration to bear in mind when you read this review. Here are a few random price points, which to avoid any bias I have taken in monthly chunks from today, based on a one week trip. The dates are adjusted slightly because Norwegian only flies four times per week:
25th September – £939 vs BA £1,484 (BA price is from a week later due to the pilot strike)
28th October – £939 vs BA £1,484
27th November – £939 vs BA £1,299
28th December – £1,559 vs BA £2,336
28th January – £939 vs BA £1,234
As you can see, the Norwegian option leaves at least £300 extra in your pocket – and often £500+.
What does your Norwegian Premium ticket include?
Note that the British Airways pricing does not include seat reservations which are free on Norwegian. Both airlines offer free food. Neither offers lounge access (Norwegian dropped it a year ago unless you have a Premium Flex ticket). Checked baggage is very similar – 20kg on Norwegian vs 23kg on BA.
Norwegian offers both Premium and Premium Flex products when booking. The biggest difference between the two, apart from the ability to refund the ticket, is that Flex comes with lounge access at the My Lounge Gatwick South, which I reviewed here. This is a unique proposition since most airlines do not include lounge access with premium economy tickets.
In terms of features, this is what you currently get included in your ticket price with a non-flexible Norwegian Premium ticket:
10kg of hand baggage
seat reservations
two checked bags (20kg each)
a 3-course Premium dinner and breakfast/light evening meal
complimentary soft drinks, wine and beer throughout the flight
Whilst I haven't covered the check-in process during this review, Norwegian also has dedicated Premium check-in and bag drop desks at Gatwick. Virgin Atlantic offers this too for Premium customers, but British Airways does not.
The Norwegian Premium seat
I was booked into seat 1A. The Norwegian fleet at Gatwick is now outfitted with a larger Premium cabin with 56 seats, although it still feels like an intimate cabin. The use of a new Boeing 787 means that you benefit from being on a modern aircraft, both in terms of general 'look and feel' and the technical benefits of larger windows and improved cabin pressurisation.
Seats are arranged in a 2-3-2 arrangement, which make the window pairs attractive for couples travelling together.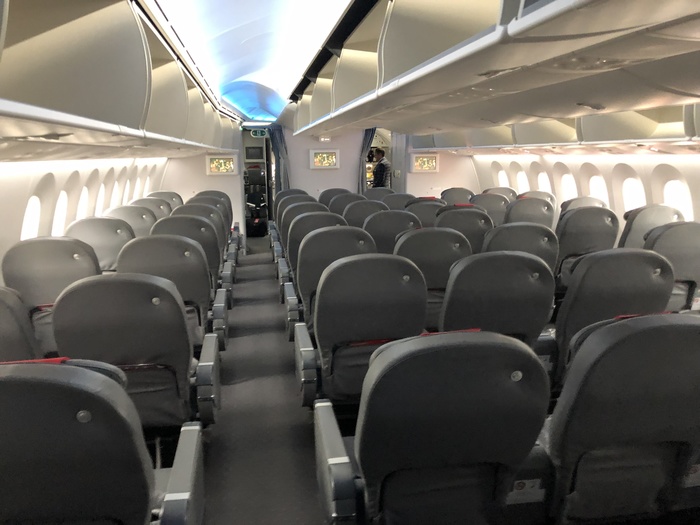 and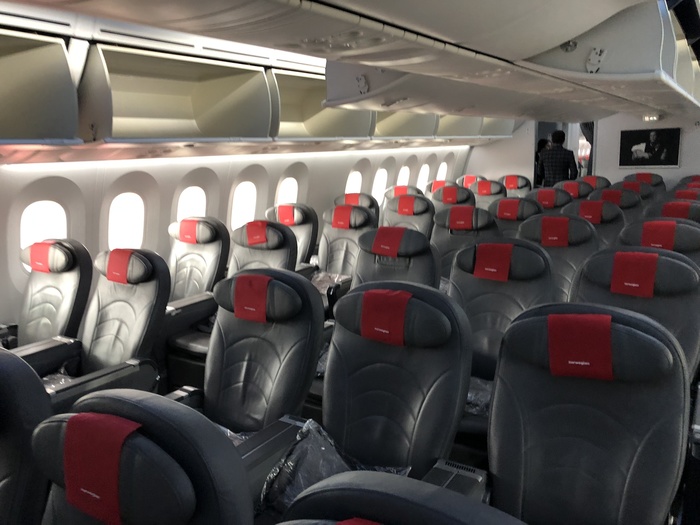 The new layout means that legroom is ever so slightly reduced from the older configuration, although Norwegian Premium has greater pitch than either British Airways, Virgin Atlantic or Air New Zealand's premium economy (review here). My bulkhead row had plenty of legroom. I could stretch out my legs fully (not a small ask at 6'2″!). Even in non-bulkhead rows you should still have enough room to stretch your legs.
The extra pitch over British Airways is, at the end of the day, the key benefit for me of flying Norwegian. That and the extra money in my pocket at the end of the day.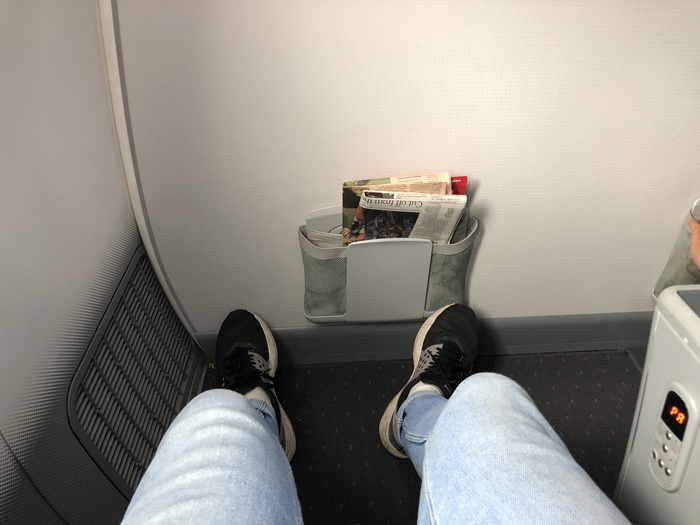 1A is directly behind a loo, but I did not find this to be a problem. The noisy flush sound is very quiet from the seat and the cabin is small enough that people wait in their seat until the toilet is unoccupied to make the move forward. In total there are two toilets in Premium, one at the front in each aisle.
Norwegian Premium seats come in this fairly plain grey colour, although the headrest protector adds a splash of colour. The seat has a very generous recline as well as leg rest, both of which can be operated independently of another. At 6'2″ I could just about stretch my legs out flat with the leg rest in the fully extended position.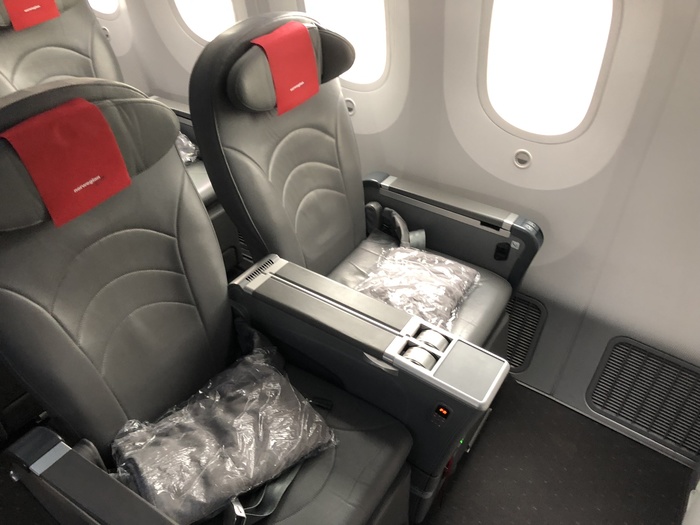 The recline is, frankly, insane. Unfortunately I couldn't get a photo without disturbing the passengers behind me so you'll have to imagine it! As someone who normally struggles to sleep in an upright position, the recline allowed me to get two decent hours of sleep, which is more than I have had on other premium economy products.
The only problem with such a recline is that it makes it very difficult to exit a seat in non-bulkhead rows. If you are sitting in a middle or window seat, you will almost certainly have to ask your neighbour to get up to let you through.
On arrival, each seat comes with a quilt. Pillows are not provided, although the flexible headrests do a better job of supporting the neck than a pillow would. Cabin crew also come round offering in-ear headphones.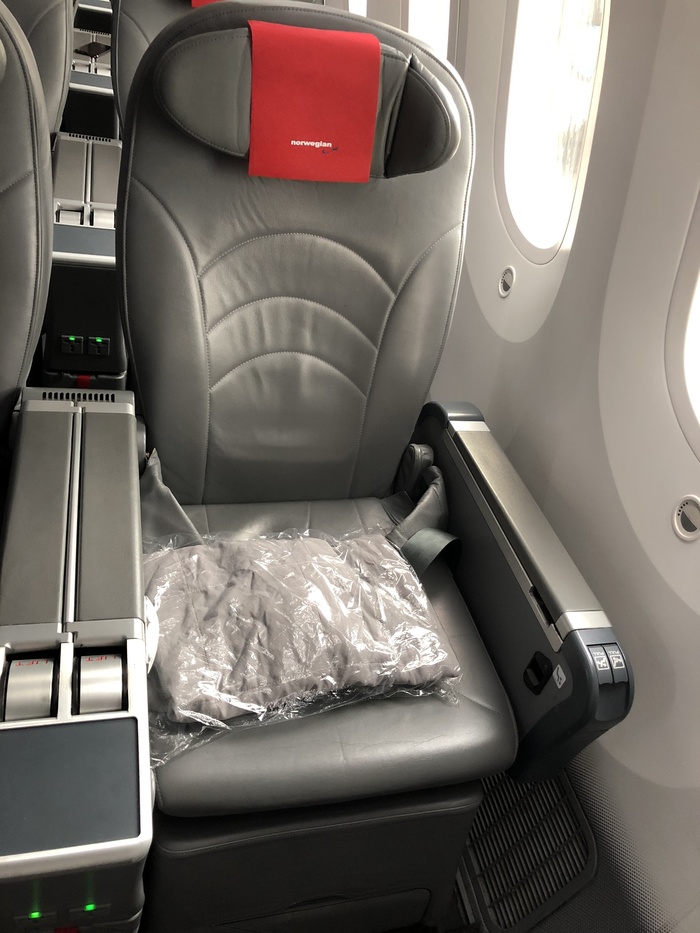 This is the end of Part 1. In Part 2 of my Norwegian Premium review I look at the food and drink and the IFE.