My review of Norwegian Premium – better than British Airways World Traveller Plus? (Part 2)
Links on Head for Points may pay us an affiliate commission. A list of partners is here.
This is Part 2 of my review of Norwegian Premium, on a flight from London Gatwick to Rio de Janeiro.  Part 1 of my Norwegian Premium review is here, which looks at the seat itself and compares the pricing and product offered by both Norwegian and British Airways.
The food and service on Norwegian Premium
Soon after boarding I was offered a choice of water, apple or orange juice. Norwegian does not use glassware or crockery on its aircraft, although the plastic cups are slightly more sturdy than I have experienced on other airlines.
Due to an air trafic control delay, we remained at the gate for about an hour and the cabin crew came through several times.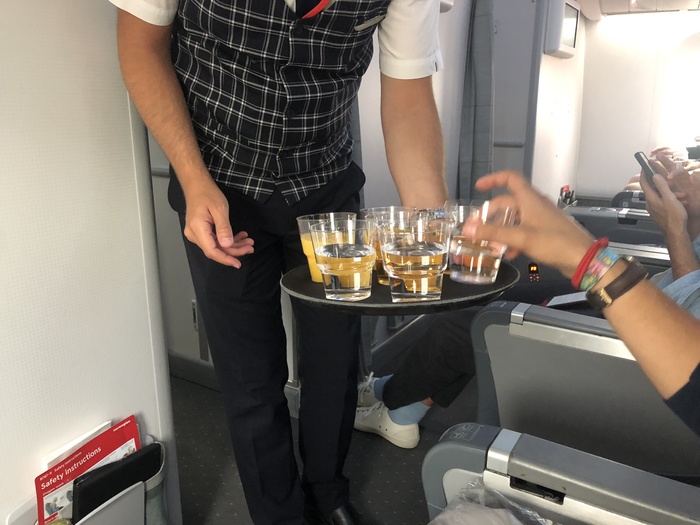 Shortly after take-off the cabin crew came round with a drinks service. Wines, cava and soft drinks are free whilst spirits incur a surcharge of around $7 per 50ml. I decided to have a glass of white wine as well as the cava.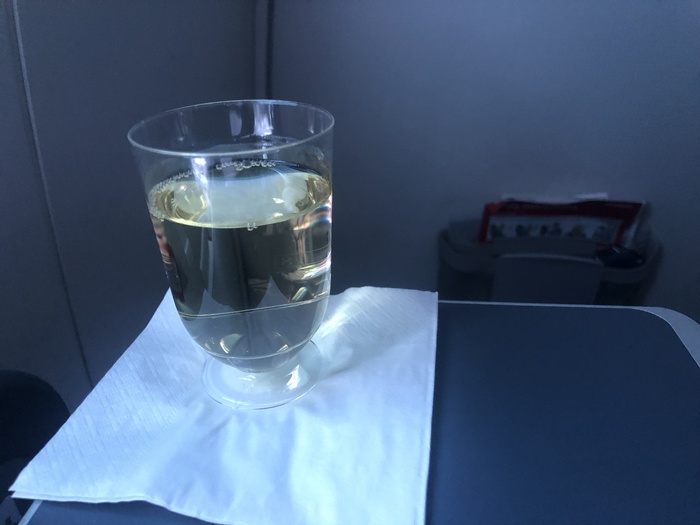 The meal service followed soon afterwards.  Unlike most carriers, Norwegian has these long boxes that contain a salad, main and dessert. There is also a selection of bread.
I was offered a choice from three main courses: a roast chicken dish, a hake dish and a beef noodle dish. I went for the latter and enjoyed it. The beef was tender and flavourful.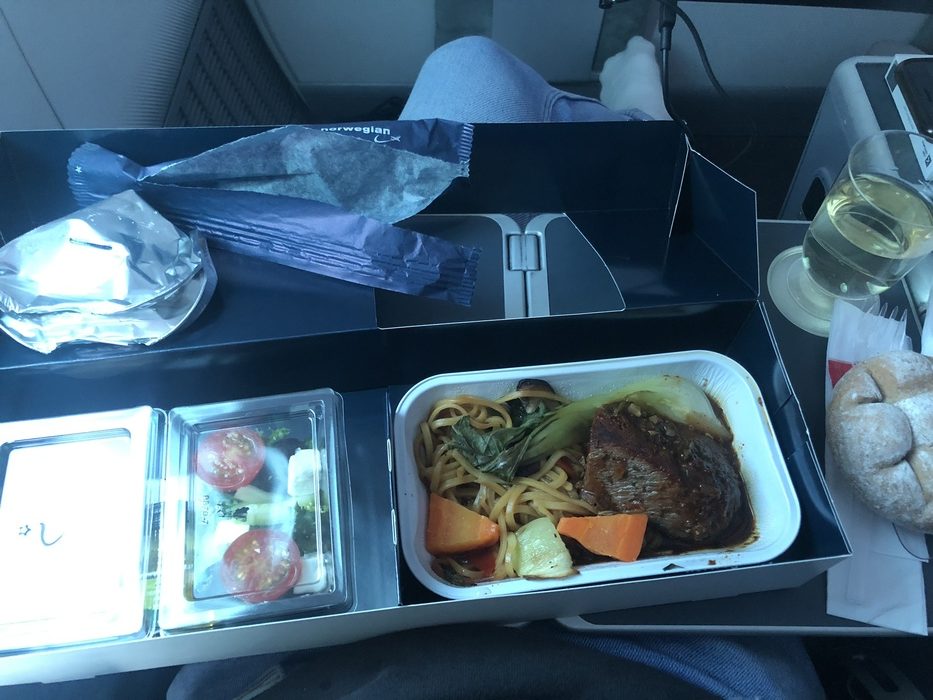 One thing I would say about the main meal service is that it was a little on the small side. The salad and dessert (a cheesecake) are deceptively small and packaged to make them look slightly bigger. It would have been nice to have a slightly larger meal.
Let's be honest – in terms of presentation and portion size this is behind what you would get from British Airways or Virgin Atlantic, although I had no complaints about quality.
Like my Premium Economy flight with Air New Zealand in February, Norwegian offers an ordering service through the inflight entertainment system.  This makes it supremely easy to order drinks or snacks at any point during the flight and should be a service that all airlines roll out.
You make a few taps on your IFE screen and the food is brought to your seat.  It's a fantastic system.  Yes, you've got to pay for additional food, but at least you have the option.  You would have to be fairly churlish to argue that having the chance to pay for additional food and drink is worse than – BA-style – not having the option at all.
About five hours in I got a little peckish and decided to order something off the snack menu. This is the BBQ chicken sandwich: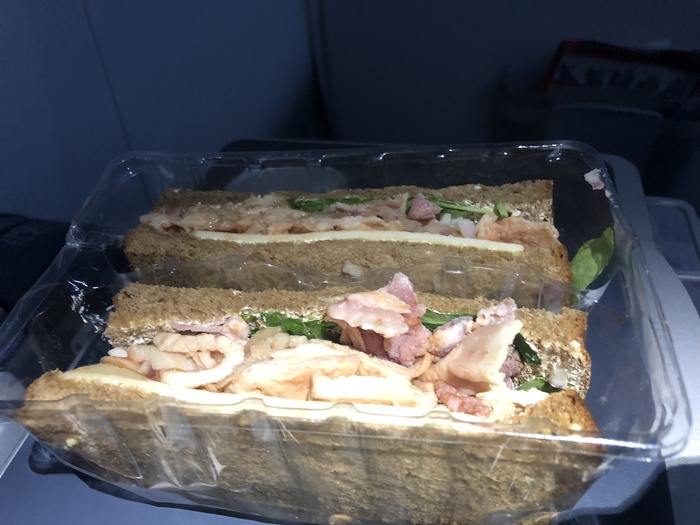 …. which tasted good. There were a range of hot and cold options, savoury and sweet. The only thing that was missing was a Kit Kat which I was desperately craving for some weird reason …..
Two hours before arrival a second meal service took place and the cabin crew handed out another long box.  This contained a salad, halloumi and a slice of cured meat. (I assume vegetarian options for both meals are available on request).  This was served with bread, Boursin and a small bar of chocolate: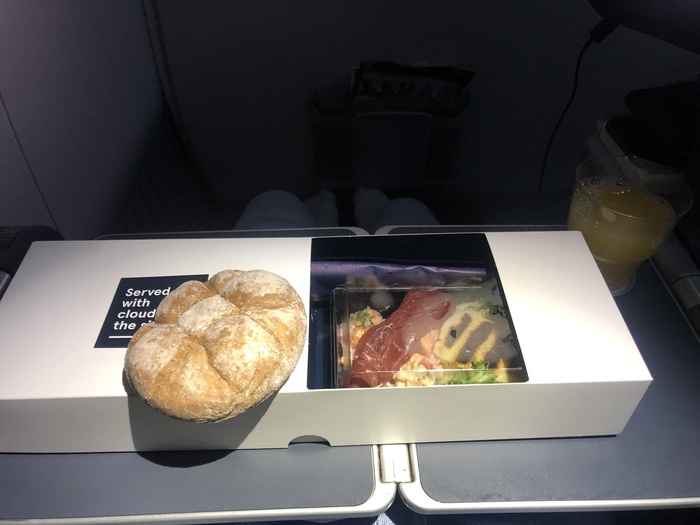 The halloumi salad was disappointing, with the cheese very firm and not particularly tasty. It was an odd combination of items, and Norwegian can definitely do better.
In flight entertainment
The front of the cabin has a screen dedicated to the moving map, which is great if you quickly want to check your flight's progress: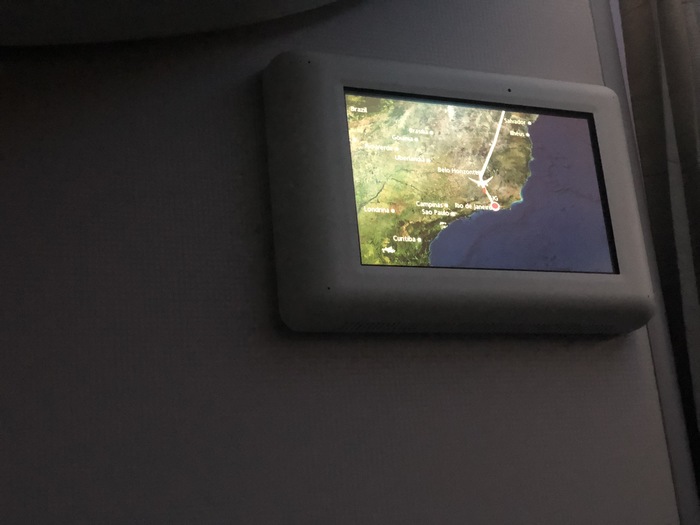 All Premium seats have free access to the Norwegian in flight entertainment system. This is provided via a screen that pops out from your armrest. This is better than having it in the seat in front of you and allows for easy use even when the row in front is at maximum recline. It was loaded with a decent selection of old and new films, and I ended up watching Deadpool and Love Simon.
Don't worry if you are concerned about popping to the toilet mid entertainment – the screen can be folded flat to allow easy egress into the seat!
The supplied headphones are fairly cheap although they do come in a nice pouch. I typically use my own regardless, and it seems I wasn't the only one.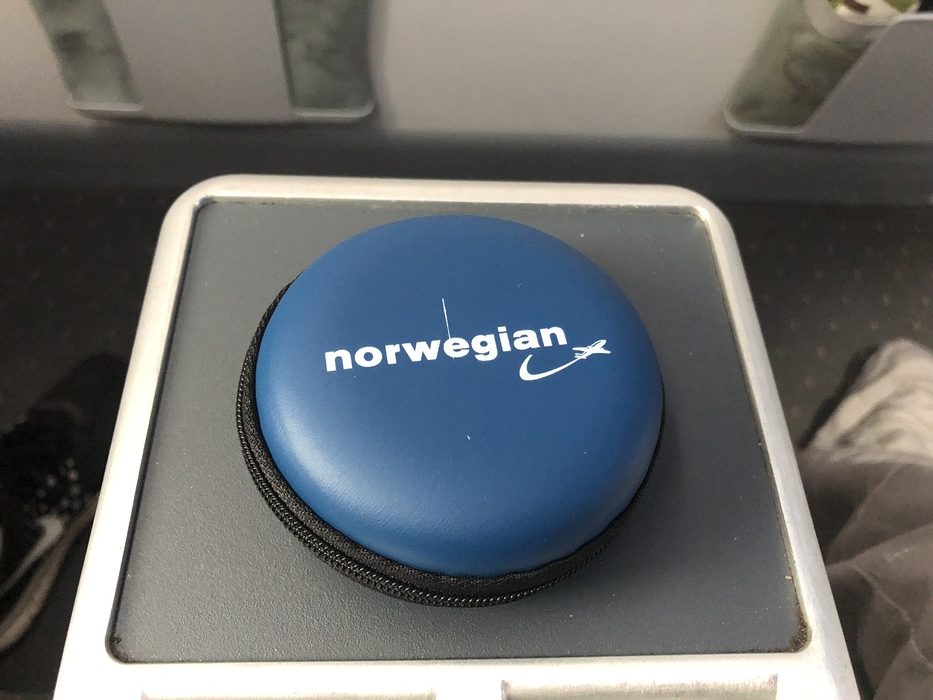 and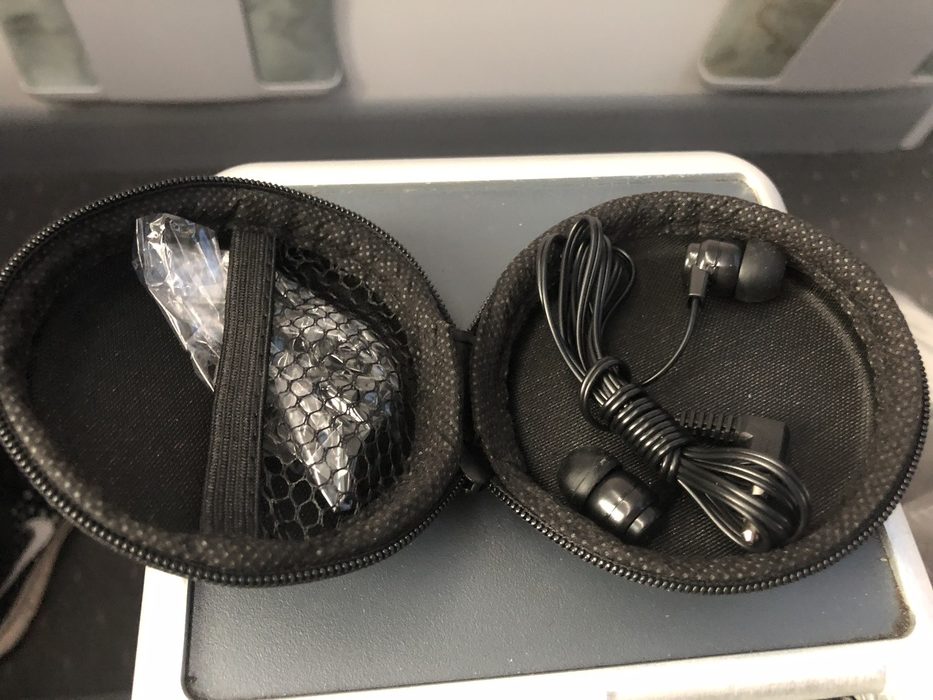 Norwegian also has wi-fi on its Boeing 787-9 fleet, which is currently a pot luck option on British Airways.  Unfortunately this was disabled on my outbound flight and I was unable to give it a test drive. It was available on the return, with a choice of three packages:
Free, messaging only
Social-Surf (€4.95), which permits photos and social media
Stream-Surf (€12.95), which lets you stream video
I went for the final option. This let me send messages with ease and load Facebook videos and photos, although for some reason it struggled with Instagram and Snapchat.
If you need to charge your devices, there is a USB plug in the screen, or you can use the international plug between the seats: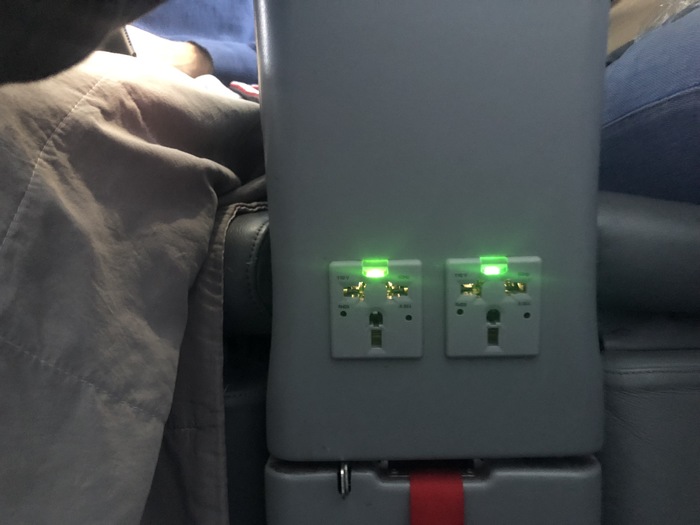 Conclusion
If you are expecting a premium economy product equal to that of World Traveller Plus or Virgin Atlantic's Premium, you may find yourself a little disappointed. Norwegian does not offer pillows, amenity kits or complimentary spirits to its Premium passengers.
What you DO get is a lot of legroom, the option to order extra food if you want it, wi-fi access (for a fee), dedicated check-in and bag drop desks at Gatwick and a few hundred extra pounds in your pocket.  That's a trade off I can live with.
Thank you to Norwegian for arranging my trip.  A final article later this week will, at reader request, cover a few thoughts about Rio itself.