Review: Air New Zealand Premium Economy from London Heathrow to Los Angeles
Links on Head for Points may pay us an affiliate commission. A list of partners is here.
This is our review of Air New Zealand Premium Economy from London Heathrow to Los Angeles.
We have not given much coverage to Air New Zealand in the past, despite them being a Star Alliance member and an earning and burning Virgin Atlantic partner. You can find details of the Virgin Flying Club partnership here.
We do try to cover their sale fares from London to Los Angeles, which is the only non-stop route Air New Zealand flies from London, and in 2015 we ran a competition giving away a trip to LA on the revolutionary Skycouch in Economy.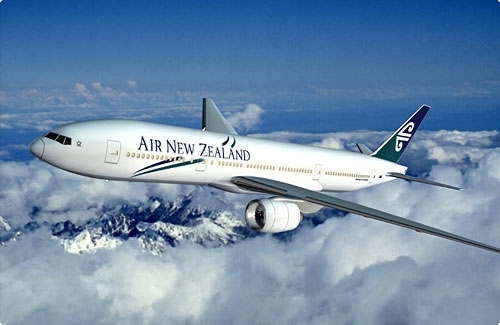 I managed to snag a return trip to Los Angeles in economy for an exceptionally cheap £175 return as part of their Black Friday sale. There were only 100 tickets available at this price so he got lucky.
Air New Zealand offered me an upgrade to Premium Economy in return for a review on HfP. I paid all of my other costs. Here is my review:
A quick introduction to Air New Zealand
Air New Zealand flies from London to Los Angeles as a 'fifth freedom' flight, which allows it to operate routes between two countries which are not its home base.
Flight NZ2 originates in Auckland, flying to Los Angeles and then on to Heathrow. Flight NZ1 takes the reverse routing; both flights operate daily in each direction. It is possible to book each leg separately, which makes Air New Zealand an unusual and attractive choice for travel to the US West Coast compared to the usual US and UK carriers.
Air New Zealand does not operate a first class cabin. However, in addition to Business, Premium Economy and Economy, it also offers a 'Skycouch'. This lets you book three adjacent Economy seats which feature an additional cushion that can be folded up to create a comfortable flat surface. You can find out more about Skycouch on the Air New Zealand website here.
Air New Zealand at Heathrow
Since Air New Zealand is part of the Star Alliance, the airline operates out of Terminal 2 at Heathrow.
If you have been to Terminal 2, you will know that it is a self-service operation for Economy passengers, with plenty of self-check in and baggage drop areas. You are required to print your own luggage tags at a kiosk and attach them to your suitcases. Premium Economy passengers are entitled to two checked bags and two cabin bags.
Air New Zealand does not share the same self-service baggage drops that other Star Alliance airlines do. There were only a few desks open when I was there, and I could not find a Premium Economy line so I joined the Economy queue. The counters are shared with Air India, which makes sense since both airlines only operate limited flights from Heathrow. There was a bit of a wait here, since only a few desks were available.
One thing Heathrow does well is security. Even without premium security access, it rarely takes more than 15 minutes to pass through unless there are unforeseen circumstances. This is much better than my experience at many US airports, including Los Angeles.
The aircraft
The NZ1 and NZ2 flights are operated by a Boeing 777-300ER. According to the airline's website they have an average age of just under seven years. This means that whilst the interiors feel fairly fresh, the aircraft itself is a little outdated when compared to more modern types, such as the A350 or Boeing 787. The cabin is far louder and has a higher cabin pressurisation.
A quick look at Air New Zealand Business Class
I had asked Air New Zealand if I could pre-board to have a look at their Business Class seating.
Here is a quick peek. Virgin Atlantic passengers might find it very familiar. It features a herringbone seat, with all passengers seated facing the aisle.
I apologise for the purple tint on all of the pictures which is caused by ANZ's overhead lighting. Click on any of the images to enlarge.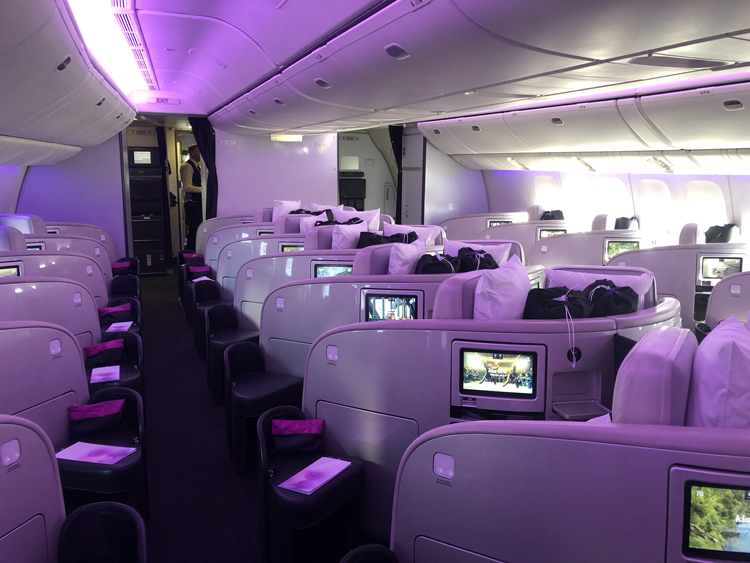 and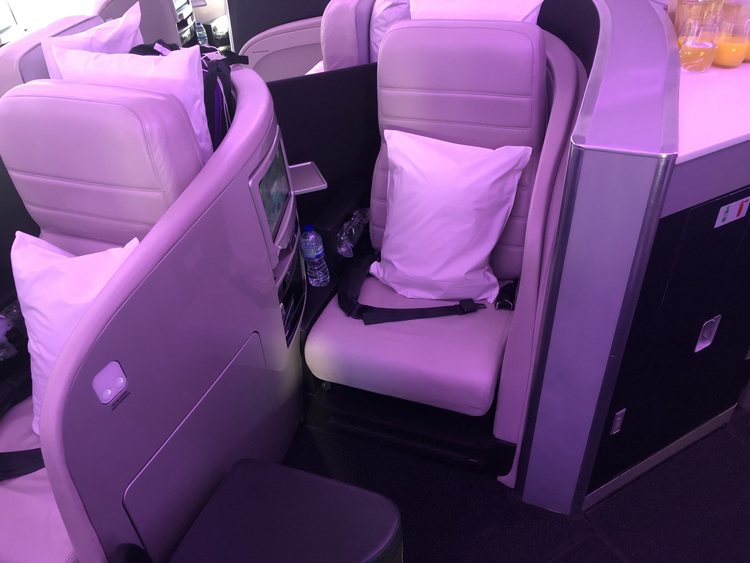 and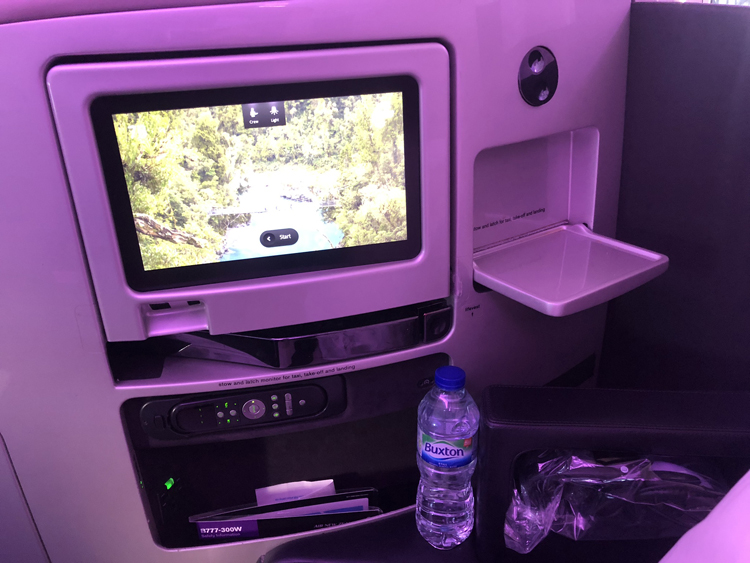 Air New Zealand operates a 1-2-1 layout in Business Class allowing for direct aisle access from all seats. This compares favourably with British Airways which still has 2-4-2 in their current Boeing 777 Club World configuration.
Seats can be turned into beds by cabin crew: it must be counter intuitively folded down and a mattress topper placed on top. This is the same seat that Virgin Atlantic uses in Upper Class on their fleet (except on their inherited Air Berlin planes) and which is also used by Air Canada.
In this herringbone layout, the foot rest is always out and is not boxed in, so no matter your size you should not feel cramped.
Air New Zealand Premium Economy seats
Unfortunately I wasn't travelling in Business Class, so I made my way down to Premium Economy in order to grab some pictures before everyone else boarded.
When these aircraft were first introduced, Air New Zealand attempted a 'business lite' style seat in Premium Economy that looked more like what you would see in business class, except without the lie-flat factor. However, these were replaced in 2017 with a more conventional Premium Economy seat in a 2-4-2 layout.
This is a promotional photograph: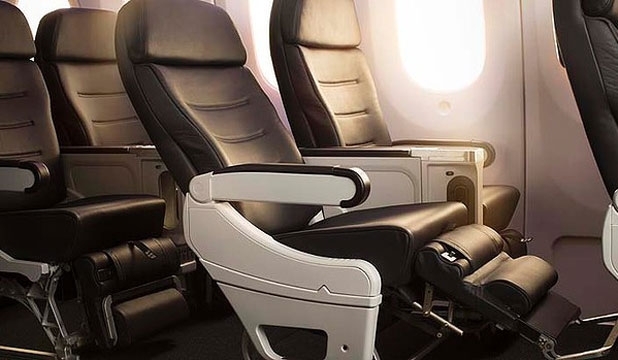 …. and here is the real thing: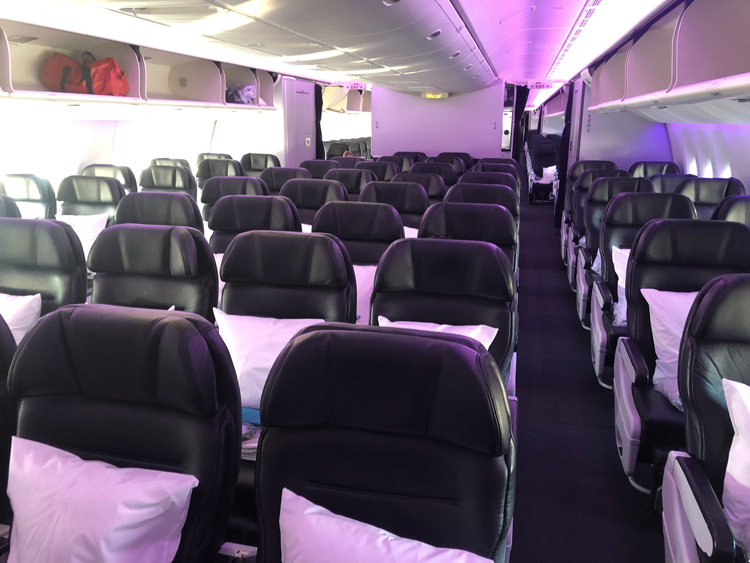 and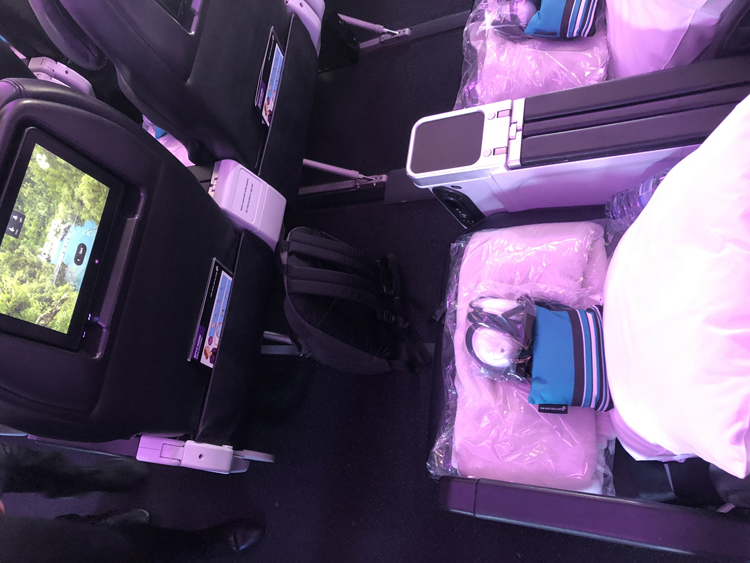 I was sat in 25D, an aisle seat on the middle block. However, the Premium Economy cabin was only 60% full and I had three empty seats adjacent to me.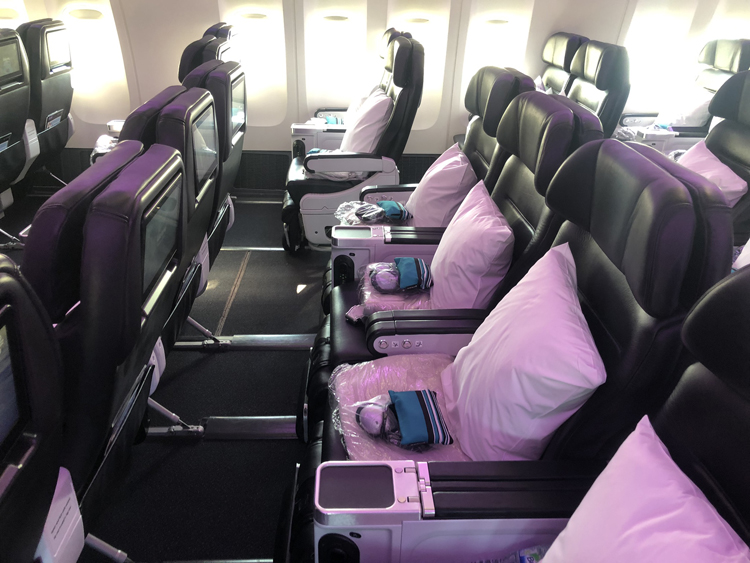 Even as someone who is 6'2'', there was more than enough legroom. I could stretch my feet out straight and they slid nicely under the seat in front. The official stats say that the seat has a 104cm pitch and a 22cm recline. This pitch is noticeably more than BA's World Traveller Plus seat (96cm) but less than Norwegian's Premium seat (116cm).
Each seat was prepared with a cosy thick fleece blanket, a water bottle, a large pillow, headphones and an amenity kit. The amenity kit contained a blue pair of socks, sleeping mask, pen, earplugs, toothbrush and toothpaste and a surprisingly large lip balm in a squeezy tube, which is less convenient than a normal chap-stick style one.
For comparison, Norwegian does not provide amenity kits in premium economy, whilst BA traditionally provides a small one in a very plasticky looking bag and will be improved soon as part of their World Traveller Plus investment.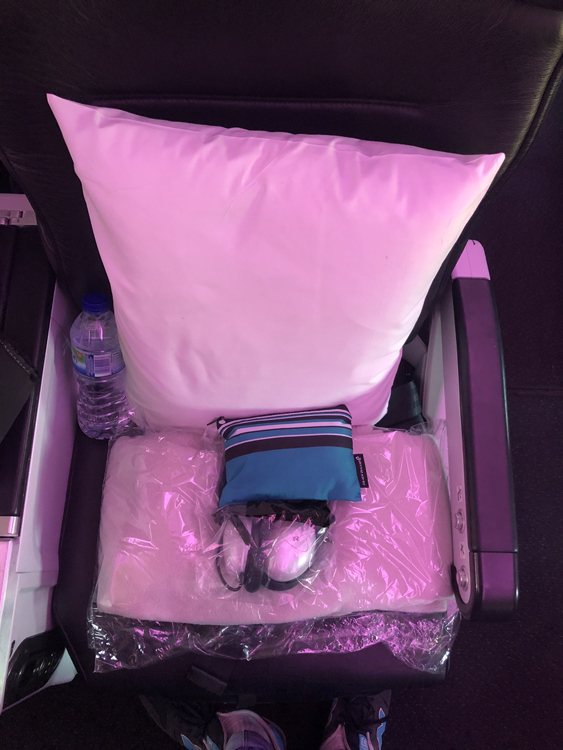 and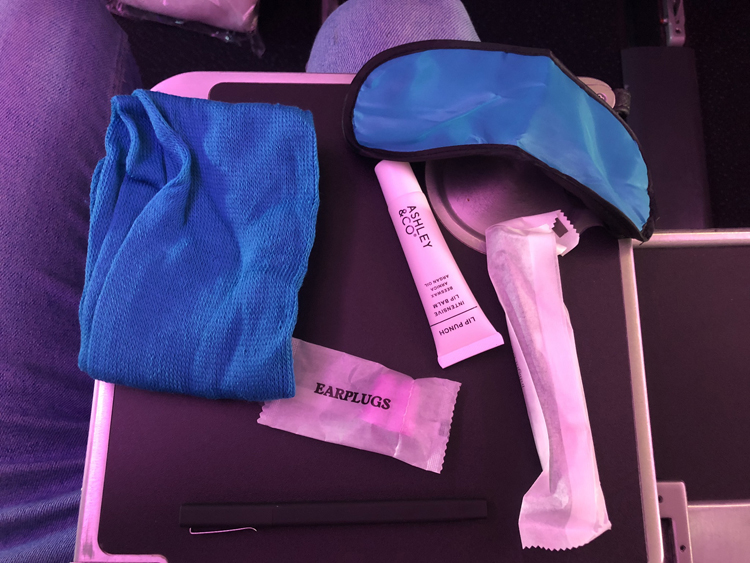 The seat can be reclined and has a fold-out adjustable leg rest: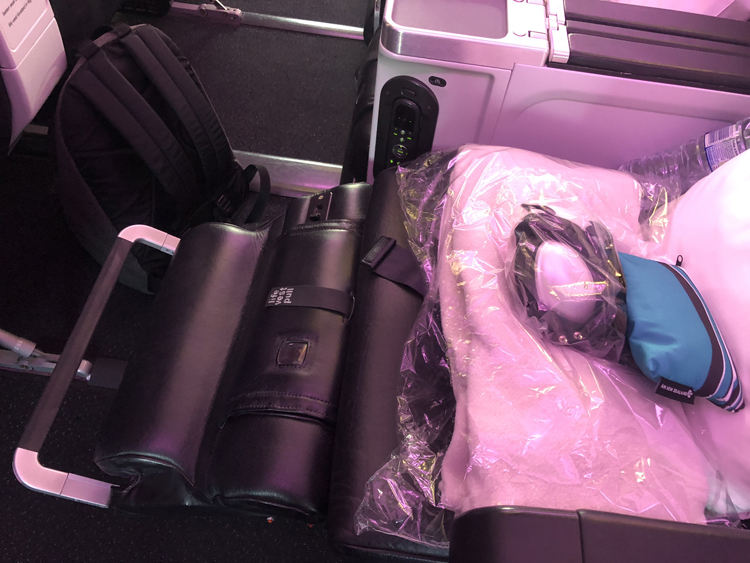 There were power sockets between the leg rests, in addition to a USB socket ny the in-flight entertainment screen:
As is usual for Heathrow, we were waiting around on the tarmac for a while before take off. However, unlike on British Airways, there is no drink service on boarding.
Air New Zealand often hits the headlines with its inventive and witty in-flight safety videos. At the moment there is an in-flight rap, which manages to avoid looking like it's trying too hard to be relevant. Whether it does a good job of conveying the safety information, however, is a different matter .….
Having recently flown more modern aircraft such as the A380, A350 and Boeing 787, it is surprising how much louder the Boeing 777 is, even when sat in the middle of the cabin and forward of the engines. This was not aided by the headphones which, unlike in British Airways World Traveller Plus, are not noise-cancelling despite being over-the-ear style sets. I quickly switched over to my own set of Sennheisers which do a good job of removing the engine drone and make the in-flight entertainment much more pleasant.
The in-flight entertainment is served via an 11″ Panasonic screens, which was extremely responsive. The media catalogue itself was passable. Whilst they had one of the best 'classics' sections, with a large range of excellent films from the last two decades or more, 'recent releases' were a little sparser on the ground. My flight home was significantly better, so this may just have been the availability that week.
This is the end of Part 1 of our Air New Zealand Premium Economy review. In Part 2, which you can find by clicking here, I look at the food and drink service.