Review: Air New Zealand Premium Economy from London Heathrow to Los Angeles (Part 2)
Links on Head for Points may pay us an affiliate commission. A list of partners is here.
This is part 2 of our review of Air New Zealand's Premium Economy service from London Heathrow to Los Angeles.
Part 1 of our Air New Zealand Premium Economy review, which also includes a quick tour of ANZ Business Class, is here.
As a reminder, I bought my own ticket from London to Los Angeles but was upgraded by Air New Zealand and given special access to the aircraft to take photographs in return for featuring it on Head for Points.
The Air New Zealand Premium Economy meal service
After a quick ascent the crew came around with hot towels, a menu and a first drink of sparkling wine (Dulcet Sparkling Brut NV, which you can buy online for NZ$25, just over £12) or orange juice, served in plastic cups: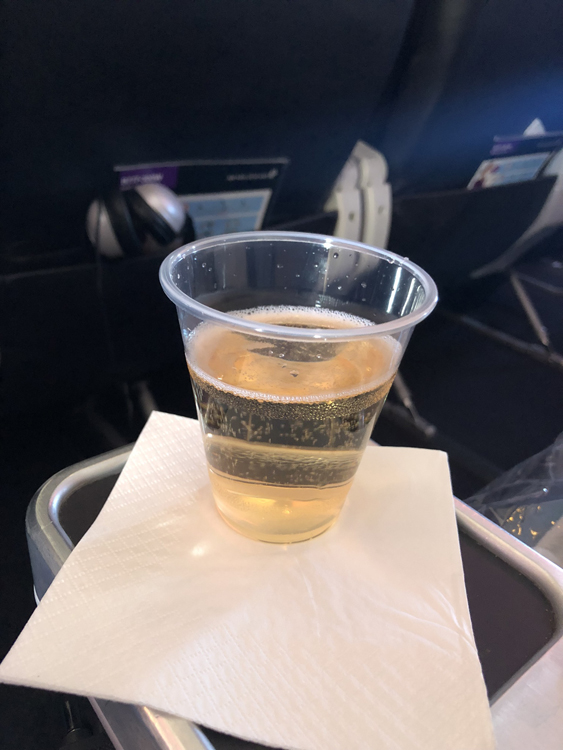 Given that the rest of the service was with actual glassware, I was confused why this first service was with plastic – it did not make for a good first impression.
The meal service was structured in a rather unusual way.  The flight attendants would move down the cabin, providing meal trays with the starter, dessert and sides, as well as offering additional drinks. Much later – maybe as long as 30 or 40 minutes – they would return and remove the used tableware from the starter and give you your main course. I was surprised by how long we were made to wait, and saw two passengers in the row across from me getting impatient and eating their dessert before the main course had arrived.
This was the lunch menu.  There was only a choice of main course with the rest being fixed:
Appetiser:
Smoked halibut with egg and apple salad, dill miso and mustard dressing
Bread:
Wholemeal, sunflower and linseed bread, sourdough loaf and garlic bread offered with Hawke's Bay extra virgin olive oil
Mains:
Beef cheek with cauliflower puree, roaster Chantenay carrots and turnips, black olive and chilli crumbs
Dijon mustard baked chicken breast with pumpkin, lentils, Swiss chard and lemon and tarragon jus
Roast cod with rose harissa saffron sauce, baby potatoes and seared zucchini with capers, rocket salad
Dessert:
Spiced maple and pear cheesecake
The odd service excepted, I found the food to be very good. I was surprised how flavourful it was. Here is the smoked halibut starter (which I loved) and spiced maple and pear cheesecake. I'm not a huge fan of cheesecakes and would have preferred something chocolate-y but it was tasty:
I went for the beef cheek main with turnips, which I thought belonged more on a post-war ration-card, but turned out to be surprisingly tasty.
Once the meal service was cleared away we were offered tea or coffee as well as a square of chocolate.
Outside of meal times, there was a small selection of snacks in the galley, including crisps and biscuits. However, what was particularly smart is that Air New Zealand also integrate snacks and drinks-on-demand into their in-flight entertainment system. Once you selected your snacks and drinks, the cabin crew brought it to your seat: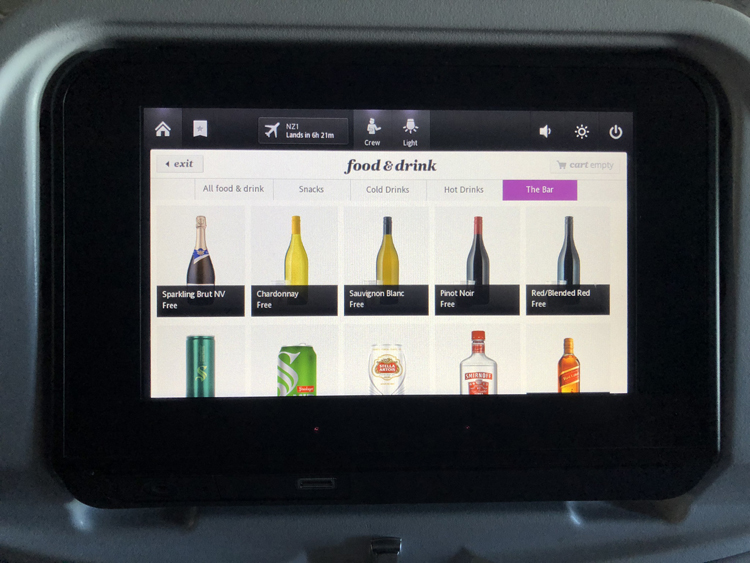 You could order from pretty much the entire range of soft and alcoholic drinks available on the flight, as well as a range of snacks that weren't available in the galley (more chocolate!).
Surprisingly, this service was also available in economy, although the range of snacks was slightly different.  The photo above is taken from an economy seat.  One of the benefits of such a system is that it feels a lot less intrusive to order an item – and you also know what's available. With a whole menu of options it's easier to order and it feels a lot less like you're hassling the cabin crew for a drink.
As is customary, the cabin lights were dimmed after dinner. Just before the second meal service they were slowly brought up in what looked like a recreation of a sunrise. It was much smoother than on some other flights I've been on.
The crew returned with another round of hot towels before the second meal, which was pitched as 'refreshment'.  This is what the menu said:
To begin:
Fresh fruit salad
Hot savoury:
Three cheese, chive, tomato and rocket filled brioche with smoky tomato relish
Crosstown Doughtnuts:
Crosstown Doughnuts are lovingly crafted daily ensuring the flavours and textures are at their best.
Roasted peach with almond milk icing and amaretto crumble
Vegan coconut custard, lime icing with spirulina, vanilla crumble
Here is the fruit salad starter: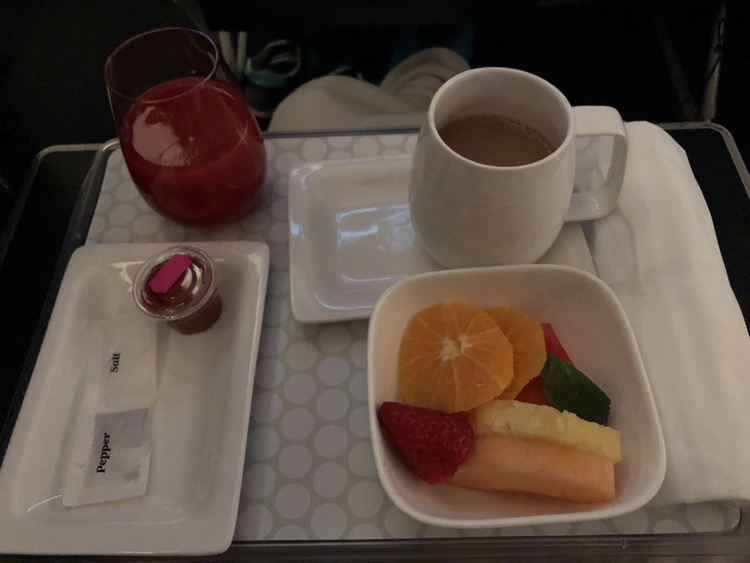 Again, the wonky service meant a longer wait for the main course; in this case, a savoury cheese filled brioche, which was fine but nothing particularly special. It was the sort of second meal you would expect in economy: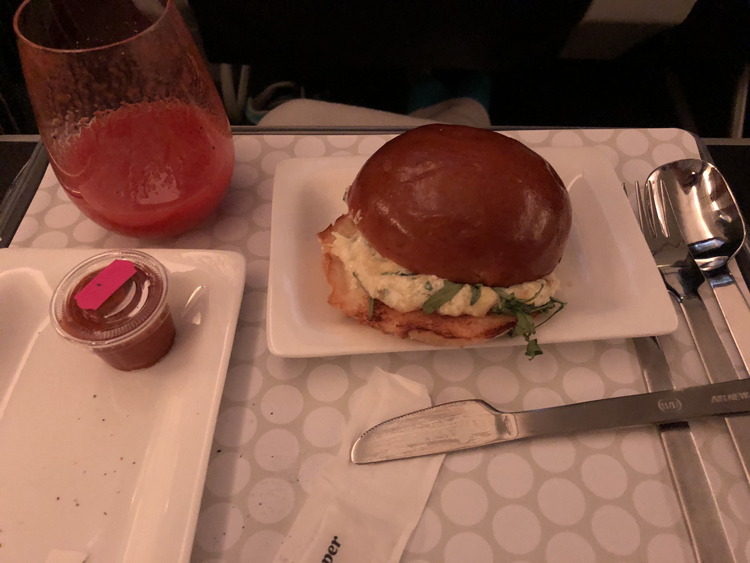 And finally we were offered a selection of doughnuts. Overall, the standard of the second meal was a lot lower than the first, which was disappointing given that this wasn't just a six hour flight to New York.

Earning and redeeming frequent flyer miles on Air New Zealand
As a member of Star Alliance, you can earn and redeem miles with Air New Zealand via any of the alliance frequent flyer schemes including ANZ's Airpoints programme.  This HFP article looks at how to earn Star Alliance miles via UK credit cards.
Another interesting option is ANZ's partnership with Virgin Atlantic.  Details are here.  As well as being able to credit your ANZ flight to Virgin Flying Club, you can also redeem using Flying Club miles.  The Virgin Atlantic website only shows reward prices for Economy and Business Class, not Premium Economy.
Virgin Flying Club Gold members get special benefits when travelling on ANZ flights under the Virgin Atlantic codeshare.  If you are Gold and on a VSXXXX coded ANZ flight you receive:
An extra piece of baggage
Business Class check in
Access to the the Air New Zealand lounges in Sydney, Rarotonga, Auckland, Christchurch, Wellington and Queenstown (you must show your Virgin Gold card at the door, a boarding pass is not enough)
Priority baggage delivery
Conclusion
One of the most outstanding elements of the Air New Zealand experience was the staff. The cabin crew were one of the best I have ever had. They were extremely attentive and friendly – not just with me (they knew I was reviewing the flight) but also the rest of the cabin.
There were definitely a few points with which it could improve – the odd meal service routine and the lack of noise-cancelling headphones being the obvious ones – but the stand-out crew, excellent first meal and innovative snack-ordering service definitely make this a very attractive product to fly on.
On the whole, Air New Zealand offers an excellent alternative to the Premium Economy and Business Class options offered by British Airways and the various other carriers that operate the Heathrow to Los Angeles route.
Thanks to the Air New Zealand team in London for setting this up and in particular for allowing me to see the aircraft before boarding began.