Review: Lufthansa First Class from Frankfurt to New York (Part 2)
Links on Head for Points may pay us an affiliate commission. A list of partners is here.
This is part 2 of my review of Lufthansa's First Class service on the Boeing 747-8i between Frankfurt and New York.
Part 1 of this review, which focused on the Lufthansa First Class seat, is here. In this part I look at the impressive food served on board.
Lufthansa First Class food
You may well have read on Head for Points about how British Airways Club World will be adopting a trolley-based food service next year.
This is nothing new for Lufthansa, which has been offering a trolley based food service in First Class for many, many years. I think it is highly effective when the food is good. There is something triggered in the brain when faced with a trolley stacked with good looking meals and a need to make a choice.
Note that Lufthansa does NOT offer dine on demand in First Class for the main meal, unlike British Airways. The nature of the trolley service means that it makes far more sense to serve everyone at the same time. This does not seem to a problem for passengers.
On paper, the appetizers list looked like this:
Caviar with the traditional garnishes
Prawn cocktail
Pomegranate couscous with feta cheese and cashew nuts
Veal involtini with fresh turnip salad and wild garlic sour cream
Mixed leaf lettuce with sauteed mushrooms, tomatoes and pumpkin seeds
It looks like you pick one from five. In reality, everyone gets the caviar if they want it (and most do) and then any or all of the other four options can be taken from the trolley as you wish.
Back in 2013, Lufthansa chief executive Carsten Spohr said in an interview with Canada's Globe & Mail that Lufthansa buys 5% of the world's caviar production making it the largest single purchaser. Lufthansa has scaled back the number of flights with First Class since then, but it will still be a major player in the world caviar market.
If you stop to think about it, that is a massive commitment. A handful of flights to and from Frankfurt and Munich, of which less than 2% of the passengers will be offered caviar, account for 5% of world demand.
In the name of research, I tucked in: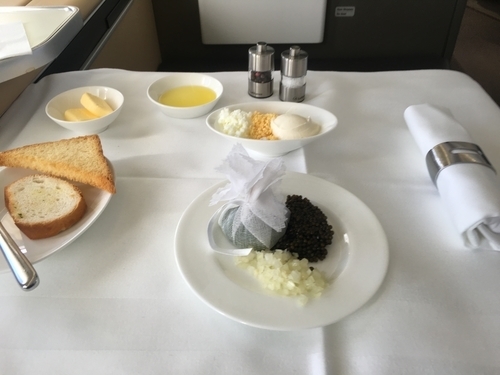 and, from the trolley: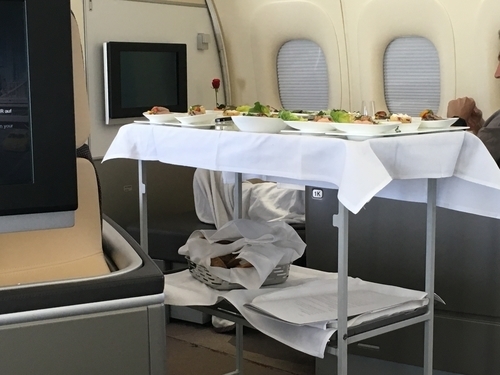 …. I took all of the other options as a mixed plate: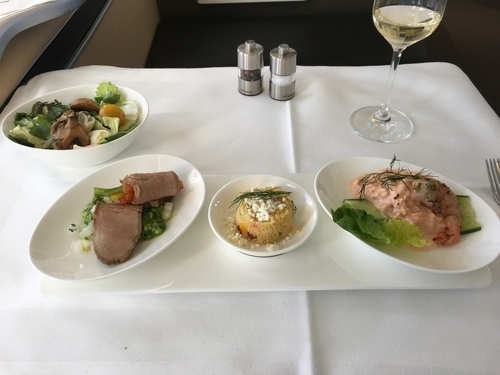 This was followed by a sorbet and sauce of apricot, flavoured with champagne upon your request. I requested.
After all that, the main courses seemed more pedestrian. My options were:
white asparagus with sauce hollandaise, with your choice of black forest ham and boiled ham or a small escalope of veal accompanied by parsley potatoes
sole grenoble style presentated with caper tomato butter, arugula and spinach enchanced by potato and cottage cheese mash
escalope of veal with potato cucumber salad and lingonberries
fried corn-fed poulard with spiced citrus sauce, wok fried vegetables and topinambour mash
I went for the chicken which was perfectly adequate but didn't excite: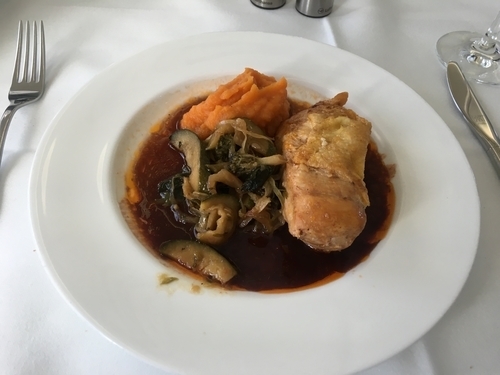 We then moved on to dessert:
gorgonzola, bosina, honey goat cheese, reblochon and walnut cheese presented with date sesame honey chutney
variation of rhubard, elderflower and strawberry
melon strawberry gazpacho with sour cream ice cream
I went with the latter, which was excellent – and it looked great too: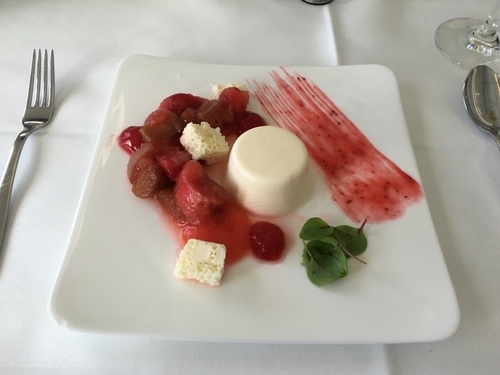 As New York is a fairly short flight, there is no formal second meal. You can pick from a range of 'light bites' at any time, which included spuntino, three mini veal burgers, cold soup, gourmet salad or a variety of 'sweet treats'.
I decided to pass on this. By that point I'd already had breakfast in the BA lounge, a second breakfast on my BA flight to Frankfurt, lunch in the First Class Terminal and my second lunch on the plane. Even a 'light bite' seemed a bit too much!
One little thing that made a big difference is that your tray table slides back a long way. Other carriers often make a simple mistake make. If you need to get up in the middle of your meal, it is simplicity itself. You don't have to squeeze past your own table with the constant worry of sending your meal flying.
A quick word on the wine
I stuck with champagne all through the flight. However, Lufthansa First does have a decent wine selection, albeit not uniformly high end.
The 2015 Life from Stone Sauvignon Blanc (South Africa) comes in at around £13 in the UK. A 2015 Adelaide Hills chardonnary (Australia) is hard to find but looks to be around £20-ish.
There are also a couple of German options as you would expect – a riesling (Rothenberg 2014, tricky to but seems to be around £50) and a Keltic Terre white burgundy which appears very difficult to buy.
The reds were a mix of German, Italian, American and Spanish. The Spanish (a rioja from Marques de Caceres) is only around £10+. The top option appeared to be the 2008 Chateau Latour Martillac which is over £30.
Thre was also a German 2015 Huxelrebe Beerenauslese dessert wine.
There is certainly a decent selection here and, if you know your wine, you could pass the flight very happily. In general, these are the bottles and vineyards which you will struggle to buy in the UK – which is good if you want something new, but bad if you find you really like it and want to buy more!
The standard mix of premium spirits is available, including Johnnie Walker Blue Label. There are also four German beers you can try, including a 'no alcohol' one, plus seven different types of tea and a variety of coffees.
Other things you might want to know:
Wi-fi is available but not free. Heaven knows why pretty much every airline expects First Class passengers to pay. A 1 hour pass costs €9, a 4 hour pass €14 and a full flight pass €17. I used it for an hour and it worked well, although you wouldn't expect much trouble cross the Atlantic as you are not flying over any countries which impose a blackout.
The IFE was acceptable, albeit nowhere near the scale of the Middle East carriers. There was a decent choice of current films and TV but it lacked the back catalogue depth that you might find elsewhere. You certainly wouldn't struggle to find something suitable for your flight though.
The crew were fantastic. There were two dedicated crew members for the First Class cabin, which had six seats filled out of eight. My understanding is that Lufthansa First Class crew work exclusively in that cabin and are trained specifically for it. This is totally different to the British Airways approach where the crew working in First Class will also work in other cabins on other flights.
How can you fly this too?
A one-way ticket from Frankfurt to New York costs 85,000 Miles & More miles and £261. It would cost the same number of miles to fly from London via Frankfurt but you would be faced with a substantial rise in the taxes due to long-haul UK Air Passenger Duty. I didn't want to pay that.
Note that Lufthansa puts all of North America in the same zone. I could have flown to San Francisco, double the distance, for the same 85,000 miles one-way, but it would have meant longer away from home than I wanted
I got the majority of the miles via the Lufthansa UK credit card. The card is free and you earn 1.5 miles per £1 on the American Express and 0.75 miles per £1 on the Visa. There is a 33% bonus on all spending in your first six months.
I got 15,000 miles for signing up (a special offer, it is usually 1,500) and then put a lot of tax – VAT, PAYE, personal tax – through the Visa whilst it was still in the '33% bonus' phase. I was effectively buying miles for 0.38p each which was the credit card fee charged by the Revenue. I also pushed my Amex spending onto it during that period, earning 2 miles per £1.
I topped up by converting some Heathrow Rewards points and some Starwood Preferred Guest points. As it is no longer possible to buy Miles & More miles, going via Starwood is one of the best options – you can even buy Starwood points and convert to Miles & More at a reasonable rate. With the bonus for a larger conversion, 20,000 Starwood Preferred Guest points would get you 25,000 Miles & More miles.
Note that you cannot easily book Lufthansa First Class via Star Alliance partner airlines. Lufthansa negotiated an exception to the rules and only makes First Class seats available to partner airlines such as United, SAS or Singapore 14 days before departure. If you need to book with more advance notice, you will need to use Miles & More miles. You can then book at your leisure.
Here is the short video I made during the flight if you didn't watch it after reading Part 1. If you can't see it, you can find it on our YouTube channel here.

The Lufthansa website is here if you want to learn more about their service and route network
.