According to reports in Business Traveller, British Airways is changing the way it calculates credit card fees on bookings from 14th December.
The current charge is a flat fee of £5 per booking, with no fee on award bookings or when debit cards are used.  This is obviously unattractive on low value bookings, although in those scenarios you would presumably have no liquidity problem if you used a debit card anyway.
The new structure is a flat percentage rate of 1%.  This is obviously attractive for a £39 one-way economy flight to Manchester, but a nightmare for anyone paying for a number of premium tickets.
Whilst the card fee is capped at £20, this is per ticket and not per booking, so a family of four could still be faced with an £80 bill for four Club World tickets.
It is hard to claim that the new structure is 'unfair'.  I would only point out you are more likely to put an expensive ticket on a credit card and may not have the option of using a debit card if you do not have the money immediately available.
There does not appear to be any discount for British Airways credit card holders.
It is not clear if the fee will continue to be waived for anyone who states that their credit card is registered outside the UK.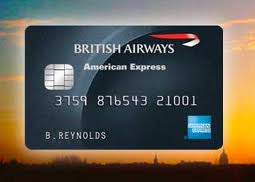 Whilst Virgin scraps their card fee …..
It is possible that British Airways chose to do this because Virgin Atlantic has always had a similar – higher, actually, at 1.5% – card pricing structure.
However, with great timing, Virgin Atlantic dropped all credit card fees when it relaunched its website last weekend.
Whether this survives now that British Airways is charging up to £20 per ticket remains to be seen.
(Want to earn more miles and points from credit cards?  Click here to visit our dedicated airline and hotel travel credit cards page or use the 'Credit Cards Update' link in the menu bar at the top of the page.)