Six months after its launch as a purely Apple app, the Curve Card has finally launched for Android.
The £35 application fee is still being waived for new applicants. Even better, your free card will be credited with £5 after you've made your first purchase as long as you use a refer-a-friend code when applying. You will find my code further down this article.
The Curve Card got a lot of coverage on Head for Points this year, for better and worse. It launched as an intermediary payment card which, among other things, allowed you to recharge Visa and MasterCard payments to an American Express card.
This was clearly very attractive to those of us in the miles and points community. Unfortunately, after a couple of months, American Express pulled the plug. This means that Curve has had to double-down on offering added value to Visa and MasterCard cardholders.
What can you do with a Curve Card?
1 – Carry all of your Visa and MasterCard products on one card
Curve is ploughing on and has been adding extra features, moving it closer to its original goal as a payment aggregator. The idea is that you can link all of your Visa and MasterCard products (and, long term, hopefully Amex again) cards to Curve, allowing you to just carry one card with you. Using the Curve app, you can switch the card which is recharged with your purchase. For businesses, there are additional features such as the ability to scan a receipt with your phone and have it stored alongside the transaction data.
2 – Save money when spending abroad
Curve can also be used abroad. It charges the MasterCard rate + 1%, compared with the 3% charged by most credit and debit cards, so you will save 2% AND still receive miles or points from the Visa or MasterCard linked to your Curve Card.
Supercard obviously does the same trick with zero FX fees but those of us who have been using Supercard over the Summer will know that the decline rate – especially for anything over £100 – is very high. Curve appears to be more reliable despite using the same back-end payment processor, Wirecard. That said, you might as well get yourself a Supercard too (download the app here to apply) because it is free.
Both Curve and Supercard let you reduce your fees on foreign spend without having to apply for a specialist 'no FX fees' credit card. This will put less strain on your credit record if you are thinking of applying for other miles and points credit cards.
3 – Earn free miles and points every month
There is another benefit. You can withdraw £200 of cash from an ATM each month and charge it to a Visa or MasterCard credit card as a purchase. If you have the IHG Rewards Club Premium MasterCard, for example, you would earn 400 IHG Rewards Club points per month by doing this, totally free. Additional ATM withdrawals recharged to a credit card will incur a fee. Withdrawals recharged to a debit card are free.
4 – Add contactless functionality to any non-contactless card
One other potential benefit – which I find handy – is that Curve is contactless. If your main Visa or MasterCard product is not contactless, linking it to a Curve card is an easy way to gain contactless functionality.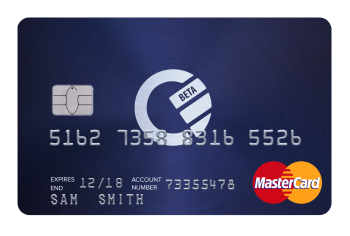 5 – Earn £5 when you refer a friend for their own free card
Curve Rewards is now partially live. An additional card is added to your Curve wallet which shows your Curve Rewards balance. This comprises your £5 sign-up bonus (if you were referred by an existing member) and any £5 credits you earned for referring other cardholders.
You will earn £5 for any friends you refer to Curve, even though the card is currently free for a limited period. Your friends will also get £5 credit for signing up. If you have a large social media following you could do quite nicely by promoting Curve at the moment. The £5 reward is triggered with your first purchase using Curve.
Spending your Curve Rewards points is easy. You select the Curve Rewards in the app before you make a purchase and, as long as the purchase is for less than your rewards balance, it will be deducted from your credit. You cannot make ATM withdrawals of your Curve Rewards balance.
6 – Earn cashback when you spend at selected retailers
Curve Rewards part two will launch 'soon'. Don't ask me how soon, because the last stated date of late October has clearly slipped ….
Curve is striking deals with over 50 major High Street shops and restaurants to offer Rewards Points on purchases made using Curve. Holders of the free Blue Curve Card will receive 1.5% to 2.5% of their spend back as Rewards Points, depending on retailer, whilst holders of the £50 Black Card will receive between 3% and 5% back.
Points collection is automatic and will be added to the balance of your Curve Rewards card once you have made the purchase.
I have seen the list of retailers who have, or who are in the process of, signing up and they are all major High Street names, including department stores and a major food retailer. There is also one very large hotel chain included.
Even at the lowest level of Curve points earning, equivalent to 1.5% of your spend, the combination of Rewards Points plus the rewards from your underlying Visa or MasterCard are likely to exceed using an American Express card for the same purchase.
Section 75
I should mention Section 75 coverage at this point. Because you are not paying directly with your credit card, you are not not covered under Section 75 of the Consumer Credit Act if the retailer goes bust before you have received your goods.
The same situation applies if you use PayPal, Supercard, Revolut or any other payment intermediary. For large transactions, such as a flight or holiday, it makes more sense to pay directly.
Get £5 free if you apply for a free Curve card
If you use a refer-a-friend code when you sign up – my code is OQB4J – you will also receive 500 Curve Rewards points worth £5 off any purchase.
Curve is targeted as the business market and you will be asked to confirm that you run your own business, are a partner in a partnership or have some form of self employed income on top of your regular job during the application process.
How to apply
The Android version of Curve can be downloaded here. The iOS version for Apple devices is here.
Enter referral code OQB4J into the app on the first page when prompted. This is my refer-a-friend code and is required in order to trigger the £5 free credit. (For clarity, I will receive a £5 credit for referring you which helps keep HFP ticking over.)
This is the screen of the app where you enter the OQB4J code – click 'Add A Referral Code':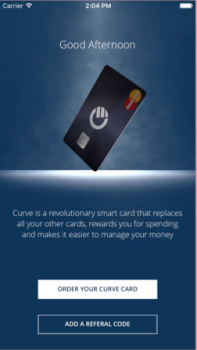 This code will get you a Blue Curve Card (usually £35) for free or it will reduce the price of the Black Curve Card, which earns double Rewards Points, from £75 to £50. To be honest, I don't recommend you take the latter option. It would only make sense when the full list of Curve Rewards partners has been published and you can estimate how much you would get back with Black in additional rewards.
The £0 fee may not show during the application process but will appear on your confirmation email.
Conclusion
I don't want to gloss over the last few months. If you have been following the Curve start-up story on HFP over the Summer and Autumn you will know that things have been a little chaotic so far, to put it mildly. If you're an Android user, you missed out on all that!
The company knows that, however, and with £2m of new funding just raised it is looking to accelerate its roll-out. You have absolutely nothing to lose by giving them a try under this offer.
You will get your £5 sign-up bonus, you can withdraw £200 per month from an ATM and recharge it to a miles and points earning credit card and, if it turns out that you spend a lot at the retailers included in Curve Rewards (when it finally arrives) then you will start getting decent amounts of cash rewards back.