Singapore Airlines announced a new European 'fifth freedom' route this week – Moscow to Stockholm, starting on 30th May. As HFP has also just put a 'fifth freedom' flight in the diary for January, I thought it was worth another look at this interesting niche.
This article is about how to fly – often redeeming your Avios – on short haul European business class flights which are flown by long-haul aircraft (ie a 747, 777, 787, A380, A350, A330, A340 etc).
Why would you want to do this? Well, for fun!
European business class flights are rarely exciting. Yes, British Airways offers you an empty middle seat, free champagne and some average food. At the end of the day, though, you are still sat in pretty much the same seat as everyone else.
However, wouldn't it be great if you could fly a long-haul plane around Europe? It may only be a couple of hours to Madrid, but if you could get yourself a flat-bed seat – and for the same number of Avios as a seat on a standard plane – that would be pretty cool, wouldn't it?
The reason you can (very occasionally) do this is mainly due to 'fifth freedom' flying rights. This allows an aircraft to fly between two countries as a 'tag' to another flight. The flight would not be viable if the aircraft could not drop passengers in both cities.
(British Airways has a number of 'fifth freedom' flights of its own, around the Middle East and Caribbean. See this post for details – it is a little out of date though – and how you can book them as Reward Flight Saver.)
There are also some airlines who use long-haul planes around Europe for cargo reasons.
Fifth Freedom flights within Europe
This post from US blog FlyPointyEnd offers a pretty comprehensive list of all of the 'fifth freedom' flights currently operating. Qudos to them for putting this together because it is an ever-changing field.
Here are the intra-European ones worth a look. These are taken from the FlyPointyEnd list – it is possible that it is not 100% accurate but I am confident in most of it, especially as they even list the new Singapore Airlines Manchester to Houston flight.
I have added the airline alliance the airline is with, so you know whose miles you would need to redeem. I have excluded flights done with short-haul aircraft.
Air China (Star) – Munich to Athens
Air China (Star) – Barcelona to Vienna
Emirates (no alliance) – Larnaca to Malta
Ethiopian (Star) – Stockholm to Vienna
LAN (oneworld) – Madrid to Frankfurt
Korean Air (SkyTeam) – Vienna to Zurich
Kuwait Airlines (no alliance) – Frankfurt to Geneva
And, coming soon:
Singapore Airlines (Star) – Moscow to Stockholm
If you want to use your Avios points, you only have the LAN flight.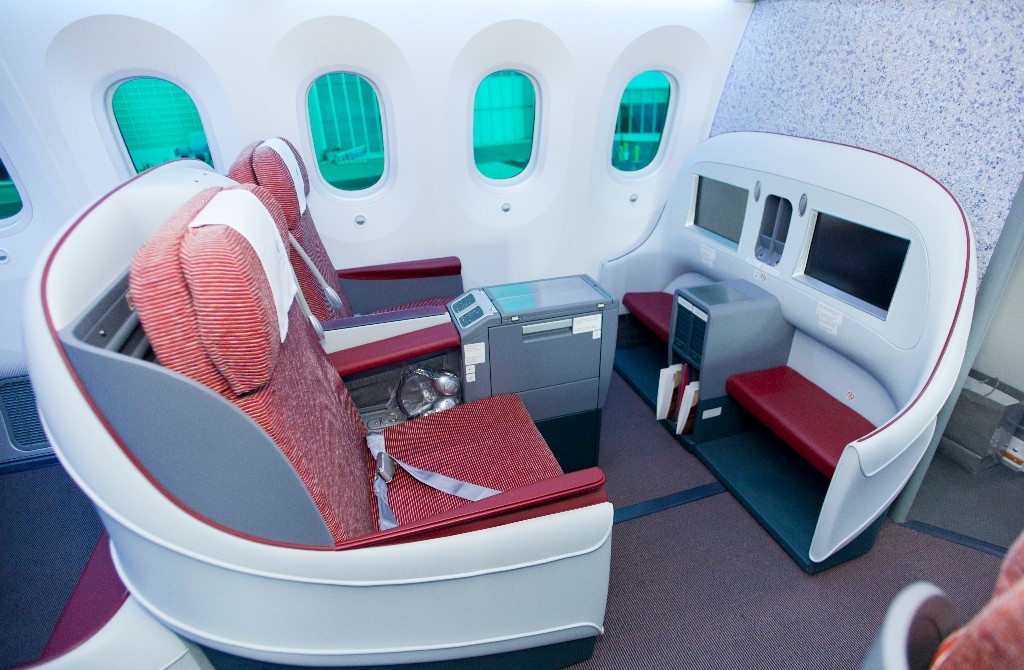 The LAN Madrid to Frankfurt service uses a brand new Boeing 787. The business class seating is excellent as you can see here from the photo above.
A one way trip in business class is 15,000 Avios plus £17 or £36 of tax depending on which direction you go.
As Anika needs to be down in Spain in January, we are going to give this one a go in 2017! Look out for a review on Head for Points in about six weeks.
There are also ways of flying long-haul aircraft with Avios on non-Fifth Freedom routes
You could tie in the LAN flight with another long-haul oddity. Iberia often runs a long-haul A330 or A340 from Heathrow to Madrid for cargo purposes. It tends to be the 6.30pm-ish departure.
I have taken this flight in business class which comes with the new fully flat Iberia seat.
Finnair is also now permanently running A350 aircraft on some Heathrow to Helsinki flights. Again, this is being done for cargo reasons and so you should be fairly confident that your plane won't get swapped over.
I reviewed the impressive Finnair A350 business class seat here. It is well worth trying if you can.