Review: Ethiopian Airlines business class from Manchester to Geneva (and Addis Ababa ….)
Links on Head for Points may pay us an affiliate commission. A list of partners is here.
This is our review of Ethiopian Airlines business class, flying from Manchester to Geneva. The aircraft continues on to Addis Ababa.
Up until two weeks ago, anyone who wanted to fly from Manchester to Geneva had just one choice: easyJet. Whilst the number of flights vary throughout the year – more during the winter months, fewer throughout the summer – it was the only direct option available. Bizarrely, not even SWISS flies to Manchester.
That has now changed with the introduction of a new and unusual airline to the route. As we reported a few months ago, Ethiopian Airlines decided to launch a new one-stop flight from Manchester to Addis Ababa via Geneva.
Even better, fifth freedom rights let Ethiopian sell tickets on just the Manchester to Geneva portion, which opens up an exciting new option when flying to Switzerland.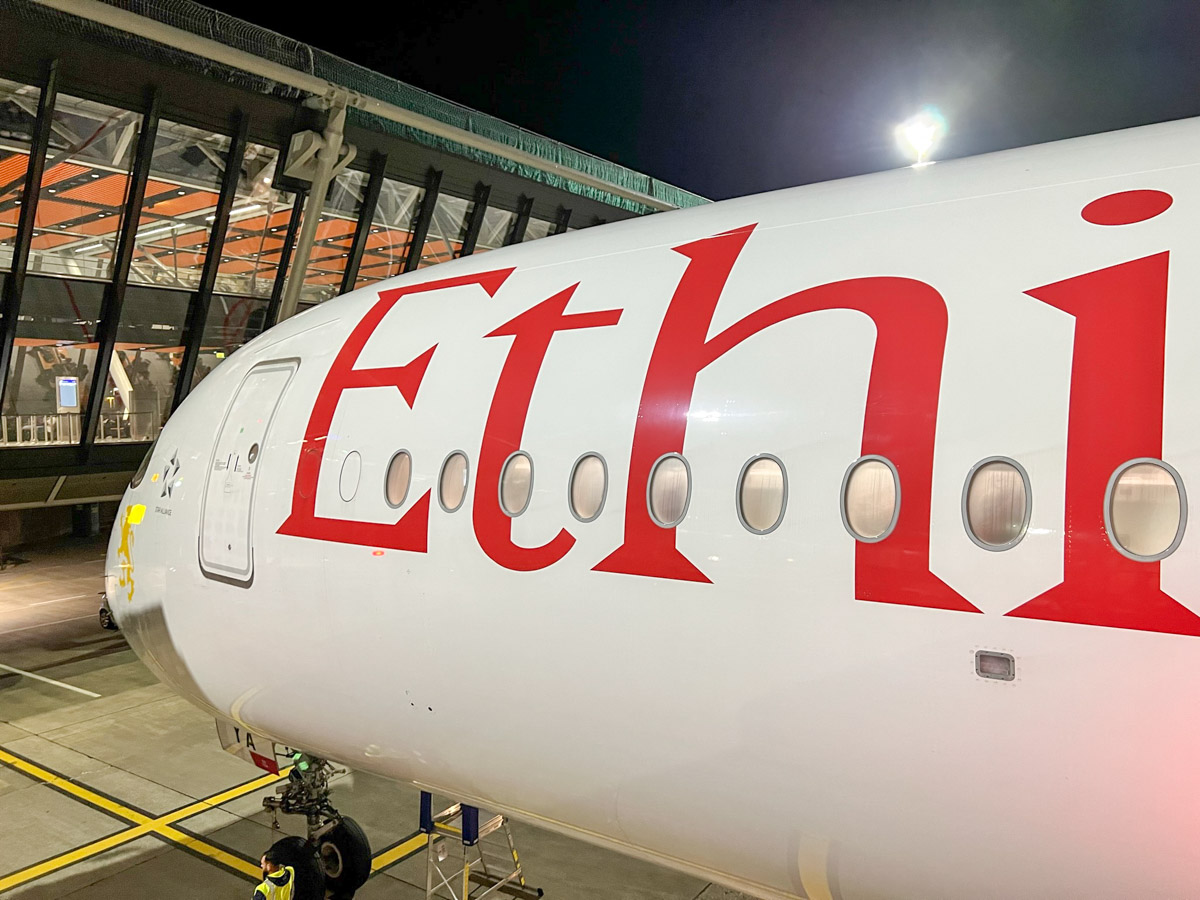 One of the main attractions of this flight is that it is operated by Ethiopian's long haul fleet. I was on an A350, although when it was announced it was due to be operated by a Boeing 787. That means you are getting the wide body experience, complete with a full, lie-flat business class seat, in-flight entertainment and more. Not bad for a 90 minute flight!
I was on the first flight as the guest of Ethiopian Airlines. The route currently operates four times a week although I'm told the aim is to get it operating daily. Flights operate Tuesday, Thursday, Saturday and Sunday:
departing Manchester 18.50, arrives Geneva 21.40
departing Geneva 07.15, arrives Manchester 07.55
You can find out more, and book, on the Ethiopian Airlines website here.
At Manchester Airport
I arrived an ungodly four hours early thanks to Network Rail deciding to shut the entire London-Manchester line over weekend for engineering works. It turns out I wasn't the only one – about seven or eight passengers had already arrived and were waiting for the check-in team to finish setting up.
After about twenty minutes the queue started moving, although it appeared they were requesting people check in online before checking luggage – I'm not entirely sure why. The flight attracts a lot of infrequent flyers and lots of people were travelling with multiple pieces of luggage so I can imagine the process can take quite a while sometimes.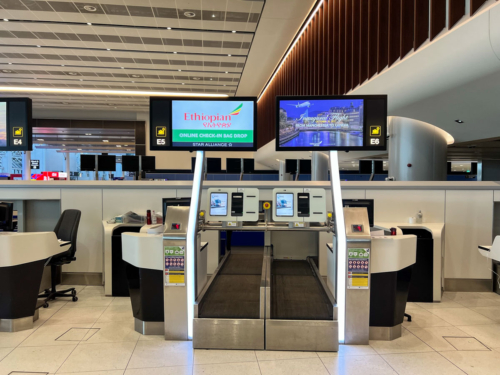 As I was travelling in business (Cloud 9, as Ethiopian delightfully calls it!) I had priority security but even regular security appeared to be quick, with virtually no queues. Manchester Airport is not always as bad as its reputation implies. The Ethiopian flight is one of the last of the day which helps.
Ethiopian uses the brand new 1903 Lounge at Manchester Terminal 2 which I previously reviewed here. It's a very pleasant space – definitely one of the best independent lounges in the UK.
Once the gate was announced I headed down to see what the Ethiopian Airlines team were doing to celebrate. Manchester Airport had set up a free tea / coffee / hot chocolate station and also had a variety of biscuits and cupcakes available to celebrate: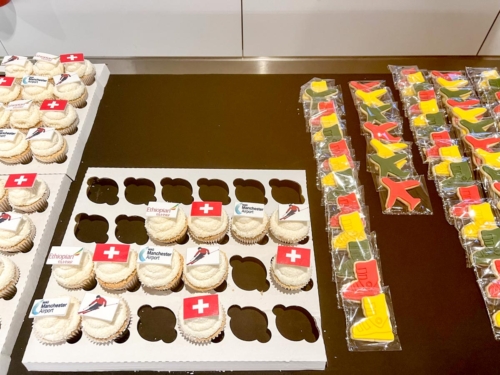 Business Class on Ethiopian's A350s
On boarding all passengers were given a little goody bag, with business class passengers getting a slightly bigger one. Inside was a mug and various bits of branded merchandise.
By chance I was first on the plane, although as it turned out there were only five of us in business class. I managed to get a good look at the cabin and was able to take some pictures before others boarded. Ethiopian operates a variety of different business class seats and I was lucky enough to get the new Safran Optima seat introduced in 2020 on its later A350 deliveries.
This is a staggered product in a 1-2-1 configuration with direct aisle access for all: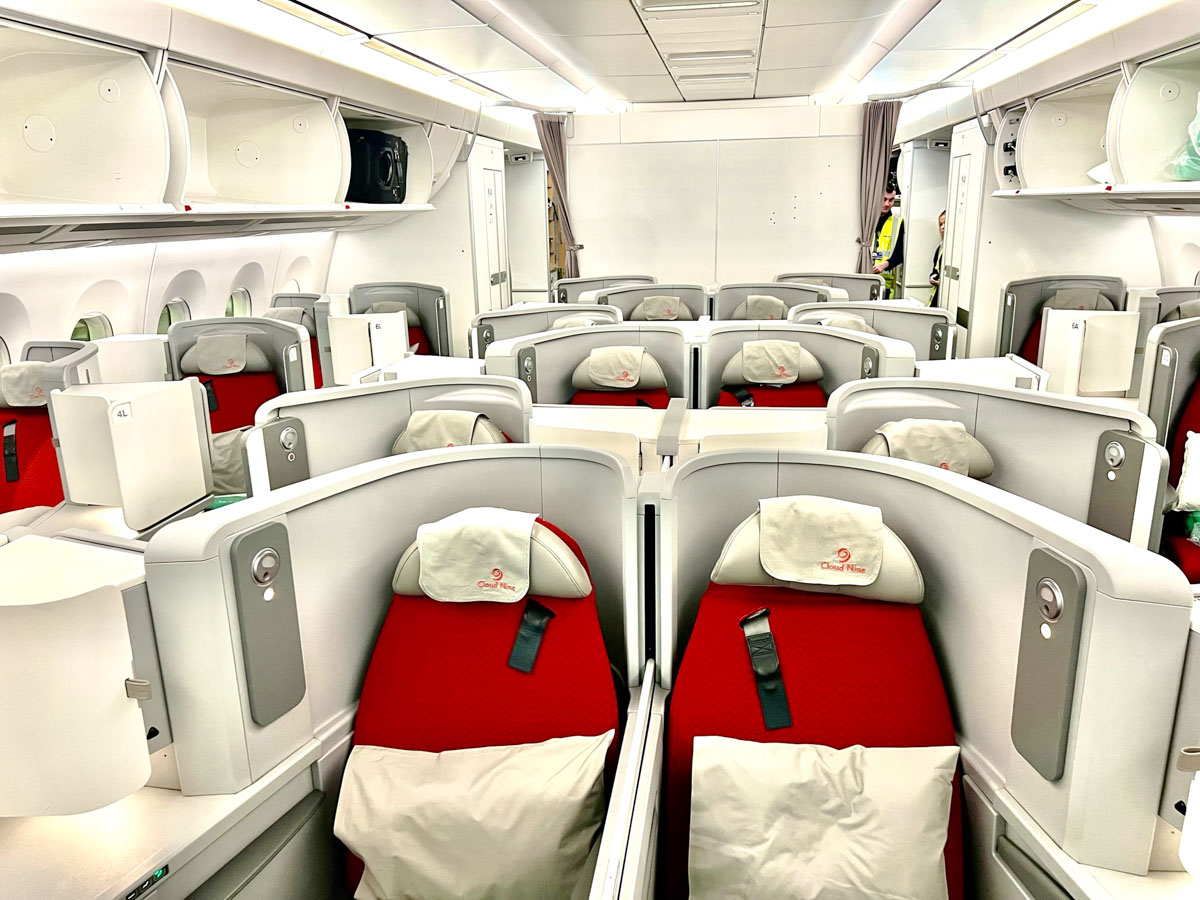 Thanks to the stagger, even numbered seats are closer to the window whilst odd numbered seats are closer to the aisle.
I was in 2A: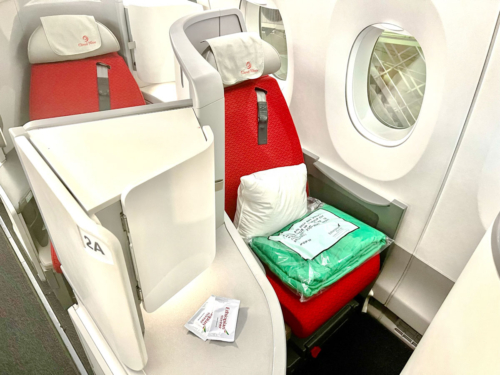 Most of the seat is in 'airline grey' although it does sport a shock of bright red and green, Ethiopian's signature colours, which helps to brighten up the cabin. Whilst it's not going to win any design awards the Safran Optima is a comfortable seat. There's a good sized IFE screen and tray table: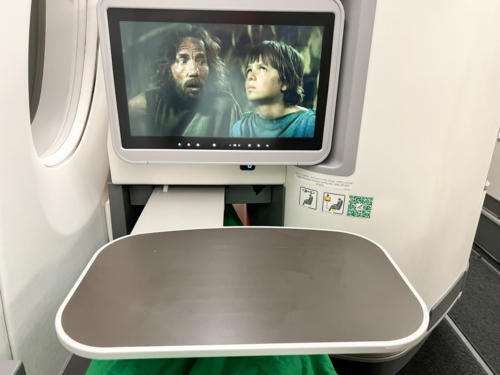 …. plus a large storage cupboard with a mirror and additional handset, with charging ports underneath: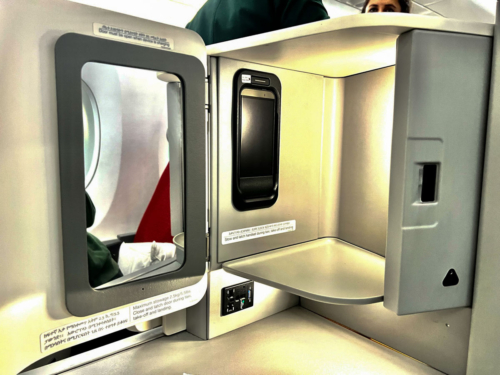 …. and whilst the seat doesn't have a door it's still pretty private. Here is what I could see when sitting back – you can't really see anyone else: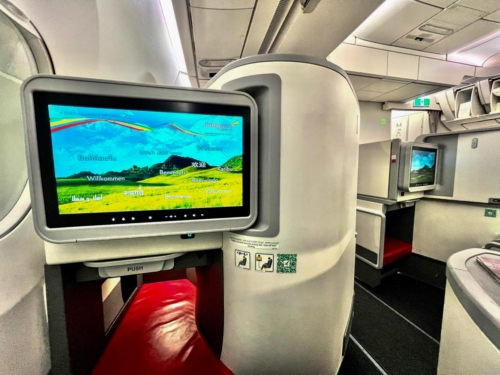 Food and service on Ethiopian Airlines
After getting settled down in my seat the crew came round with a pre-departure drink, either champagne or orange juice. I obviously went for the champagne!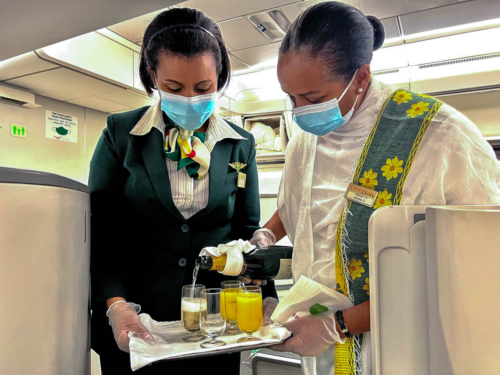 After takeoff a hot towel was offered as well as a drinks order to go with the meal to Geneva.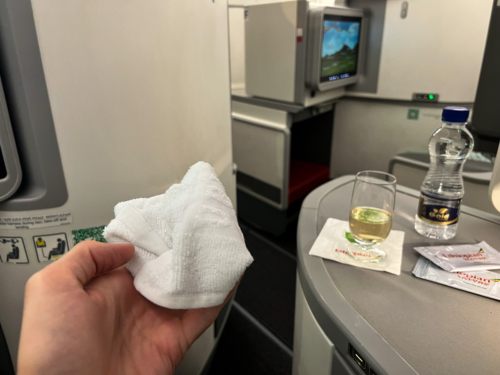 It did make me chuckle, when we reached cruising altitude, that it was announced "you may now turn on your electronic devices, including calculators, CD players and laptop computers." Unfortunately, I had neither a calculator nor my Walkman on me!
From Manchester to Geneva you get a cold meal (no choice of options), which consisted of a smoked salmon main with a salad, dessert and bread: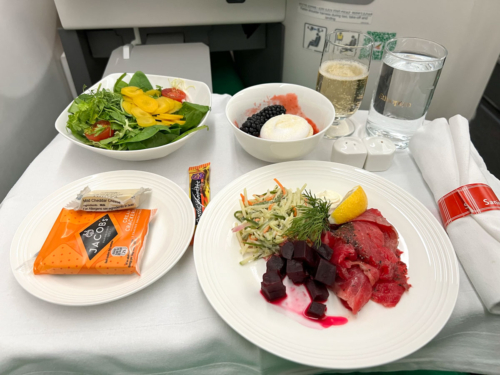 Tea and coffee was also offered.
Anyone heading on to Addis was offered a hot meal after the Geneva stop plus a pre-landing breakfast. Three meals is not bad for what is probably a shorter flight than London to Los Angeles.
You can use the in-flight entertainment
After dinner I made the most of the in-flight entertainment and decided to watch a film. The selection is fairly good, with some recent releases including Top Gun: Maverick plus a fairly extensive back collection.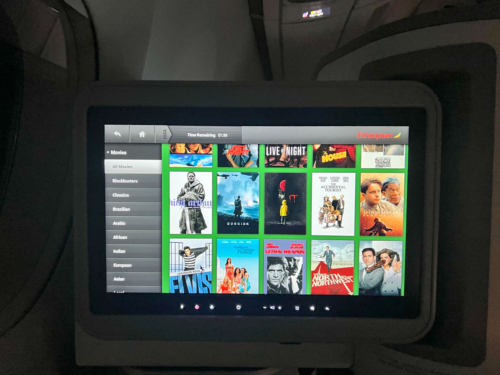 I did try the headphones provided but wasn't impressed and switched to my noise-cancelling Sennheisers.
I even tried Ethiopian's in-flight wifi. Three packages were available: 1 hour for $5, 2 hours for $9 and the whole flight (to Addis I assume) for $25.
I thought $5 for 1 hour was good value and tried it out. It was surprisingly good – by far some of the best in-flight wifi I have used. I think it helped that not many people appeared to be using it.
Before long we were coming in to land at Geneva. It turns out that Ethiopian Airlines does not deboard the whole plane – anyone continuing on to Addis Ababa remains seated. I was one of just a handful of people getting off in Geneva.
Conclusion
One of the attractions of fifth freedom routes is that they let you try airlines you would otherwise be unlikely to fly.
It helps, of course, that you are getting a hybrid long haul experience, with a lie-flat bed, blanket, in-flight entertainment and better catering.
This was my first time flying Ethiopian Airlines and I was excited to see what they had to offer. Overall, I was impressed on my flight. The business class seat is competitive and the cabin crew are lovely.
Apart from the flight timings I can't see why you'd want to take another easyJet flight over Ethiopian, although cost admittedly comes into it as well.
Current cash prices start at £162 return, whilst business class is £522. As Ethiopian is a Star Alliance carrier it is also possible to book redemptions with United MileagePlus, Lufthansa Miles & More etc. A return flight from Manchester to Geneva in Business Class is 52,500 miles + £71 in taxes with United.
You can find out more on the Ethiopian Airlines website here. Thanks to the Ethiopian Airlines team for arranging my trip.
Coming up is a review of the brand new Marriott Geneva hotel where I spent the night (EDIT: this is now published and our Marriott Geneva review is here.)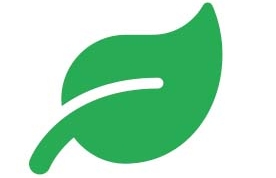 Head for Points made a financial contribution to the Woodland Trust as part of this trip. The Woodland Trust creates and manages forests in the UK in accordance with the Woodland Carbon Code.