IHG's UK Flash Sale is better than it seems, especially in London
Links on Head for Points may pay us an affiliate commission. A list of partners is here.
IHG Rewards Club, operator of the Crowne Plaza, Holiday Inn, HI Express and Staybridge Suites brands, is currently running a 72-hour flash sale.
It runs until 9am tomorrow (Saturday) and is only for their UK hotels.
You can book for stays beween now and 27th February.
You can see the list of hotels included here.
Note that you cannot book these rates via the IHG app.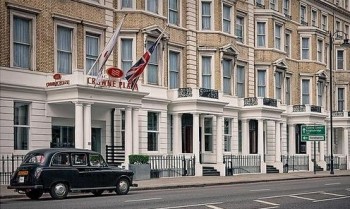 The full list of hotels is at the bottom of this artice. They are priced from £39 to £89.
When the list was launched there was some grumbling in the Head for Points comments that, for regional hotels, these were not actually bargains at all. Some people had bookings at hotels on the list at prices lower than the sale price! I admit that £89 for a Holiday Inn Express in Grimsby doesn't sound like much of a deal.
However, there are some excellent deals for hotels in London.
The Holiday Inn Express Wandsworth is not in the prettiest area but it is about two minutes walk from Wandsworth Town station – which itself is only a few minutes to Waterloo. The Greenwich HIX is at the O2, not in the town centre, but again for £49 including breakfast you can't go wrong. It is probably a 10 minute walk down to the Jubilee Line station.
At £89, you have Crowne Plaza – The City which is the best IHG hotel in the UK after the two InterContinental properties. Crowne Plaza Kensington which I have reviewed here is also included. These are very nice places.
Remember that you probably have a target for the Accelerate promotion which involves doing a stay in January. One of these stays would tick that off and earn you some bonus points on top.
The booking page for the sale is here.
Property list:
At £39 you have:
Aberdeen – Holiday Inn Express Aberdeen Airport
Aberdeen – Holiday Inn Express Aberdeen City Centre
Ashford – Holiday Inn Ashford – Central
Ashford – Holiday Inn Ashford – North A20
Bedford- Holiday Inn Express Bedford
Birmingham – Holiday Inn Express Birmingham NEC
Birmingham – Holiday Inn Express Birmingham Oldbury M5, Jct.2
Bradford – Holiday Inn Express Bradford City Centre
Dartford – Holiday Inn Express London – Dartford
Derby – Holiday Inn Express East Midlands Airport
Droitwich – Holiday Inn Express Droitwich M5, Jct.5
Dunfermline – Holiday Inn Express Dunfermline
East Kilbride – Holiday Inn Glasgow – East Kilbride
Eastleigh – Holiday Inn Southampton-Eastleigh M3,Jct13
Edinburgh – Holiday Inn Express Edinburgh – Waterfront
Fareham – Holiday Inn Fareham – Solent
Folkestone – Holiday Inn Express Folkestone – Channel Tunnel
Glasgow – Holiday Inn Express Glasgow – City Ctr Riverside
Gloucester – Holiday Inn Express Gloucester – South M5, Jct.12
Gloucester – Holiday Inn Gloucester – Cheltenham
Hemel Hempstead – Holiday Inn Express Hemel Hempstead
Lichfield – Holiday Inn Express Lichfield
Liverpool – Holiday Inn Express Liverpool – Knowsley M57,Jct.4
Liverpool – Holiday Inn Express Liverpool -John Lennon Airport
Manchester – Holiday Inn Express Manchester – East
Milton Keynes – Holiday Inn Express Milton Keynes
Neath – Holiday Inn Express Swansea – East
Newcastle Upon Tyne – Holiday Inn Express Newcastle – Metro Centre
Northampton – Holiday Inn Northampton
Northampton – Holiday Inn Express Northampton M1, Jct.15
Nottingham – Holiday Inn Derby – Nottingham M1, Jct.25
Nuneaton – Holiday Inn Express Nuneaton
Perth, Scotland – Holiday Inn Express Perth
Peterborough – Holiday Inn Express Peterborough
Reading – Holiday Inn Reading-South M4, Jct.11
Rotherham – Holiday Inn Rotherham-Sheffield M1,Jct.33
Shrewsbury – Holiday Inn Express Shrewsbury
Slough – Holiday Inn Express London – Heathrow T5
Stafford – Holiday Inn Express Stafford M6, Jct.13
Stevenage – Holiday Inn Stevenage
Stevenage – Holiday Inn Express Stevenage
Stirling – Holiday Inn Express Stirling
Stoke-On-Trent – Holiday Inn Express Stoke on Trent
Warwick – Holiday Inn Express Warwick – Stratford-upon-Avon
At £49 you have:
Aberdeen – Crowne Plaza Aberdeen Airport
Aberdeen – Holiday Inn Express Aberdeen – Exhibition Centre
Aberdeen – Holiday Inn Aberdeen – Exhibition Centre
Aberdeen – Holiday Inn Aberdeen – West
Aylesbury – Holiday Inn Aylesbury
Barnsley – Holiday Inn Barnsley M1, Jct.37
Basingstoke – Holiday Inn Basingstoke
Belfast – Holiday Inn Express Belfast City – Queen's Quarter
Belfast – Holiday Inn Belfast City Centre
Birmingham – Holiday Inn Express Birmingham – Snow Hill
Birmingham – Holiday Inn Express Birmingham – South A45
Birmingham – Holiday Inn Express Birmingham – Star City
Birmingham – Holiday Inn Birmingham M6, Jct.7
Bolton – Holiday Inn Bolton Centre
Bradford – Holiday Inn Leeds – Bradford
Braintree – Holiday Inn Express Braintree
Brighouse – Holiday Inn Leeds – Brighouse
Bristol – Holiday Inn Express Bristol – North
Burton-On-Trent – Holiday Inn Express Burton upon Trent
Cambridge – Holiday Inn Express Cambridge-Duxford M11, Jct.10
Canterbury – Holiday Inn Express Canterbury
Chester – Holiday Inn A55 Chester West
Chester – Holiday Inn Chester – South
Colchester, Essex – Holiday Inn Colchester
Coventry – Holiday Inn Coventry – South
Coventry – Holiday Inn Coventry M6, Jct.2
Crawley – Crowne Plaza London – Gatwick Airport
Crawley – Holiday Inn Express London Gatwick – Crawley
Crawley – Holiday Inn London Gatwick – Worth
Derby – Holiday Inn Express Derby – Pride Park
Doncaster – Holiday Inn Doncaster A1 (M), Jct.36
Dundee – Holiday Inn Express Dundee
Edinburgh – Holiday Inn Express Edinburgh City Centre
Edinburgh – Holiday Inn Express Edinburgh – Royal Mile
Edinburgh – Holiday Inn Express Edinburgh Airport
Edinburgh – Holiday Inn Edinburgh – City West
Exeter – Holiday Inn Express Exeter M5, Jct. 29
Farnborough – Holiday Inn Farnborough
Gatwick – Holiday Inn London – Gatwick Airport
Glasgow – Holiday Inn Express Glasgow – City Ctr Theatreland
Glasgow – Holiday Inn Express Glasgow Airport
Glasgow – Holiday Inn Glasgow – City Ctr Theatreland
Hamilton – Holiday Inn Express Hamilton
Harrogate – Holiday Inn Harrogate
Haydock – Holiday Inn Haydock M6, Jct.23
Hemel Hempstead – Holiday Inn Hemel Hempstead M1, Jct. 8
High Wycombe – Holiday Inn High Wycombe M40, Jct. 4
Inverness – Holiday Inn Express Inverness
Ipswich – Holiday Inn Ipswich
Ipswich – Holiday Inn Ipswich – Orwell
Kingston Upon Hull – Holiday Inn Hull Marina
Lancaster, Lancashire – Holiday Inn Lancaster
Leeds – Holiday Inn Express Leeds – City Centre
Leeds – Holiday Inn Leeds – Garforth
Leicester – Holiday Inn Leicester
Lincoln – Holiday Inn Express Lincoln City Centre
London – Holiday Inn Express London – Ealing
London – Holiday Inn Express London – ExCeL
London – Holiday Inn Express London – Greenwich A102(M)
London – Crowne Plaza London – Ealing
London – Holiday Inn Express London – Luton Airport
London – Holiday Inn Express London Chingford-Nth Circular
London – Holiday Inn London – Bexley
London – Holiday Inn London – Heathrow M4,Jct.4
London – Holiday Inn Express London – Wandsworth
Luton – Holiday Inn London – Luton Airport
Manchester – Holiday Inn Express Manchester – Salford Quays
Manchester – Holiday Inn Manchester – West
Newcastle Under Lyme – Holiday Inn Stoke on Trent M6, Jct.15
Newcastle Upon Tyne – Holiday Inn Express Newcastle City Centre
Newcastle Upon Tyne – Holiday Inn Newcastle – Gosforth Park
Newport – Holiday Inn Express Newport
Newport Pagnell – Holiday Inn Milton Keynes East M1, Jct.14
Northampton – Holiday Inn Rugby-Northampton M1, Jct.18
Norwich – Holiday Inn Norwich
Nottingham – Holiday Inn Nottingham
Oxford – Holiday Inn Express Oxford – Kassam Stadium
Peterborough – Holiday Inn Peterborough – West
Poole – Holiday Inn Express Poole
Portsmouth – Holiday Inn Express Portsmouth – North
Portsmouth, Hampshire – Holiday Inn Portsmouth
Preston – Holiday Inn Preston
Reading – Holiday Inn Reading – West
Redditch – Holiday Inn Express Redditch
Rochester – Holiday Inn Rochester – Chatham
Runcorn – Holiday Inn Runcorn
Sevenoaks – Holiday Inn Maidstone – Sevenoaks
Sheffield – Holiday Inn Express Sheffield City Centre
Slough – Holiday Inn Express Slough
Slough – Holiday Inn Slough – Windsor
Southampton – Holiday Inn Express Southampton – West
Southampton – Holiday Inn Express Southampton M27, Jct.7
Southampton – Holiday Inn Southampton
Southend-on-Sea – Holiday Inn Southend
Stockport – Holiday Inn Express Stockport
Swindon – Holiday Inn Express Swindon – West M4, Jct.16
Swindon, Wiltshire – Holiday Inn Swindon
Tamworth – Holiday Inn Express Tamworth
Taunton – Holiday Inn Taunton M5, Jct.25
Taunton – Holiday Inn Express Taunton M5, Jct.25
Wakefield – Holiday Inn Leeds – Wakefield M1, Jct.40
Wakefield – Holiday Inn Express Wakefield
Walsall – Holiday Inn Express Birmingham – Walsall
Walsall – Holiday Inn Walsall M6, Jct.10
Warrington -Holiday Inn Warrington
At £69 you have:
Antrim – Holiday Inn Express Antrim – M2, Jct.1
Basildon – Holiday Inn Basildon
Bath – Holiday Inn Express Bath
Belfast – Crowne Plaza Belfast
Birmingham – Holiday Inn Birmingham City Centre
Brentwood – Holiday Inn Brentwood M25, Jct.28
Brighton – Holiday Inn Brighton – Seafront
Bristol – Holiday Inn Bristol – Filton
Cambridge – Holiday Inn Express Cambridge
Cardiff – Holiday Inn Cardiff – North M4, Jct.32
Cardiff – Holiday Inn Cardiff City Centre
Cheltenham – Holiday Inn Express Cheltenham Town Centre
Corby – Holiday Inn Corby – Kettering A43
Derby – Holiday Inn Derby – Riverlights
Doncaster – Holiday Inn Express Doncaster
Dublin – Holiday Inn Express Dublin Airport
Glasgow – Hotel Indigo Glasgow
Glasgow – Crowne Plaza Glasgow
Glenrothes – Holiday Inn Express Glenrothes
Greenock – Holiday Inn Express Greenock
Guildford, Surrey – Holiday Inn Guildford
Kenilworth – Holiday Inn Kenilworth – Warwick
Leamington Spa – Holiday Inn Leamington Spa – Warwick
Leeds – Crowne Plaza Leeds
Leicester – Holiday Inn Express Leicester City
Lincoln – Holiday Inn Lincoln
Liverpool – Holiday Inn Express Liverpool – Albert Dock
Liverpool – Hotel Indigo Liverpool
Liverpool – Crowne Plaza Liverpool John Lennon Airport
London – Holiday Inn London – Brentford Lock
London – Holiday Inn Express London – Limehouse
London – Holiday Inn Express London-Royal Docks, Docklands
London – Holiday Inn London – Commercial Road
London – Holiday Inn Express London – City
London – Holiday Inn Express London – Hammersmith
London – Holiday Inn London – Brent Cross
London – Holiday Inn Express London – Newbury Park
London – Holiday Inn London-Elstree M25, Jct.23
London – Holiday Inn London – Sutton
London – Crowne Plaza London – Heathrow
Maldon – Crowne Plaza Colchester – Five Lakes
Manchester – Holiday Inn Manchester – City Centre
Marlow – Crowne Plaza Marlow
Milton Keynes – Holiday Inn Milton Keynes – Central
Newcastle Upon Tyne – Hotel Indigo Newcastle
Newcastle Upon Tyne – Crowne Plaza Newcastle – Stephenson Quarter
Norwich – Holiday Inn Norwich – North
Norwich – Holiday Inn Norwich City
Nottingham – Crowne Plaza Nottingham
Preston – Holiday Inn Express Preston – South
Ramsgate – Holiday Inn Express Ramsgate – Minster
Rotherham – Holiday Inn Express Rotherham – North
Sheffield – Holiday Inn Sheffield
Shepperton – Holiday Inn London – Shepperton
Solihull – Holiday Inn Solihull
St. Albans – Holiday Inn Express St. Albans – M25, Jct.22
Stansted – Holiday Inn Express London – Stansted Airport
Stratford-Upon-Avon – Crowne Plaza Stratford Upon Avon
Strathclyde – Holiday Inn Express Strathclyde Park M74, Jct.5
Surrey – Holiday Inn Express London – Epsom Downs
Telford – Holiday Inn Telford – Ironbridge
Wembley – Holiday Inn London – Wembley
West Sussex – Crowne Plaza Felbridge
Wiltshire – Holiday Inn Salisbury – Stonehenge
Winchester – Holiday Inn Winchester
Windsor – Holiday Inn Express Windsor
Worcestershire – Holiday Inn Birmingham – Bromsgrove
At £89 you have:
Beaconsfield – Crowne Plaza Gerrards Cross
Birmingham – Crowne Plaza Birmingham NEC
Birmingham – Holiday Inn Birmingham Airport
Birmingham – Holiday Inn Express Birmingham – Castle Bromwich
Birmingham – Crowne Plaza Birmingham City Centre
Birmingham – Staybridge Suites Birmingham
Bristol – Holiday Inn Bristol City Centre
Bristol – Holiday Inn Express Bristol City Centre
Cambridge, Cambridgeshire – Holiday Inn Cambridge
Cannock – Holiday Inn Birmingham North – Cannock
Cardiff – Holiday Inn Express Cardiff Bay
Chester – Holiday Inn Express Chester – Racecourse
Chester – Crowne Plaza Chester
Chipping Norton – Crowne Plaza Heythrop Park – Oxford
Colchester – Holiday Inn Express Colchester
Crewe – Holiday Inn Express Crewe
Darlington – Holiday Inn Darlington – A1 Scotch Corner
Darlington – Holiday Inn Darlington – North A1M, Jct.59
Dublin – Crowne Plaza Dublin Airport
Dublin – Crowne Plaza Dublin – Blanchardstown
Dublin – Holiday Inn Express Dublin City Centre
Dumfries – Holiday Inn Dumfries
Dundalk, County Louth – Crowne Plaza Dundalk
Dunstable – Holiday Inn Express Dunstable
Edinburgh – Hotel Indigo Edinburgh
Edinburgh – Holiday Inn Edinburgh
Edinburgh – Crowne Plaza Edinburgh – Royal Terrace
Edinburgh – Hotel Indigo Edinburgh – Princes Street
Ellesmere Port – Holiday Inn Ellesmere Port/ Cheshire Oaks
Glasgow – Holiday Inn Glasgow Airport
Grimsby – Holiday Inn Express Grimsby
Harlow – Holiday Inn Express Harlow
Hoylake – Holiday Inn Express Liverpool – Hoylake
Huntingdon – Holiday Inn Huntingdon – Racecourse
Kettering – Holiday Inn Express Kettering
Kingston Upon Hull – Holiday Inn Express Hull City Centre
Leeds – Holiday Inn Express Leeds – East
Leeds – Holiday Inn Express Leeds City Centre – Armouries
Liverpool – Holiday Inn Liverpool – City Centre
London – Holiday Inn Express London – Vauxhall Nine Elms
London – Holiday Inn Express London – Victoria
London – Crowne Plaza London Docklands
London – Hotel Indigo London – Paddington
London – Holiday Inn London – Bloomsbury
London – Holiday Inn London – Camden Lock
London – Holiday Inn London – Heathrow Ariel
London – Holiday Inn London – Kensington
London – Holiday Inn London – Kensington Forum
London – Crowne Plaza London – Battersea
London – Holiday Inn London – Oxford Circus
London – Crowne Plaza London – Kensington
London – Holiday Inn London – Regent's Park
London – Holiday Inn Express London – Croydon
London – Hotel Indigo London – Kensington
London – Holiday Inn London – Stratford City
London – Holiday Inn London – West
London – Holiday Inn Express London – Earl's Court
London – Holiday Inn Express London – Golders Green (A406)
London – Holiday Inn Express London – Park Royal
London – Holiday Inn Express London – Southwark
London – Crowne Plaza London – The City
London – Holiday Inn Express London – Swiss Cottage
London – Holiday Inn London-Kings Cross Bloomsbury
London – Holiday Inn Express London – Wimbledon South
Luton – Holiday Inn Luton-South M1, Jct.9
Maidenhead – Holiday Inn Maidenhead/Windsor
Manchester – Crowne Plaza Manchester City Centre
Manchester – Crowne Plaza Manchester Airport
Manchester – Holiday Inn Express Manchester Airport
Manchester – Holiday Inn Manchester – Central Park
Manchester – Holiday Inn Manchester – MediaCityUK
Manchester – Holiday Inn Express Manchester City Centre – Arena
Middlesbrough – Holiday Inn Express Middlesbrough – Centre Square
Newcastle Upon Tyne – Staybridge Suites Newcastle
Newcastle Upon Tyne – Holiday Inn Newcastle – Jesmond
Newport – Holiday Inn Newport
Northampton – Holiday Inn Northampton West M1, Jct 16
Norwich – Holiday Inn Express Norwich
Oxford – Holiday Inn Oxford
Plymouth – Holiday Inn Plymouth
Portsmouth – Holiday Inn Express Portsmouth – Gunwharf Quays
Reading – Crowne Plaza Reading
Sittingbourne – Holiday Inn Sittingbourne
Slough – Holiday Inn London – Heathrow T5
Surbiton – Holiday Inn London – Kingston South
Swindon – Holiday Inn Express Swindon City Centre
Watford – Holiday Inn London – Watford Junction
Wolverhampton – Holiday Inn Wolverhampton – Racecourse
York – Hotel Indigo York
York – Holiday Inn Express York
(Want to earn more hotel points? Click here to see our complete list of promotions from the major hotel chains or use the 'Hotel Promos' link in the menu bar at the top of the page.)