Links on Head for Points pay us an affiliate commission. A list of our partners is here.
IHG Rewards Club (the loyalty scheme for InterContinental, Holiday Inn, Crowne Plaza, Indigo etc) status is not hugely rewarding, to be honest.
The benefits are very modest – almost nothing is guaranteed – and you certainly won't get anything as crazy as free breakfast or guaranteed club lounge access.  The programme is for people who like earning lots of points because, with their regular promos, earning and spending IHG Rewards Club points is very easy.  The trade off is that the hotels do not invest much in status benefits.
That said, most European hotels now offer status members some bonus points (500-600 at the mid and upper scale hotels) or a free drink or some other benefit.  Taking the free drink, assuming that you are not on an expense account, does get you a few £ of value.
The good news is that it is possible to get IHG Rewards Club status for free:
Gold status comes as a benefit with the free IHG Rewards Club MasterCard (review here)
Platinum status comes as a benefit with the £99 fee IHG Rewards Club Premier MasterCard (review here)
If you want the new top tier Spire Elite, however, you need to earn it.  Spire Elite will require you to earn 75,000 base points or stay 75 nights in a calendar year.
Spire Elite doesn't have a lot of benefits over Platinum.  What you do get, though, is 25,000 bonus IHG Rewards Club points as soon as you reach or requalify for Spire Elite.  If you are close to the threshold to qualify, the lure of these 25,000 points should make you put some effort into making it.  You will also get a 100% points bonus on every stay compared to a 50% bonus as a Platinum member.
IHG has been making various changes over the last couple of years as to what counts as a 'base point'.  If you are interested in pushing for Spire Elite, this is what you need to know: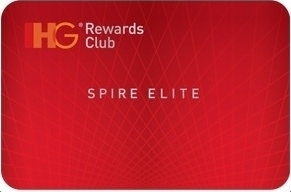 Let's look at the various scenarios you have for earning points, and see if they do or do not count as 'base points' towards the 75,000 you need:
ROOM SPEND – yes, it counts
You earn 10 base points per $1 on your bill at IHG hotels, as long as your room was booked directly (not via Expedia etc) and was not heavily discounted (a rule of thumb is more than 30% from the Best Available Rate).
STATUS BONUSES – no, they don't count
Gold members receive a 10% bonus on base points.  Platinum members receive a 50% bonus.  The new top tier Spire Elite members receive a 100% bonus.  These are not treated as base points.
AMENITY BONUSES – no, they don't count
Platinum members in Europe and some other regions are offered a choice of a free drink or snack or a few hundred points (500 at a Holiday Inn).  If you take the points, they do not count for status.
POINTS FROM A 'BONUS POINTS' PACKAGE – yes, they count
Some hotels offer room rates which offer bonus points if you are prepared to spend more.  These bonuses can be as high as 5,000 points per night or more.  Sometimes it works out cheaper than buying points directly, sometimes it doesn't.  However, as these points DO count as base points, these rates are now more attractive if you are chasing status.  You can find hotels which offer these rates here.
Note that this must be advertised on ihg.com as a 'Bonus Points' package.  If you book any other package which just happens to come with additional points, these will not count for status.
CREDIT CARD SIGN-UP BONUSES – no, they don't count
Any bonus you get for signing up to the IHG Rewards Club credit card will no longer be treated as base points.  This is a shame as the UK Premium card offers 20,000 points for signing up, whilst the free card offers 10,000 points.
CREDIT CARD POINTS FOR SPENDING – yes, they count
Whilst sign up bonuses no longer count, points from your day to day spend DO qualify.  A heavy credit card spender could achieve the new top tier by spending £37,500 on the IHG Rewards Club Premium MasterCard without setting foot in a hotel.  I managed to retain my Spire Elite status last year primarily through credit card spend.
BONUS POINTS RECEIVED FROM AN IHG PROMOTION – no, they don't count
If IHG sends you a code for 1,000 bonus points on your next stay, or if they offer a global points promotion, those points are not treated as base points.  The 5,000 bonus points you receive when joining the InterContinental Ambassador programme are also not treated as base points.
BUYING POINTS – no, they don't count
These definitely don't count towards status.  That would be too easy!
TRANSFERS FROM VIRGIN ATLANTIC – yes, they count
This is, for many people, the best way of getting IHG Spire Elite status quickly.  If you are based outside the UK and cannot get status via a credit card, it is also a good way to hit Gold or Platinum.
As you can see from this page of the Virgin Atlantic website, you can transfer your Flying Club miles – minimum 10,000 – into IHG Rewards Club on a 1:1 basis.  And they count for status.
As I value an IHG point at 0.4p to 0.5p, this is a bad deal purely from the point of view of getting free hotel nights.  However, the equation changes if you get a free hotel night AND IHG status.
The equation changes even more if, say, you are 20,000 base points short of Spire Elite.  Transfer in 20,000 Virgin miles and you would get 45,000 IHG points – because of the 25,000 point bonus for hitting Spire Elite.  This means you're getting over 1p per Virgin mile of value and benefitting from top tier IHG status for up to 23 months.
(To get 23 months, you would need to transfer 75,000 Virgin miles in January. That would get you all of the current year and all the following year.)
TRANSFERS FROM FINNAIR – yes, they count (I think)
You can also transfer points from Finnair into IHG Rewards Club – see here.  I have never met anyone who did this but I would imagine they count for status in the same way as Virgin Atlantic transfers.
CREDITING A CAR RENTAL – good question (comments below say 'Yes')
IHG is a partner with Hertz, Avis and Budget, as well as airport transfer group Groundlink.  You can earn points by crediting your rentals to IHG Rewards Club instead of to an airline loyalty scheme.  My gut feeling is that these would count for status.  Note that the earning rate is very poor, however, and you are better off crediting your car rentals to an airline programme instead.
POINTS.COM CONVERSIONS – no, they don't count
I wrote about points.com here.  It is a website which allows you to transfer points from some airline and hotel programmes into some other airline and hotel programmes.  I don't mention it much because neither Avios or Virgin Atlantic are partners.  IHG is a partner.  Two years ago I converted some unwanted Virgin America miles into 7,500 IHG points.  These did not count as base points.
E-REWARDS – no, they don't count
As of February 2017, transfers from the e-rewards market research scheme (invitation only, you need to be opted in to marketing email from IHG partners to get an invite) no longer count towards status.
TRAVELLING CONNECT (points from mobile calls) – yes, they count (I think)
I wrote about Travelling Connect here.  You earn points in various airline and hotel programmes when your mobile phone is used on specific networks outside the UK.  It is no-brainer to register your mobile for this if you travel.  Travelling Connect would prefer you to manually change your mobile network when abroad in order to pick one that earns points – I don't do this, but if my phone just happens to connect to a TC partner then I get some points for absolutely no work whatsoever.
Note that I have not had any points from Travelling Connect in the last couple of months.  E-Rewards points (see above) stopped counting for status in February 2017.  Did Travelling Connect go the same way?  Let me know if you have any recent examples.
I hope you found this useful.  In summary:
For UK residents who want Gold or Platinum status, I would focus on getting the relevant IHG credit cards with their free status
For UK residents who want Spire Elite, look at moving spend to the IHG Rewards Club credit cards (2 points per £1 on the Premium MasterCard is generous), booking 'Bonus Point' packages and transferring Virgin Atlantic Flying Club miles
For non-UK residents who want Gold, Platinum or Spire Elite status, you should focus on booking 'Bonus Point' packages and transferring Virgin Atlantic Flying Club miles as these are easy way to earn base points
(Want to earn more hotel points?  Click here to see our complete list of promotions from the major hotel chains or use the 'Hotel Promos' link in the menu bar at the top of the page.)
Click here to join our email list and receive all of the latest Avios, miles and points news by 6am.