Is First Class on Stansted Express worth the money?
Links on Head for Points may pay us an affiliate commission. A list of partners is here.
It had been a couple of years since I'd last been to Stansted Airport. I got to the point where I couldn't get up at 3am for an early morning Ryanair flight any more and they stopped flying to the airport closest to my family.
Two weeks ago, however, Stansted Express asked us to review their First Class product which comes with free use of the Fast Track security lane at the airport. As it happened, we had been wanting to review the Escape Lounge at Stansted for some time as neither Rob nor I had ever been (my review was published last weekend) so a quick £35 Ryanair visit to my aunt in Hamburg seemed a good idea.
Back to Stansted Express.
There are, slightly confusingly, three different ticket types to choose from despite there only being two different carriage classes:
Standard Class: £18.10 single / £29.90 return
Business Plus: £25.80 single / £38.20 return

First Class: £26.80 single / £41.20 return
Cheaper Advanced Single tickets are available from £7 one-way in Standard and £24 one-way in First Class. You can learn about Advance Single and Advance First tickets on the Stansted Express site here. These tickets are non-refundable, however.
For clarity, we are not trying to convince you that a £24 Advanced First ticket is far superior to a £7 Advance Standard ticket if you are spending your own money and have the ability to book in advance. That said, if you would otherwise pay £7 for Fast Track security then the maths – on the outbound – could make sense.
For the purposes of this article we have assumed that you are travelling on business or on short notice and will be paying the flexible prices above, where the price gap between the classes is narrower.
About Stansted Express First Class
Business and First Class ticket holders both use the First Class carriages. This offers genuinely spacious and less busy 1-2 seating, similar to that on Heathrow Express in First Class.
In addition First Class ticket holders can use the First Class lounge at Liverpool Street Station and Fast Track security, usually £7, at Stansted Airport.
The Stansted Express goes from Liverpool Street station via Tottenham Hale to Stansted Airport which takes (roughly) 47 minutes. For anyone who is convenient to Tottenham Hale, Stratford or Liverpool Street, this train is the obvious choice when flying from Stansted. The alternative is sitting on a bus with no leg room and the possibility of being stuck in traffic on the M11.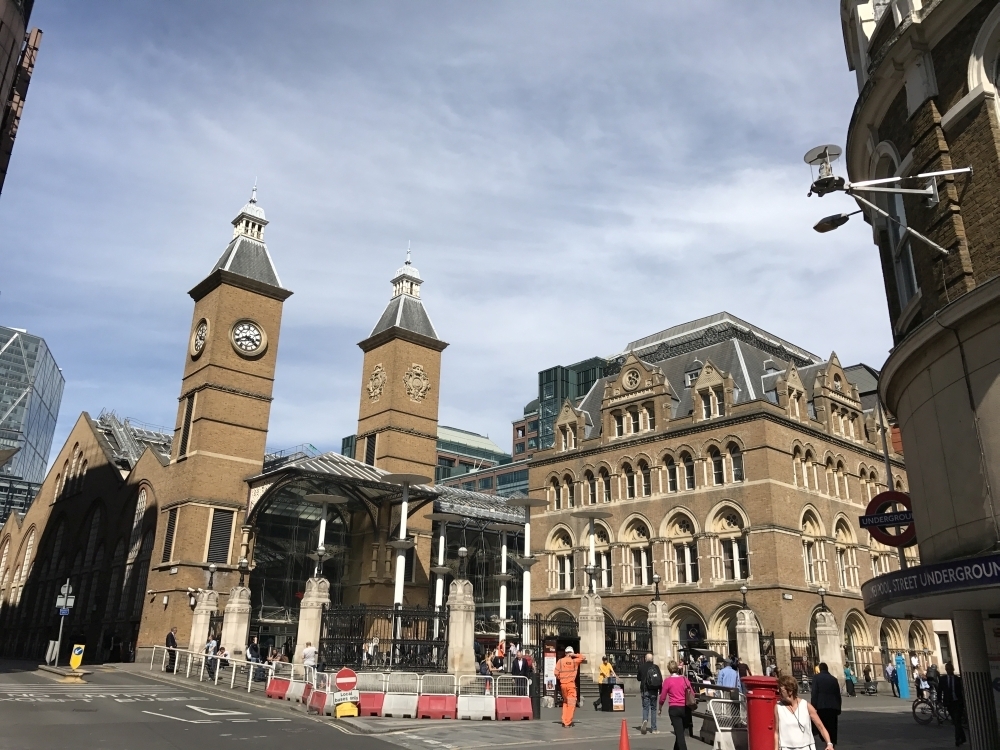 My plan was to get the train at 16:25 and go to the station early to take a look at the Greater Anglia First Class lounge.
However, when I got to Liverpool Street station I learnt that the First Class Lounge was undergoing improvement works. There were no refreshments available which meant I was left with just a small room with a couple of chairs.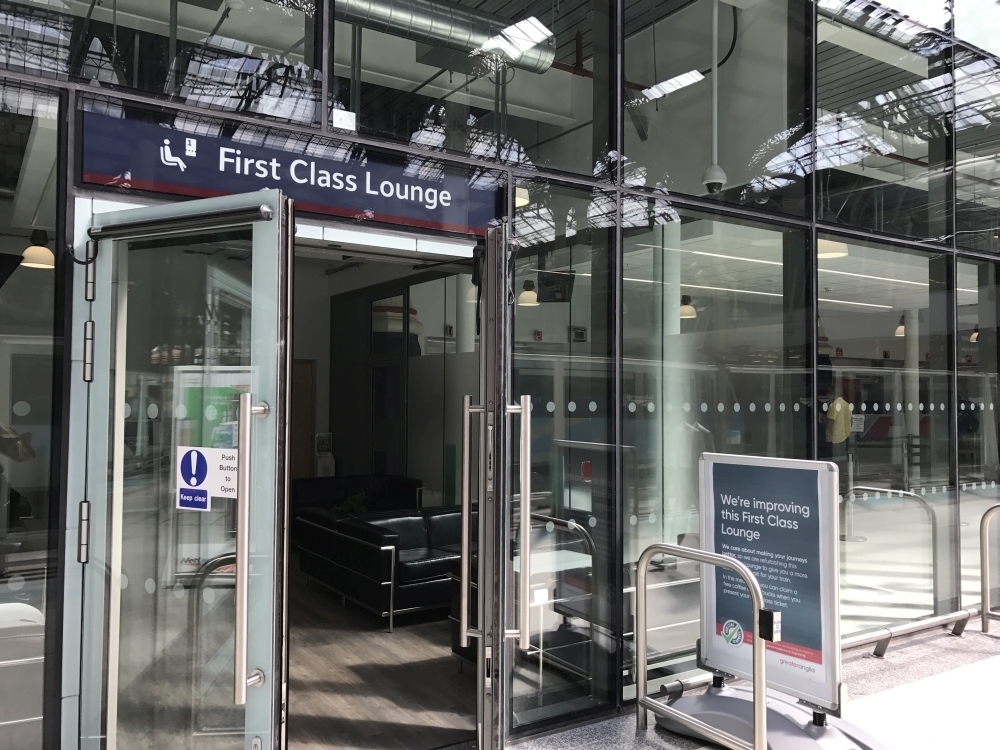 A sign outside said that First Class passengers could have a free drink at Starbucks instead so I walked to the other end of the station to pick up my beverage.
The choice of coffee in Starbucks is (obviously) better than it could ever be in any lounge and I was happy about my cold brew.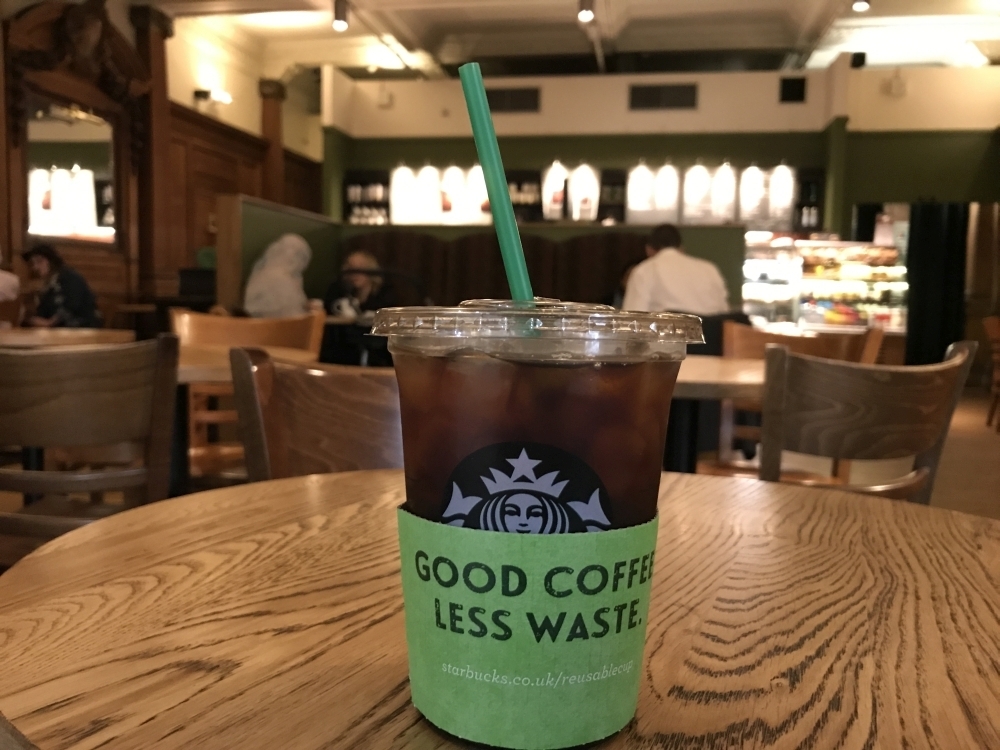 With the trains running every 15 minutes I took a train earlier than planned due to missing out on the lounge.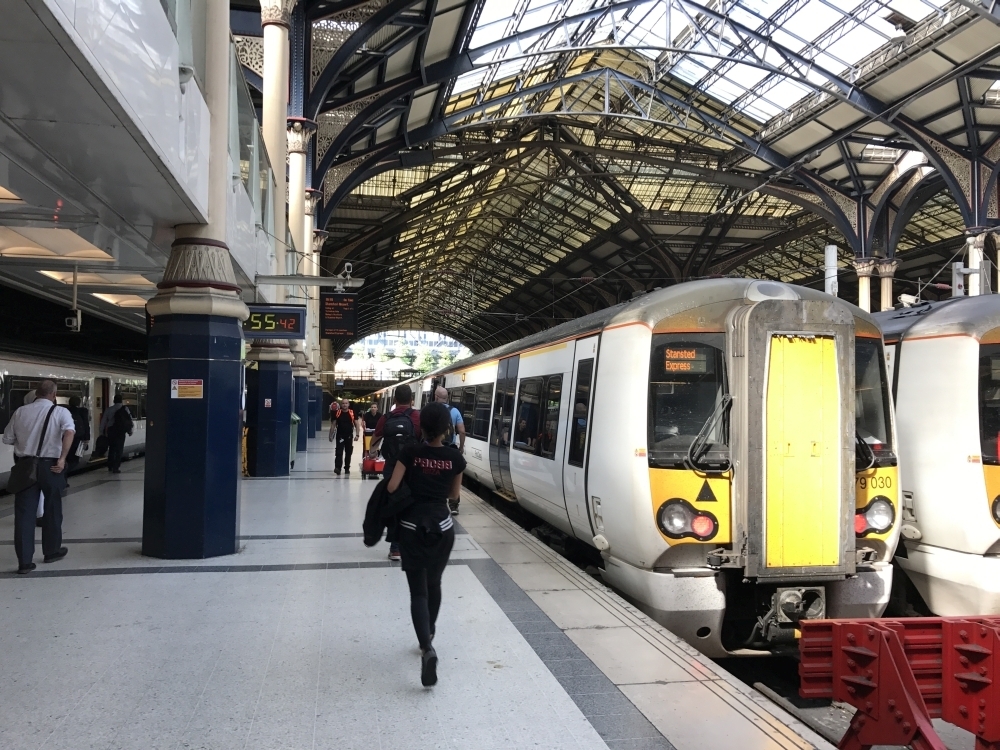 There were two First Class carriages on my Stansted Express train, one towards the front and one towards the back. I got on the one closest to the gates. My first impression was that the seats were a good size and there seemed to be enough storage space for the number of people the carriage can seat.
The picture below is from my return journey when I was sharing the whole carriage with just one other person. It is worth noting that Standard Class was very busy on my return and I was relieved to be holding a First Class ticket. On the outbound journey there were four other people in First Class.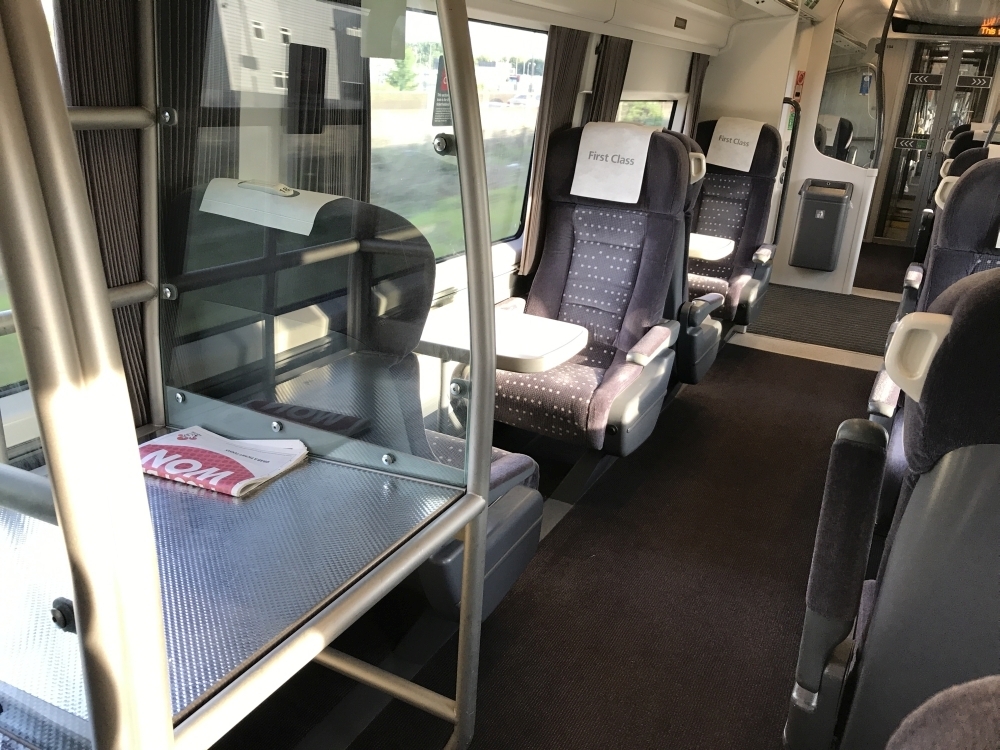 The seats were comfortable with a lot of leg room. Underneath the tables are two UK sockets to charge phones, laptops etc.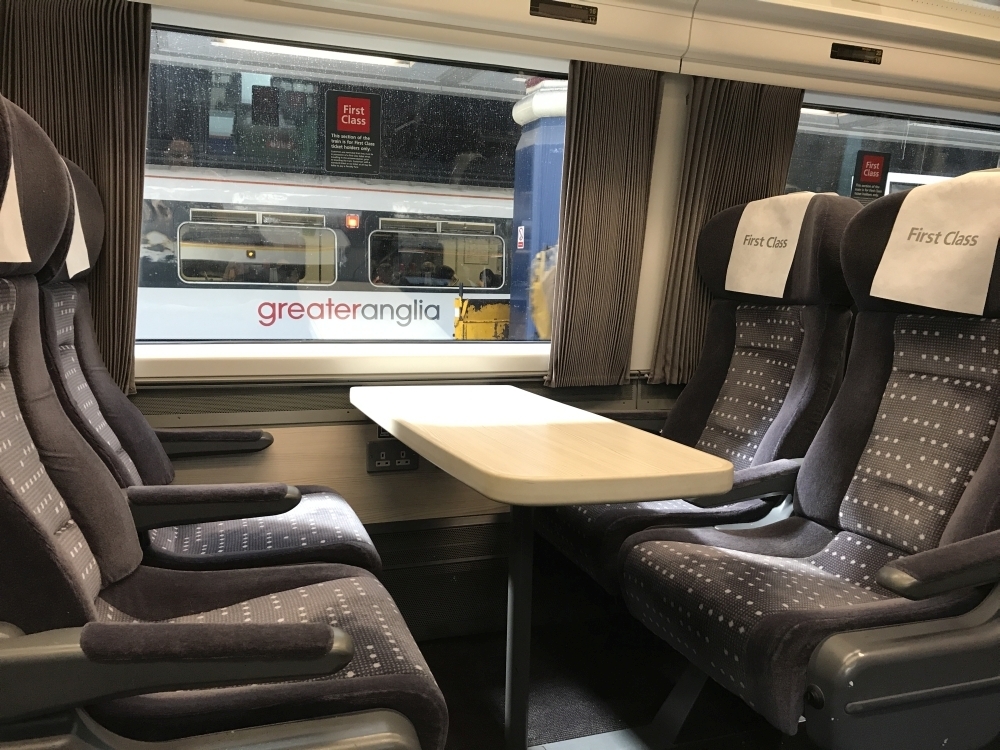 Stansted Express offers free wifi for all passengers. The registration process was slightly annoying. Where most sign-up pages would ask you for your email address and possibly your name, Stansted Express requires your full name, email address, telephone number, home address as well as your boarding station. If you want to you can optionally give even more details like year of birth, reason for travel and ticket type.
The train wifi is certainly not meant for entertainment like Apple Music, Netflix or Prime. I had to switch to my 4G when uploading an image to Instagram. However, it was good enough for Facebook calls and checking emails.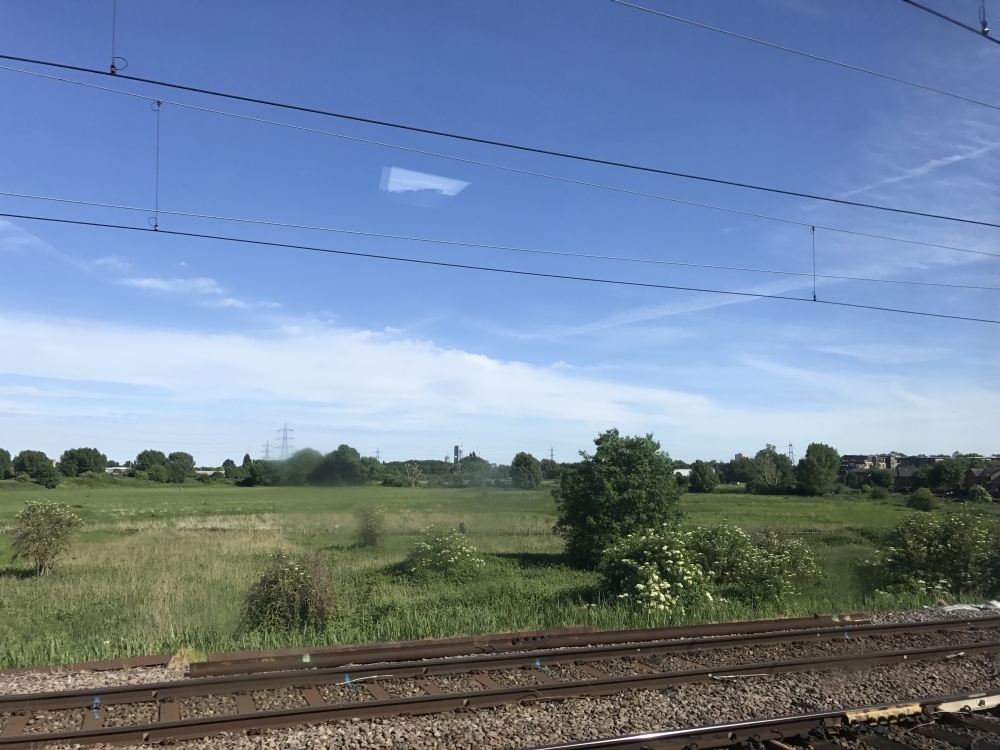 In comparison to First Class, the seating below is what you get with a Standard Class ticket. On my outbound trip the train wasn't packed – despite the fact that one passenger tried to convince the ticket inspector that the train was so full he had to sit in First Class with his Standard Class ticket. There also appeared to be enough storage.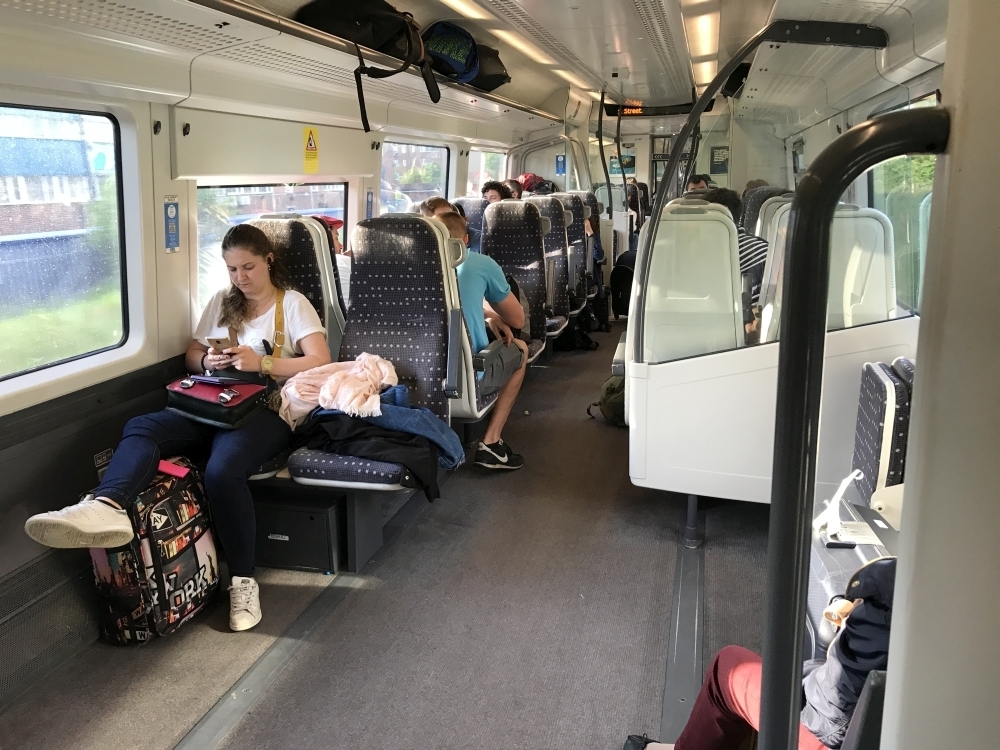 To give you a better impression of what you can expect, here is a short YouTube video of the Stansted Express. You can subscribe to our YouTube channel via this page – this is the same link to visit if the video does not automatically appear below.

Conclusion
This review wasn't about whether or not you should take the Stansted Express to the airport. If you are happy to take a coach, you have a few companies to choose from, but if you prefer the speed and comfort of the train, Stansted Express is your only choice.
First Class vs Business Plus
The price gap between Business Plus and First Class is £4.80 return, based on buying a ticket on the day. If you or your employer is willing to pay £7 for Fast Track Security – and this is usually £7 well spent at Stansted – a First Class Stansted Express ticket will save you money. For the extra £4.80 return over the cost of a Business Plus ticket you get £7-worth of Fast Track security and the chance to grab a free coffee from the lounge at Liverpool Street.
If you only need a one-way ticket from London, First Class is a no-brainer compared to Business Plus. You only pay £1.10 extra but you get £7-worth of Fast Track security plus, at Liverpool Street, a coffee in the lounge.
First Class vs Standard Class
A Standard Class return ticket costs £28 return (£16.60 single) when booked on the day. When booked way in advance a single journey can be as cheap as £7. For someone going on holiday, able to book in advance and not worried about the possibility of a packed Standard class carriage this is £14 for a return well spent in my view. If you can get to Liverpool, Stratford or Tottenham Hale easily then there is no point getting a bus.
If you prefer leg room, more storage and a higher chance of a seat, you need to pay for First Class or Business Plus tickets.
For the business traveller or a leisure traveller who hasn't booked in advance, the price gap between Standard Class and First Class is £14.80 return, based on buying a ticket on the day. If you would otherwise have paid £7 for Fast Track security then the upgrade has cost you just £7.80.
You can arguably knock off another £2 of value for the free coffee at Liverpool Street. This means that your upgrade from Standard Class to First Class is arguably costing you £5.80 return – just £2.90 each way – and you can't really argue with that.
You can find our more about Standard Class, Business Plus and First Class on the Stansted Express website. You can also buy tickets in advance via the site.
Thanks to Stansted Express for providing my ticket. As usual, HfP covered all of its other costs.