Sometimes I get asked a question by a reader where I am so sure that I know the answer that it genuinely surprises me when I look for confirmation.  This is such a case, and it made me think that other readers may not know this either.
A reader recently flew to Australia with his girlfriend for an extended trip.  They have now decided to stay for an even longer period and no longer needed their return flight.
The couple had paid 250,000 Avios for a Club World redemption to Sydney, using a British Airways American Express 241 voucher.
(Don't ask how he managed to snag the seats, given how tough Sydney is.  He didn't say!)
The outbound had been flown.  They wanted to cancel the return flight and get 125,000 Avios back.  The BA agent said 'No'.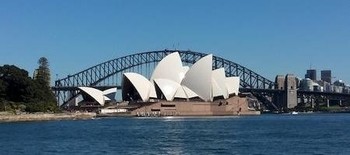 Was this correct?
My first thought was that the agent was wrong.
Return Avios tickets were notoriously inflexible once the outbound was flown, which was silly as there were rarely savings to be made booking 2 x one-way versus a return.
About five years ago, however, BA changed their policy.  You can now change the date or time of your return Avios flight after the outbound has been flown.  I have done this myself.  It is a handy feature if a better-timed flight opens up at the last minute, or your trip is going very well or very badly.
It seemed logical to me that full cancellation would also be possible.  I was wrong.  You cannot cancel the return leg of an Avios ticket, after the outbound has been flown, for a refund.
When should you book an Avios flight as a return?
So, you may well ask, what is the point of booking Avios flights as returns, given that I have less flexibility?  Here are a few reasons:
Because you're using a BA Amex 2-4-1 voucher, so you don't have any choice – one voucher cannot be used to book 2 x one-way flights on separate tickets
Because you are flying to a country where BA has higher fuel charges than the UK – the USA is a prime example.  Booking 2 x one-way flights means that you pay a mix of the UK and US fuel surcharges and, overall, you pay more than booking a return starting in the UK.
Because – and this is a niche one – you are booking a mixed class redemption and want the higher baggage allowance on both legs.  If you book one leg in Business and the other in Economy, the Economy leg retains the Business class baggage allowance.
In other cases, book 2 x one-ways – you may even save money
For simplicity, booking a trip as 2 x one-ways gives you added flexibility to cancel or change the return leg.
Something many people forget is that it is often cheaper to book European redemptions as two one-way flights.
Why?  Because British Airways has removed fuel surcharges from European redemptions:
Almost all of the 'taxes' you still incur are charged on the London leg of your journey.  Some overseas airports do not levy any airport charges.
As the Reward Flight Saver fee of £35 in Eurotraveller and £50 in Club Europe is halved on one-way flights, you may be overpaying if you book a return flight from London instead of two one-way tickets.
The lesson is, before booking a RETURN European redemption, check out the taxes if you book the trip as two separate one-way trips.
A return to Luxembourg incurs Reward Flight Saver fees of £35.  If you book it as two one-ways, the fee is only £17.50 outbound plus £3.50 inbound, for a total of £21.  You save £14 per person.
Some destinations have no savings on economy flights but are good value in Club Europe.  For Hamburg in Euro Traveller, for example, you save nothing by booking two one-way flights.  In Club Europe, however, the saving is £3.80 per person.
Even if you thought that you may end up cancelling your trip, it is still cheaper for Euro Traveller flights to book such a trip as 2 x one-way flights because (for online cancellations) the £35 cancellation fee is capped at the lower of £35 or the tax paid.
For Club Europe, there is a risk that you will end up paying a higher cancellation fee.  With the Hamburg example, you would pay £46.20 to cancel (£25 on the outbound and £21.20 on the inbound, ie the total of the tax you paid) rather than £35.
If you remember the points above, you may save a few pounds on your next short-haul redemption.   Don't try this on long-haul though, as the fuel surcharges are markedly higher in the majority of cases.
(Want to earn more Avios?  Click here to visit our home page for the latest articles on earning and spending your Avios points and click here to see how to earn more Avios from current offers and promotions.)