Are shared private jets worth it? I try out a Citation CJ2 for size
Links on Head for Points may pay us an affiliate commission. A list of partners is here.
Last week I got to fly on a private jet for the first time.  Which was interesting.
I was invited by a company called JetSmarter, which is one of a number of companies now offering subscription-based scheduled private jet services from London.  The company currently flies to Nice, Ibiza, Malaga, Milan, Moscow, Paris, Geneva, Zurich and Munich.  As well as these scheduled services, members can also book free or cheap seats on 'empty leg' repositioning flights on various routes at short notice.
There are currently two membership levels, one at $5000 per year and the other at $15000.  Each offers a different number of flight credits and different access to empty leg and additional companion seats.  You can find out more via their app.
This article is not about JetSmarter itself – and I am not going to discuss whether I think their service is worthwhile or not – but is about my thoughts on the 'shared plane, scheduled plane' private jet concept.
Do 'shared plane, scheduled plane' private jets miss the whole point?
There is no real proof yet that any company will make money running aircraft on this model.  The jury is very much out on JetSmarter, and the two people I flew with to Geneva were both fully aware that the company appears to have a precarious business model.  When I met US writer Brian Kelly last year he was raving about how he used JetSmarter in New York, but was similarly dismissive of its long term prospects.
Let's look at the London to Geneva service I flew.  JetSmarter flies it TWICE per WEEK.  That's it.  You need to fly at 8am on a Monday or 4pm on a Thursday.  There are no other options.
That doesn't sound very flexible to me.  If I am paying a very large premium for a private jet, I want flexibility.  Two flights a week hardly offers that.
Secondly – and this is the major issue with private jets in London – the airports are inconvenient for many people.  I flew from Luton, where I used the Signature Flight Support private jet terminal (review here).  Other operators use Blackbushe, Farnborough or occasionally London City.  If you live in West London, none of these are anywhere near as convenient as Heathrow – although one of the guys I flew with had come from his office in Mayfair (1hr 15mins by Uber, he told me).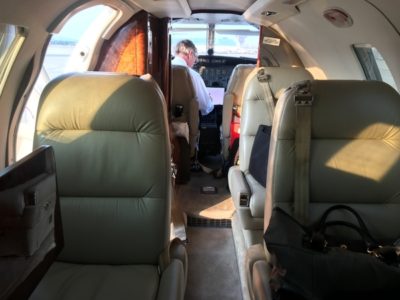 You are also not flying 'privately' – but this was the best bit for me.
I will come to the flight itself in a minute.  Only three of the seven seats were taken, so we sat in a group of four which faced each other.  The other two guys had met before on the same flight.
I never, ever talk to people on planes.  Except for my wife, which is how I met her (well, we met at check-in and then sat together).  This was totally different.  The three of us talked for the entire trip.
You need to be on the ball though.  One of my fellow passengers was a senior financier off to address an IMF conference on crypto-currency.  The other was a major investor in the oil and gas sector.  Luckily, I see a lot of fintech stuff via Head for Points (Curve, Revolut, PSD2 start-ups etc) and my wife keeps me up to date with the state of the oil and gas sector so I wasn't out of my depth.  The best part of the whole experience was chatting to my fellow two passengers for 90 minutes.
So, how was the plane?
This is the aircraft we got – G-SPUR.  It was originally part of Alan Sugar's Amsair business.  It is a Cessna Citation 2 operated by Lux Aviation, who are presumably paid by JetSmarter to run this service twice a week irrespective of the number of passengers booked.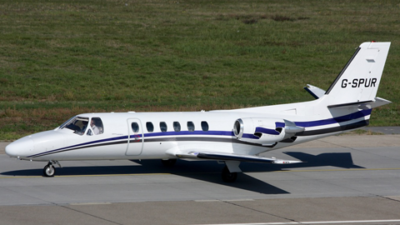 The plane even has its own webpage here.  It was built in 1992 and refurbished in 2005.  The Fly Victor website has a seating plan.
Here is a library photo of the interior: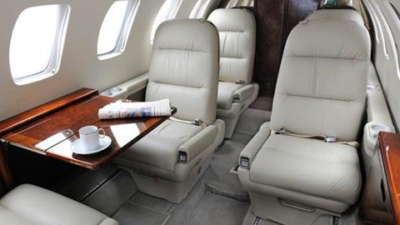 I was sat in the seat where this photo was taken from, facing backwards.
What was the service?
DIY!
When we boarded, there were three plastic trays of sandwiches stacked up on a seat in the back row.  We helped ourselves to these during the flight.  This is what you get: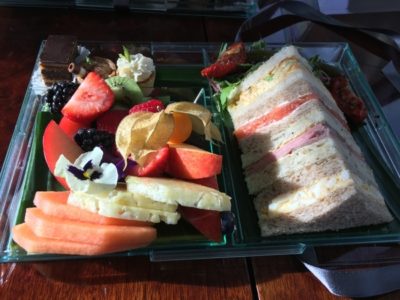 There was a tray of crisps too: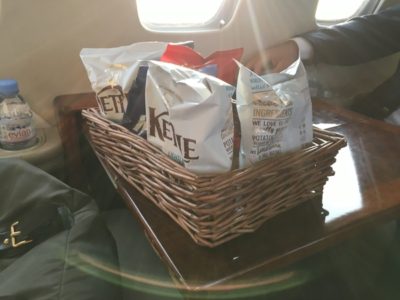 In the area at the back was a standard picnic cool box!  Inside were a number of half-bottles of Laurent Perrier champagne.  I'm not sure how many there were but two of us drank and we shared two between us.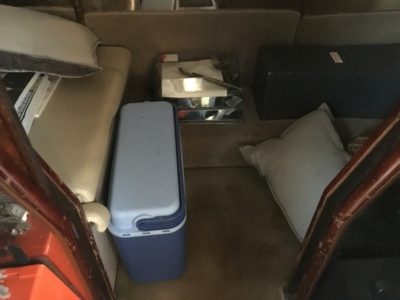 There was also a drawer of soft drinks in the cabinet: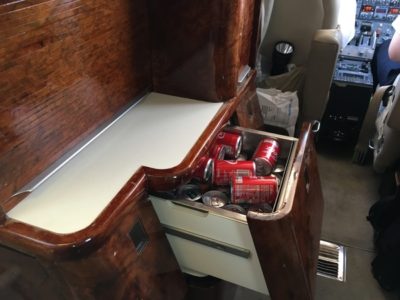 Crockery and cutlery was in pull-out drawers under the seats.
Where's the loo, I hear you ask?  Ah, here's the problem.
Small private planes do not have proper toilets.  That cream seat next to the cool box above is covering the loo.
But where's the door?  Er, there isn't one.  There is a curtain you can pull across, but to all intents and purposes you are in public.  I had been warned about this, which is why I only had one half-bottle of champagne in the lounge before boarding.  Pity anyone who finds themselves travelling with someone who picked up a dose of food poisoning whilst away.
How was the flight itself?
Take off and landing were, in terms of how it felt, much the same as a standard short-haul plane.  It was amusing to see Ryanair jets queuing up behind us.
What I really loved was the landing.  The cockpit is open to the cabin, as you can see in the top photograph.  This meant that, as we approached Geneva, I could see exactly what the pilots could see as the runway came closer and closer.  That was cool.
We parked at one of the two private jet terminals at Geneva.  After showing our passports, one of the other passengers and myself asked to be driven over to the main terminal.  We were shuttled via the tarmac where we were dropped at a Shengen gate and could just walk out of the airport.
My verdict?
This was a great experience and I'm grateful to JetSmarter for letting me try it out.
Am I convinced about their concept?  No.  Irrespective of the cost, I cannot see a scenario where I would be willing to work around their very small number of weekly flights – and head out to Luton – to catch a shared private plane when I could hop in an Uber or the tube and go to Heathrow.
Anyone using such a service is also likely to be a British Airways Gold member (one of my fellow passengers had a BA Gold bag tag).  The ability to whizz through the new First Wing at Terminal 5 straight into the Galleries First lounge, before nabbing a Row 1 Club Europe seat, is not a whole lot worse.
You don't gain much on time (smaller planes fly slower) and at least BA offers other options if your plans change at short notice.
What I DID like was the ability to meet interesting new people in a sociable environment – but obviously this is not guaranteed every time you fly.  The ability to watch the plane landing and taking off via the cockpit window was also fantastic although I can imagine that the novelty wears off.
If you want to try a private plane for yourself, one of the cheapest options is via the Cojetage app.  This sells off 'empty legs' on repositioning jets.  You have a very limited selection of routes, and rarely more than 48 hours notice, but you can get yourself a flight for as little as €400.