What did I learn on a trip to the Austrian Airlines maintenance hangar?
Links on Head for Points may pay us an affiliate commission. A list of partners is here.
I am spending this week shuttling between Vienna, Brussels and Mallorca as part of an organised trip for aviation enthusiasts who want to get a closer look at the workings of an airline.
On Wednesday I got to visit the Austrian Airlines technical facility at Vienna Airport. And a very interesting trip it was, allowing me to see a side of the industry that is usually hidden.
One thing that was impressive about British Airways, during the wave after wave of bad publicity over cost cutting in the last 18 months, was that no-one ever, ever, questioned whether BA was also cutting corners on its maintenance. It is just accepted by everyone concerned that this is not what you do.
As a mangled version of the old saying goes: "if you think aircraft maintenance costs a lot of money, wait until you see how much it costs you when you try to make savings".
Anyone can tour the Austrian Airlines technical facility – details are on their website here.
I need to say something about the pictures below. Austrian did not want general photography of the facility. I have focused on close-ups.
Welcome to the main hangar. This is an Austrian A319: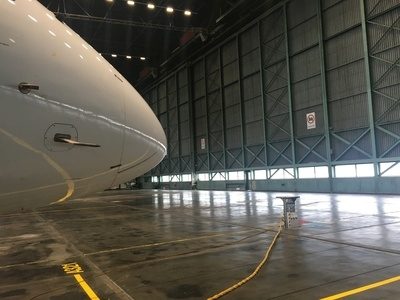 This is an Embraer E95: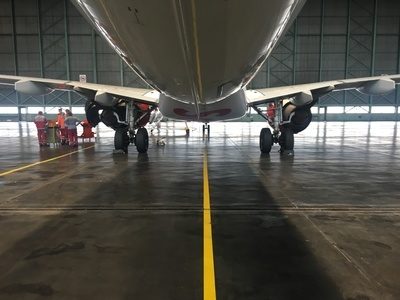 …. and they let me sit in the cockpit: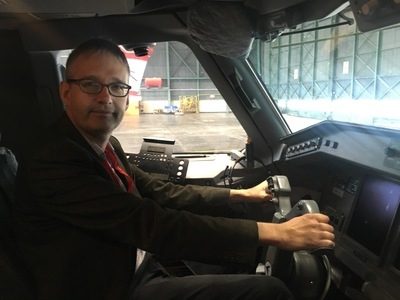 …. which is surprisingly old fashioned: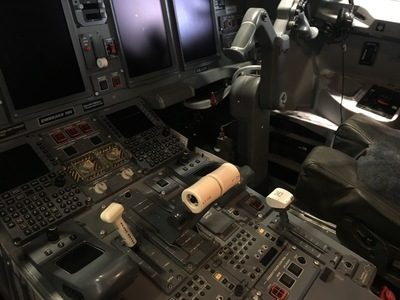 Two parts were being changed in the engine. The automation levels are so high now that the on-board computer automatically tells the technicians on the ground when a part is not functioning as it should. The pilot often has no idea that a part is not operating correctly and apparently is often surprised to find a technician waiting for the aircraft on arrival!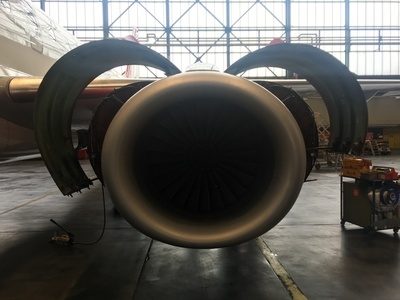 No heavy maintenance is does in Vienna. Boeing has a facility in Beijing where the Austrian 777 and 767 fleet is sent. Short-haul Airbus aircraft go to Manilla. This is purely for cost savings on labour.
Aircraft which need painting are sent 80km down the road to Bratislava. It is now illegal, due to environmental rules, to paint the aircraft in the open in Austria. In Bratislava, it's fine – they open the hangar doors there and all the fumes waft out …..
Let's talk tyres: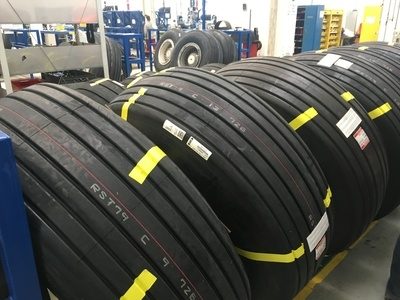 Tyres have a ceramic interior which contains the brakes and which can reach 800 degrees celsius during landing. The core can be re-used 7-8 times, so the outer rubber layer is peeled off when the tyres wear down. The core is then x-rayed to ensure it is OK. The tyres are filled with nitrogen. For testing they are pressurised to 20x the pressure of a car tyre. This is then lowered to 5x for storage and increased to 10x on installation.
Interestingly, the tyres are leased and not owned. The supplier is paid per landing!
Here are some brake parts:
Vienna operates as a 'centre of excellence' for brakes and supplies many airlines outside the Lufthansa Group. All of these airlines send their brakes to Vienna for servicing, and each set has a full maintenance and flying history dating back to the date of manufacture.
Austrian is able to supply a part within five hours to any of the airlines it works with. Here are some ready to go out: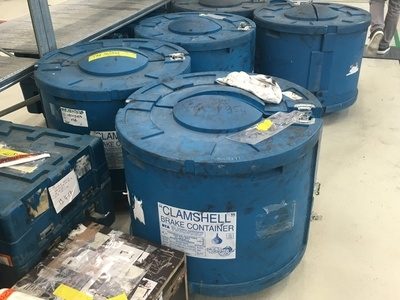 Here is $20m-worth of GE90 aircraft engine, used on a Boeing 777: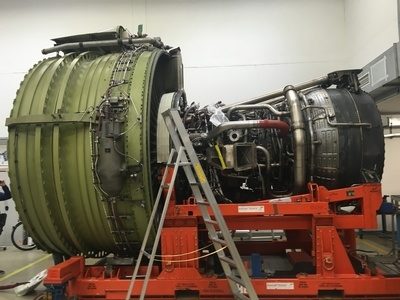 This is the "spare" kept on site in Vienna. Austrian does not do heavy engine maintenance on site because the mix of Pratt & Whitney, GE and Rolls-Royce engines would make it too expensive to recruit enough staff.
It takes five years to fully qualify as an aero engine technician. It only takes two years to qualify as a commercial pilot …..
And that was that. If you are interested in this sort of thing, you can book a tour of the facility at Vienna Airport. I'm not sure if you would get the same access that our private group did, but it is certainly interesting. It is a shame that I can't show you more wide-angle shots because you don't really get a feel from the pictures above for the sheer scale of the hangers.