Links on Head for Points pay us an affiliate commission. A list of our partners is here.
Want to know how to spend your Avios wisely?  Starting today, we are running updated versions of our 'Avios Redemption University' series. 
This series of articles, which I group together as 'Avios Redemption University', cover some of the different ways of using your Avios.  In particular, they highlight deals which offer surprisingly good value for your points, such as redeeming on 'low tax' airlines.
In this introductory post, I want to run through the key principles of how to redeem your Avios points for flights.
Fundamentally, it is as simple as going to the 'spend your Avios' page on ba.com and putting in the dates you want to fly.  You can use the 'Combine Your Avios' function on ba.com to move all of your Avios from BA, Aer Lingus, Vueling, Iberia or avios.com into one account – transfers are free and instantaneous.
One of the quirks of the Avios scheme is that you may be better off booking via a different portal instead.  Sometimes avios.com or iberia.com will offer you a better deal.  I will explain why below.
There are many other nuances you need to understand. Much of it will come from experience, but here are some of the key points.
Understanding how Avios flights are priced
Following its recent revamp of the British Airways website, you can no longer see a simple chart of how much an Avios redemption flight costs.  You are expected to plug your route into this ba.com calculator.
Luckily we have a copy of the chart here.  The basis of Avios pricing is this simple grid, which prices British Airways flights based on the one-way distance flown.  This is the pricing chart introduced in April 2015: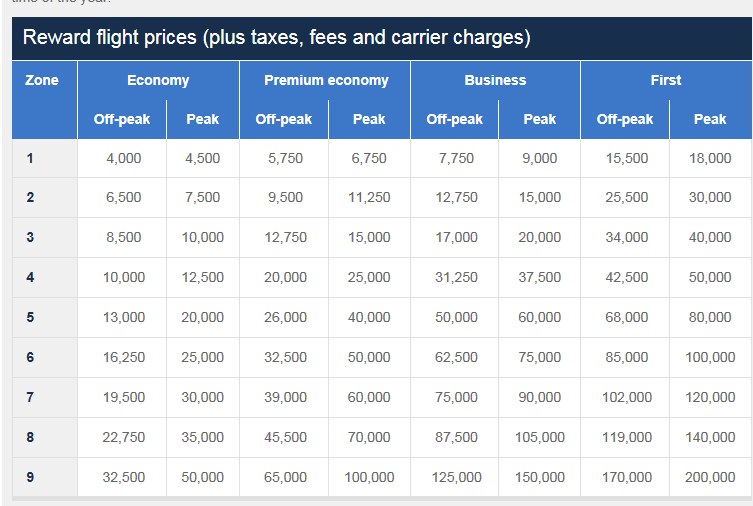 The zones relate to the distance flown:
Zone 1:  1 – 650 miles
Zone 2:  651 – 1,150 miles
Zone 3:  1,151 – 2,000 miles
Zone 4:  2,001 – 3,000 miles
Zone 5:  3,001 – 4,000 miles
Zone 6:  4,001 – 5,500 miles
Zone 7:  5,501 – 6,500 miles
Zone 8:  6,501 – 7,000 miles
Zone 9:  7,000+ miles
There are exceptions to these zones, with some routes such as Cape Town being put into a cheaper zone than their distance would suggest.
Short domestic flights in the US are priced differently – see this article
How do I know what my flight will cost?
If you want to find out the distance between two airports, the best route is Great Circle Mapper (gcmap.com).  Type in the airport codes, eg LHR-JFK, and click 'Distance'.
You don't need to do this, however.  There is a calculator on ba.com which will tell you miles required for any direct redemption flight.  Alternatively, and more quickly, you can find the price for any British Airways route using the chart here which I published a couple of years ago.  Note that it does not reflect recent BA route additions and cancellations.
What are the peak and off-peak dates?
Redemption costs on British Airways, Iberia and Aer Lingus vary depending on whether you fly on a peak or off-peak day.
The list of British Airways and Iberia peak and off-peak dates for 2018 can be found in this article.  The Aer Lingus dates can be found in this article.
BA, Iberia and Aer Lingus do NOT have the same peak and off-peak dates.
You can save a lot of points if you apply these calendars smartly.  Compared with British Airways, Aer Lingus doesn't have an October and February peak season during the UK half terms.  The April peak season is one week shorter and there's also no peak season towards the end of May / early June.  Redeeming via Dublin on Aer Lingus could save you a lot of Avios during these periods.
Flights with any airline other than British Airways, Aer Lingus and Iberia will ALWAYS price at the peak rate.
And just to add extra confusion ….
There is a second British Airways Avios redemption pricing chart for trips which use two or more oneworld carriers apart from British Airways.
This chart is rarely used but you can find it here.  A flight such as London – Doha (Qatar) – Hong Kong (Cathay Pacific) would price off this chart.  There is a permanent link to this chart under 'Key ba.com links' in the right hand margin of the desktop HFP site.
I discuss some uses of the Avios multi-partner reward chart in this article.  There is real value in it if you are heading to Australasia for example.
How is pricing calculated for connecting flights?
Pricing is based on EACH individual flight, not the distance between origin and destination. This means that the Avios charged for a particular route can vary depending on how you fly there:
London to Muscat on British Airways is non-stop and 3600 miles, so costs 13,000 miles in Economy one-way off-peak and 20,000 miles on a peak day
London to Muscat on Qatar Airways (or a mix of BA and Qatar Airways) involves a change in Doha. London to Doha is 3,200 miles and Doha to Muscat is 437 miles. This means your flight will cost (13,000 or 20,000 + 4,500=) 17,500 / 24,500 Avios, one way depending on whether the BA flight is on a peak day.
The only exception is when booking a UK domestic connection to/from London to connect to a long-haul flight. No additional Avios are required for this.
Using 'Avios and Money'
If you don't have enough Avios for your flight, British Airways runs a scheme called 'Avios and Money' which allows you to use fewer Avios to book your flight in return for paying a cash fee. This is explained in more detail here (an updated version will run next week).
In some cases, it makes sense to use 'Avios and Money' even if you have enough Avios because the cash option is so cheap.  I explained why in this article.
What taxes are due?
The cost of your reward flight will also include a charge for 'taxes and surcharges'. This is mainly a fuel surcharge and the UK Government's Air Passenger Duty.
The charge vary amongst airlines. Further articles in this series will focus on low tax options with Aer Lingus and Iberia. However, going back to my example above, London to Abu Dhabi on British Airways, return, has a taxes and charges total of £278 in Economy.
This is, frankly, crazy.  You can usually pick up an economy flight to Abu Dhabi or Dubai for around £350 return on BA or one of the Middle Eastern airlines.
Unless you fly on Aer Lingus or Iberia, starting your trip outside the UK, these taxes clearly make Economy redemptions in long haul poor value for money unless you are travelling at peak times such as school holidays. This is why Head for Points usually recommends redeeming in Business or First Class on BA – the taxes will be around £500 per person, return, but this is still a fraction of the usual cash price of your seat.
Taxes and surcharges on European flights are capped at £35 for Economy and £50 for Business on British Airways flights.  This makes short-haul redemptions good value in either class.  The next article in this series looks at Reward Flight Saver in more detail.
Using Avios to upgrade
You can also use Avios points to upgrade a flight by one class on BA, Iberia and American Airlines. This is explained in a separate article later in this series (the 2015 version is here).
The key points to know are:
You cannot upgrade from the cheapest non-refundable Economy tickets
You CAN upgrade from the cheapest World Traveller Plus or Club World fares to Club World or First Class respectively
The cost of an upgrade is the difference between an Avios redemption in the class booked and a redemption in the next highest class
You can upgrade at the time of booking or later, it makes no difference
You can only upgrade if there are Avios redemption seats available in the higher class
For example, upgrading a return World Traveller Plus ticket to New York will cost 48,000 Avios off peak and 40,000 Avios on a peak day.
(Yes, another idiosyncrasy of the Avios reward chart is that Club World upgrades are cheaper on peak dates and more expensive on off-peak dates!)
How did I calculate this?  A Zone 5 Club World redemption is 50,000 Avios one-way off-peak.  A Zone 5 World Traveller Plus redemption is 26,000 Avios one-way off-peak.  The cost of the upgrade is therefore (50,000 – 26,000 x 2 for a return =) 48,000 Avios.
You will still earn Avios and tier points for the original cash ticket you booked which reduces the net cost of the upgrade.
Which airlines can I redeem on?
A full list of the 30 (!) airlines which let you redeem Avios points can be found here.
This list has shrunk over the last year as airberlin and NIKI went into receivership and Monarch (also now in receivership), Aurigny and Air Malta were dropped as avios.com partners.
On ba.com:
British Airways Executive Club lets you redeem for all 14 airlines in the oneworld alliance plus Aer Lingus, Flybe, Comair (South Africa) and Alaska.
Aer Lingus redemptions CANNOT be booked online at ba.com and there is no 100% certain way of checking availability before you call.  Anecdotal evidence says that there is less availability than you can book online – with far higher taxes – via the avios.com website.  A later article in this series will discuss Aer Lingus in more detail.
If you have British Airways Gold status, you will find more economy availability on British Airways flights on ba.com than avios.com.  This is because BA opens up additional economy reward seats to its Gold members.
A BA Gold member can also get an Avios seat on ANY BA flight if they are willing to pay double Avios.  These are called Gold Priority Rewards and I explain how to book them here.
On avios.com:
You may at times want to book on avios.com.  Whilst they do NOT offer oneworld alliance partners except for Iberia and American Airlines, they do offer seats for online booking on Aer Lingus.  However, taxes are higher and availability worse on Aer Lingus when booking online via avios.com instead of over the telephone via British Airways Executive Club.
Flybe availability can also differ between avios.com and ba.com.
On iberia.com:
Long-haul redemptions on Iberia have SUBSTANTIALLY lower taxes when booked at iberia.com.  You will save at least £300 per person.  I will discuss this in a stand-alone article on Iberia later in this series.
Iberia Plus also has access to flights from Vueling, Royal Air Maroc, LEVEL, Iberia Express and others which you cannot book at ba.com.
Key facts to know when redeeming:
Availability opens up 355 days prior to departure for British Airways and most other airlines
At least four economy and two business class seats will be available immediately on BA flights.  There is no guarantee of World Traveller Plus or First Class seats being available at 355 days out.  Further seats will usually open up at random in the months approaching departure, depending on sales of cash tickets.
If you want a 'high demand' route such as Sydney or Cape Town in Club World and want to travel on a BA plane in order to use a British Airways American Express 2-4-1 voucher, you should be prepared to book the outbound flight as soon as it becomes available.  This means at midnight (1am BST) via an open BA call centre (US, Japan) 355 days before departure – it will also drop onto the website a couple of hours later but it may be too late by then.  When the return becomes available a few days later, you need to call BA and have it added to your existing outbound ticket.
Avios redemption tickets can be changed or cancelled for a £35 per ticket fee, deducted from the refund of your taxes.  All cash and Avios are returned, the Avios usually come back instantly.
You can change the return even after you have flown the outbound, subject to Avios seats being available.  You cannot cancel a return flight once you have flown the outbound.
Infants (under 2) who do not need a seat pay 10% of the standard Avios and 10% of the standard taxes
You can fly into one airport and out of another without penalty as long as you follow the rules in this article. These redemptions can only be booked over the telephone, unless you book them as two one-way redemptions.
It is OK to mix airlines when booking a redemption – you can fly British Airways to Doha and then Qatar Airways on to Mumbai, for example, on the same ticket.
Flights on airlines other than BA, Aer Lingus and Iberia will be charged at the peak rate
The ba.com website often struggles to offer all possible options when looking for redemptions to North America which involve a connection in the US.  A good tip is to search via the American Airlines website at aa.com – you don't need an account with them.  Any reward seats which show as 'sAAver' flights on aa.com can be booked using Avios points – if you cannot get ba.com to bring up the flights then you need to call BA.
Want to learn more?
Keep an eye out for further updated articles in this series over the next few weeks.  If you found this useful, you can share it with your friends via the social media buttons below.
(Want to earn more Avios?  Click here to visit our home page for the latest articles on earning and spending your Avios points and click here to see how to earn more Avios from current offers and promotions.)
Click here to join our email list and receive all of the latest Avios, miles and points news by 6am.