Today, as part of a few 'beginner focussed' articles running this month to cater to the new readers we always get at this time of year, I thought I would take a look at the American Express Preferred Rewards Gold charge card.  I mention this card quite a bit on Head for Points but if you are new to this hobby then it might not be fully clear why I recommend it as the best 'starter' Amex card.
Let's get the boring bits out of the way first. Amex Gold is a charge card and not a credit card. This means that you MUST pay off your full balance at the end of each month. There is NO facility to roll over your balance and pay interest. Suffice it to say that that charge cards are only suitable for you if you always clear your balance each month.
(If you don't always clear your balance, I don't recommend ANY miles and points cards to be honest. The interest rates are usually around 22%, whilst specialist 'low rate' cards like this one can be as low as 6%.)
Secondly, whilst you may think that Amex has a slightly lofty reputation if you have never had one before, there is no longer a minimum income requirement. This doesn't mean that they will accept anyone – it means that the gap between your income and expenditure is more important than your income alone.
Thirdly, forget the idea that 'no-one accepts Amex'. B&Q is the only major retailer that does not take American Express. Every other big chain takes it. You will have issues in some smaller stores, and it is rare that you can pay a bill with an Amex, but acceptance (as a % of your shopping bill) is good.
With that out of the way, let's look at why I rate the American Express Preferred Rewards Gold card.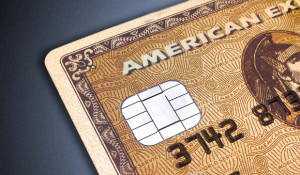 The card is free for the first year
Amex Gold has an annual fee of £140. This is waived in your first year, so you can have some time to see if it suits you or not. You can cancel at any point. If you continue after the first year, you can still cancel at any time and get a pro-rata refund on your fee. Amex is the only UK card company to do this.
The sign-up bonus is VERY generous
You get 20,000 American Express Membership Rewards points (worth 20,000 Avios) when you sign up and spend £2,000 within three months. This is a very generous deal because ….
The rewards scheme is a valuable convertible currency
You can transfer Membership Rewards points into MANY different things. Take a look at their website.
We tend to focus on airline schemes (1:1 into Avios, Virgin Flying Club, Flying Blue, Delta Skymiles, Etihad Guest, Emirates Skywards etc) or hotel schemes (1:2 into Hilton Honors, 1:3 into Club Carlson, 2:1 into SPG and so 2:3 into Marrriott Rewards.)
In reality there are lots of other options, including High Street gift cards. I wrote this article on how to get the best value from Membership Rewards points. It is possible, if you are smart, to get over £200 of value from your 20,000 Membership Rewards points sign-up bonus.
'Convertible currencies' are worth more to you. It is better to have 50,000 Amex points than 50,000 Avios points. Why? Because your 50,000 Amex points would get you 50,000 Avios points if you needed them – but they could also get you a heck of a lot more besides.
You get 2 free airport lounge visits per year
As an Amex Gold cardholder you receive free membership to Lounge Club, a global network of airport lounges. Each year you get 2 free visits – either 2 visits for yourself or 1 visit for yourself and a guest.
The Lounge Club website shows you which lounges you can use including many at Heathrow and Gatwick.  Additional visits after your two free ones are charged at £15 per person per visit. You receive 2 additional free passes each year if you renew your Amex Gold membership.
10,000 bonus Membership Rewards points for spending £15,000 per year
The earning rate on Amex Gold is 1 Membership Rewards point per £1 spent. This is OK but not exceptional – although you should put some value on having a 'convertible' currency rather than being forced into taking Avios, Virgin miles etc via a dedicated airline credit card.
However, if you can spend £15,000 per year on your Amex Gold, the maths changes. You would receive 10,000 bonus points at the end of your card year. If you spent exactly £15,000, this means you would have earned 25,000 points – a rate of 1.6 points per £1. This is very good going.
Those are the key perks as I see them. There are various other benefits attached to the card as well, including:
double points for foreign spending (but there is a 3% fee for FX charges, so this is only a good deal if you are spending money your employer will reimburse)
double points on airline transactions
10% discount and free additional driver on Hertz bookings
$75 in-hotel credit and an upgrade (based on availability at check-in) when booking 350 4-5 star hotels worldwide
Conclusion
The American Express Preferred Rewards Gold is a low cost (zero cost, actually, in Year 1) and high reward way to begin a relationship with Amex.
You can get the sign-up bonus if you already have a BA, Starwood or Nectar American Express card or any MBNA or Lloyds-issued Amex.  That's not a problem.  The only people who are disqualified are those who have had a Gold, Platinum or Green charge card, or the Amex Rewards Credit Card, in the last six months.
You will still need a good Visa or Mastercard for places where Amex isn't accepted of course.  Here are my suggestions.
Over time your card needs may change, as I discussed in this article, but Amex Gold is a good way to get started. Even if you eventually decide that the miles and points hobby is not for you, there are still plenty of other valuable ways to use your Membership Rewards points.
The American Express Preferred Rewards Gold application page is here.
(Want to earn more miles and points from credit cards?  Click here to visit our dedicated airline and hotel travel credit cards page or use the 'Credit Cards Update' link in the menu bar at the top of the page.)