We travel on the inaugural Eurostar train service to Amsterdam
Links on Head for Points may pay us an affiliate commission. A list of partners is here.
On Wednesday 4th April Eurostar launched its new route from London to Rotterdam and Amsterdam. Passengers can now travel from St. Pancras to Amsterdam Centraal in 3 hours and 41 minutes.
On paper this is almost four times longer than the average flight time between the two cities.  To find out whether it is worth taking the Eurostar I went on the inaugural trip.  Club Eurostar provided us with a free one-way ticket, but this was not part of the official media group.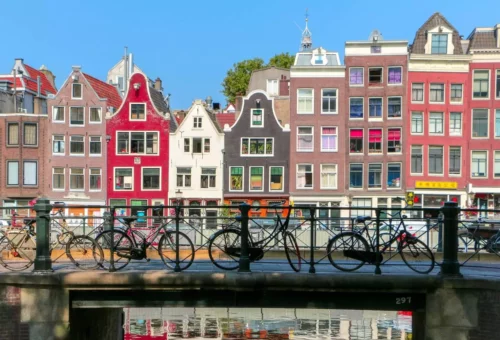 I was booked in Business Premier.  I won't go into too much detail regarding the seat as Rob wrote an in-depth review back in 2016 when the new e320 trains were introduced to the London – Paris route.  Instead I will concentrate on the journey itself.
At St. Pancras
The train was scheduled to leave at 08:31 and arrive in Amsterdam at 13:12.  As you only need to get to the station 30 minutes before the scheduled departure – and with Business Premier you can arrive as late as 10 minutes before departure – you can save at least 90 minutes here compared to flying.
I got to St. Pancras around 07:30 as I had a Business Premier ticket and wanted to have breakfast and coffee in the lounge.  Remember that American Express Platinum cardholders get free access to Eurostar lounges in London, Brussels and Paris irrespective of travel class.  You cannot bring a guest but your partner probably has a supplementary Platinum card anyway.  Rob has never had a problem taking his children in too although this is discretionary.
Eurostar employees were handing out Stropwafels to passengers as they were queuing up to go through security.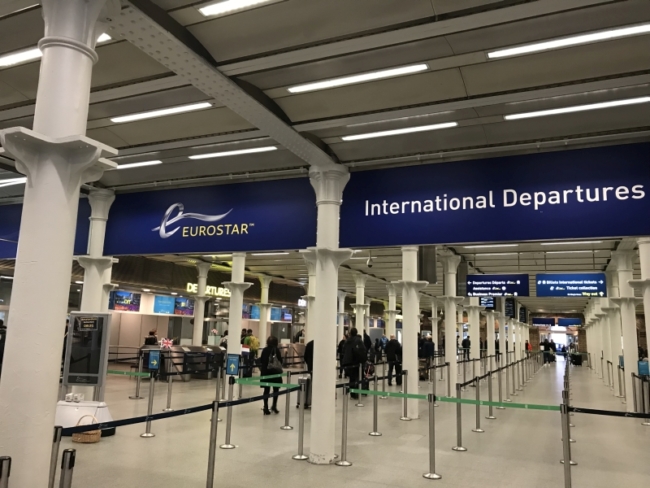 The Eurostar lounge is on your right as  you enter the station.  It is an odd shape, very long and not particularly wide.  The downstairs area of the lounge was fairly quiet.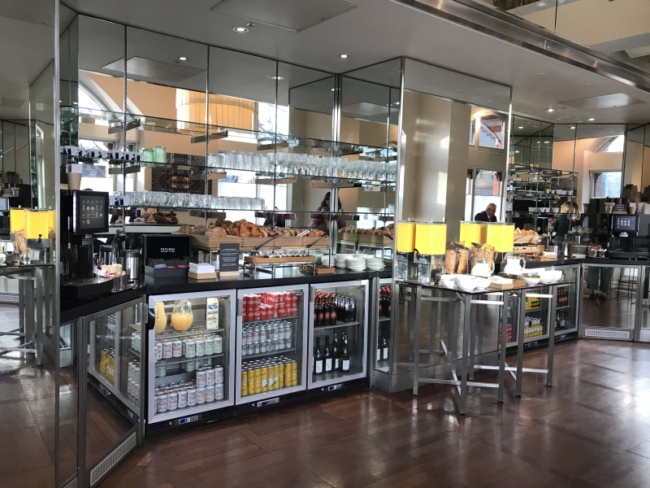 ….. whilst upstairs was where everyone was waiting, chatting and taking videos and pictures.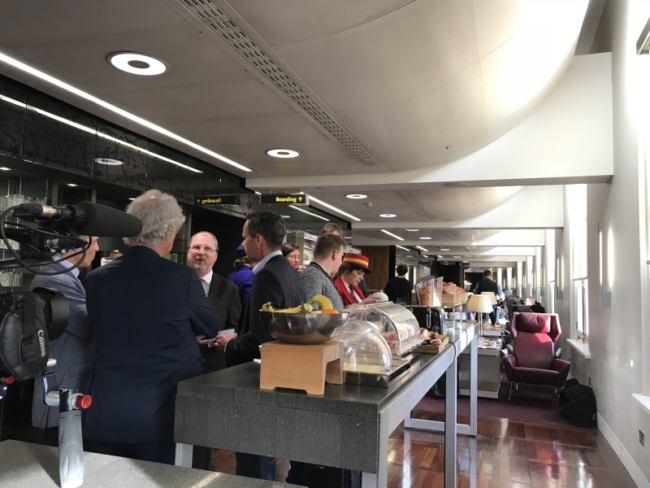 Just after 8am it was time to board the train: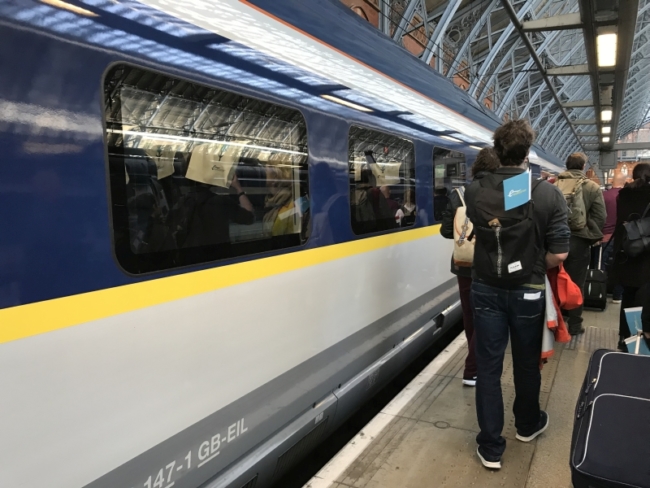 I was in carriage 1 which was the last carriage and thereby at the other end of the platform.  The official media group was at the other end of the train – you may have seen pictures in the newspapers last week of Raymond Blanc personally supervising the food, but he never made it to my carriage.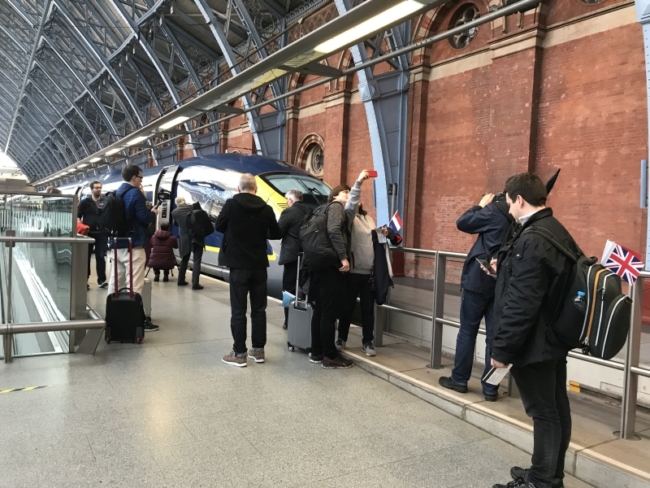 To celebrate the first  train ride to Amsterdam each passenger found a tote bag at their seat:
The Amsterdam services do not stop at Ashford International.  This allowed the train to set a record-breaking time to Brussels as you will see.
Shortly after leaving St. Pancras we were served breakfast: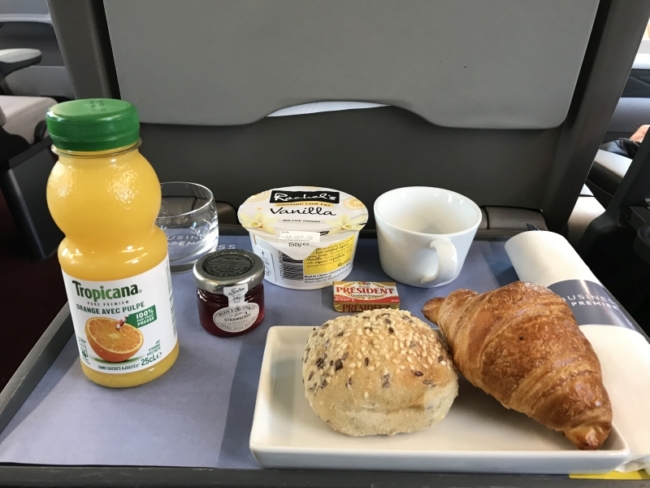 After 1 hour and 48 minutes we stopped in Brussels. This was 17 minutes faster than the previous quickest timetabled journey.  I can imagine that the Eurostar ticketing team will be taking careful notes, as they need to juggle the number of people who just want to travel from Brussels to Amsterdam with those travelling London to Brussels (and this is now the fastest service of the day) and those travelling through to The Netherlands.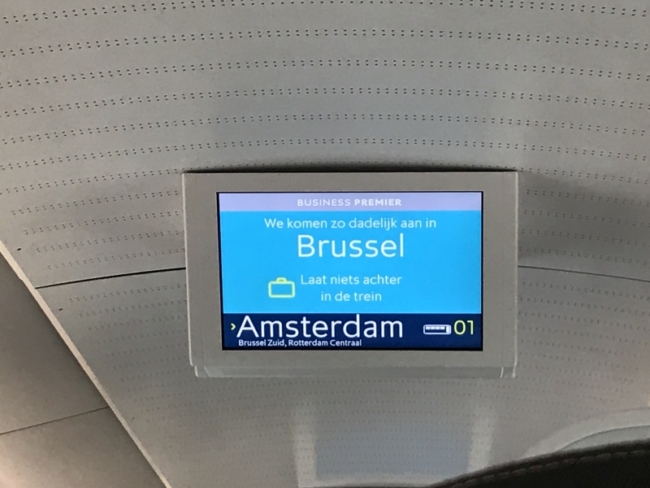 After leaving Brussels alcoholic drinks and snacks were served.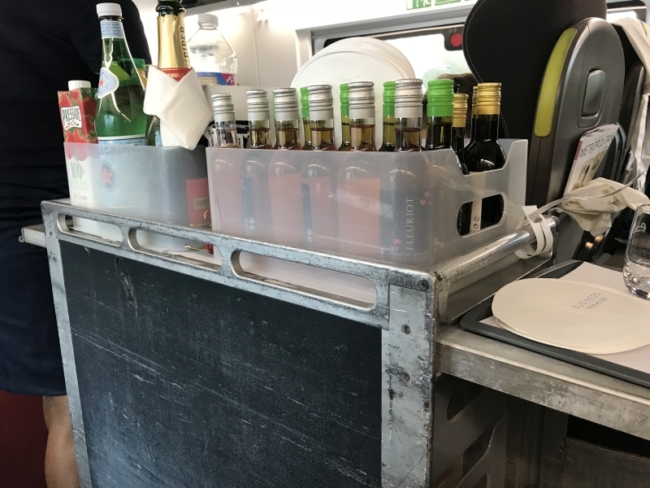 I chose a glass of champagne (Piper) and was given a cheese and meat box. The cheese was very strong which I don't like but the meat was very good.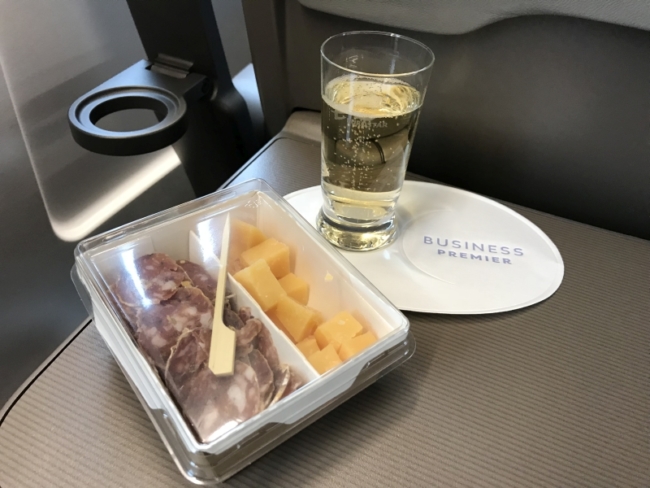 Three hours after leaving St. Pancras we stopped in Rotterdam: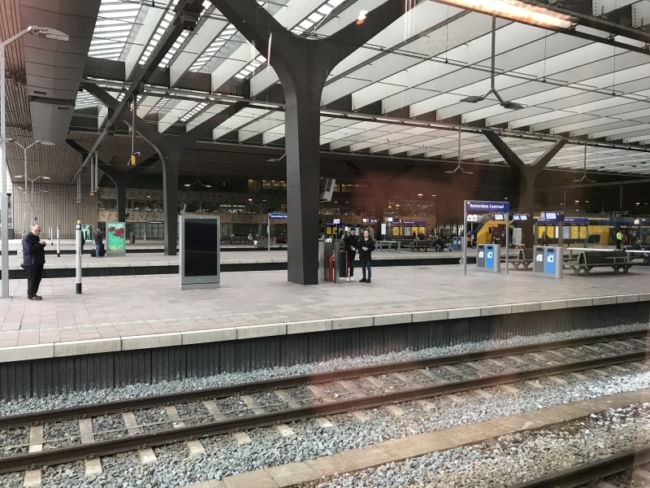 And 40 minutes later we had reached our destination: Amsterdam.  That said, we had to wait on the tracks outside the station for about 10 minutes before continuing to our platform.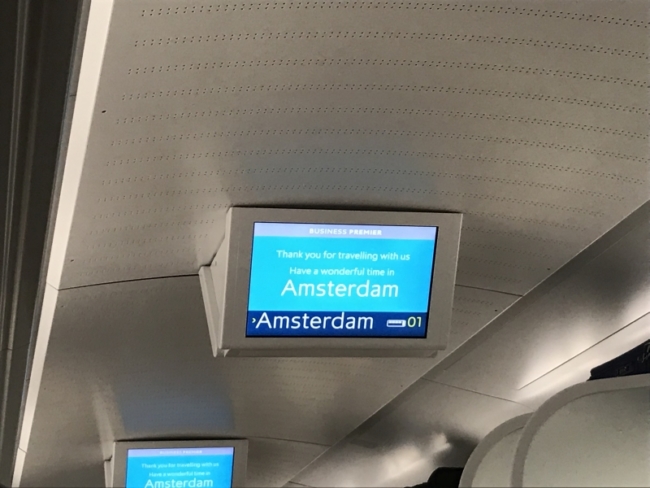 At Amsterdam Centraal everything was pretty unspectacular.  I was secretly hoping for a big party but it was not to be. I got off the train, walked down the platform, down the stairs and out of the station.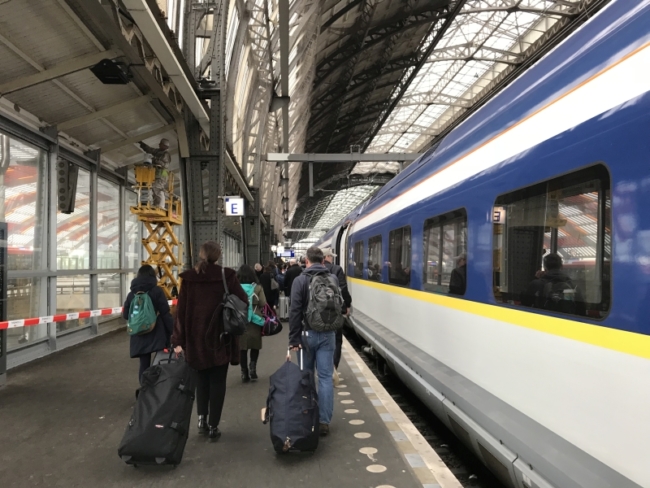 There was no passport control as that had already happened in London.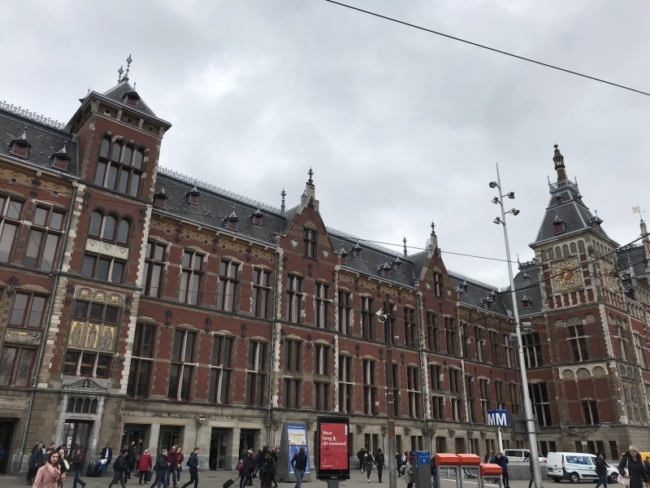 Eurostar's chief executive Mike Cooper said about the new route to Amsterdam:
"The departure of our first commercial service to Amsterdam represents a historic milestone for Eurostar and the growth of international high speed rail. With the Netherlands becoming increasingly popular as a business and tourism destination, the potential for our new route is significant and we look forward to offering our customers a fast, seamless connection between these key European cities."
Will the new service be a success?
Having to compete with 17 daily flights from London to Amsterdam, it won't be easy to win over frequent flyers on this route.  The arrival times of 13:12 and 22:12 are also not very business friendly. On the other hand Eurostar offers almost seamless wi-fi connection on the whole route, apart for a few bits as you can see on the map below, which means you can work during the journey.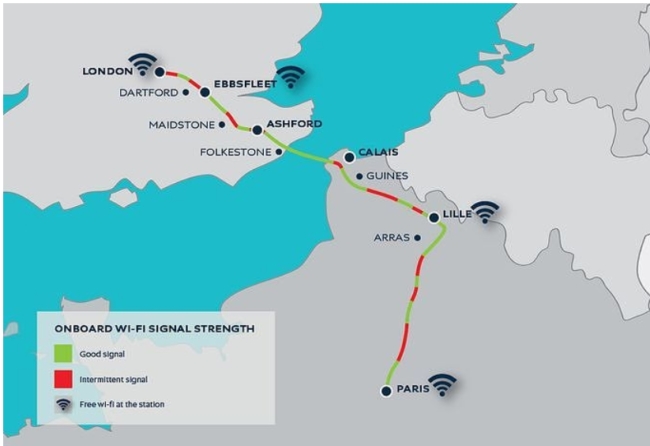 For comparison, I took a BA flight from Amsterdam back to London City the next day.  I left the hotel (IHG's Kimpton De Witt, more on that soon) at 11am and walked to the central station which took about five minutes. The next train to the airport was leaving at 11:34am, my flight was at 1:40pm but ended up being slightly delayed and I was back in the HFP office at Moorgate by 2:45pm UK time.
All in all my journey took 4 hours and 45 minutes.  Given that I could get from the office to St Pancras in around 15 minutes, the total travel time – at least outbound – is virtually identical by train and I would have had more opportunity to work on the way.
Conclusion
I can see why taking the train instead of a plane can be attractive on the London to Amsterdam route, although a lot will depend on how easy it is for you to get to St Pancras compared to your nearest airport.  With KLM and its partners flying from every major UK regional airport you are never far from a plane to Schiphol.
The real problem is on the return.  Until the passport control facilities in Amsterdam and Rotterdam are in use, you need to change trains in Brussels on the way back in order to be screened.  This will happen once a formal agreement has been signed between the UK and Dutch governments, but it's probably not going to happen before late 2019. The increases the travel time to almost five hours which is unfortunate, and will certainly lead to people travelling to Amsterdam by train and back by plane as I did.
Whilst most of the publicity around this route has focused on Amsterdam, I think that Rotterdam will be the quiet success story.  The train takes about three hours, whilst the flying options are limited.  Rotterdam's airport is not exactly a major hub, with no rail connection, whilst most of the major corporate offices are very close to the station.
I do recommend giving Eurostar a go on your next trip to Amsterdam or Rotterdam in order to make up your own mind.
Remember that Club Eurostar is still offering double points on all trips to the Netherlands booked before 13th April for travel by 31st August.  This is only valid on Eurostar trains and not any connecting Thalys services.  The bonus points do not count towards your status level.
Thanks to Club Eurostar for their help in arranging my trip.
---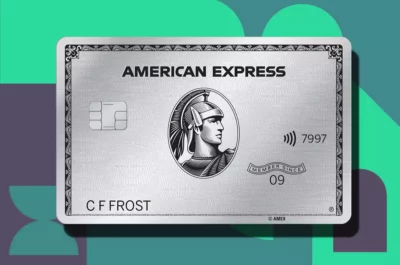 How to get Club Eurostar points and lounge access from UK credit cards (December 2023)
Club Eurostar does not have a UK credit card. However, you can earn Club Eurostar points by converting Membership Rewards points earned from selected UK American Express cards.
Cards earning Membership Rewards points include:
SPECIAL OFFER: Until 9th January 2024, you will receive 30,000 Membership Rewards points (convertible to 30,000 Avios) with American Express Preferred Rewards Gold. You receive 25,000 points if you spend £3,000 in three months and a further 5,000 points if you hold the card for 15 months. You can apply here.
SPECIAL OFFER: Until 9th January 2024, you will receive a huge 100,000 Membership Rewards points (convertible to 100,000 Avios) with The Platinum Card. You receive 75,000 points if you spend £10,000 in six months and a further 25,000 points if you hold the card for 15 months. You can apply here.
Membership Rewards points convert at 15:1 into Club Eurostar points which is an attractive rate. The cards above all earn 1 Membership Rewards point per £1 spent on your card, so you will get the equivalent of 1 Club Eurostar point for every £15 you spend.
American Express Platinum comes with a great Eurostar benefit – Eurostar lounge access!
You can enter any Eurostar lounge, irrespective of your ticket type, simply by showing The Platinum Card at the desk. No guests are allowed but you can get entry for your partner by issuing them with a free supplementary Amex Platinum card on your account.