Review: Business Premier on the brand new Eurostar e320 trains (Part 1)
Links on Head for Points may pay us an affiliate commission. A list of partners is here.
Slightly later than anticipated, for which I apologise, this is the continuation of my review of my recent Eurostar trip to Paris on the new e320 trains.
The first part of this report, covering the Eurostar lounge at St Pancras, is here. A companion article on the three ways of using American Express Membership Rewards points to book Eurostar is here.
For clarity, Eurostar provided me with a free Business Premier outbound / Standard Premier inbound ticket to Paris. I was planning to pay, but when I got in touch with them to ask which services would have the new trains – it is impossible to tell before you book – they offered me a ticket and I accepted. It was a good job I did as I had an 'equipment swap' and they were happy to rebook me which would not have been possible if I'd paid.
Background to the new Eurostar trains
Known as the e320, because 320 km/h is the theoretical top speed (a speed not actually achieved at present), the new Eurostar rolling stock is being built by Siemens and phased in over a couple of years. The first train entered service in November 2015 and there are currently nine new trains in operation out of a planned 17.
You will only find them on the Paris route at present although the company has recently announced that they will operate to Brussels from early 2017. The new Amsterdam route, starting in late 2017, will exclusively use the new trains as the old stock is not compatible with the Dutch electrification system.
The reason for putting them on the Paris route first is capacity. These trains are big – both physically longer and, because passengers are carried in the first and last carriages for the first time, able to seat substantially more people. An e320 carries 150 more people than the existing e300 trains.
Eurostar has a special section on its website dedicated to the new trains which you can find here.
It is not possible to tell before booking which Paris services will operate with the new trains. You CAN tell after payment when you come to select your seat. If there are 16 carriages it is a new train (pictured above), if there are 18 carriages it is an old train (pictured below – I had one of each on either side of me when boarding).
Even then, however, there is a high chance of changes. My original outbound service was switched a few days before travel but Eurostar was happy to rebook me as I was on a review trip. My return service was switched from an old train to a new train at the last minute. The rebooking system is very clever – when you scan your ticket to get through the check-in gates, it automatically prints out a new seat reservation ticket for you.
First impressions
If you've never travelled with Eurostar, the key thing to note is that Business Premier and Standard Premier have identical seating although passengers are seated in different coaches.
Apart from any variance in ticket flexibility, the only differences are a) the ability to use the lounges with Business Premier and b) the meal service onboard. Standard Premier is usually excellent value for money off peak if you are travelling for leisure and appreciate the extra space offered by 2+1 seating compared with 2+2.
Remember that if you have an American Express Platinum card you receive Eurostar lounge access automatically (no guest allowed) so in that case the only difference is the meal.
The new cabins feel light, bright and modern – the designers did a good job here. The first impression you get, if you are a regular Eurostar traveller, is that the seats have gone slimline. The previous seating was big and bulky.
To be honest when I sat down I had a bit of a shock. I sat down quite sharply, because I was used to be old padded seating, and banged my bottom on what is a relative hard seat.
Just to be clear, the seat was not uncomfortable even after I had sat in it for two hours. It reclines if you want and didn't feel at all narrow. It just came as a surprise after the old seats which were more like armchairs in Business Premier!
If you are tall, like me, you might find the table design annoying.
On the old trains, the tables fold out from the middle rather like you are opening a book. The new design is different. Similar to a business class airline seat, the table extension is stored vertically and you pull it out, locking it into a horizontal position. The problem is that the tables have a 'V' shape to allow the table extension to slide in and out. This makes it harder to stretch out your legs under the table.
You can see what I mean in this picture. This is the table before it is extended – pulling the white part at the front brings up the extension from inside the 'V'.
If you have a single seat, the table folds down from the back in the seat of front of you. This, below, is what I had on my return journey. The seat had plenty of legroom.
Connectivity and in-train entertainment
This has the potential to be quite impressive. Unlike the old Eurostar trains, the new rolling stock will have a wi-fi service. At present, however, it is not fully functional. From next May, when Europe-wide mobile phone roaming comes into place, it will be less of an issue anyway as you will be able to use your UK data plan in France or Belgium.
What you do get now is in-train entertainment which is streamed to your tablet or mobile phone. I didn't use it but the selection looked good:
The plug situation is well covered. Each pair of seats has both a UK and a European socket to share – see below. For the solo seats, the seat map shows clearly which seats have a UK socket and which have a European one. All seats have a USB socket.
In Part 2 of this review, also published today, I will look at Raymond Blanc's Business Premier catering and some of the other tweaks that Eurostar has installed on its new trains.
---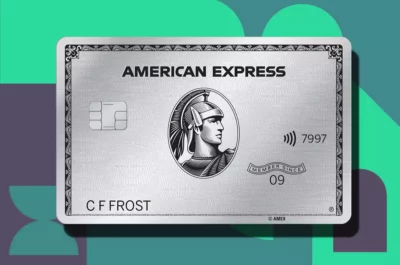 How to get Club Eurostar points and lounge access from UK credit cards (June 2023)
Club Eurostar does not have a UK credit card. However, you can earn Club Eurostar points by converting Membership Rewards points earned from selected UK American Express cards.
Cards earning Membership Rewards points include:
SPECIAL OFFER: Until 13th June, the sign-up bonus on The Platinum Card is doubled to 60,000 Membership Rewards points (worth 4,000 Club Eurostar points) – and you get £200 to spend at Amex Travel too! Apply here.
Membership Rewards points convert at 15:1 into Club Eurostar points which is an attractive rate. The cards above all earn 1 Membership Rewards point per £1 spent on your card, so you will get the equivalent of 1 Club Eurostar point for every £15 you spend.
American Express Platinum comes with a great Eurostar benefit – Eurostar lounge access!
You can enter any Eurostar lounge, irrespective of your ticket type, simply by showing The Platinum Card at the desk. No guests are allowed but you can get entry for your partner by issuing them with a free supplementary Amex Platinum card on your account.