Review: I try Eurostar Standard Premier from London to Amsterdam
Links on Head for Points may pay us an affiliate commission. A list of partners is here.
This is our review of Standard Premier on the Eurostar rail service from London to Amsterdam.
Despite living in the catchment area of Eurostar for many years – including when it used to stop at Ashford International in Kent near my family home – I've never actually tried it. After winning the competition to name Eurostar's latest cocktail in the Business Premier lounge last month I wanted to give the full Eurostar experience a go.
Since I saved them thousands of pounds from having to hire a cocktail branding agency, Eurostar was happy to give me a free ticket to try it out for Head for Points 😉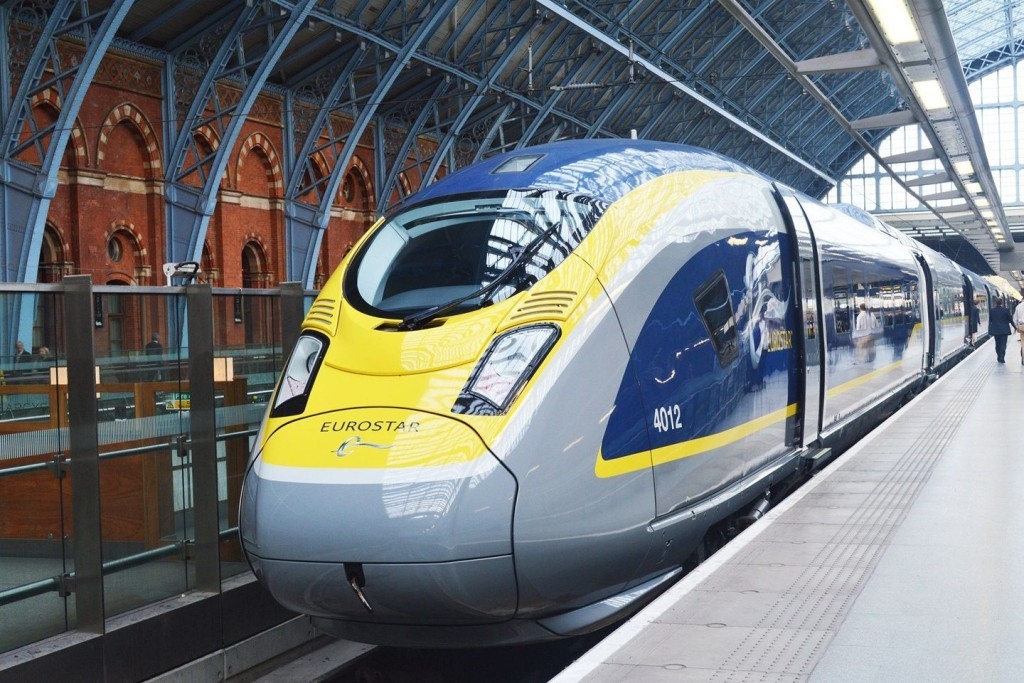 What is Standard Premier?
Eurostar offers three classes on its services: Standard, Standard Premier and Business Premier.
I will go into more detail on the differences between Standard Premier and Business Premier in a future article, but fundamentally they are quite similar: both feature the same spacious seats and a meal service, created by Raymond Blanc if you are in Business Premier.
The big differentiator is actually at the station: Business Premier gets you access to fast track check-in, security and immigration plus lounge access, whilst Standard Premier doesn't.
At the station
So, as mentioned above, there is no priority security or check-in at St Pancras if you are travelling in Standard Premier – you join the great unwashed. That said, when I was there two hours before departure, the queues were surprisingly short, certainly compared to what we've seen at some airports recently.
Once through security and European immigration you are ejected into the main concourse in the middle of the station. Whilst it was virtually empty when I arrived it was heaving towards 6pm when two trains leave in quick succession: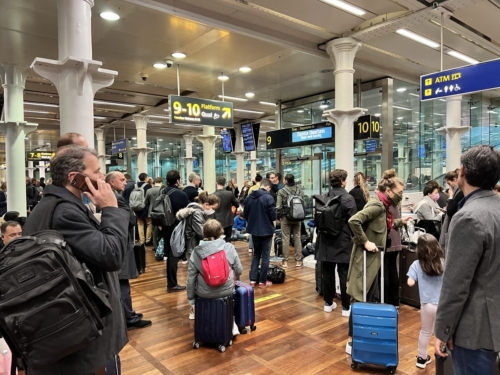 There isn't a huge amount of seating so there are plenty of people sitting on the floor. Lounge access via Business Premier (or American Express Platinum!) is a big benefit here. I got lounge access as a courtesy from Eurostar so that I could cover it – my review of the Eurostar St Pancras Business Premier lounge is here.
In terms of some retail therapy there is a World Duty Free and Pret available.
Trains are announced twenty minutes prior to departure and when full it can be a bit of a rush. For some reason both the 18:01 to Paris and the 18:04 to Amsterdam were boarding from adjacent platforms, which made the rush even worse given the shared escalators. It would have been smarter to use platforms at different ends of the station to spread passengers out slightly.
It's hard to beat the boarding experience, right in the middle of St Pancras with Tracey Emin's artwork at the end: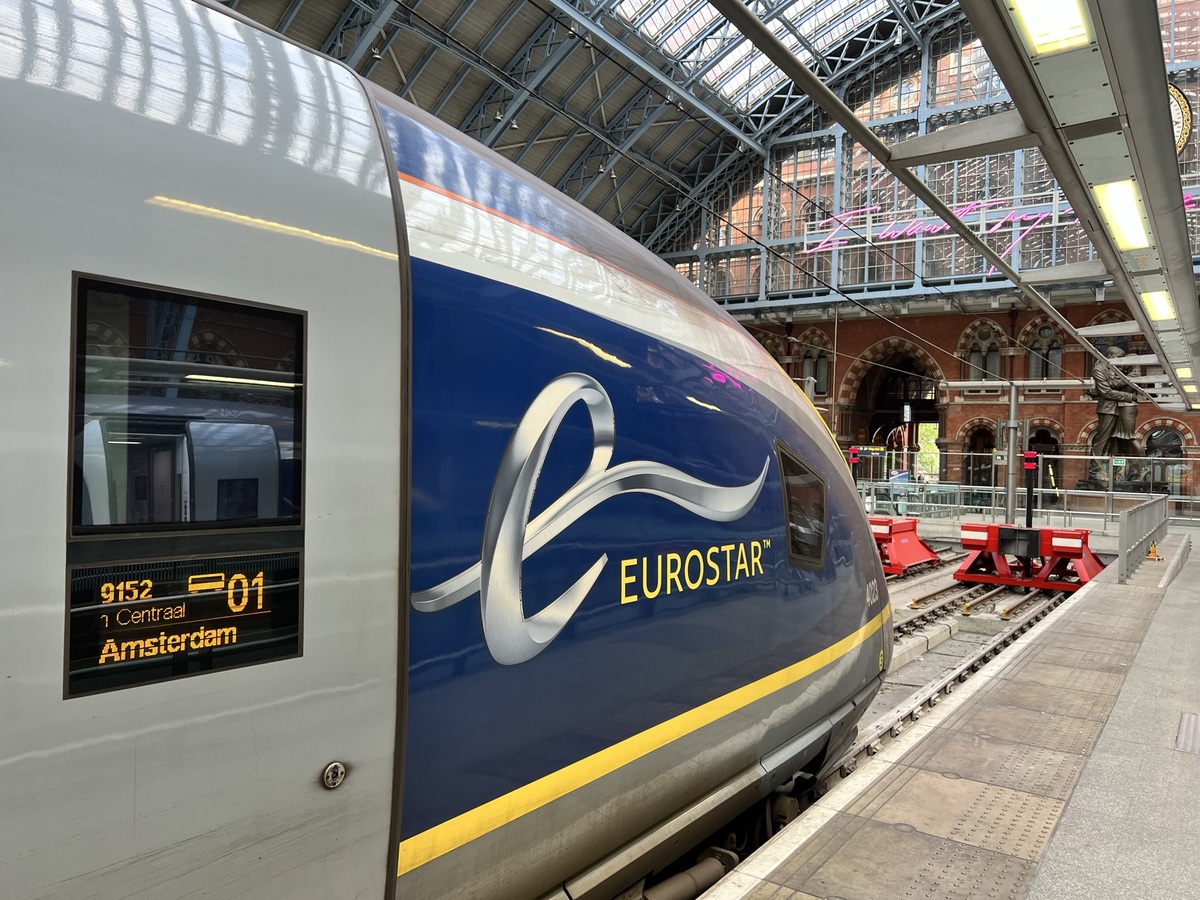 On board Eurostar Standard Premier
Standard Premier is at the back of the train at St Pancras, from Carriage 1 onwards.
My train was pretty much fully booked, so some of the photos below were taken at the end of my journey in Amsterdam. Apologies in advance for any continuity errors! The cabin offers a range of seating in a 1-2 layout: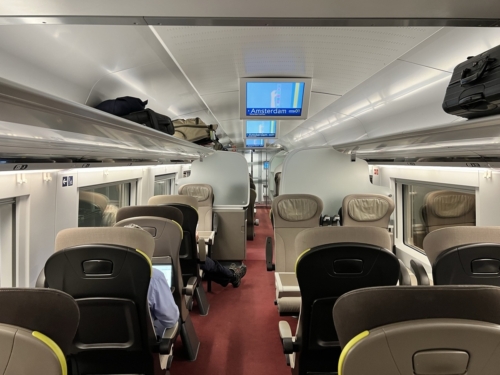 As you can see, there are several face-on blocks with proper tables, great for families or groups: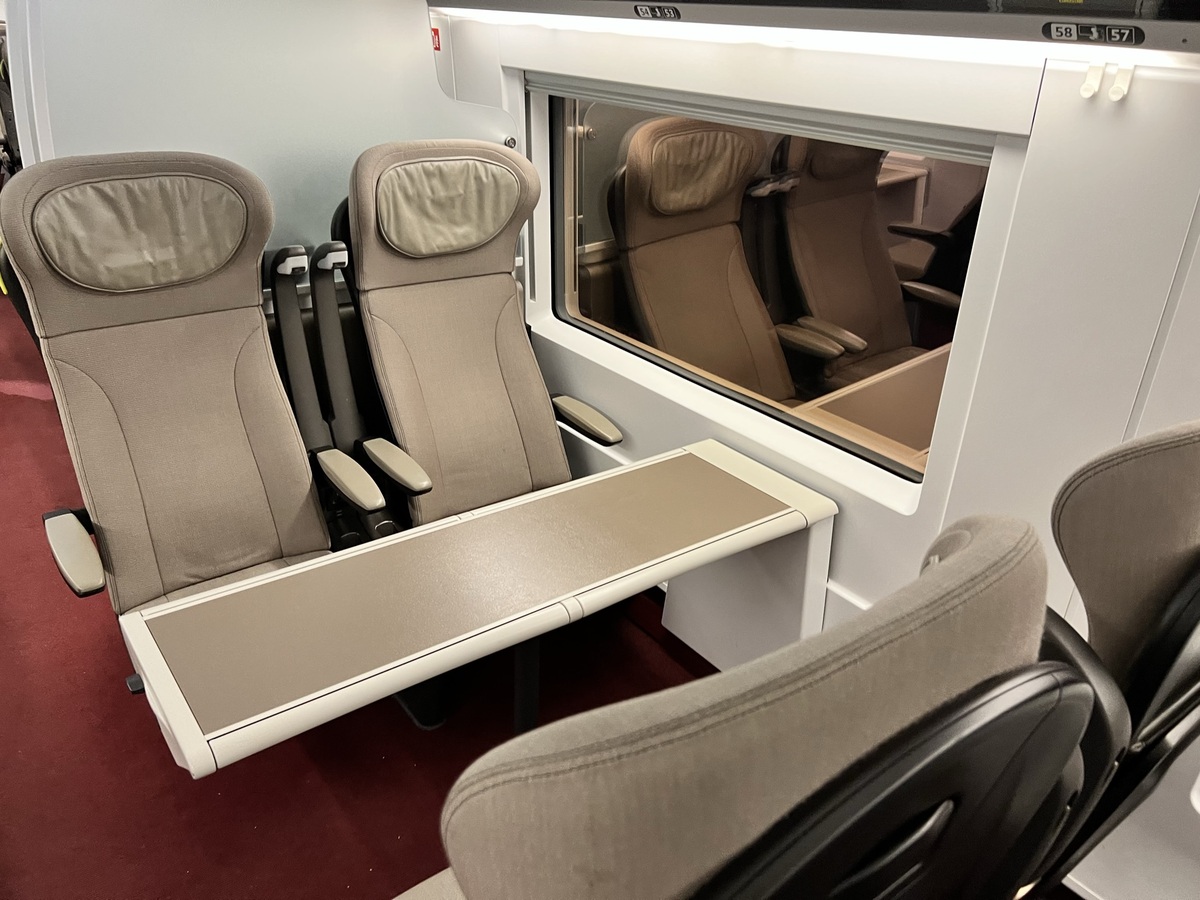 The rest are normal 'rows' with half forward and half rear-facing: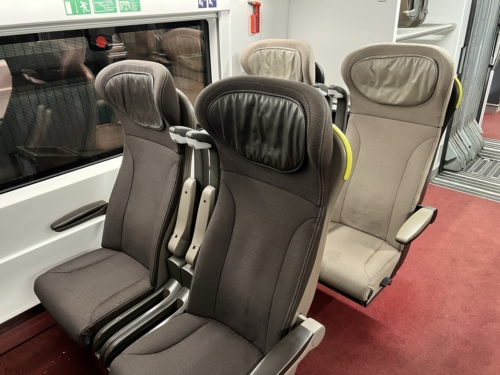 (The crumbs are from guests, not because the train wasn't cleaned.)
I was sat in one of these rows. The seat-backs are very high – higher than on a plane: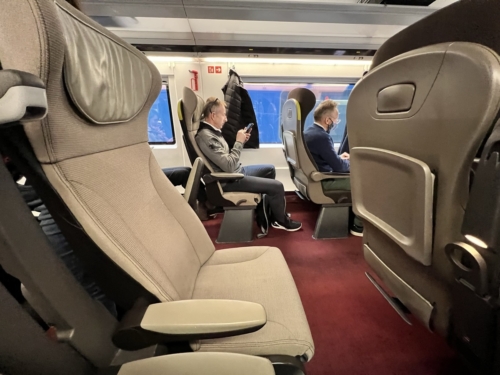 The seats are pretty firm – much firmer than I was expecting, not dissimilar to BA's slimline seats on its A320s. That's fine for a couple of hours to Paris but slightly less comfortable on the four hour journey to Amsterdam.
If you are sat in a pair of seats you get TWO armrests, so no fighting about who gets it!
The legroom is much better than on BA Club Europe: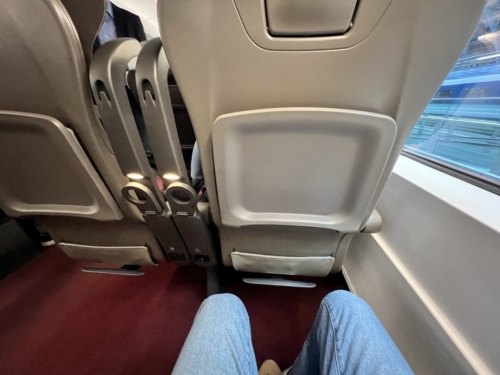 In between the seats in front you'll find a UK and EU plug sockets plus two USBs: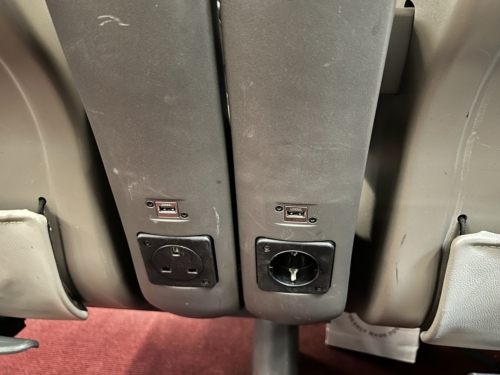 A tray table flips down, although annoyingly it is fixed in position which means it is quite far away from you.
Above the tray table is a little mirror!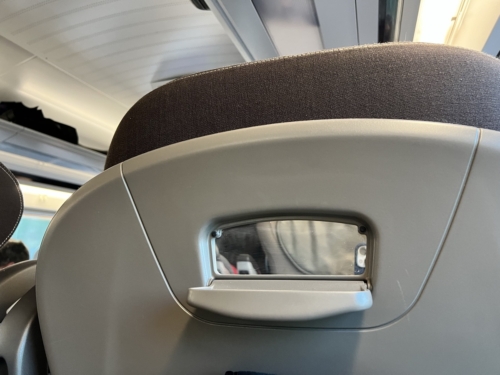 There's also a personal reading light.
One thing that airlines have done well in recent years is introducing mood lighting depending on the time of day. This is something Eurostar could take inspiration from – on a four hour journey, especially in the evening, the bright overhead light gets a bit exhausting. Having pre-programmed lighting would be a simple but effective way of changing this.
Standard Premier food on Eurostar
One of the key features of Standard Premier, as per the Eurostar website, is a "light meal, served at your seat". It is VERY light.
The speed of service is pretty quick because I believe the same staff then head to Business Premier to do the full meal service there. The meal was served within minutes of leaving St Pancras.
The choice was between chicken and a vegetarian quiche option, both served cold. I went for the chicken, which came with a teeny portion of potato salad: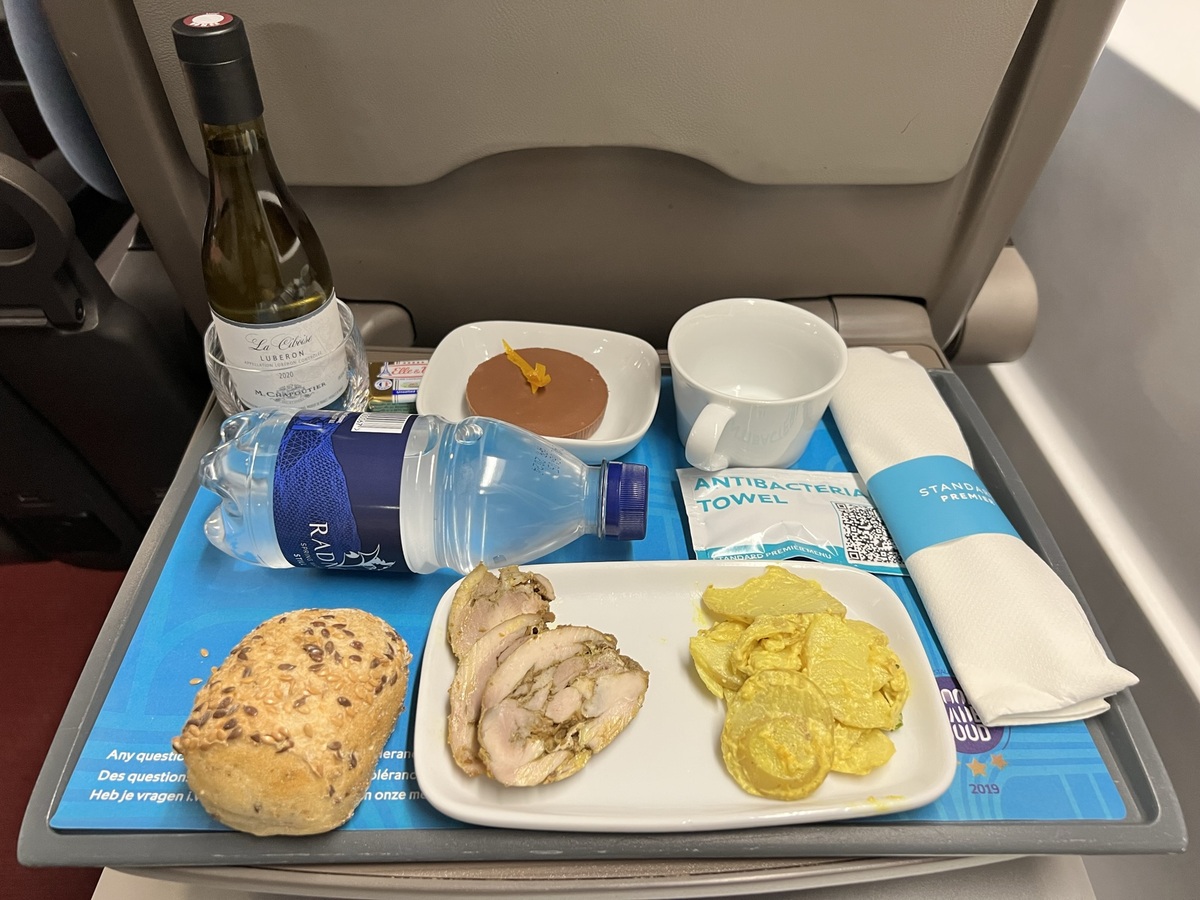 If you have dietary requirements these can be specified online prior to departure.
The size of the 'main' course is about the same size as a starter in Club World. It really is 'light' and there were no vegetables to speak of. There is definitely room for improvement here. You could easily serve something like a lasagne or shepherds pie and leave the 'fancy' food for Business Premier.
After stopping at Brussels, just over halfway, the crew came through again with a second drink service and a choice of snacks – nuts or a Kit Kat: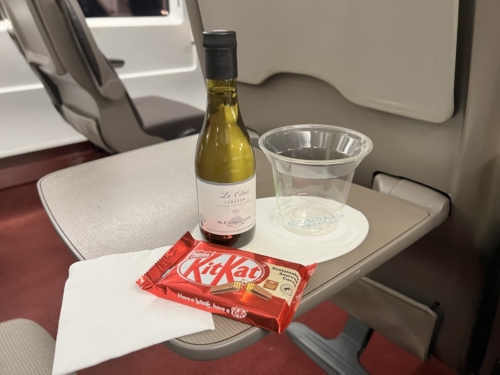 WiFi on board
There is WiFi on board which is free to use for all passengers. Connecting is easy, but because the connection is reliant on 3G and 4G it isn't perfect. Whilst at some points it was pretty fast it was also prone to dropping out for a minute or two.
Arriving in Amsterdam Centraal Station
Arrival is easy, and one of the attractions of taking the Eurostar. All document checks are done in London so you literally just walk out of the station – easy peasy.
Conclusion
Even though it clocks in at four hours door to door (or platform to platform), taking Eurostar to Amsterdam takes no longer than flying unless you live close to the airport. It's a lot less hassle than having to get to and from airports on both ends – I was checking in to my hotel within 15 minutes of arriving in Amsterdam.
There are two ways of looking at Standard Premier, I think, and both offer good value.
If you treat it as an upgrade from Standard, and the price difference can be as low as £20, you are getting a lot for your money. The far bigger seat is the key benefit, of course, but you also get the meal with wine. The meals won't win any awards any time soon but it is certainly worth factoring in to the upgrade maths.
Comparing Standard Premier to Business Premier, you are making a large saving for giving up some flexibility, lounge access and fast track. We'll look at what Business Premier offers in a future review.
We haven't mentioned Club Eurostar, the loyalty programme, in this review. Rob wrote a full review of Club Eurostar here, and as you can transfer in American Express Membership Rewards points it is easy to top up the points you earn to enough for a free ticket.
You can find out more, and book, on the Eurostar website here. Standard Premier is available from £70 one-way to Paris in June.
Stay tuned for my review of Eurostar Business Premier, as well as reviews of the W Amsterdam hotel and Andaz hotels in Amsterdam.
---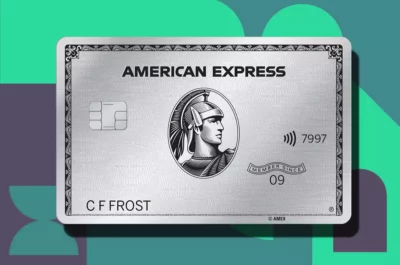 How to get Club Eurostar points and lounge access from UK credit cards (May 2023)
Club Eurostar does not have a UK credit card. However, you can earn Club Eurostar points by converting Membership Rewards points earned from selected UK American Express cards.
Cards earning Membership Rewards points include:
SPECIAL OFFER: Until 13th June, the sign-up bonus on The Platinum Card is doubled to 60,000 Membership Rewards points (worth 4,000 Club Eurostar points) – and you get £200 to spend at Amex Travel too! Apply here.
Membership Rewards points convert at 15:1 into Club Eurostar points which is an attractive rate. The cards above all earn 1 Membership Rewards point per £1 spent on your card, so you will get the equivalent of 1 Club Eurostar point for every £15 you spend.
American Express Platinum comes with a great Eurostar benefit – Eurostar lounge access!
You can enter any Eurostar lounge, irrespective of your ticket type, simply by showing The Platinum Card at the desk. No guests are allowed but you can get entry for your partner by issuing them with a free supplementary Amex Platinum card on your account.