Review: Eurostar Business Premier from Amsterdam to London St Pancras
Links on Head for Points may pay us an affiliate commission. A list of partners is here.
This is our review of Business Premier on the Eurostar train from Amsterdam Centraal to London St Pancras.
After spending a long weekend in Amsterdam it was time to return home, this time in Eurostar's top cabin – Business Premier.
(If you are just catching up with my trip to The Netherlands then you can read my review of Eurostar Standard Premier here, as well as my review of the W Amsterdam hotel here and my review of the Andaz Amsterdam hotel here. Eurostar kindly provided our rail ticket.)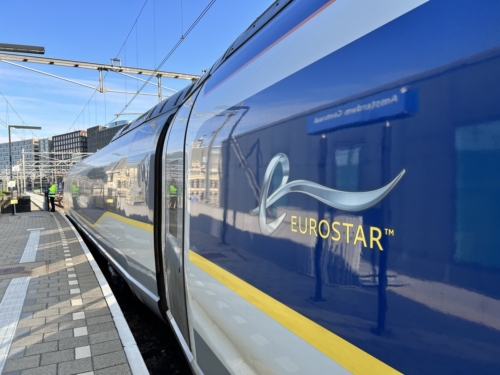 What is Eurostar Business Premier?
Unlike Standard Premier, which exists to entice holidaymakers to upgrade, Business Premier is intended for – you guessed it – the business traveller, and so comes with substantial flexibility. The key thing is that you are really paying for flexibility and a quick transfer through the station rather than anything else.
This is what the Eurostar website says:
"We know your plans can change at the drop of a hat, and that's why Business Premier offers tickets that are fully flexible. You can exchange or get a refund for your ticket before and after departure.
If you're travelling between London and the Netherlands, you can get a refund, or exchange your ticket up until departure. You can also exchange your ticket to travel on our indirect route from the Netherlands to London. You'll need to take a Thalys train from the Netherlands to Brussels and change onto a Eurostar train there."
The other upgrades from Standard Premier are lounge access and fast track security / immigration, plus a Raymond Blanc designed menu which is meant to be a step up from the meal served in Standard Premier.
At Amsterdam Centraal
Finding the Eurostar terminal at Amsterdam Centraal is a little bit of a challenge, given that unlike St Pancras the station wasn't rebuilt with the service in mind. You have to go through the gate line at the station and up to platform 15b: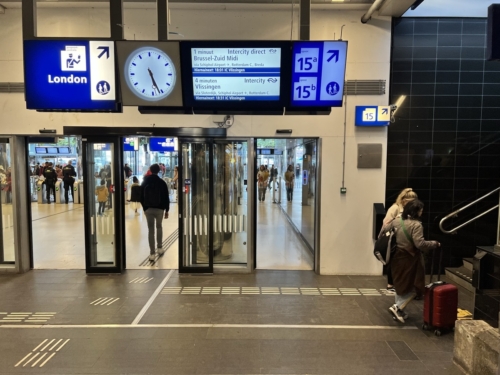 Once level with the trains you need to trek all the way down the platform: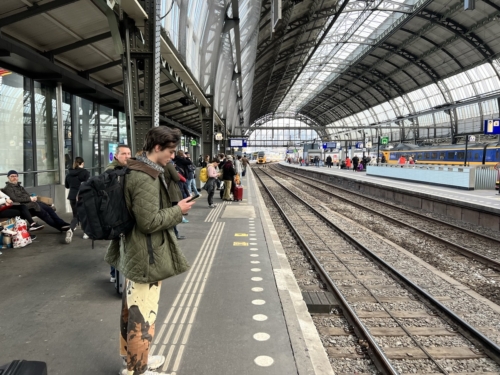 …. until you see this building: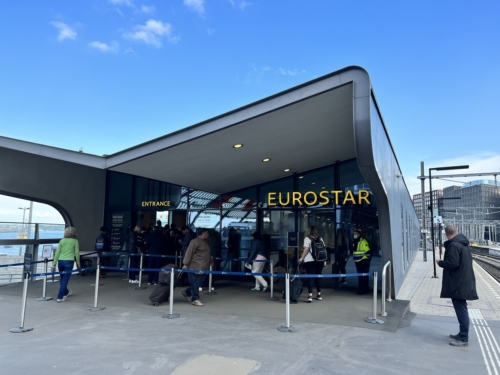 Security is immediately as you enter, with fast track on the left. If it is raining, and there is a queue, you will get wet.
Once past security you go past Dutch and British immigration control, before being ejected into the holding lounge:
This is for ALL passengers – there is no Business Premier lounge, at least not as far as I could find! As the Eurostar terminal is built on one of the platforms the lounge is very long and thin. There is further booth-style seating which is not pictured.
Your only food and drink options are these vending machines and an out-of-service coffee machine: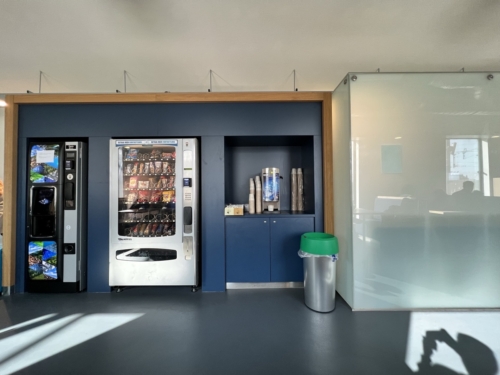 Note that you cannot leave the terminal until it is time to board the train.
It's a shame that more hasn't been done with the space. It would be cool to have a cocktail bar, like the one in St Pancras. You could give Business Premier passengers a couple of free drinks and charge everyone else.
On board Eurostar Business Premier
Once it was time to board I headed to my seat in the very last carriage of the train – 16. It turns out I was the only passenger in the entire carriage, although someone else did join me at Rotterdam.
The seat is the exact same as you get in Standard Premier, with 1-2 style seating: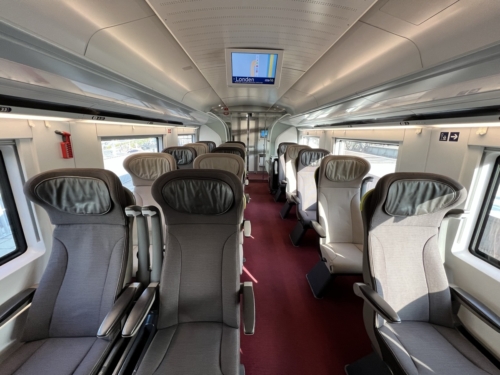 I was originally assigned a seat with a flip-down tray table but since I was the only passenger I swapped to a double seat with a proper table: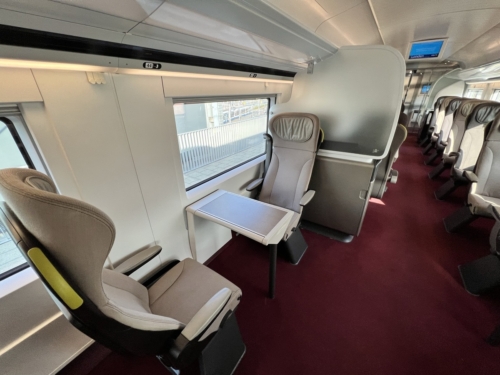 The table itself is quite clever, because it can be extended on both sides. Here it is extended: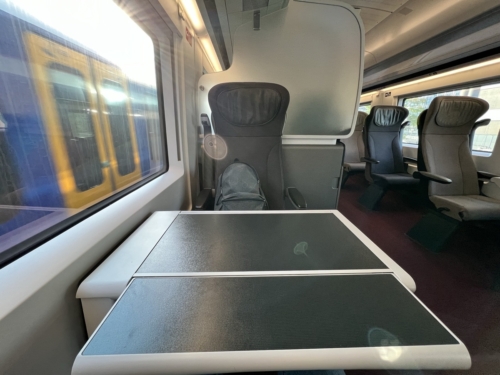 Underneath the armrest is the USB and UK plug socket which is a little tricky to access.
The seats have a modest recline that you can activate by pulling this lever on the side: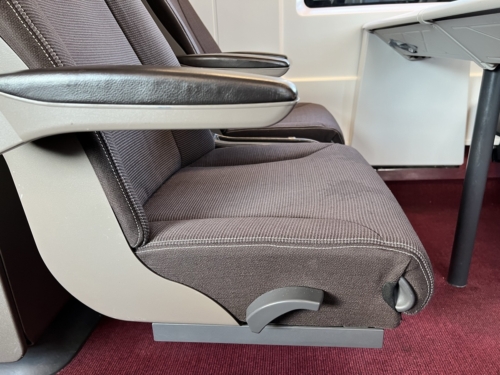 …. which shifts the seat bottom slightly forward. It's not a huge amount, however.
As on the outbound, I found the seating is a little firm for my liking, especially on a 4 hour trip.
Service in Business Premier
The train crew came round almost immediately after departure to deliver some snacks and drinks. I went for the Piper-Heidsieck champagne: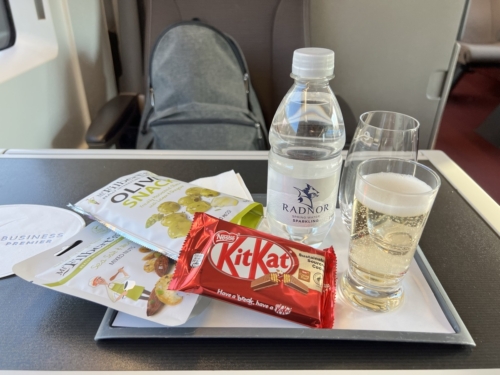 Note that this is all you are getting for the first half of the journey until Brussels, with the exception of top ups – so depending on your appetite I suggest you stock up!
The full meal service is delivered between Brussels and Lille, so that all passengers can be served at the same time. (I'm not sure what happens if you get on at Lille!)
The first tray comes with a goat's cheese starter, roll, bannoffee pie and some more cheese: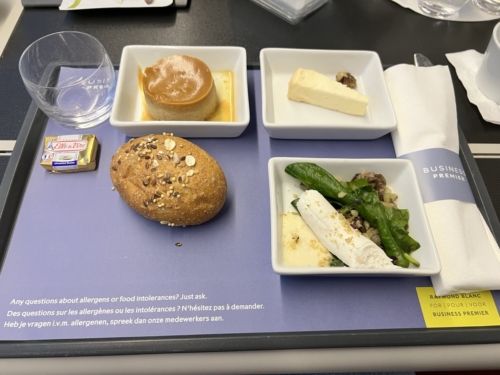 As this Eurostar you get some actually decent soft camembert style cheese, which I prefer to the bricks of cheddar and stilton you get on most flights.
For the mains you have three options: hot, cold and salad. The hot option was braised beef whilst the cold was smoked salmon. The salad was vegan curried cauliflower. I went for the beef: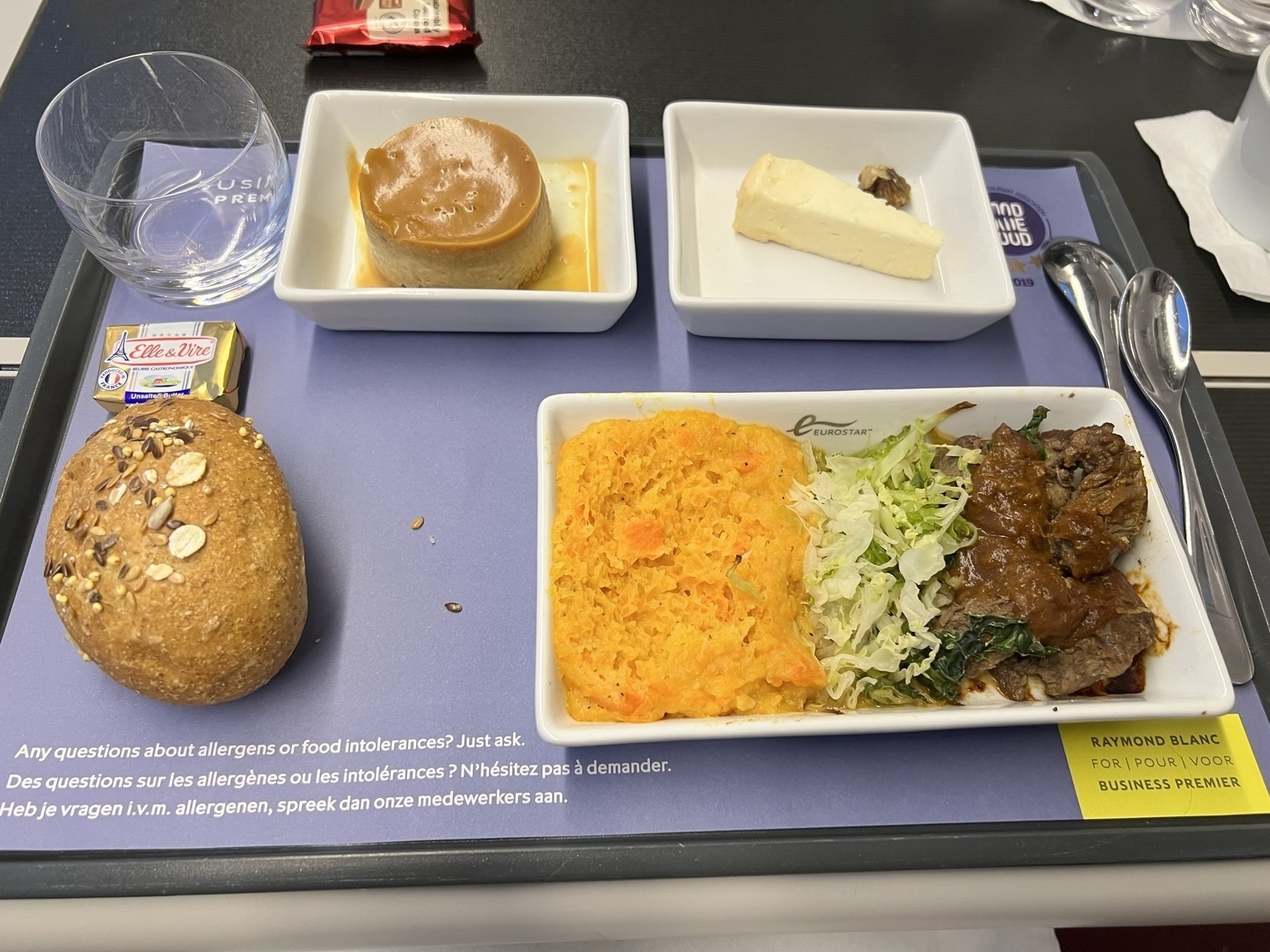 The portion looks bigger in the photo than in real life. It's decent but – and I didn't think I would say this – I do think BA's Club Europe meals are better. Sorry Raymond!
WiFi on board
Again, all passengers have access to the same 3G/4G wifi which worked better on my return trip – perhaps because my train was relatively empty on the return.
Conclusion
In general, Business Premier is at least £80 more expensive than Standard Premier – and in some cases, double the price.
A lot of the benefits of Business Premier are soft benefits, for example ticket flexibility, which makes the upgrade less attractive for leisure travellers versus business travellers. This is unlike the airlines, which typically sell both fully flexible and inflexible business class flights, with the former being significantly more expensive but offering no additional service benefits.
I also didn't get quite as much out of my ticket from Amsterdam than if I had travelled from Paris, where Eurostar has its own impressive lounge, reviewed here.
I do still prefer the experience versus taking a flight, especially given the disruption at Schiphol Airport last week which doesn't seem to be immune from the staffing crunch. Having now tried Eurostar for the first time, I think the sweet spot for my future trips will be Standard Premier.
We haven't mentioned Club Eurostar, the loyalty programme, in this review. Rob wrote a full review of Club Eurostar here, and as you can transfer in American Express Membership Rewards points it is easy to top up the points you earn to enough for a free ticket.
You can find out more, and book, on the Eurostar website here.
---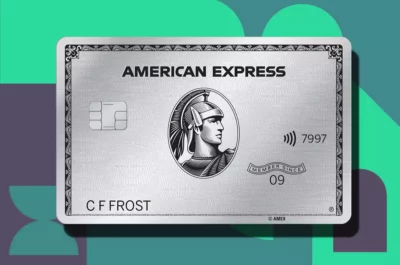 How to get Club Eurostar points and lounge access from UK credit cards (June 2023)
Club Eurostar does not have a UK credit card. However, you can earn Club Eurostar points by converting Membership Rewards points earned from selected UK American Express cards.
Cards earning Membership Rewards points include:
SPECIAL OFFER: Until 13th June, the sign-up bonus on The Platinum Card is doubled to 60,000 Membership Rewards points (worth 4,000 Club Eurostar points) – and you get £200 to spend at Amex Travel too! Apply here.
Membership Rewards points convert at 15:1 into Club Eurostar points which is an attractive rate. The cards above all earn 1 Membership Rewards point per £1 spent on your card, so you will get the equivalent of 1 Club Eurostar point for every £15 you spend.
American Express Platinum comes with a great Eurostar benefit – Eurostar lounge access!
You can enter any Eurostar lounge, irrespective of your ticket type, simply by showing The Platinum Card at the desk. No guests are allowed but you can get entry for your partner by issuing them with a free supplementary Amex Platinum card on your account.