Review: TAP Portugal's short-haul business class seat and food
Links on Head for Points may pay us an affiliate commission. A list of partners is here.
This is my review of TAP Portugal's short-haul European business class product.
After my stay in Barcelona, I decided not to come straight back to London but rather spend the weekend with my friend in Porto.
There are several options out of Barcelona to Porto and we decided that I should take a look at TAP's short haul business product. It would have been a comparison to Vueling's short-haul product, had I actually got on the Vueling plane we booked ….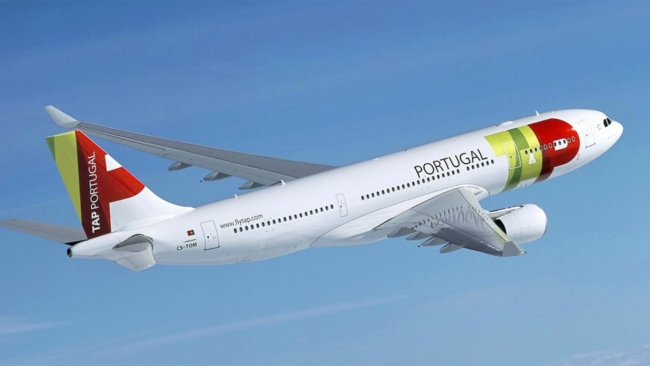 Whilst we know that very few HfP readers are looking for business class flight options from Barcelona to Porto, it did seem an opportunity to see what you should get if you took a similar TAP flight from the UK to Lisbon or Porto.
HfP paid for my flight. As TAP is part of Star Alliance, I earned 2,000 Lufthansa miles from the trip which was a decent return on the £182 ticket price.
TAP's business class tickets include the usual perks of fast track security and lounge access as well as free drinks and food on board. The baggage allowance is 2 x 32kg suitcases.
The TAP website is here if you want to find out more about anything I cover in this review.
The lounge
Air Portugal and pretty much every other airline that flies out of Barcelona uses the same 'VIP Sala'. As if 14 airlines aren't enough (I had plenty of time to count the logos on the sign whilst I waited) the lounge can also be accessed using DragonPass or Priority Pass.
I ended up queuing for about 20 minutes. I think I've never even waited this long at a No 1 lounge …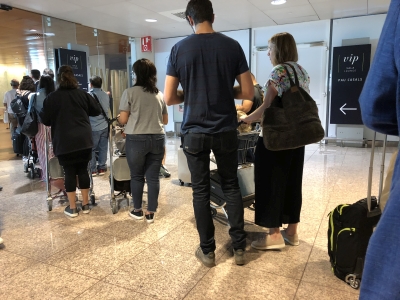 Luckily, once I was inside the lounge was not packed as it was very large. There were several seating areas and one food corner as well as a separate coffee bar.
It was breakfast time and the food on offer was bread rolls, cheeses and meat as well as yogurts and cereals. The coffee machine was a quadruple Nespresso which meant four people could make their coffee at the same time.
There were floor to ceiling windows facing the departure area with its shops. Considering how many empty seats I saw, I couldn't understand why lounge check in took so long.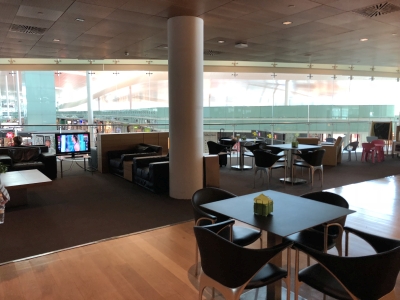 When the screens showed 'go to gate' I made my way out as I didn't know how long the walk was going to be.
Barcelona airport turned out to be a little bit confusing. I followed the signs and ended up walking around the shops just to end pretty much again outside the lounge. I should have turned right instead of left. I reckon without the confusion I would have been at the gate within 12 minutes.

On board a TAP A319
The plane was a dated looking Airbus A319, although the seats did look new. On this flight TAP was only operating one row of Business Class.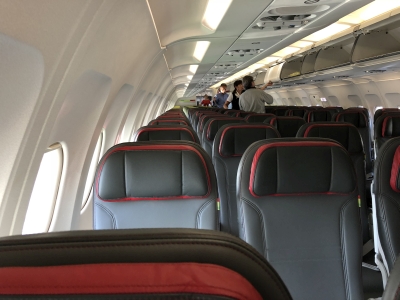 I was sat in 1F and had both seats next to me empty. One other passenger had booked Business and was sitting in 1A. This is clearly not a product in high demand.
As with British Airways, the middle seat is blocked.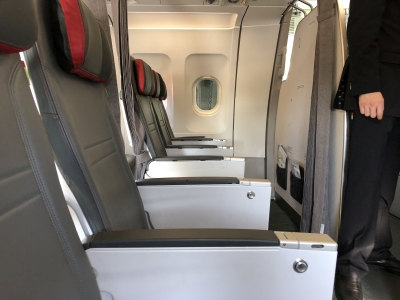 My seat was a too slim for my liking, but other than that quite comfortable.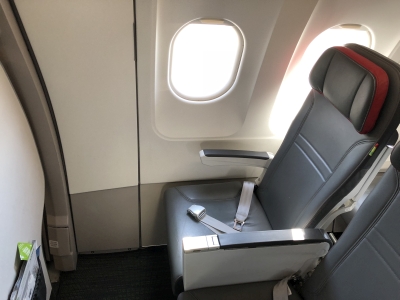 And most importantly there was a lot of legroom at the bulkhead.
On its website, TAP claims to offer a 33 inch business class seat pitch on its entire A319 / A320 / A321 short-haul fleet. This applies to the first 7-10 rows, depending on aircraft type, so economy passengers in the front of the cabin will also benefit if there is only a small business class section.
This is substantially more attractive than the current British Airways Club Europe pitch of 30 inches. In the middle and back of the cabin it drops to 30 inches to match BA.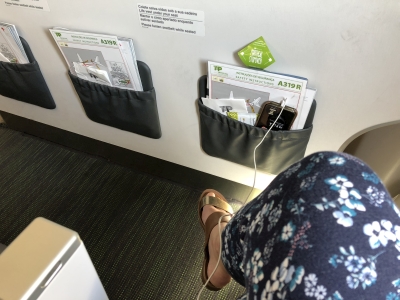 TAP short-haul business class food
There was no menu to choose from. We were served a fruit salad and an open bread roll sandwich with meat, tomatoes and rocket. It was a bit difficult to eat as the knife wasn't sharp and the bread roll was too loaded to fold it, but it actually tasted quite good.
The sparkling wine was Alianca Baga Bairrada which retails at £10.50. It was a little bit too foamy but not as bad as the BA Club Europe champagne which I really can't learn to love.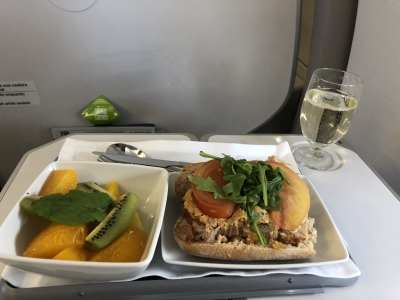 Conclusion
TAP's short-haul business product is actually quite decent – basically British Airways Club Europe with a better chance of getting Row 1 and, importantly, three inches more leg room.
If the TAP services from the UK to Lisbon are similar I would happily recommend it, although I'm not sure what food service would be offered on what is a longer route than Barcelona to Porto. At Heathrow TAP operates to Lisbon from Terminal 2 so you have the added benefit of picking from the four Star Alliance lounges. At Gatwick, where it flies to Lisbon and Porto, it operates from the South Terminal alongside BA. TAP also flies from London City, operated by Portugalia, to Lisbon and Porto.