Review: Avanti West Coast First Class lounges at London Euston and Manchester Piccadilly
Links on Head for Points may pay us an affiliate commission. A list of partners is here.
This is our review of the Avanti West Coast lounges at London Euston and Manchester Piccadilly railway stations.
The reviews were done at the time when the lounges were still operated by Virgin Trains.
Last week Rob sent me up to Manchester to check out the new Crowne Plaza and Staybridge Suites that have just opened, reviews for which will be published in the next few days. Since both Manchester Piccadilly and London Euston also have Virgin Trains First Class lounges, and the HfP travel policy seemed to allow expensing First Class rail travel, this seemed like a good opportunity to try them out and compare.
The Virgin Trains lounge at London Euston
The lounge at Euston is upstairs, above the concourse. The entrance is nicely done, though the large CCTV camera somewhat takes away from the Virgin branding: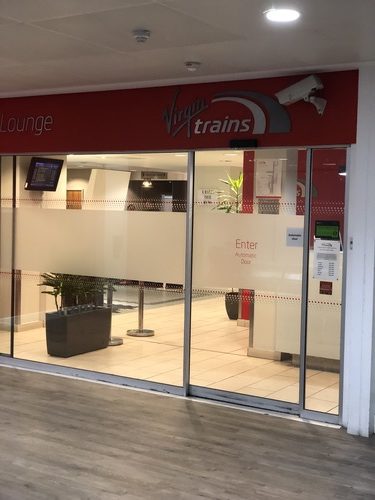 It was very crowded when I got in at 10:30 and I struggled to find a space to sit until I walked around the corner. A few groups soon left which opened up a few more tables and chairs, although it remained busy for the entire time despite it being mid-morning.
Virgin considers 15:00-19:00 on Thursdays and Fridays to be peak, and operates tighter restrictions on when First Advance ticket holders can enter during these times. I eventually found myself at a high table in the corner of the lounge: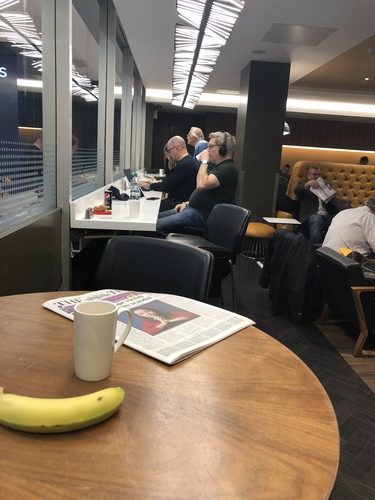 The layout and furniture is still the same as it was in 2015 when Rob last reviewed it. It is divided into numerous sections. Immediately by the entrance is an area with individual, closed in pods designed for making or receiving calls. Unfortunately I couldn't get a photo since they were all occupied. Another section is a bright, grey cafe style area with these bizarre seats: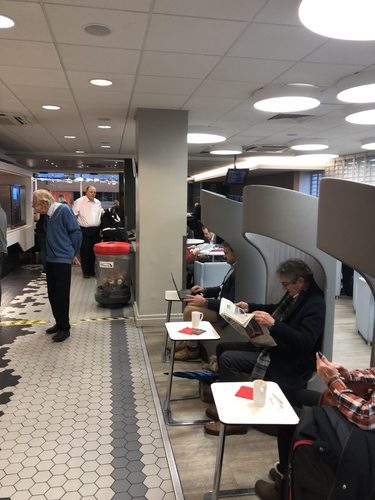 The third area – with a view over the station concourse – was a little cosier, darker and with a little more thought given to the design of the space and furniture:
The cafe-bar had a selection of fruits, muffins and some cookies, as well as self-serve tea, coffee and soft drinks. They also have barista coffee from 9am to 5pm. Sadly there were no savoury items at this hour – a shame for those of us who are less keen on sugary snacks.
The muffins and cookies didn't look like anything to call home about – it would have been nice to have some slightly more sophisticated pastries, for example. Newspapers available were The Times and the Financial Times.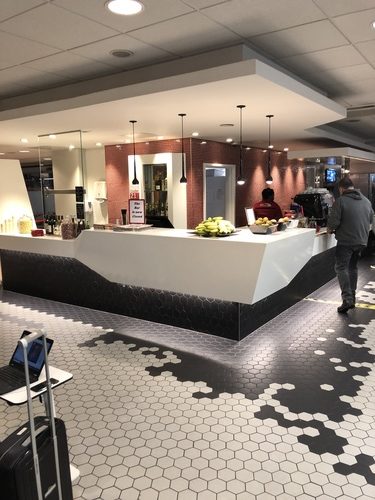 The Virgin Trains lounge at Manchester Piccadilly
The Virgin Trains First Class lounge at Manchester Piccadilly is a smaller affair than the one at London Euston. In reality, it is not much more than a room with floor to ceiling windows on two sides overlooking the station concourse to make it feel a lot larger than it is.
Unlike the Euston lounge the furniture was very generic and corporate-looking, and did not have the same artisanal coffee-house feel.
Despite this, however, it was a lot less busy with plenty of available seating and probably an appropriate size for the location. I must admit that I arrived around 11am, however, which I suspect is very very off-peak.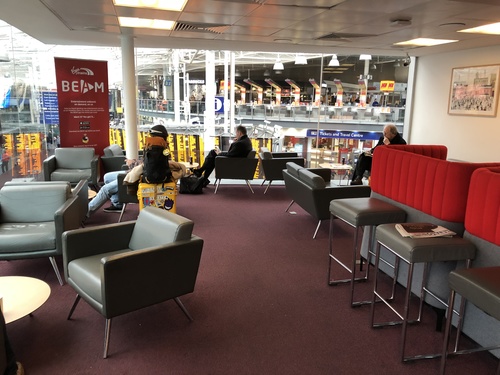 There was no cafe-bar here, with only a side-table featuring individually wrapped muffins, cookies and several savoury options that weren't available at Euston including crisps and pretzels. A bowl of fruit and a small fridge with orange juice and some cans of Pepsi accompanied it. I suspect there is a selection of teas and coffees though I did not seek these out and forgot to take a photo!
Do not, however, expect the same kind of service as in London; there are no other staff other than the one to check your ticket and there is definitely no barista-made coffees!
Conclusion
The Virgin Trains Euston lounge is, in general, very good by rail lounge standards despite the lack of space. It was slightly disappointing that even close to lunch time there were no savoury food options. The barista coffee bar is a nice touch. The only real issue is with capacity – I cannot imagine how crowded it must be at peak times given it was full at 11am on a Wednesday morning.
The Virgin Trains lounge at Manchester Piccadilly is a little more disappointing. It is very small, which is not necessarily a problem, and would benefit from a slightly less corporate-looking design and a barista.
Of course, both lounges pale in comparison to airline lounges which offer a greater selection of amenities, food and drinks. Even the most dismal airport lounges at London airports are better than the Virgin Trains offering at Euston, and the relatively poor lounges at Manchester Airport outshine the Piccadilly rail lounge.
On the positive side, Virgin Trains does not exclude customers travelling on First Advance tickets – which can be had for little more than a standard fare – from accessing the lounge so it makes sense that they are trying to keep costs down. The real question is whether – with First Class Anytime tickets selling for as much as £242 each way between London and Manchester – the lounge should be more restrictive in who can get access and more upmarket in terms of what is offered.