Are these the 2019 changes to IHG's Ambassador and Royal Ambassador schemes?
Links on Head for Points may pay us an affiliate commission. A list of partners is here.
Back in August we ran an article on changes that IHG Rewards Club was proposing to make to its Ambassador loyalty scheme.
Via leaked documents on Flyertalk, there are rumours (via a document shown to a guest at an InterContinental in China) of what these changes are. First, however, some background for readers who don't know how Ambassador works.
Putting InterContinental Ambassador in context
InterContinental, the luxury hotel brand inside IHG Rewards Club – which also covers Holiday Inn, Crowne Plaza and others – is a little odd when it comes to loyalty schemes: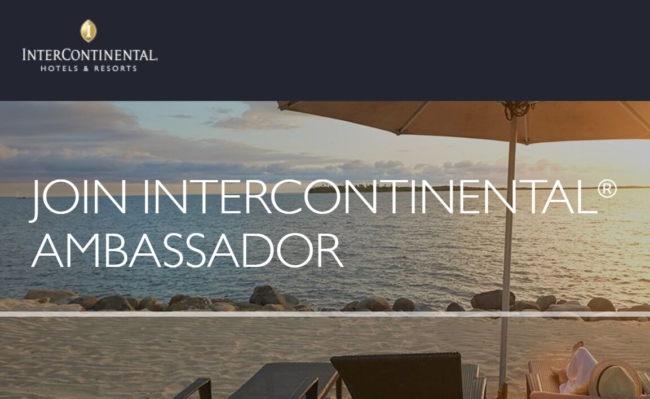 As part of the Holiday Inn / Crowne Plaza group, it participates in IHG Rewards Club
InterContinental does not officially recognise your IHG Rewards Club status. In reality, they often do, but it is not guaranteed.
InterContinental also has its own loyalty scheme – Ambassador – which costs $200 to join
And yet, despite the $200 fee ($150 to renew), I consider Ambassador a good deal. The key thing about Ambassador is that, once you are a member, the benefits are GUARANTEED on paid stays. They are NOT guaranteed on reward stays, but most properties do let you have them. These benefits are:
A certificate for a free weekend night when you join and each year when you renew. In one swoop, you can save your entire membership fee with this benefit. To use the voucher, you need to book a 2-night weekend stay and pay the Best Flexible Rate for the other night. The letter of the rules says that only standard rooms can be booked. However, most hotels let you book club rooms or suites – this is an important benefit, especially if you have children and want larger rooms.
(As Best Flexible Rate is more expensive than a non-refundable Advance Purchase rate, your free night is not totally free if you would otherwise have booked a pre-paid rate as you have paid a few Euros or $ more. It is totally free if you would otherwise have booked at Best Flexible Rate though.)
GUARANTEED one-level room upgrade – this is usually processed before you arrive and is visible online
4pm check-out – this is a GUARANTEED benefit and comes in very handy on a weekend break with an evening flight back home
A free pay-TV movie per stay, every stay
Free fruit and mineral water in your room
A welcome gift – varies from chocolates or wine to weird local souvenirs!
Double occupancy for single occupancy rate – useful in Germany, one of the few countries where they still charge a 'second person' supplement
Obviously InterContinental Ambassador is not for everyone. You can earn back the cost of membership in just one weekend stay, though. It may even be worth it even if you had just one long stay booked and wanted to guarantee your upgrade. Ambassador members also receive Gold status in IHG Rewards Club, although that doesn't get you far.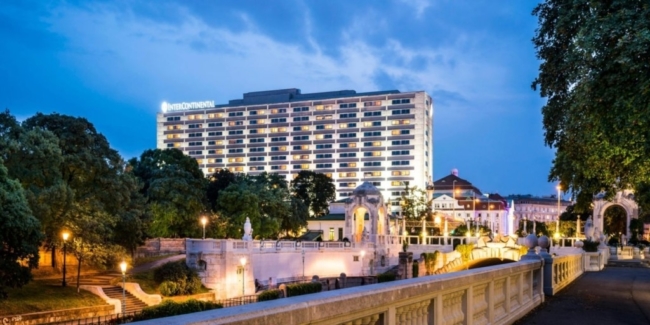 What are the proposed changes?
According to Flyertalk, there will be changes for Ambassador members from March 2019.
This is apparently the new benefits package:
Platinum status in IHG Rewards Club – IMPROVEMENT (currently Gold)
Breakfast for ONE person on InterContinental stays – IMPROVEMENT (currently no breakfast benefit)
Free weekend night certificate – NO CHANGE
Welcome fruit platter – DOWNGRADE (currently welcome gift, mineral water and fruit)
Guaranteed room upgrade – NO CHANGE
Guaranteed 4pm check-out – NO CHANGE
Ambassador Benefit Guarantee – see below
Members will lose the free pay TV movie benefit.
What is the Ambassador Benefit Guarantee?
If a hotel does not deliver either a) your guaranteed upgrade or b) your guaranteed 4pm check-out, you will receive a food and beverage or spa credit of $50, or 10,000 IHG Rewards Club points, per stay. Note 'per stay' and not 'per night'.
Will these benefits now apply to Kimpton and / or Regent hotels too?
Good question. It would make sense to extend Ambassador benefits to the new Regent luxury properties, especially as some InterContinental hotels are likely to be rebranded as Regent. I'm less sure about Kimpton, but let's see.
What do I think?
In general, assuming there is no change in the Ambassador annual fee, I think that these changes are positive. I haven't used the pay TV benefit in years. I will miss the bottles of wine, cakes and other welcome amenities I received over the years, but trading this off for free breakfast is fine by me. Swapping Gold status in IHG Rewards Club for Platinum is a clear improvement.
Just giving one free breakfast is a little odd, however. I can imagine that IHG used this as a way to persuade hotels to 'buy in' to the process, since some couples on leisure trips who may previously have skipped breakfast may be tempted by 'buy one, get one free'. It has virtually no impact on corporate travellers as they would always get breakfast covered on expenses.
And yet …
Has IHG scored an own goal with the new 'Ambassador Benefit Guarantee'?
Let's look at this again. If the hotel fails to deliver my 'guaranteed' upgrade or my 'guaranteed' late check-out, it must pay me $50 (not even cash, just a credit) or 10,000 points per stay.
THIS IS RUBBISH. At the moment, 'guaranteed' means 'guaranteed'. An InterContinental needs to give me an upgrade and 4pm check-out – no discussions allowed.
If these plans are correct, from March a hotel can deliberately decide not to honour my 'guaranteed' upgrade and/or my 'guaranteed' 4pm check-out. Do you think a $50 food and drink credit (not even cash) is going to worry it? Similarly, if a hotel wants me out at 11am because it has a lot of high paying guests coming in, a $50 fine is a bargain.
If the sum was $500, or perhaps even $250, I might be more impressed. But just a $50 food and beverage credit in return for refusing me an upgrade on a 3-4 night stay? I don't think so.
PS. There are also going to be changes for uber-elite Royal Ambassador members, although I doubt we have more than a handful amongst our readers. Royal Ambassador members will get two free breakfasts per night (but only if there is no lounge) – but the mini-bar benefit will now be capped, early check-in is now from 10am and not from 8am, and a hotel can now refuse to give 'guaranteed' lounge access if it pays a penalty of $100 per night.
---
IHG One Rewards update – December 2023:
Get bonus points: Our article on IHG's current bonus promotion is here. You will receive 2,000 bonus points for every two cash nights you stay until 31st December. Nights do not need to be consecutive. Click here to register.
New to IHG One Rewards? Read our overview of IHG One Rewards here and our article on points expiry rules here. Our article on 'What are IHG One Rewards points worth?' is here.
Buy points: If you need additional IHG One Rewards points, you can buy them here.
IHG is offering a 100% bonus (some members may be offered less) when you buy points by 30th December 2023. Click here to buy.
Want to earn more hotel points? Click here to see our complete list of promotions from IHG and the other major hotel chains or use the 'Hotel Offers' link in the menu bar at the top of the page.