Links on Head for Points may pay us an affiliate commission. A list of partners is here.
This article explains how to use Avios points to upgrade British Airways flights.
The "Avios Redemption University" series is a good starting point for beginners, although I hope everyone will learn something from it.  Click here to see the other "Avios Redemption University" articles.
I run occasional articles on the vexing question of 'What is an Avios worth?' – click that link for the latest version.  The maths shows that using your Avios to upgrade a flight is often the most valuable use of them.
In particular, upgrades from World Traveller Plus to Club World are a great way to redeem for people who only earn a relatively small number of Avios per year.
You can't say the same for upgrades from World Traveller.  As I show below, for the general public buying their own tickets, it is possible – due to the fare bucket – that they will never buy a ticket that is upgradable, let alone find that reward upgrade space is there.  British Airways should not be advertising the ability to upgrade economy tickets as a benefit for the average Avios collector, because it isn't.
Technically, the process of using Avios to upgrade is now called – fairly logically – 'Upgrade Using Avios'. However, many people still call it 'Miles for Upgrade' or MFU, since that was the name BA used in the past.  Both name refer to the same process.  Here is the official ba.com page explaining how upgrading with Avios works.
What do I need to know if I want to upgrade my flight with Avios?
'Upgrade Using Avios' allows you to upgrade a CASH-bought British Airways ticket to the next class of service. There are a number of rules to get your head around, but in summary:
You can only upgrade by one class (World Traveller to World Traveller Plus, WTP to Club World, Club World to First, Euro Traveller to Club Europe)
Upgrades must be arranged in advance, not at the airport or onboard
You can upgrade either at the time you buy your ticket (log-in to British Airways Executive Club and select 'Book with cash, upgrade with Avios' under 'Payment type' in the booking engine) or later, via 'Manage My Booking' on ba.com
You can only upgrade via British Airways Executive Club, so if your Avios points sit at avios.com or iberia.com you will need to transfer them to BAEC first via 'Combine My Avios'
You can only upgrade British Airways flights (with some rare exceptions for American or Iberia flights – see below)
You can only upgrade if there is Avios reward availability in the higher class.  This means that your ability to upgrade may vary from day to day depending on whether Avios reward seats are opened up on your flight.
You cannot upgrade the cheapest non-refundable Economy tickets.  Booking classes Q, O and G cannot be upgraded.  This is the biggest downside of the scheme, and the one that hits the 'casual' leisure traveller the hardest.  British Airways has made some positive improvements here in the last couple of years, with more tickets types now qualifying, but the cheapest tickets can still not be upgraded. In any event, World Traveller Plus – the next category up – is a small cabin so the opportunity to upgrade will always be limited. You will also need to pay the higher rate of Air Passenger Duty if moving up to WTP.
You can upgrade virtually any World Traveller Plus or Club World ticket
On a multi-flight ticket, you can upgrade legs one at a time as availability comes up.  You do not need to upgrade every flight on your itinerary at once.
You can choose to just upgrade one leg of a ticket.  You may, for example, be happy in World Traveller Plus on a day flight but prefer to upgrade to Club World if the return is overnight.
You earn Avios and tier points for the class you originally booked.  Sometimes, for technical issues, your flight will post with 0 Avios, but a quick call to BA Executive Club will get this fixed.
You can upgrade a ticket issued by a travel agent.  This is great news for anyone who wants to upgrade their work trips.  If ba.com throws up an error message when you try to do this, as it often will, you will need to call.  It is unlikely that package holiday tickets (except for BA Holidays) can be upgraded as these are usually issued as Bulk Tour or Inclusive Tour tickets which are excluded.
How do you upgrade a flight with Avios?
It is a simple process. Go to ba.com, enter 'Manage My Booking' and select the relevant flight. At the bottom of the page will be an option entitled 'Upgrade Using Avios'.
The key point to remember is you can only upgrade a flight if there is reward seat availability in the higher class. If there are no Club World redemption seats available, for example, you will not be able to upgrade a World Traveller Plus ticket.
Do keep checking back, however, as reward availability moves around from day to day. You are especially likely to find seats opening up in the last few days before departure.
So, what does it cost to upgrade with Avios?
The cost of upgrading from World Traveller Plus to Club World using Avios increased sharply in April 2015. This was very unfortunate as this was the most popular upgrade.
A return upgrade will cost you the difference between the Avios needed for a return flight in the upgraded cabin compared to the cabin in which you are already booked.
This is the current Avios redemption pricing chart (click to enlarge):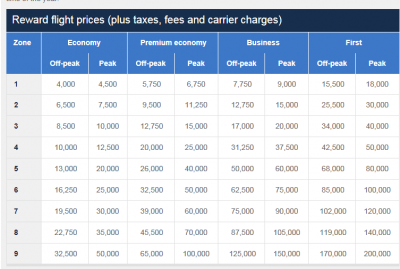 To San Francisco (Zone 6), for example:
World Traveller on an off peak day is 32,500 Avios return (the chart above is one-way)
World Traveller Plus is 65,000 Avios
Club World is 125,000 Avios
First Class is 170,000 Avios
A return off-peak upgrade would therefore cost:
32,500 Avios from World Traveller to World Traveller Plus
60,000 Avios from World Traveller Plus to Club World
45,000 Avios from Club World to First
Here is the major irony of this pricing method: upgrading to Club World on off-peak days costs MORE than upgrading on peak days!
Let's look at the same exercise again using Peak Day pricing. A return upgrade would cost:
50,000 Avios from World Traveller to World Traveller Plus
50,000 Avios from WTP to Club World
50,000 Avios from Club World to First
There will be some additional taxes to pay when you upgrade.  The fuel surcharge is higher for Club World compared to World Traveller Plus.  You will also be asked to pay an additional sum if taxes have gone up between the day you originally booked and the day you do the upgrade.
If you are upgrading from World Traveller (Economy) to World Traveller Plus, you will also need to pay an extra chunk of Air Passenger Duty.  The Government sets two levels of APD – one price for Economy and one price for all other classes.
Are Avios upgrades good value?
Whilst not as good a deal as they were, there is still value to be had by using your Avios points to upgrade.
Let's imagine that the typical price gap between World Traveller Plus and Club World is £1,000.  This means that you would be getting between 1.66p and 2p per Avios point of value using the San Francisco example.  This is a far better return than you get from an 'all Avios' redemption.
And, of course, you will earn back a large percentage of the Avios points you spend on the upgrade when you take the flight, because your underlying flight still qualifies for Avios and tier points!
Can I upgrade flights on other airlines using Avios?
Yes. You can upgrade American Airlines and Iberia flights using Avios IF you booked the ticket via British Airways.  For economy flights, you need to be holding a fully flexible economy ticket (Y or B class).  Iberia is slowly introducing Premium Economy on long haul.
Iberia does not have First Class so you cannot upgrade from Business.  American Airlines has international First Class on a limited number of routes but you MUST be holding a fully flexible (J, C or D class) ticket.
You cannot upgrade flights with any other airline.
Conclusion
As you can see, MFU / Upgrade Using Avios offers good value for your points.  It is a shame that discounted Economy tickets do not qualify, although the small number of World Traveller Plus seats available for redemption means that most people would be disappointed anyway.  Upgrade Using Avios is also a very efficient way to redeem your Avios if you only collect, say, 50,000 per year.
PS. It is also possible to use American Airlines miles to upgrade British Airways flights, under certain circumstances.  Click the link for our last article on this.
(Want to earn more Avios?  Click here to visit our home page for the latest articles on earning and spending your Avios points and click here to see how to earn more Avios from current offers and promotions.)
Click here to join the 14,500 people on our email list and receive the latest Avios, miles and points news by 6am.