Free cups of tea now available in British Airways short-haul Economy – if you bring your own teabag
Links on Head for Points may pay us an affiliate commission. A list of partners is here.
Tea lovers rejoice, for free tea is back in British Airways Euro Traveller (Economy).
Sort of.  And it is a secret, so don't tell anyone.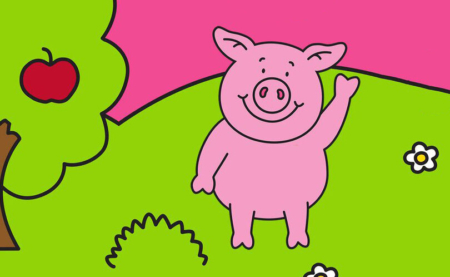 The new Marks & Spencer on-board menu was launched on 1st May.
I will go into some of the changes in a minute, but the key fact is that the tea has switched from Twinings to Teapigs.
Why is this key?  The Twinings tea came with a built-in cup.  Teapigs does not, so British Airways is using its own paper cups.
And ….. they will give you one for free!
You don't get a free teabag, of course, because that would be c-r-a-z-y.  However, according to cabin crew I know:
you can have a free paper cup
you can have some free hot water
However …..
you must bring your own teabag
HFP readers who have British Airways status will be getting excited now, because loose tea bags are available in the lounges at Heathrow and Gatwick.  You can now pinch a teabag from the lounge and have a free cup of black (I doubt you will get free milk) tea if travelling in Economy 🙂
If you don't bring your own bag, a cup of tea is now £2.50.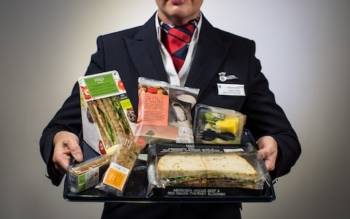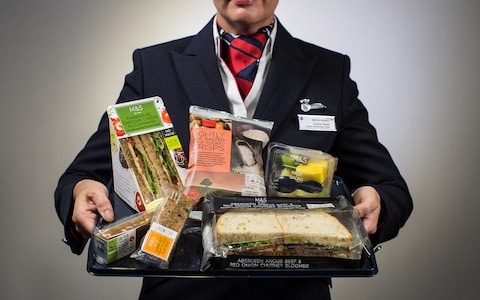 Elsewhere on board, the changes include – and note this is not a full list:
The coffee is now Cru Kafe, which comes in a bag.  Apparently the old coffee, which Anika has consistently raved about, was unpopular with some customers who did not like the filter or having the granules floating around.  Initial feedback online to Cru Kafe has not been great, to be honest.
New lines include Love Cocoa Hot Chocolate, Loveau Raspberry, Strawberry & Blueberry Infused Sparkling Water, Estini Espresso Martini and Pinkster Small Batch Raspberry Gin
Brewdog's Speedbird 100 IPA is available (£4.45 per 330ml can)
The hot option is a mozzarella and tomato flatbread (£4.95)
Children can choose a Marvin's Magic Activity Box with snacks and games (£6, not an M&S product)
Afternoon tea with scone, jam and clotted cream is added for £5 (not an M&S product)
British Airways is also offering 15p off tea or coffee if you bring your own cup.  Stojo collapsible cups, see image above, are available for £10.  My wife has one of these and finds it useful, with the 50p saving in Pret soon covering the cost …..
The full Euro Traveller food and drink price list can be found on ba.com here.