Eurowings ending all long haul flights as its low-cost strategy turns to dust
Links on Head for Points may pay us an affiliate commission. A list of partners is here.
Eurowings is suspending all long-haul routes.
Luthansa has announced a significant strategy u-turn at its poorly performing low-cost offshoot Eurowings, which is to suspend long haul flying.
Previous plans to merge Brussels Airlines into Eurowings have also been dumped.  Brussels Airlines will now instead align itself more with Lufthansa, Austrian Airlines and the other network carriers the group owns.
The transition of long haul routes from Eurowings to its parent carriers will start in Frankfurt and Munich this winter.  It isn't yet clear how far the rebranding will go – Eurowings uses the same Business Class seat at Lufthansa so it may be a relatively cheap process: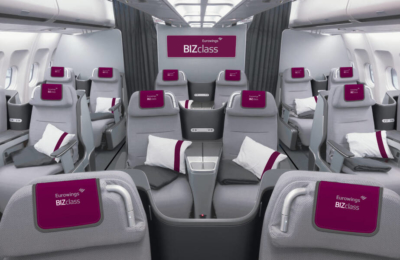 Lufthansa is the second large airline group in Europe, after Air France, to announce that it is dropping low cost long haul.  Unlike BA's sister airline LEVEL, which operates as an entirely independent airline within IAG, Eurowings seconded some pilots and crew from Lufthansa which led to substantially higher costs.
LEVEL has also benefited from operating at airports where it does not compete with other IAG airlines, whereas Eurowings cannibalised existing routes from Lufthansa and Austrian Airlines.  I would not be surprised to see LEVEL succeed where Eurowings and Joon (the Air France venture) have failed, although whether we ever see it expand into the UK market is a different matter.  Launching LEVEL at Gatwick would hit Norwegian, but would also cannibalise BA – it would make more sense to launch out of, say, Amsterdam instead.
Of course, even Norwegian is struggling financially to keep its low cost long haul operation afloat.  With oil prices continuing to rise, we may soon find out whether there is any sort of business case for such services across the full economic cycle.
You can find out more on the Eurowings website here.