British Airways cuts Avios flight taxes to £1 in the UK and Europe – but it isn't as good as it sounds
Links on Head for Points may pay us an affiliate commission. A list of partners is here.
It's back. Following a short trial in April, British Airways is rolling out '£1 taxes' Avios redemptions on ALL UK and European routes for a trial period.
Instead of paying £35 (Euro Traveller) or £50 (Club Europe) in taxes and charges on return short haul flights, you can now choose to use more Avios and reduce your taxes and charges to just £1.
Be wary, however. This is not necessarily a great deal.
Take a look at the screenshot below as an example. It shows a return Avios redemption on British Airways in Euro Traveller (economy) from London Heathrow to Nice.
If you look at our full list of Avios redemption pricing by route (click here), this would normally price at 8,000 Avios + £35 for a Reward Flight Saver reward redemption on an off-peak date.
Instead, you get (click to enlarge):


The 'headline' price is shown as 15,000 Avios + £1 in taxes and charges.
When you click through to the payment page, you are given this list of options: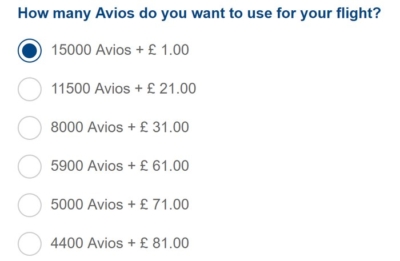 The 'old' option of 8,000 Avios + £35 is not there. It has actually got cheaper – you are now offered 8,000 Avios + £31.
It isn't easy, at first glance, to see which option is the 'best' value, assuming you have a lot of Avios and a lot of cash. However, doing the maths:
15,000 Avios + £1 = base offer
11,500 Avios + £21 = £20 spent to save 3,500 Avios = 'buying' Avios at 0.57p
8,000 Avios + £31 = £30 spent to save 7,000 Avios = 'buying' Avios at 0.43p
5,900 Avios + £61 = £60 spent to save 9,100 Avios = 'buying' Avios at 0.66p
5,000 Avios + £71 = £70 spent to save 10,000 Avios = 'buying' Avios at 0.7p
4,400 Avios + £81 = £80 spent to save 10,600 Avios = 'buying' Avios at 0.75p
As long as you value an Avios point at 0.43p or higher – and all HFP readers should value them far higher than this – you should NOT take the £1 offer.
The only question in your mind should be which of the other scenarios is best for you – all of them are basically letting you 'buy' Avios VERY cheaply by using more cash. The only issue is whether you buy a few for a very low price (8,000 Avios + £31 is the best 'price per point' spot) or buy a lot for a higher price (4,400 Avios + £81). Taking the £1 offer is a bad deal.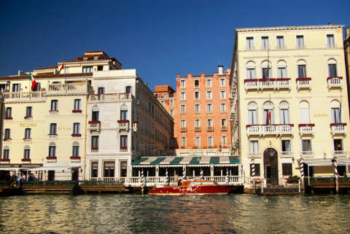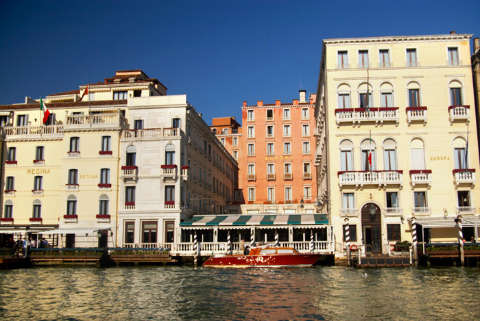 It happens in Club Europe too
If you try to book a Club Europe return flight to Venice, you get these options on a peak day.
This flight SHOULD cost 30,000 Avios + £50 return. The new headline offer is: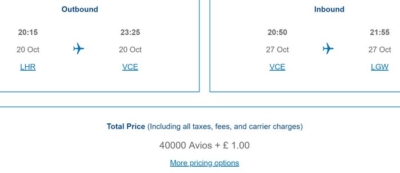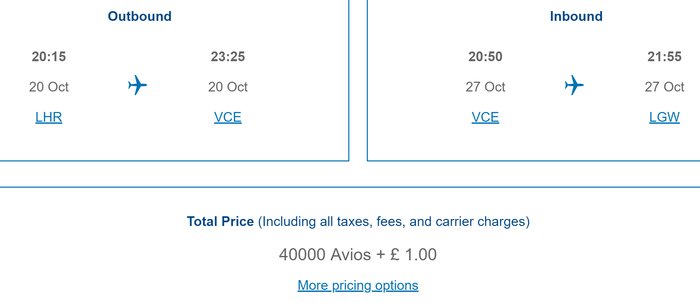 …. with the following alternatives: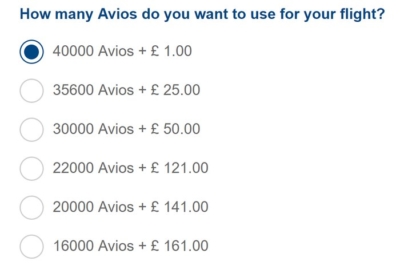 If we do the maths again:
40,000 Avios + £1 = base offer
35,600 Avios + £25 = £24 spent to save 4,400 Avios = 'buying' Avios at 0.55p
30,000 Avios + £50 = £49 spent to save 10,000 Avios = 'buying' Avios at 0.49p
22,000 Avios + £121 = £120 spent to save 18,000 Avios = 'buying' Avios at 0.67p
20,000 Avios + £141 = £140 spent to save 20,000 Avios = 'buying' Avios at 0.7p
16,000 Avios + £161 = £160 spent to save 24,000 Avios = 'buying' Avios at 0.67p
You get the same result as in the Economy example. The £1 deal is the worst deal. As long as you believe you can get more than 0.49p per point on another redemption, it makes sense to pay more cash and use fewer Avios.
Another factor …. cancellation costs
I have just said, twice actually, that the £1 deal is the worst deal.
Except ….
If you believe that there is high chance of cancelling a ticket, the £1 route is possibly the best one. When you cancel an Avios redemption, the cancellation fee is the lower of £35 per ticket OR the taxes paid. If you only paid £1 in taxes, your cancellation fee is only £1.
For a family of four, you are getting your potential cancellation cost down from £140 to £4 by taking the least cash route.
Is offering '£1 taxes' a good thing or not?
On the face of it, it is fine. It gives people more options and that is generally a good thing.
I don't recommend taking the £1 deal if you earned your points from credit card spending, Tesco Clubcard conversions, Heathrow Rewards conversions etc. You are getting a poor return compared to taking one of the other deals.
Of course, you may be happy with this new offer if all of your points came from flying or you are 'Avios rich, cash poor'.
I'm sure that more quirks in the pricing will come clear in the next few days. And, of course, this is officially still a trial.
PS. You need to qualify for Reward Flight Saver to get the £1 deal. We explain Reward Flight Saver here. This means that your British Airways Executive Account needs to have earned 1 Avios over the past 12 months. If you have not done this – unlikely for a HFP reader! – you will be shown the full taxes when you try to book.
(Want to earn more Avios? Click here to visit our home page for the latest articles on earning and spending your Avios points and click here to see how to earn more Avios from current offers and promotions.)