Get 30,000 Membership Rewards points with the Amex International $/€ Cards
Links on Head for Points may pay us an affiliate commission. A list of partners is here.
Even if you no longer qualify for a bonus on any of the personal UK American Express cards, there IS one generous bonus which you may well be able to get.
American Express is still offering 30,000 bonus Membership Rewards points when you apply for the American Express Platinum International Currency Card.
We last covered this offer back in March.  I assumed it was a temporary deal but it is still there so I thought I would highlight it again.
You will get the sign-up bonus even if you currently hold a Gold, Platinum or any other Membership Rewards-enrolled UK Amex card as this operates via a different Membership Rewards scheme.
I need to be clear up front:  the rules of the International Currency Card say that you won't get the bonus if you have another Membership Rewards card, or have had one in the last six months.  However, in my experience and that of many other HFP readers, this ONLY applies to the same national MR scheme.
The ICC cards operate via a different Membership Rewards scheme to the UK cards and so you will almost certainly get the bonus.  The fact that you must be an existing Amex cardholder to apply for an ICC card means that this must logically be the case – because otherwise very few people would qualify for the bonus.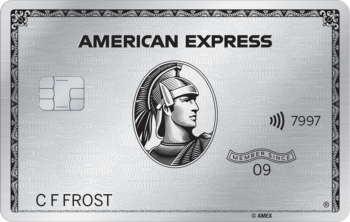 What is an Amex International Currency Card?
American Express issues two cards for anyone globally who would prefer to bank in US$ or Euros.
These cards are known as International Currency Cards, with the individual cards known as the International Dollar Card (IDC) and International Euro Card (IEC).  They are available in Green, Gold and Platinum versions.  The cards are run from Brighton which is very convenient if you have any issues.
There is no sign-up bonus for the Gold or Green card.  However, the Platinum International Currency Card currently offers a sign-up bonus of 30,000 Membership Rewards points.   Full details can be found here.
There are a few very important things you need to know about the International Currency Cards:
30,000 Membership Rewards points does NOT get you 30,000 Avios.  The International Currency Cards have their own separate Membership Rewards programme.  The conversion rate to Avios is 3:2 so your 30,000 point bonus is only worth 20,000 Avios or Virgin miles.  I look at this in more detail below.
You must be an existing American Express customer and have held your card for at least six months
You cannot apply if you live in the European Union (EXCEPT the UK), USA or Singapore
You must have an income of (equivalent) €65,000 for the Euro card and $65,000 for the Dollar card
There is an annual fee of €550 / $550.  I assume that this is refundable pro-rata if you cancel, as all other global Amex cards I know work this way.
There are some positive reasons to get one (and I have the Green version myself, mainly to allow transfers to Jumeirah Hotels and to the Singpore Airlines Krisflyer scheme at 1:1):
If you spend a lot of money in $ or € you will avoid the FX fee on using a £ Amex card
Some Membership Rewards partners transfer 1:1 out of the IDC / IEC scheme – see below.  There are also partners such as Malaysia Airlines and Jumeirah which are not in the UK MR scheme.
You can transfer your UK Membership Rewards balance to your new IDC or IEC Membership Rewards account.  Your balance will be increased by the current exchange rate, so your balance is boosted by 11% (Euro card) or 21% (Dollar card).  In most cases, however, this is not worth it due to the poorer transfer rate from the IDC/IEC Membership Rewards scheme.
You can transfer your International Currency Card Membership Rewards balance to your UK Membership Rewards account.  Your balance will be reduced by the current exchange rate.  This means that your 30,000 points bonus is worth roughly 26,000 UK points if you take out a Euro card and 23,000 points if you take out the Dollar card.
You get free travel insurance with the card which has a maximum age limit of 80 years (UK Platinum card limit is 70 years) and there are minimal restrictions on having had to pay with your card
You get the same Priority Pass airport lounge access benefits, and Marriott Bonvoy, Hilton Honors, Radisson Rewards, Shangri-La Golden Circle and MeliaRewards hotel status benefits, as you would get with the UK Platinum Card
The foreign exchange fees are an issue, however
To trigger the 30,000 bonus Membership Rewards points, you need to spend €5,000 (on the International Euro Card) or $5,000 (on the International Dollar Card) within three months.
If you do this spending in the UK, you will incur a 3% foreign exchange fee.  You will also incur fees when you pay your statement, depending on what your bank charges to send funds in € or $.  The $ card requires payment to a Standard Chartered bank account in New York, for example – HSBC lets me pay this from my current account but obviously the FX rate is not the best.
If you have a Euro or $ bank account then you can pay by direct debit.  A Euro-denominated Revolut account, for example, works fine based on reader feedback.
If you are in a position to charge €5,000 (on the Euro card) or $5,000 (on the Dollar card) in local currency then this is a far better deal.  This will be very difficult for most of us, unfortunately.
Be very clear – if you make the qualifying spend in Sterling and pay the 3% FX fee, as your card will be operating in Euro or Dollars, it will wipe out much of the value of the sign-up bonus.
How does the Membership Rewards scheme work?
Here is the Membership Rewards online catalogue for the IDC Amex cards.
The following airline partners let you transfer 1:1 from the IDC Membership Rewards programme into your airline account. This means that the 30,000 points sign-up bonus is worth 30,000 miles:
Alitalia (SkyTeam)
Cathay Pacific Asia Miles (oneworld)
Finnair Plus (oneworld)
Malaysia Airlines Enrich (oneworld) (Malaysia is not in the UK scheme at all)
Singapore Airlines KrisFlyer (Star Alliance)
The following airlines and hotels are also IDC Membership Rewards partners but are NOT worth transferring to because they have adjusted their transfer rate compared to the UK scheme.  It would make more sense to transfer your points from the IDC card into your UK Membership Rewards account:
Avios (BA and Iberia) 3:2 (UK scheme 1:1)
Delta Skymiles 3:2 (UK scheme 1:1)
Emirates Skywards 3:2 (UK scheme 1:1)
Etihad Guest 3:2 (UK scheme 1:1)
Flying Blue 3:2 (UK scheme 1:1)
Hilton Honors 4:5 (UK scheme 1:2)
Marriott Bonvoy 1:1 (UK scheme 2:3)
Radisson Rewards 2:3 (UK scheme 1:3)
SAS EuroBonus 3:2 (UK scheme 1:1)
Virgin Flying Club 3:2 (UK scheme 1:1)
The following are not in the UK scheme but are in the IDC scheme, so this is the only way to earn points via Amex in these schemes:
Jumeirah One – 4:1
Qatar Airways Privilege Club – 3:2
Malaysia Airlines – 1:1
Conclusion
Do not be swayed by the headline offer of 30,000 American Express Membership Rewards points for getting this card.  You need to think very carefully before applying:
remember that the 30,000 points are not worth 30,000 Avios – to maximise value you need to transfer them to a UK Membership Rewards account and they will be devalued by the current exchange rate (eg 30,000/1.17 for the Euro card)
remember that, unless you intend to spend €5,000 or $5,000 in the next three months, you will be incurring foreign exchange fees on your Sterling spending in order to trigger the bonus
remember that you are likely to incur fees and/or weak exchange rates transferring money from your UK bank account to the overseas accounts Amex uses for collecting payments
This is definitely not something for beginners.  That said, if you are can spend €5,000 or $5,000 in local currency to trigger the bonus then it is worth a closer look.
You can apply via the International Currency Cards website here.
Disclaimer: Head for Points is a journalistic website. Nothing here should be construed as financial advice, and it is your own responsibility to ensure that any product is right for your circumstances. Recommendations are based primarily on the ability to earn miles and points and do not consider interest rates, service levels or any impact on your credit history.  By recommending credit cards on this site, I am – technically – acting as a credit broker.  Robert Burgess, trading as Head for Points, is regulated and authorised by the Financial Conduct Authority to act as a credit broker.