Is this the weirdest Heathrow Airport hotel? Review of the new Atrium Hotel Heathrow (Part 2)
Links on Head for Points may pay us an affiliate commission. A list of partners is here.
This is part two of our review of the Atrium Hotel Heathrow, located by Hatton Cross tube station just outside the airport.
You can read Part 1 of our Atrium Hotel Heathrow review here, which focuses on my room.
Dining
I was pretty hungry after checking in so I thought I'd go straight downstairs to eat. After phoning reception to ask where the restaurant was, I made my way down the lifts. On exiting the lift, you have to open another set of double doors which aren't that clearly marked. When I went through at just after 6pm the place was deserted: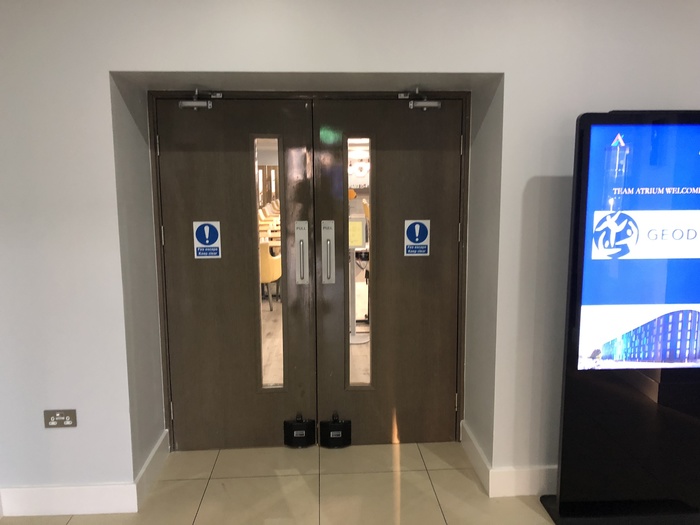 and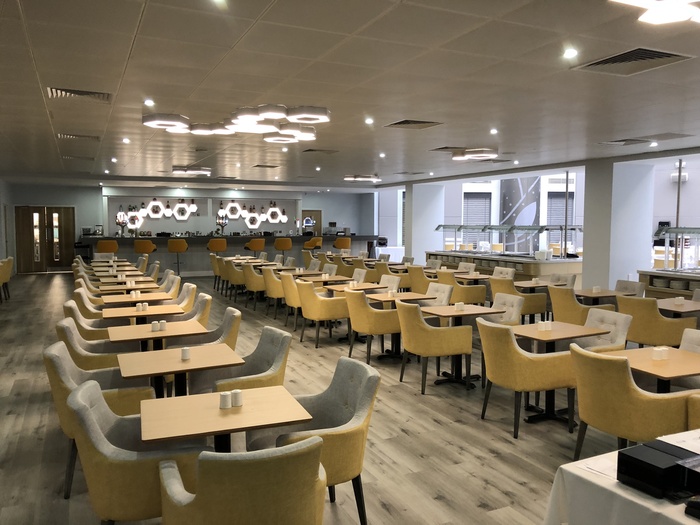 and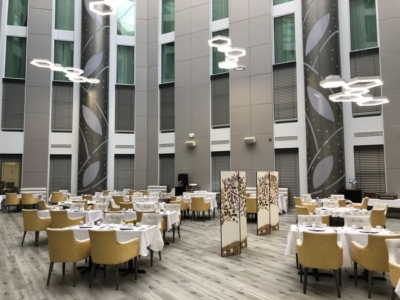 Which was odd, because reception had just confirmed they were open. There were no staff around either, except a barman who appeared to be busy and made no attempt to communicate with me. I decided I would try the spa facilities first (more on that later).
At about 8pm I made my way back to the restaurant and this time it was slightly busier and there were staff about! I was shown to a table in the atrium part of the restaurant, which is protected by a bubble similar to the ones at the Eden project. The architects clearly hadn't thought about the effects of such a thin membrane directly under Heathrow's flight path, because every two minutes the roar of aircraft taking off would dominate the room. It was LOUD.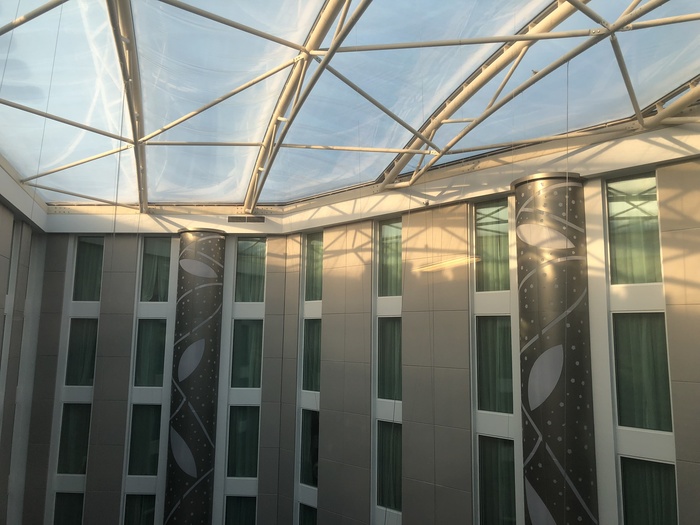 I was given a laminated menu (!) and wine list, as well as being told that there was an Indian buffet next door that I could have a look at. It was £18 per person. I thought I would and so I went through some double doors as directed, to find another gigantic atrium space, again filled with rows and rows of tables, as well as over 100 people crowding around a very small buffet: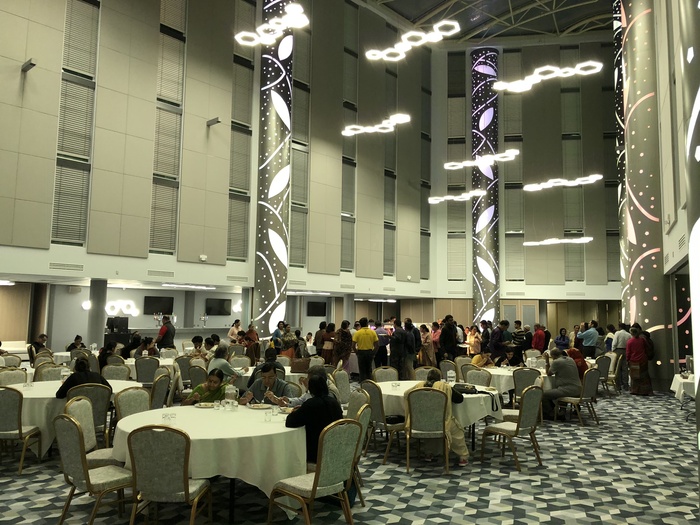 They all appeared Indian or British Indian, with women in sarees. It was bizarre. I felt like I had stepped into an entirely different hotel. There were far more people here than in the restaurant next door, and the only rational explanation I have is that this hotel must cater to a lot of Indian tour groups. Had it not been for the queues and the tiny buffet I probably would have joined them.
Back to the 'Orange Tree' restaurant. Although the service was a little slow I managed to order from the overpiced menu. It is a jumble of different foods including Chicken Tikka Masala, Fish and Chips, pizza and stir fry, as you can see on the hotel website here.
I ordered a glass of white wine which wasn't particularly expensive but had a taste to justify the price.
This was my gravalax starter: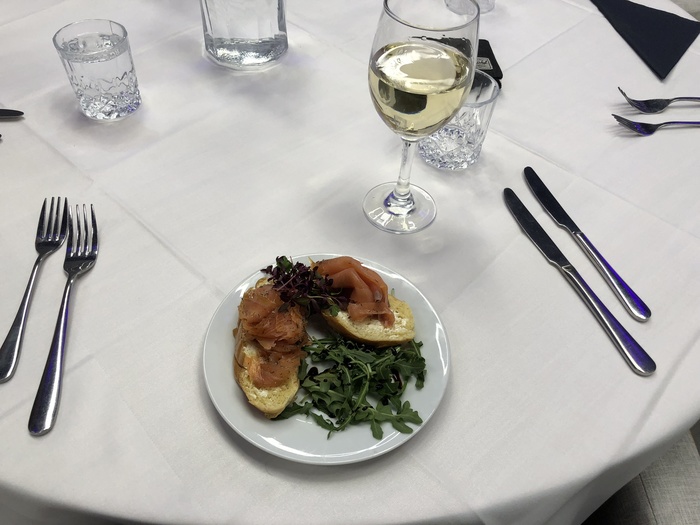 My teriyaki-marinaded salmon fillet main: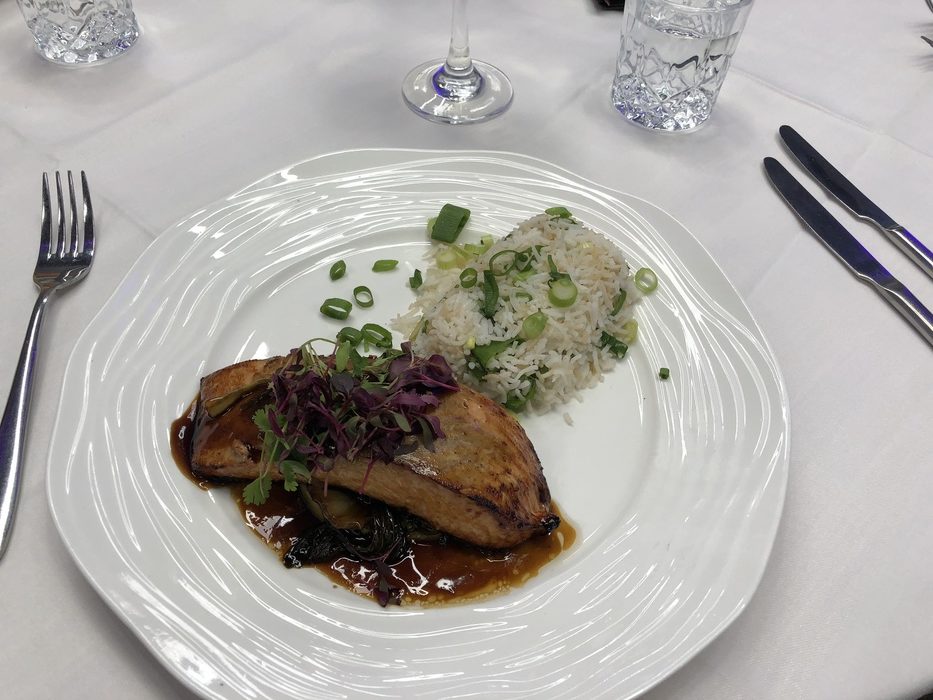 I got a bit panicky and went for double-salmon but have no regrets!
I thought I might go for a dessert but the staff took ages to get back to me after I had finished so I decided just to ask for the bill. The service here is a little patchy, and it feels like the staff have been under-trained. At times it feels like everyone has just accidentally turned up at the hotel and been told to run the place. The service felt very improvised.
Breakfast
The breakfast buffet is served in the same room as dinner. I am not sure if a special Indian buffet breakfast is served next door, but I wouldn't be surprised if it was!
I waited to be shown to a seat (which is normally what happens at buffet breakfasts!) but the waiter came and took my room number and then disappeared again, so I found my own place to sit ……
This is the buffet, which has the usual cooked breakfast hot offerings:
…. a selection of cut fruit and cold meats: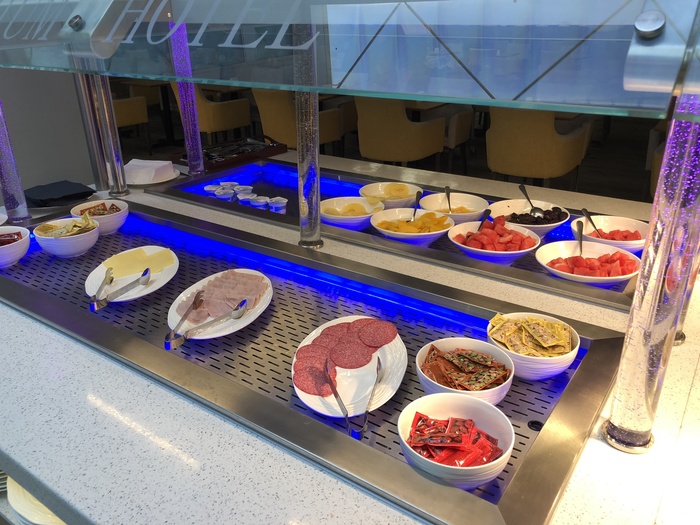 …. and a range of cereals, pain au chocolat and croissants: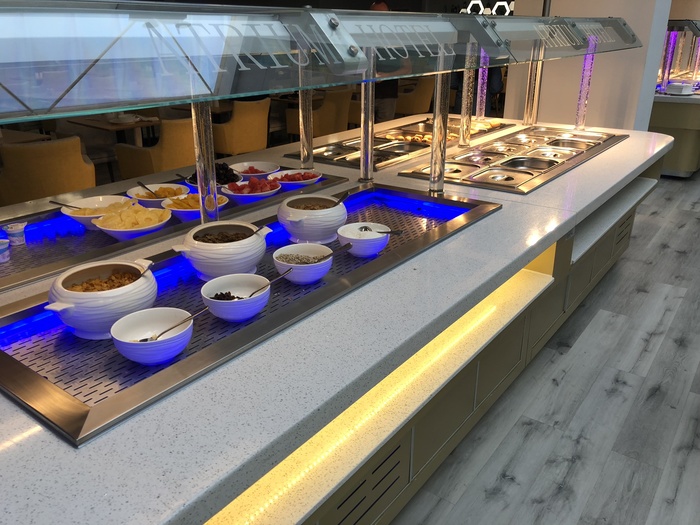 Drinks were self service. A range of juices and water was available from this station, which had a German-language interface ….: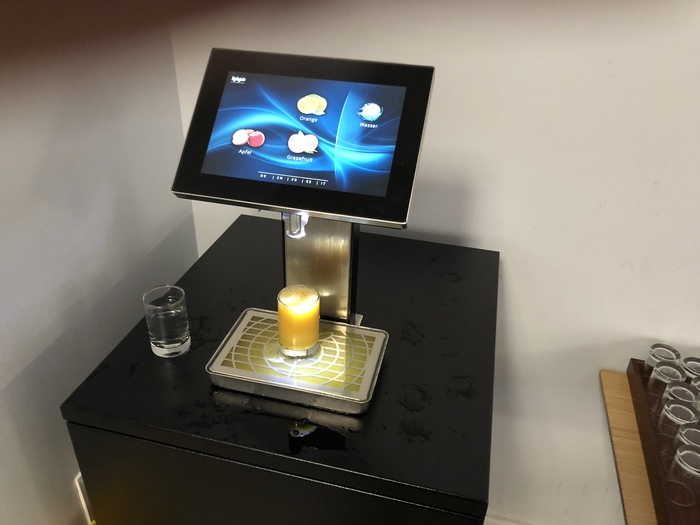 …. whilst coffee and tea was from a separate 'hot' machine. The breakfast was not the best although, to be fair, not out of line with your standard Holiday Inn-style offering.
The spa and gym
You wouldn't necessarily expect an airport hotel to have spa and gym facilities but the Atrium does and – bizarrely – they are really good!
Both are located underground one floor beneath reception. From the lifts you pass through a corridor with extremely low ceilings (I'm 6'2″ and had to duck in parts) to a small manned reception desk, where you can get towels, locker keys and have to sign a waiver.
You turn round a corner and go up and down a bunch of stairs until you get to the spa area, which has male and female changing rooms.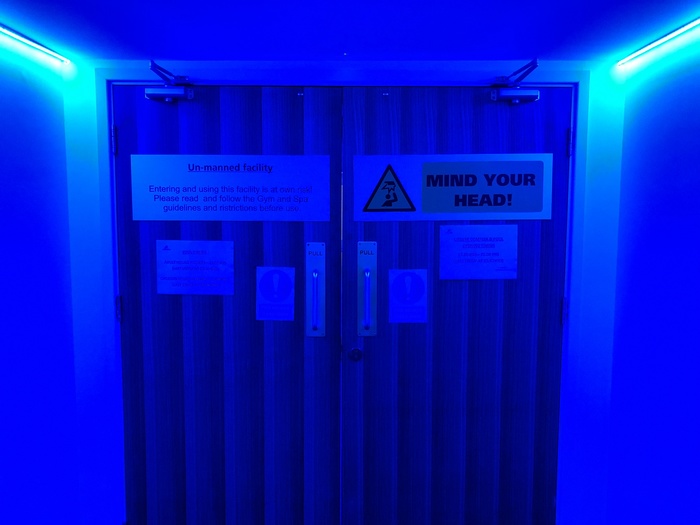 Once changed you go to the spa proper, which looks like this:
The pool is one depth throughout but is remarkably big. There is also a jacuzzi as well as a sauna and a steam room (out of use during my visit). The facilities are surprisingly nice, and it was a good way to spend a few hours at a hotel that otherwise does not have much to offer from its location.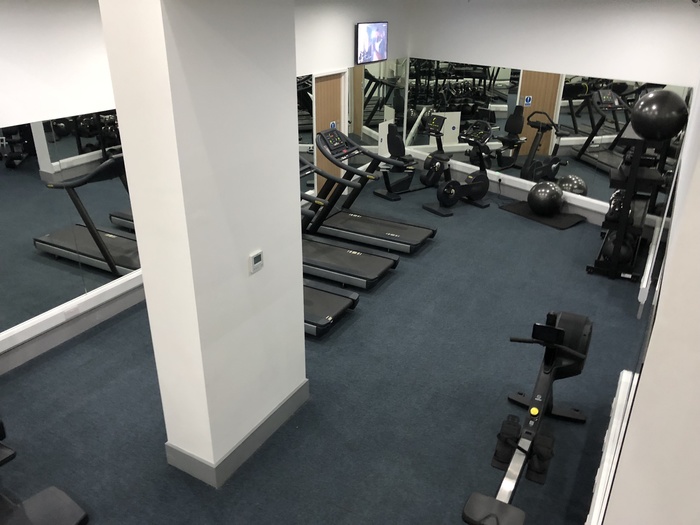 It was also underused – I only saw four other people whilst I was there.
Connectivity
The Atrium Hotel Heathrow is a brand new hotel, so you'd expect to have fast wifi and plug sockets everywhere.
This is not the case. The free wifi, which requires no password to access, is the slowest connection I have had the displeasure of using in some time! I ran a couple of speed tests and it consistently ran at less than 1mbps ….. the chance of you getting faster wifi in a plane is considerably higher.
There was just one double plug next to the bed, on the right hand side. The least you should expect these days from a new hotel is sockets on both sides of the bed.
Conclusion
I paid just over £100 for one night, including breakfast. Because pricing jumps around so much at Heathrow from day to day, you can't draw much of a judgement from this.
On the positive side, the location is very convenient for anyone travelling by tube to the airport, and you have a direct connection via the tube to all terminals. The spa and gym facilities were also excellent.
Another good point, although I didn't touch on it in the review, is that the website shows a very wide variety of room types. If you travelling with a family, there are well priced rooms here which can take everyone.
On the downside, it is in many ways a bizarre hotel. It makes you wonder if the owners really do run other properties, and what those are like. It is very clear that the hotel has not been under pressure to meet the brand standards that would be imposed by Holiday Inn, Marriott etc.
Even more concerning is the fact that, despite having just opened, the hotel looks like it is starting to fall apart. If you look at the cladding on the outside there are parts where you can see the glass fibre insulation through the gaps. In my room, the doorstop was hanging limply and the double doors by the lift shafts were scratched to pieces.
Whether this hotel can sort itself out and offer a decent proposition in time remains to be seen. Even then, you are looking at significant build quality issues and poor planning that leave this building a bit of a dud. My gut feeling is that, within a year, you will see an international brand above the door and substantial changes to how it is run.
How to book the Atrium Hotel Heathrow
If you want to book direct, the Atrium Hotel Heathrow website is here. However, as it is not part of any loyalty scheme, I would book it via Hotels.com instead – this is the specific booking page for the hotel – if the price is the same.
This allows you to earn a credit in Hotels.com Rewards. More importantly, when we booked via Hotels.com, it was £11 cheaper to logged-in Hotels.com users than it was on the Atrium's own website. You don't see the cheaper rate if you are not logged in.
---
Hotel offers update – December 2022:
Want to earn more hotel points? Click here to see our complete list of promotions from the major hotel chains or use the 'Hotel Offers' link in the menu bar at the top of the page.
Want to buy hotel points?
IHG One Rewards is offering a 100% bonus when you buy points by 29th December 2022. Click here to buy.
Marriott Bonvoy is offering a 25% discount when you buy points by 20th December 2022. Click here to buy.