Review: the Qatar Airways Premium Lounge at London Heathrow Terminal 4
Links on Head for Points may pay us an affiliate commission. A list of partners is here.
This is my review of the Qatar Airways Premium Lounge at Heathrow Terminal 4.
This is part of our series of reviews of airport lounges across the UK. You see all of the reviews here.
The first time I wrote about this lounge, back in 2014, I declared that it was "the classiest lounge at Heathrow" and I wanted to see if that was still the case. I wasn't disappointed.
First, some background.
This is the first part of a series looking at the Qatar Airways Qsuite business class product. It also includes two articles reviewing the Qsuite business class seat which start here. Our article on Qatar Airways business class food and drink is here. Our look at the Al Maha VIP arrivals and departures service is here. Our review of the Al Mourjan business class lounge in Doha is here.
Qsuite has won many awards for the best business class airline seat in the world since it was launched in 2017. It was the first with a fully closing door.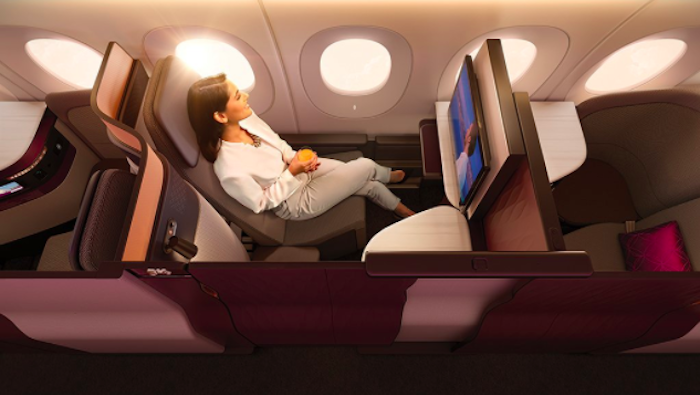 For many HfP readers, it is an irresistable combination. You get some amazing business class prices if you are willing to start your flights in Europe (£1000-ish to Asia is not uncommon), you earn DOUBLE the BA tier points you would get flying on BA on Asia routes (560 tier points for a return trip, due to the plane change in Doha), you earn Avios and you experience what is generally seen as the best seat in the air.
(Qsuite is not on all Qatar Airways aircraft, note. I will look at where you can find it in another article.)
However, I have a confession to make. I have sat in Qsuite various times at media events and trade shows. Soon after the launch, I had lunch on a Qatar Airways aircraft at Heathrow in Qsuite – without flying anywhere. However, circumstances had never quite worked out for me to actually travel on it.
I told this story at a recent meeting with the Qatar Airways team in London, and they insisted that I head down to Doha to try it out. The Privilege Club management team had wanted to meet me anyway, so we tied it all together. Head for Points covered all of its costs (hotel, transfers, meals etc) apart from the flight.
Anyway, back to the Qatar Airways lounge ….
Qatar Airways makes a big play of its Premium Lounge in Terminal 4. It is only open to Qatar Airways or other oneworld airline passengers holding a First or Business Class ticket. If you are travelling in economy but have oneworld status, you will be sent upstairs to the Plaza Premium lounge – above the Qatar Airways lounge – which I reviewed here.)
The previous agreement with SkyTeam to use their lounge has been discontinued, as it was too far from the Qatar Airways gates. Plaza Premium is a more pleasant, albeit smaller, lounge anyway in my view.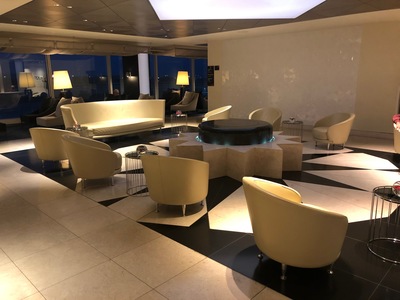 In my experience, when an airline has a combined First and Business Class lounge, it usually operates at the level of a Business Class lounge. The Emirates lounge in Terminal 3 is a good example of this, as indeed is the SkyTeam lounge in T4.
Qatar Airways has taken a different approach. It is effectively running it like an exclusive First Class lounge but one which business class passengers – but not economy passengers with status – can also enter. As Qatar Airways only has six flights out of Heathrow each day, it is unlikely that more than 250 people pass through the lounge.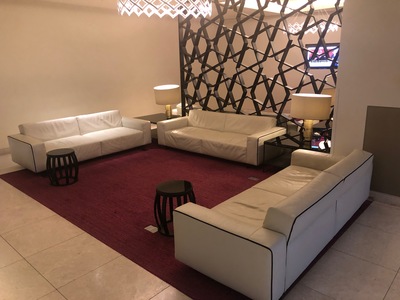 It is effectively like the British Airways Concorde Room but with more daylight. Instead of a reception desk, you are greeted by the equivalent of a restaurant maître d' who checks your boarding pass and will store your bag and coat if required.
It is a very civilised environment. Should you plan to turn up with a group of friends and get wasted, it is not the lounge for you! As I was on the 8am departure, I wasn't in the mood for overdoing the drink or the food anyway.
It isn't a huge space, so it won't take me long to explain the layout. You enter into the entrance area pictured above, where there are two seating areas and a small business centre.
(Let me apologise now for the dark photos – it was around 6am when I entered the lounge.)
You then have a narrow corridor: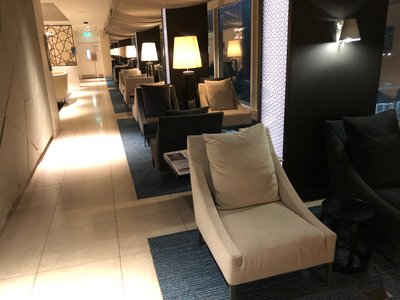 which leads you into the dining area.
Before we get to the dining area, take a look at the newspapers here: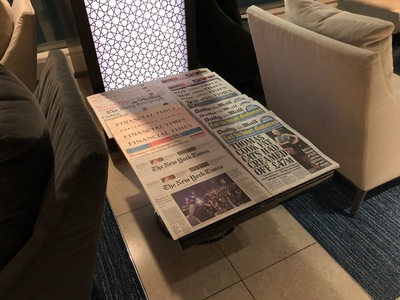 There are a few media stations like this in the lounge. Each one is impeccably neat. When a newspaper is taken, it is immediately replaced. If the pile is ruffled, it is immediately straightened up. It is the little touches like this that mark this out as a classy place to spend your time.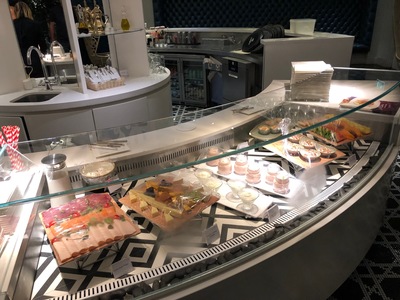 There are two dining areas. The first is a more casual area where you can choose from a buffet. Staff will prepare drinks individually on request.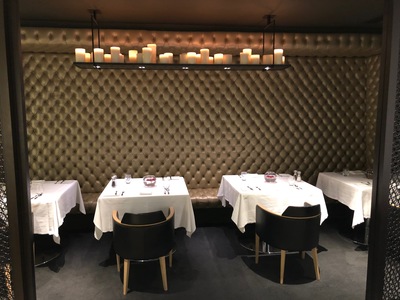 Next door is the dining room, with an open kitchen at the far end. With the white tablecloths etc this looks like the private dining room of a First Class lounge, but it is actually available to everyone in the Qatar Airways lounge.
As it was very early, I gave the alcohol a miss. I settled for some crepes: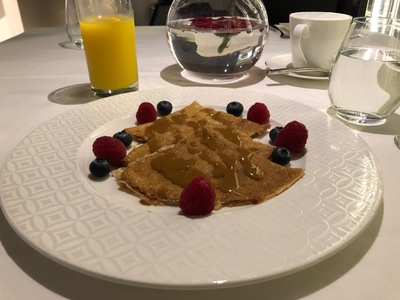 and Eggs Royale: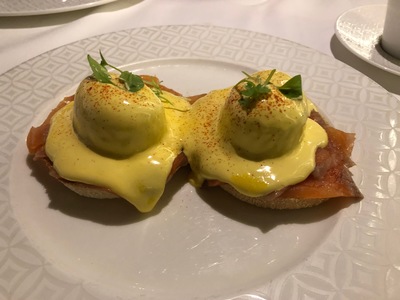 Eggs Royale is very easy to mess up, but the kitchen did a good job. I do remember getting a piece of lemon with its own individual squeezer last time I was here though – this seems to have disappeared.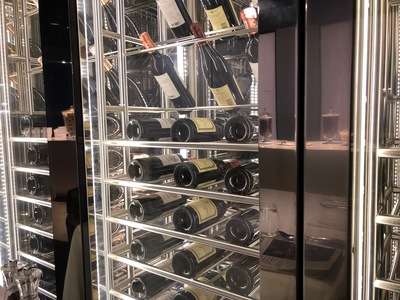 What IS new(ish) is the chocolate dispenser. I thought this was a nice touch. As you can partly see below, there are two tables with dispensers filled with Lindt chocolates. You take a Qatar Airways-branded cardboard box and make your own selection of luxury chocolates to take onto the aircraft. I'd never seen anything like this in an airline lounge before.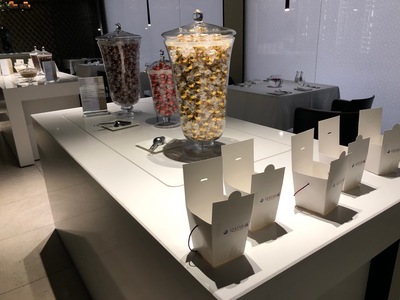 The Qatar Airways Premium Lounge remains, alongside the restaurant in the Virgin Atlantic Clubhouse in Terminal 3, the lounge with the best food at Heathrow.
Conclusion
The Qatar Airways Premium Lounge just 'works', or at least it works for me. No shortage of newspapers and magazines. Good staff. Certainly no risk of overcrowding. Well prepared food served in a civilised environment. There is a shower room if you want one.
And, when it is time to go, it is a 30 second walk across to the Qatar gates.
The Qatar Airways Premium Lounge is the complete opposite to, say, the Virgin Atlantic Clubhouse in Terminal 3 which is general regarded as the best 'fun palace' lounge in the world. It is a high quality, restrained, adult environment where you can pass your time eating very fine food and drinking high quality beverages. If that sounds like your sort of place, you should give it a try.
For me, 8am was approaching and I took the exceptionally short walk to the gate and my Qatar Airways A350-900 with Qsuite ….