We take a sneak peak at the United Airlines Polaris business class (Part 2)
Links on Head for Points may pay us an affiliate commission. A list of partners is here.
This is the second half of our overview of the United Airlines Polaris business class seat on a Boeing 767.
Part 1 of our United Airlines Polaris review can be found here.
In terms of seat choice in the business cabin, the standout seats are the window seats in rows 3, 5, 9 and 11 all of which enjoy two windows each. All the rest either have misaligned or even obscured windows so if you like to look out, there are definitely some to avoid if you don't want to be disappointed – Row 18 is one of these as it has no visible window at all: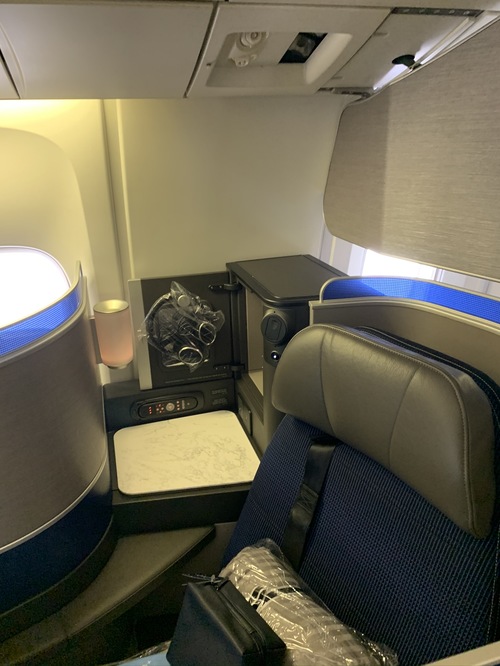 Soon after seating, the lovely 'going nowhere' cabin crew came around to offer us a top-up of champagne or wine or both, and to take our starter orders.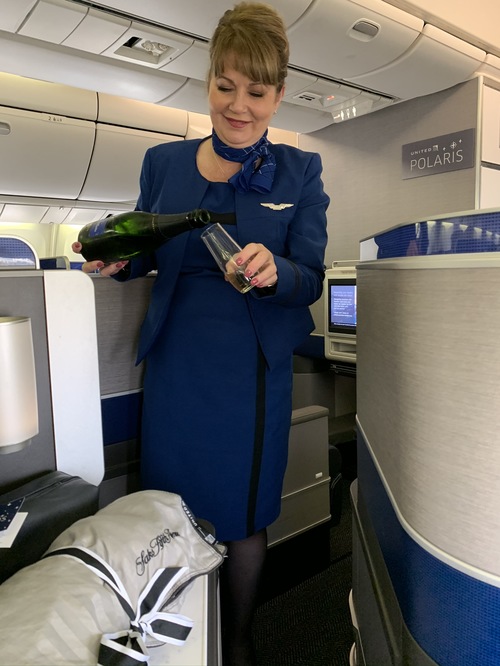 By the time I'd explored the seat, I was really getting into this unusual 'going nowhere' journey and having missed my usual pre-flight visit to the departure lounge, I was really looking forward to the meal and wine.
Polaris food and drink
I chose a salad with mango alongside a small but tasty and beautifully presented serving of pork rillette. Warm bread was also offered – including a fantastic pretzel roll, plus each tray came complete with personal salt and pepper in the cute little Polaris Orb. I decided to pair with a delicious Californian Chardonnay.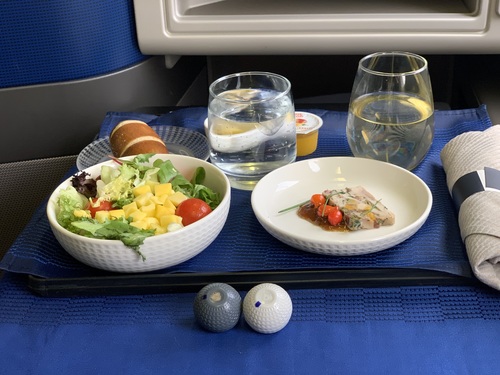 We then had a choice of mains, and for me, it had to be the beef, which was served with potatoes gratin, root vegetables and a scrumptious jus.
After two big dishes and two (maybe three 😉) drinks, it was time to put the bed to the test. I was slightly nervous that I would nod off, so I didn't hang around prone for too long, but I can report that it was very comfy, especially with the memory foam pillow, and there were no noticeable ridges or bumps. There seemed plenty of room for my admittedly only 5'3" frame.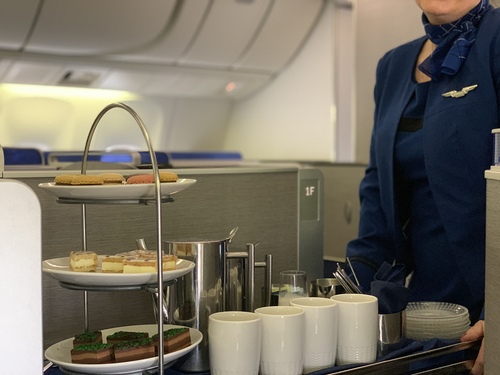 With the promise of coffee and some puds, I took the opportunity to explore the 'facilities' and found the loo to be perfectly adequate for a plane. Nothing fancy like you see on a carrier like Qatar Airways, with stashes of toothbrushes and other goodies on offer, but there was a bottle of hand cream and facial spray mist you could use if you wished to refresh yourself mid-flight.
Premium Plus (premium economy)
I had another little wander towards the back of the plane to have a proper look at the Premium Plus seats. These really were very impressive: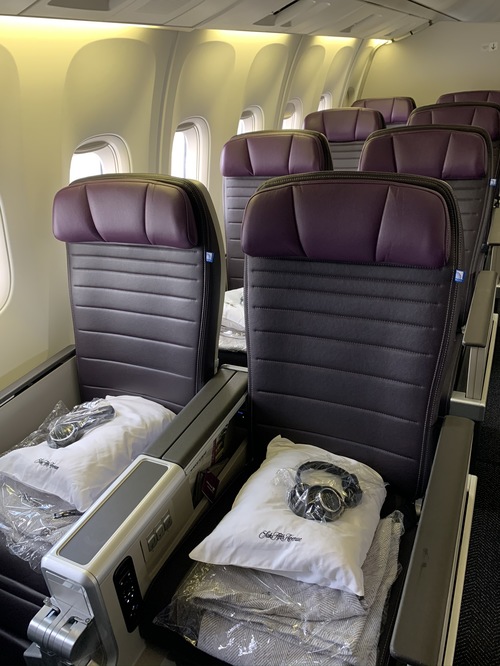 Nice and comfy with a good recline and for anyone who is budget conscious, particularly on a day flight, or has to work within the parameters of a 'premium economy only' company travel policy, these seats seem to offer an enjoyable way to travel. The 2-2-2 configuration is a world apart from BA's 2-4-2 layout in Premium Economy seats (although admittedly on wider aircraft).
The bulkhead window seats in Row 20 offer almost unlimited legroom: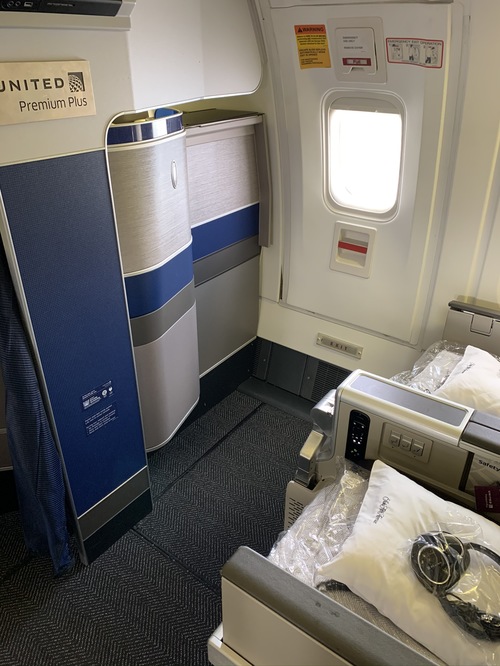 Economy and Economy Plus
Moving backwards, again the cabin with the Economy Plus seating feels nicely spacious, plus we all spotted a couple of gems towards the back on the left-hand side with a tremendous amount of legroom and economy seats that even sport a leg rest:
It's rumoured that these are crew rest seats, but presumably on a flight where crew don't need to rest, you may get lucky. Row 43 is definitely worth checking out if booking into economy in this cabin. But don't forget that anyone in Economy with status of Premier Gold can automatically choose the Economy Plus seats at no extra cost.
Conclusion
Boarding a plane for lunch without going anywhere was quite a surreal experience but very enjoyable, and I felt really privileged to have the chance of this little 'behind the scenes' look.  I was very impressed with what I saw and feel that United has a robust offering now for the business traveller who is looking for more choice between London and New York.
For anyone who is not wedded to their current airline or alliance, United Airlines is clearly striving to offer not only a comparable, but a distinctly competitive edge when it comes to transatlantic premium seats.
My biggest 'takeaway' from the briefing is that unlike on other carriers, if you book a business seat between London and New York Newark with United, you'll know precisely what you're going to get – this new Polaris seat.