Review: the new PremiAir VIP Terminal at Manchester Airport – get driven to your plane!
Links on Head for Points may pay us an affiliate commission. A list of partners is here.
This is our review of the PremiAir 'pay to use' VIP terminal at Manchester Airport.
A couple of weeks ago, the new VIP terminal – PremiAir – opened at Manchester Airport.
Importantly, ANYONE can use PremiAir if they are flying on a participating airline.  It isn't just for the super-rich either.  Fees start at just £50, which many people will find a modest price to pay to escape the nightmare that is the main terminal complex at Manchester.
Clearly we were intrigued, so last week I headed up to Manchester to take a look.  We paid the standard £100 fee and the terminal did not know that I was there to write about it.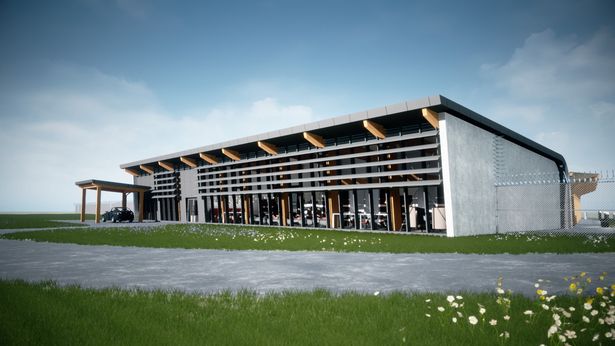 Where is PremiAir?
The good news, for those keen to see as little of the main airport as possible, is that PremiAir is nowhere near the main terminal.  It has been built next to the Runway Visitor Park, on a piece of land which was originally given over to plane spotters.  It is also close to the massive Amazon fulfillment centre, if you have ever driven past that.
At present, there is more signage to the Runway Visitor Park than there is to PremiAir.  It is already showing on Google Maps so it can be picked up by Uber and taxi apps.
I wasn't entirely sure what to expect.  The final couple of minutes of the drive take you onto very small roads and you begin to wonder if you're going the right way.  Suddenly an old Trident aircraft appears – part of the Runway Visitor Park – and you are there.  A security guard at the gate checks you off on the list of booked guests and you are driven to the PremiAir entrance.
Click on any picture to enlarge: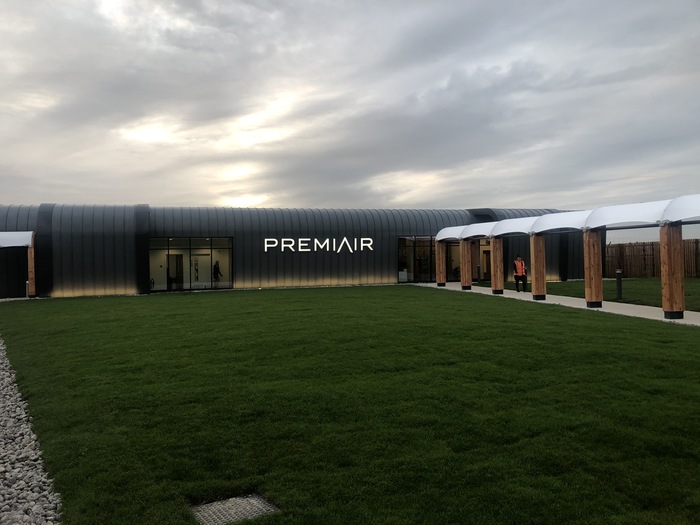 Apologies for the lack of blue sky but this was Manchester in November ….
I was slightly shocked to find that everyone, including the security guard on the gate, knew my name.  The reason became clear very quickly – I was the only person booked in.  I had the entire terminal to myself for the 90 minutes I was there, which was certainly a novelty.
There isn't much to explain.  The very friendly reception team check you off and confirm that your ID is in order and that there is no reason, eg customs declarations, why you might need to go back to the main terminal.  Here is a stock image: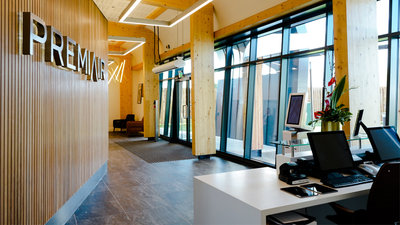 I had no luggage to check in so there was no need to have that transferred across.  I was then shown into the lounge area.
It looks great.  Knowing that the lounge is literally on the edge of an active taxiway, so you have aircraft passing within 100 feet of the windows every couple of minutes, the architects sensibly let the view dominate.
It is a long thin space dominated by floor to ceiling windows on one side.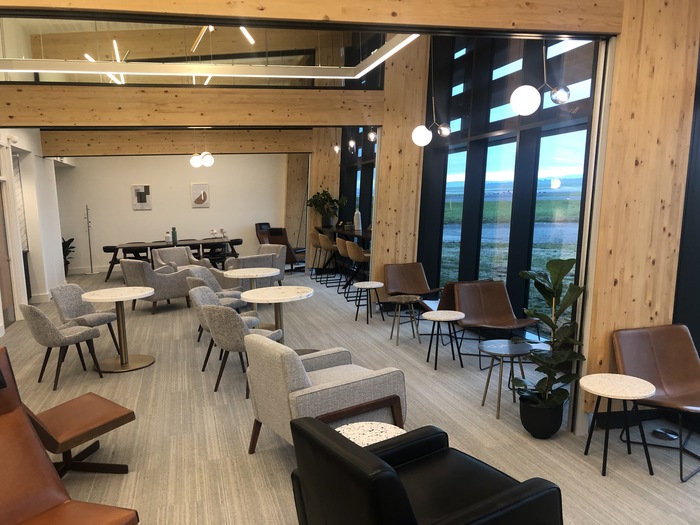 and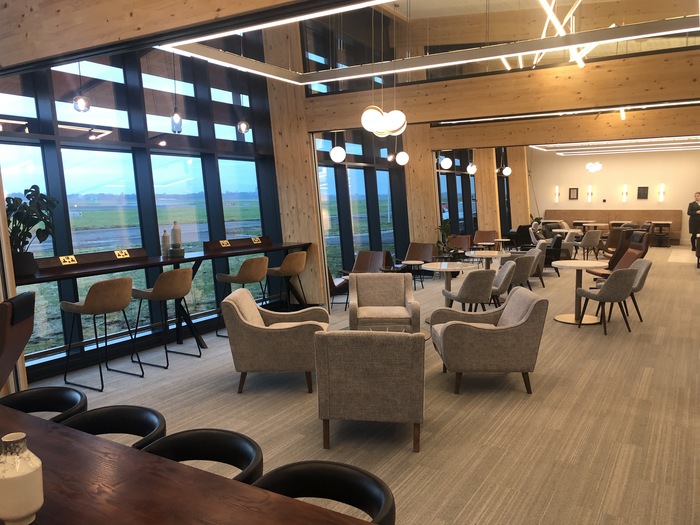 The space features strong use of wood, which I found attractive.
This is very much 'stealth wealth' territory.  If you're looking for Cristal on tap then you are very much in the wrong place.  This is part of the drinks selection although it was far too early for me – you can see the spirits in the video: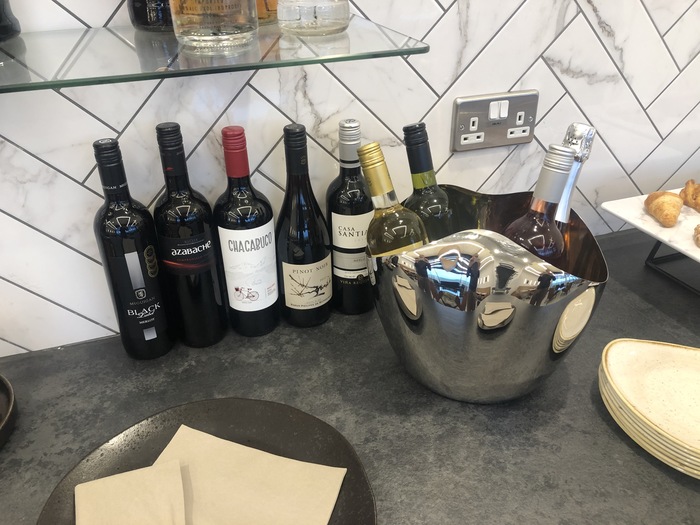 Apart from a selection of pastries and cookies which are out on display, all food is cooked to order.  You are given a menu – click to enlarge: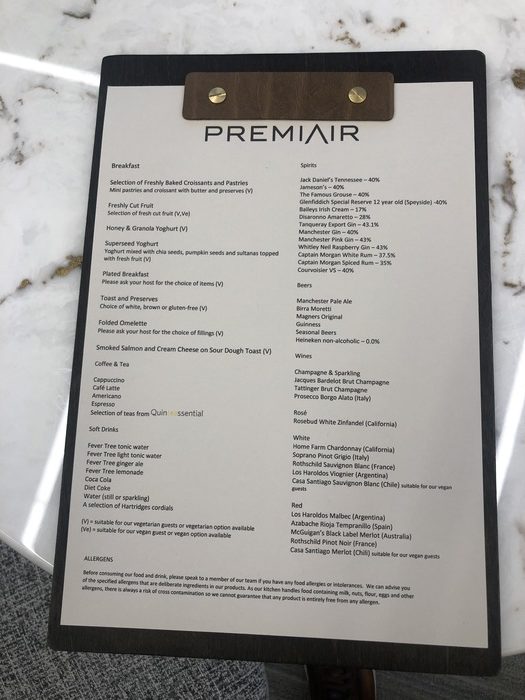 As you can see, the breakfast offering has a variety of hot and cold items, from a 'plated' hot breakfast (presumably something like a full English) through to lighter items like fruit and yoghurts.  There are separate menus for lunch and dinner which I didn't see.
I ordered a ham omelette which was very classily done.  I didn't take a picture as the lounge manager had come over for a chat and I felt a bit stupid getting my phone out to photograph my breakfast!
There's not much more to say.  I didn't see any showers.  The loos are suitably smart.
The transfer to my plane
This was the cool bit.  When my BA flight back to London was ready for boarding, PremiAir staff came over and took me to my car.
You go through a door where there is a passport control and security screening.  It was the first time in my life that I have been greeted by name by a security screener!  I did not try to photograph this as it was likely to lead to trouble.
I hopped into the car and off we went: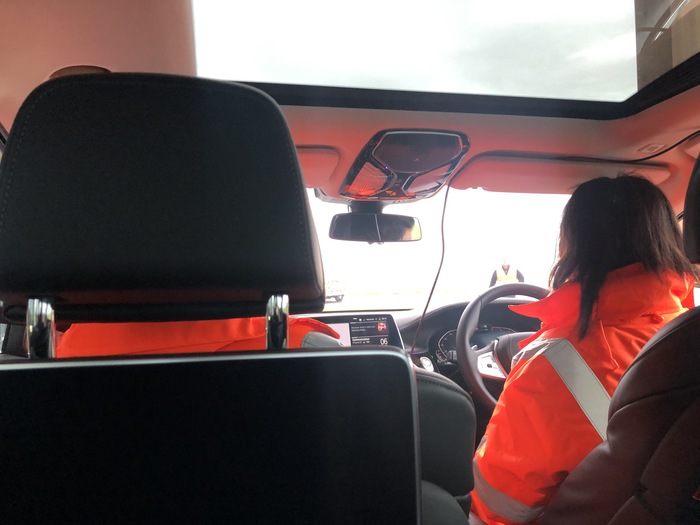 Passing three of the parked up Thomas Cook aircraft on the way: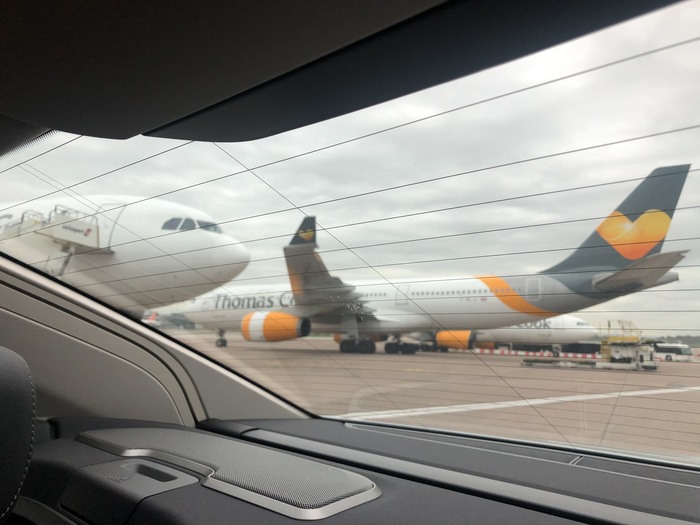 Terminal 3 is a long way from PremiAir, which is great because you get a full drive around the airfield.  It seems that not all aircraft gates have easy access for car passengers from the apron.  In my case, we parked up at Gate 49 which was the most convenient.  The two PremiAir staff and I went into the terminal, up to Departures, and then did the 45 second walk across to Gate 135 which BA was using.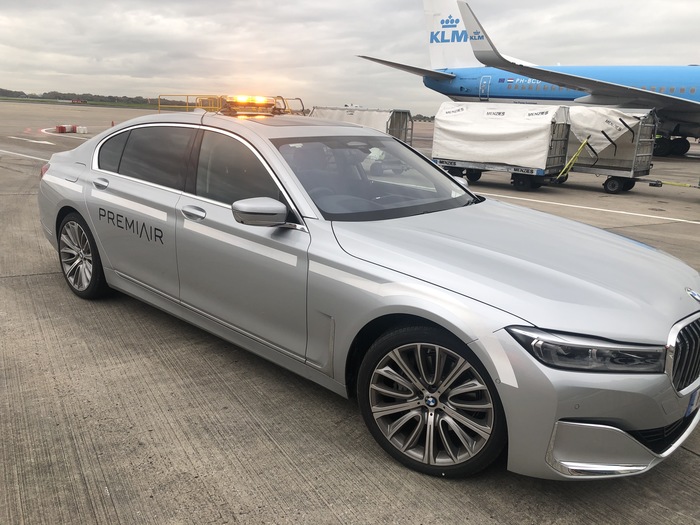 I was Group 1 boarding anyway, but the PremiAir staff took me to the front of the line and told the agents at the gate to let me go first.
I have done the 'be driven to your plane' thing a few times in the past, most recently at Frankfurt's First Class Terminal (First Class passengers only) and at London City Airport's First Class Lounge (£95 fee) but this was the best drive I ever had.  My last First Class Terminal drive was around 30 seconds as the aircraft was on the nearest gate.
If you've used the First Class Terminal in Frankfurt, then PremiAir does not compare.  There are no baths, no cigar room, no luxury restaurant etc.
If you've used the First Class Lounge at London City Airport then PremiAir IS directly comparable (and costs the same – £95 vs £100).  PremiAir is a substantially 'nicer' facility though.  It is bigger and brighter, and you can have food cooked to order.  City Airport will bring you a tray of sandwiches and that's about it.
(Here is my review of Lufthansa's First Class Terminal.  Here is Anika's review of London City's First Class Lounge and my update from earlier this year.)
What does PremiAir cost?
Here is the PremiAir website.
For departing passengers, there are two options:
Priority Departures – for hand baggage only passengers, you can pay £50 per person and check in at PremiAir.  You will clear immigration and immediately be driven across the airport to your departure gate in a shared vehicle.  You only need to arrive 60 minutes before departure.
Premium Departures (what I did) – for passengers with luggage and/or who want a private lounge, you can pay £100.  You will check in and clear immigration, and then be able to use the lounge in the terminal before being driven across the airport directly to the steps of your aircraft in a private vehicle.
There is also an arrivals service (£125) as well as the ability to book a private suite for your party on arrival or departure.
Note that pre-booking is required, because all passengers need to have their passport information screened in advance.
If you need parking, the site says:
"If you're using PremiAir for your trip, you can also park your car with us using Manchester Airport's Meet & Greet parking service. On arrival at PremiAir, simply leave your key with our host and they'll take care of the rest. Alternatively, we offer a small number of parking spaces outside the PremiAir terminal building."
Which airlines can use PremiAir?
The list is constantly growing, although some airlines (eg Lufthansa and United) who were originally named as participating are no longer listed.  Virgin Atlantic has just been announced as the latest to sign up.
The current list as shown online is:
Aegean, Aer Lingus, Aurigny, British Airways, Ethiopian Airlines, Etihad Airways, Finnair, Hainan Airlines, Iberia Express, Icelandair, Iraqi Airways, Loganair, Norwegian, Oman Air, Pakistan International, Pegasus Airlines, Qatar Airways, Saudia, Singapore Airlines (exc Houston), TAP Portugal, Turkish Airlines, Virgin Atlantic, Vueling
What are the opening hours?
At present, PremiAir is only open until noon.  From December, it will be open between 4am and 10pm, every day except Christmas Day.
The Priority Departures service is available for flights departing between 5am and 10pm.  The Premium Departures service is available for flights departing between 6am and 10pm.  The Arrivals service is available for flights arriving between 4am and 8pm.
Conclusion
I was very impressed by PremiAir.  Given how painful the main terminal can be, I can promise you that I would be using this myself if I flew from the airport on a regular basis.
At £50-£100 per person, it clearly isn't aimed at the family market – although there are plenty of people in the airport catchment area who will be happy to pay.  The main market is going to be corporate travellers (for whom paying £100 is a bargain if they can get more work done than they could do in the terminal) and the airlines.
At present, the premium experience at Manchester is dire beyond belief.  Fly on Qatar Airways in Business or Virgin Atlantic in Upper Class and you are dumped in the terrible Escape Plus shared lounge.  Whilst Virgin Atlantic is opening a Clubhouse next year, I can easily see Qatar Airways, Etihad, Oman Air etc offering their premium passengers the opportunity to use PremiAir at their expense.
If you want to know about Avios redemption ideas from Manchester, this HfP article looks at Avios flights from UK regional airports.
If your time or quality of life is more important to you than money, I strongly recommend you give PremiAir a try.  I doubt you will go back once you've done it once.
---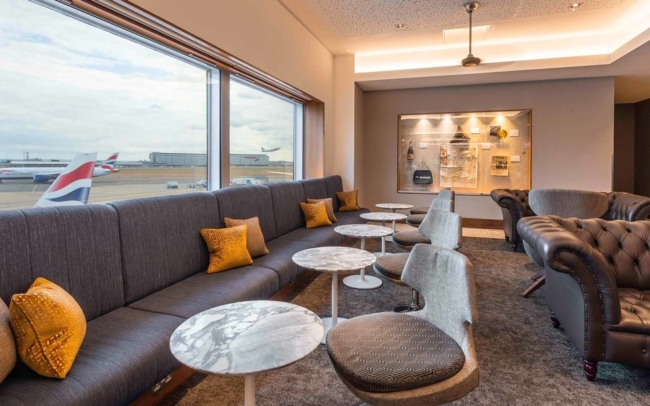 How to get FREE airport lounge access via UK credit cards (March 2023)
As a reminder, here are the four options to get FREE airport lounge access via a credit card: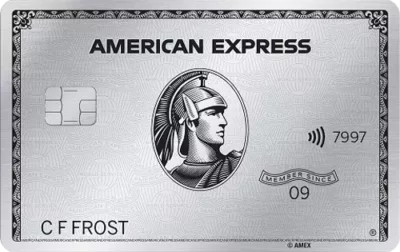 The Platinum Card from American Express
30,000 points and unbeatable travel benefits – for a fee Read our full review
The Platinum Card from American Express comes with two free Priority Pass cards, one for you and one for a supplementary cardholder. Each card admits two so a family of four gets in free. You get access to all 1,300 lounges in the Priority Pass network – search it here.
You also get access to Plaza Premium, Delta Air Lines and Eurostar lounges. Our American Express Platinum review is here. You can apply here.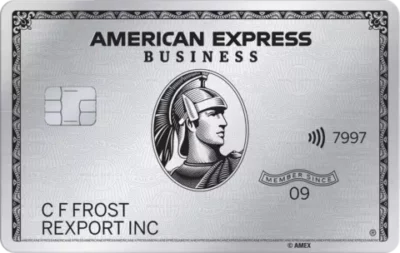 American Express Business Platinum
Crazy 120,000 points bonus (to 30th March) and a £200 Amex Travel credit every year Read our full review
If you have a small business, consider American Express Business Platinum instead.
Until 30th March 2023, the sign up bonus on American Express Business Platinum is increased to 120,000 Membership Rewards points – click here. T&C apply, see the application forms for details.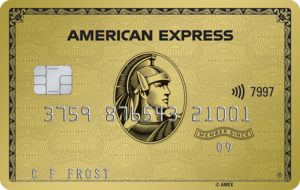 American Express Preferred Rewards Gold
Your best beginner's card – 20,000 points, FREE for a year & four airport lounge passes Read our full review
American Express Preferred Rewards Gold is FREE for the first year. It comes with a Priority Pass card loaded with four free visits to any Priority Pass lounge – see the list here.
Additional lounge visits are charged at £20. You get four more free visits for every year you keep the card.
There is no annual fee for Amex Gold in Year 1 and you get a 20,000 points sign-up bonus. Full details are in our American Express Preferred Rewards Gold review here.
HSBC Premier World Elite Mastercard
A huge bonus, but only available to HSBC Premier clients Read our full review
HSBC Premier World Elite Mastercard gets you get a free LoungeKey card, allowing you access to the LoungeKey network. Guests are charged at £20 although it may be cheaper to pay £60 for a supplementary credit card for your partner.
The card has a fee of £195 and there are strict financial requirements to become a HSBC Premier customer. Full details are in my HSBC Premier World Elite Mastercard review.
PS. You can find all of HfP's UK airport lounge reviews – and we've been to most of them – indexed here.