Review: British Airways airport lounge, including First Class dining, at Washington Dulles
Links on Head for Points may pay us an affiliate commission. A list of partners is here.
This is our review of the British Airways lounge and the First Class dining room at Washington Dulles Airport.
With two daily flights and and a lot of premium passengers between London and the US capital it clearly makes sense to have a dedicated British Airways lounge at Washington Dulles.
In addition to BA passengers it is also open to Aer Lingus flights as well as anyone flying business or first class on oneworld partners or with oneworld status. It is also open to Priority Pass holders between 7am and 2pm – as there are no British Airways flights during this period – although you should expect a different food offering during this time.
Whilst I was flying in World Traveller Plus (my review of British Airways World Traveller Plus from Monday is here), British Airways allowed me to use the lounge and the First Class dining area for review purposes. Unfortunately, World Traveller Plus tickets do not come with lounge access as a benefit.
Where is the British Airways lounge at Washington Dulles?
The lounge is situated above the B gates, which is where British Airways flies from. It is easily accessible and almost directly opposite the exit from the air train into the terminal concourse, although airport signage does not make it clear.
It is marked by this big entrance (click any photo to enlarge):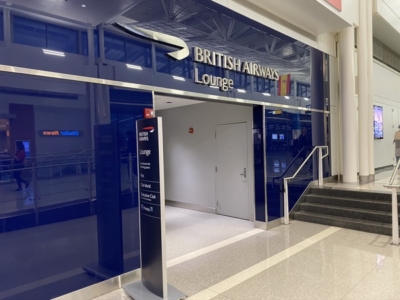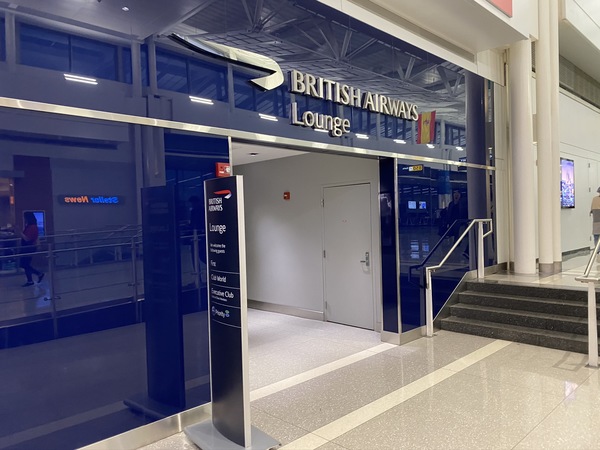 …. which leads to a lift that takes you upstairs.
Inside the BA lounge in Washington
Once upstairs you are greeted by this welcome desk where they scan your boarding pass: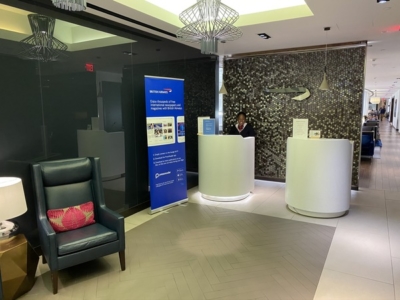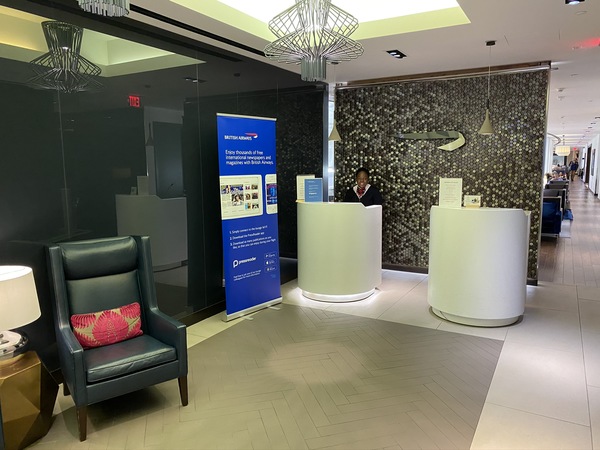 The lounge itself is an elongated shape due to the proportions of the terminal. It is situated directly above the gates: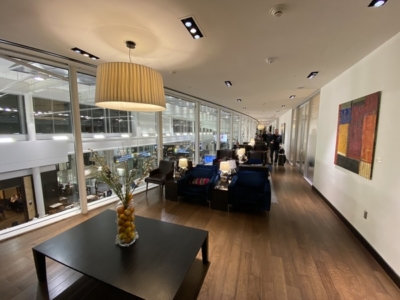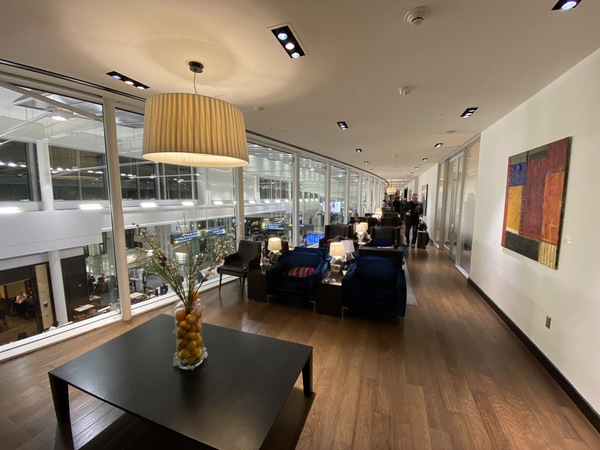 There is one long corridor that flanks the majority of the seating, as you can see. It is widest at the front and back.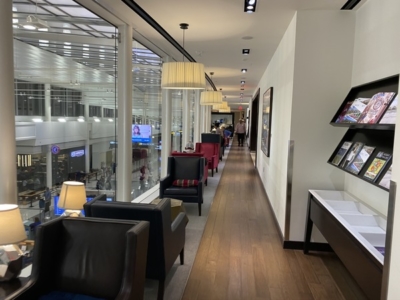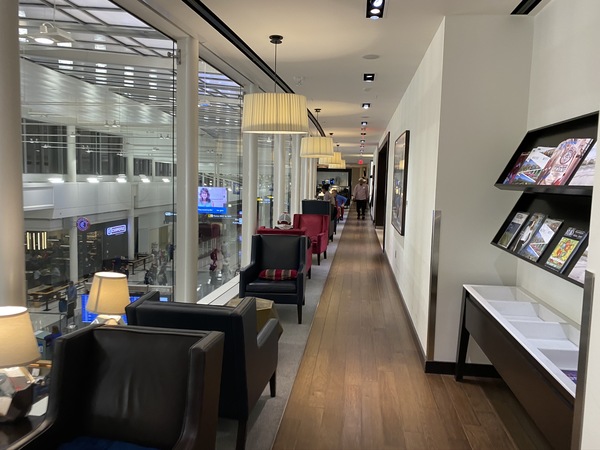 Further down is a small cut away featuring drinks and snacks featuring small wraps, sandwiches and some nibbles: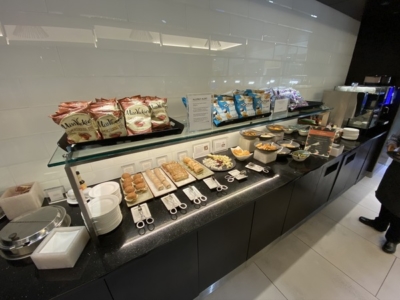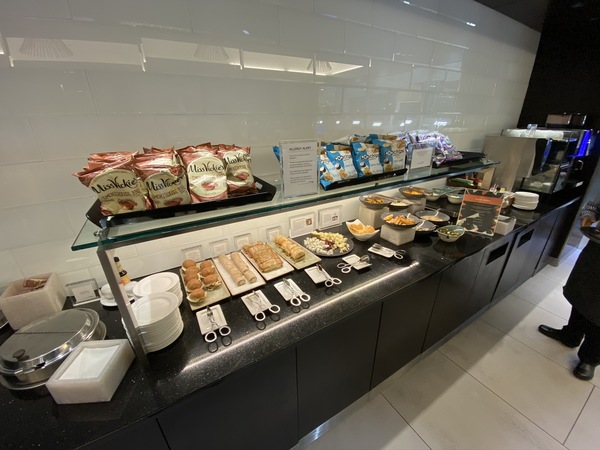 and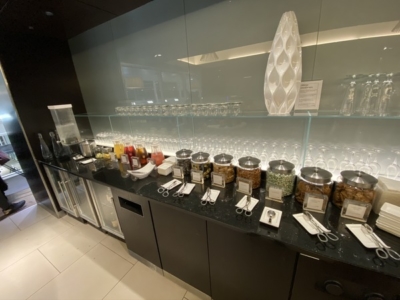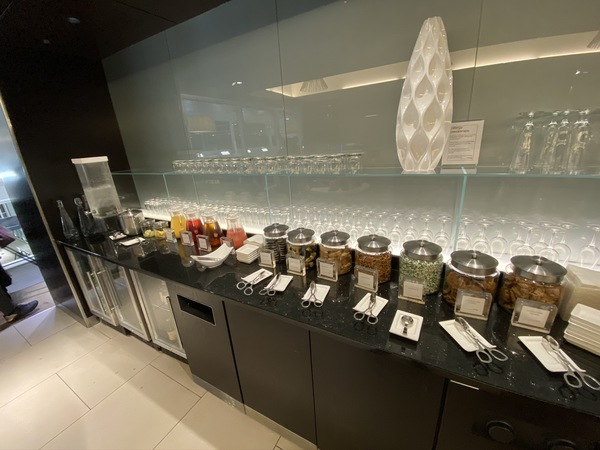 As well as wine on tap: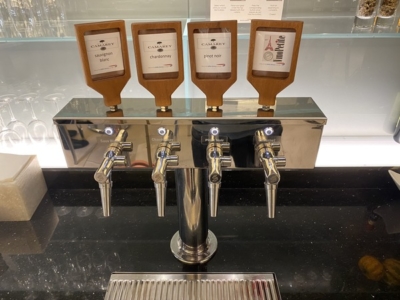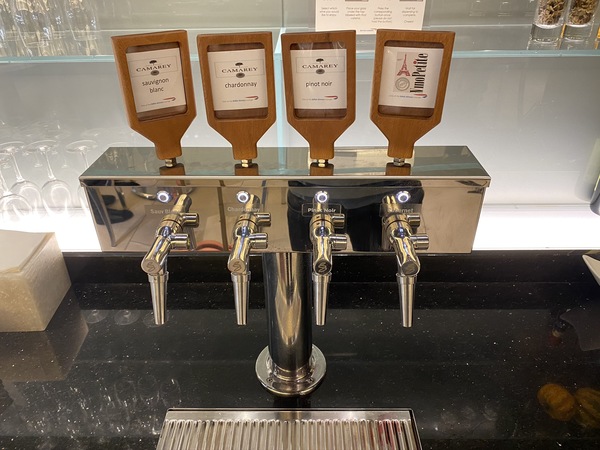 It also leads to the Club World dining room, which features more formal seating as well as a buffet dining options. What I did not realise is that the dining room is closed as soon as the boarding call is made in the lounge, which scuppered my plans to see and photograph it after my dinner in the First Class dining room!
The Club World dining room is a large space, however. Hazarding a guess I would say it doubles seating capacity in the lounge as a whole. I assume the entire dining room is re-set after closing before passengers start to arrive for the second flight later in the evening.
A working space is further down the lounge: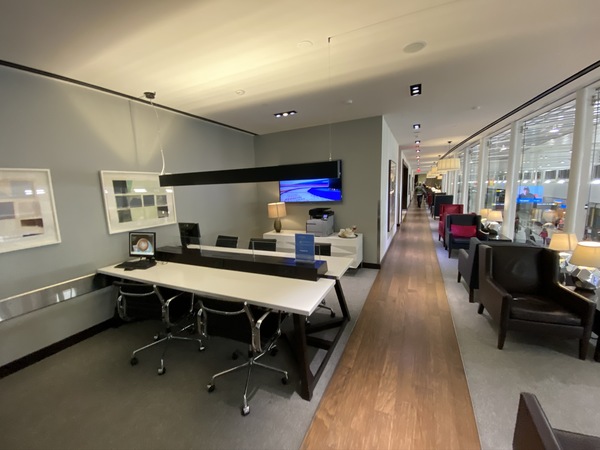 As well as a literature rack, which was looking a little sorry when I had a look at it after the boarding announcement. Either newspapers are in high demand or the offering is poor, you decide!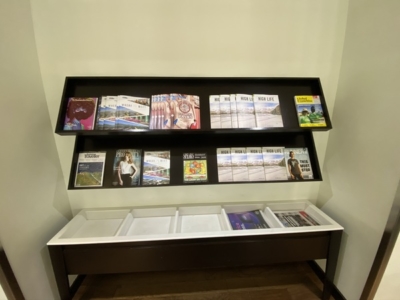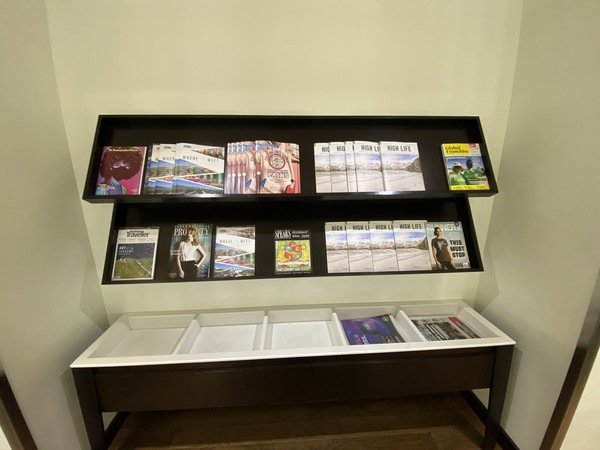 First Class lounge dining
It is important to note that the First Class dining room is only for ticketed First Class passengers. It cannot be accessed with a British Airways Executive Club Gold card or oneworld equivalent.
There is no real separated First Class lounge. What you have is these two armchairs and sofa: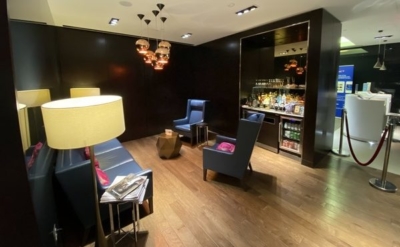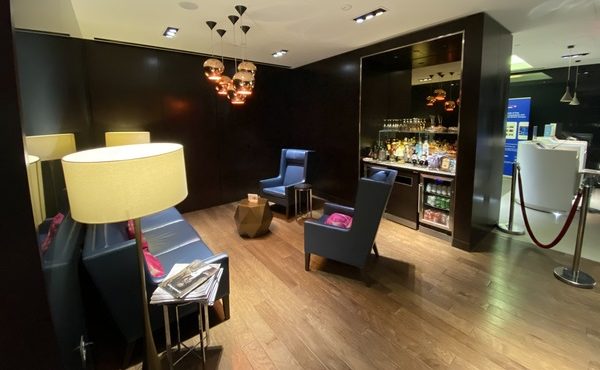 ….. before a more formal dining room. It is a remarkably large space, with around 10 separate tables, in a sort of booth-y layout which is very private: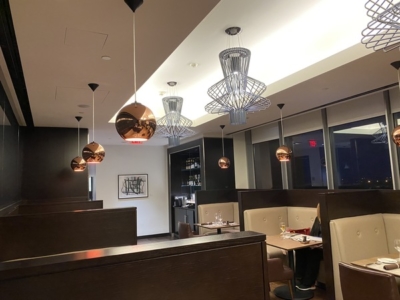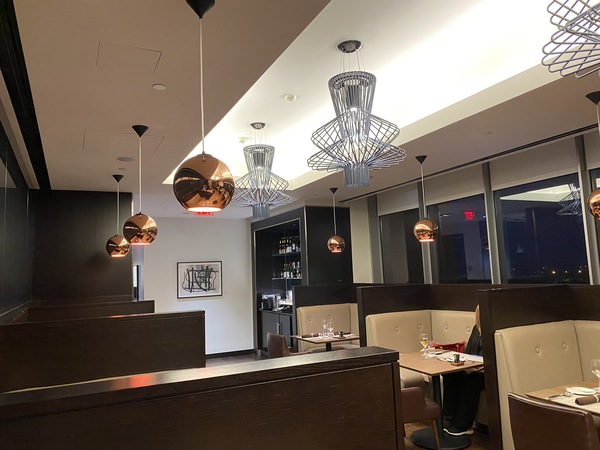 Each booth has its own USB and US plug sockets: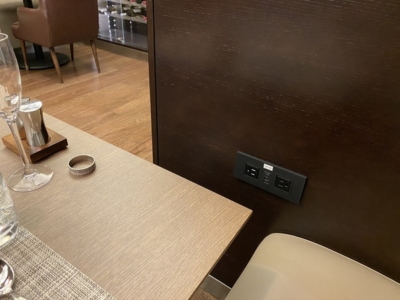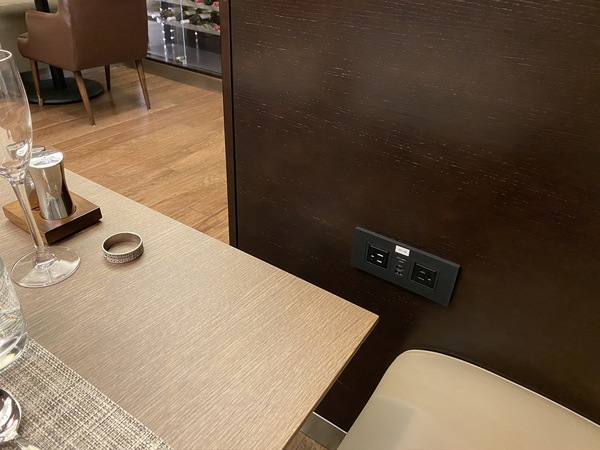 Whilst the lounge does have large glass windows facing the tarmac, the lounge does not make best use of this, instead obscuring them with the seating booths: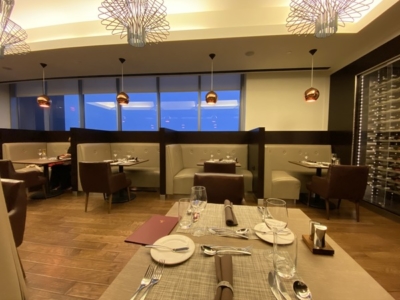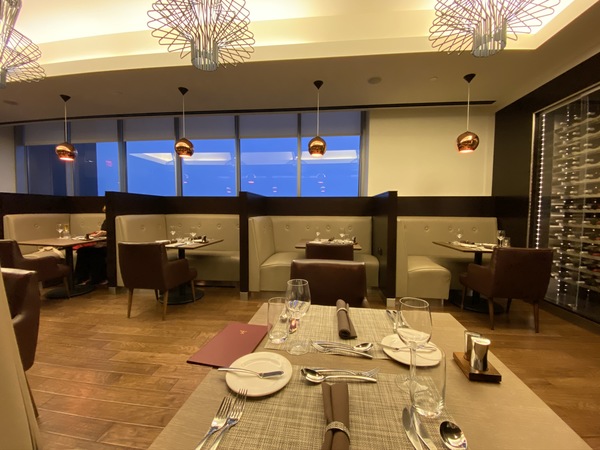 On sitting down I was asked what I would like to drink. I asked for the champagne, which was a Paul Clouet Brut NV.
I was also given a menu. There were a couple of starter options, four main courses and a one dessert to choose from. I like living on the edge and decided to put my shellfish allergy to the test and treat myself to the white wine poached scallops, sorrel pesto, Pennsylvania pioppino mushrooms and Gruyere tarragon cream: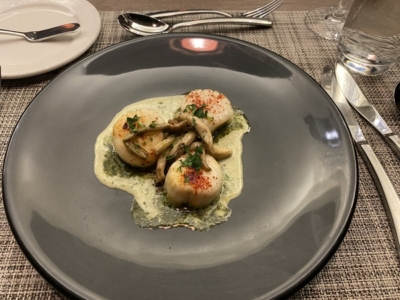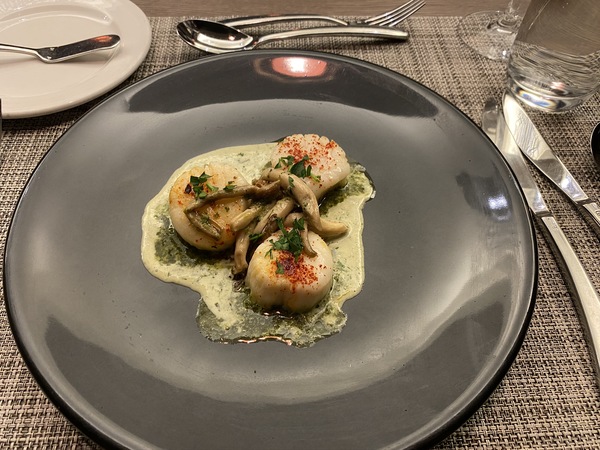 You'll be pleased to know that I am not allergic to scallops, it turns out!
The main course options included what looked like a thanksgiving-inspired turkey roulade, but I went for the miso ginger braised beef short rip with crispy ramen noodles and baby bok choi: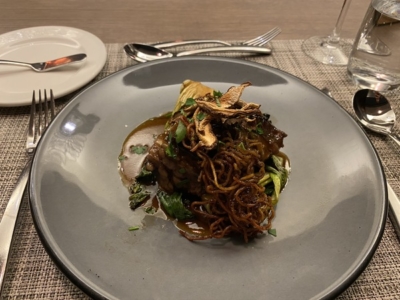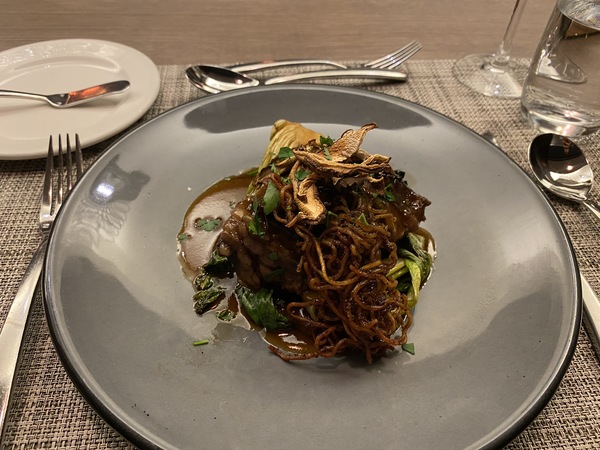 Which was good, although the crispy ramen noodles were too soft to break and too hard to cut with the airside-safe knife provided!
I finally had the star anise and red wine poached seckel pear tart with creme anglaise, blackberry coulis and pistachio crumb: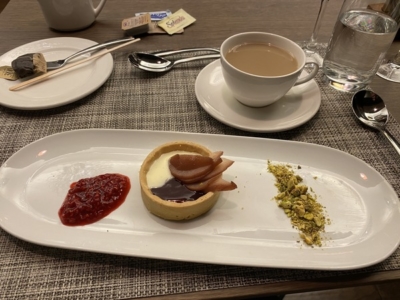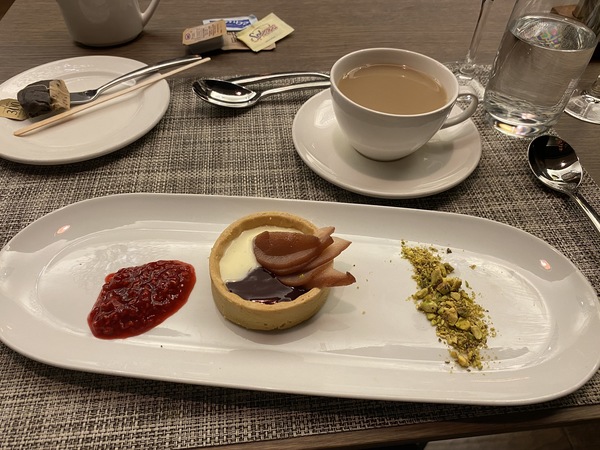 …. which tasted great, although the pastry was very, very hard and almost impossible to eat since it shattered into tiny pieces every time I wanted to cut or stab it with my fork.
I also opted for some tea with my dessert which – in typical American fashion – was served without milk, which I had to ask for. They ended up bringing me more milk than I had tea to begin with! Tea is one thing Americans never seem to be able to get right…..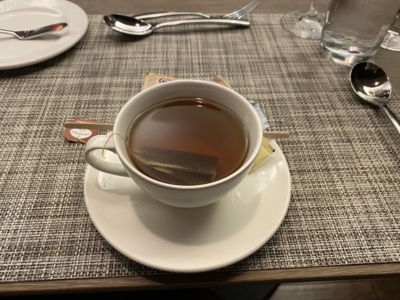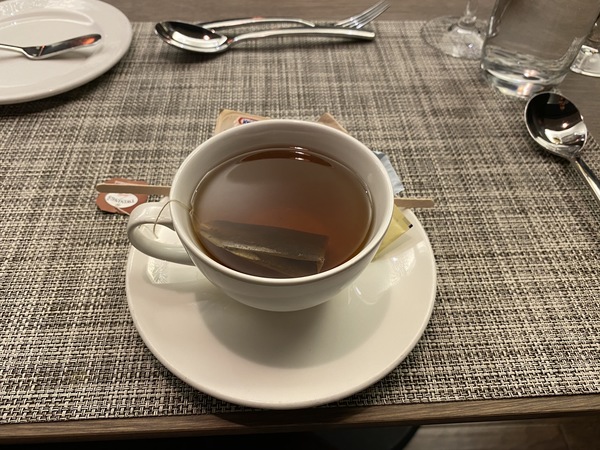 Conclusion
The British Airways lounge at Washington Dulles is a good, if oddly shaped lounge. Due to the timings of BA's two transatlantic flights, the lounge is clearly catered towards serving a pre-departure dinner to maximise guests' sleep on the flight itself.
The food in the First Class dining room is clearly a step above what you would expect to get in a normal business class lounge, with a decent range of choices. Despite being on an A380 flight it was virtually empty, with only one or two other guests dining during the time I was there, and you should have a relaxing time if you are flying in First Class and have time to visit.